Blue Bird Wheatpaste Recipe

Blue Bird Flour Wheatpaste Recipe
STEP 1:
Bring 5 cups of water to a boil.
STEP 2:
Add 15 tablespoons of flour to cold water in a separate container. Stir until you get a thin mixture.
STEP 3:
Pour the mixture into the boiling water and stir.
STEP 4:
Bring the mixture back to a boil and let it cool.
STEP 5:
Mix in 5 tablespoons of sugar after the mixture has thickened.
STEP 6: Paste up your art!
Apply paste on a surface, put art up on the surface, and go over art with more paste.
This tried and tested recipe works great and should last a while on many surfaces. Here are some other helpful tips:
You can conceal a wide brush in range of containers that look quite typical. 😉
Though we haven't had the need, some folks recommend carrying a sharp blade to score (cut lots of random lines) your paste-up after its slightly set. Those who recommend this say it makes your art a lot harder to remove.
Leave your tips in the comments below!
We have lots of designs here that can be modified for large format printing, certainly we encourage you to make your own and keep street art a threat!
Download the printable recipe here. (jpeg, 430kb, 2-up formatted for 8.5″x11″)
Indigenous Action Posters – Spring 2023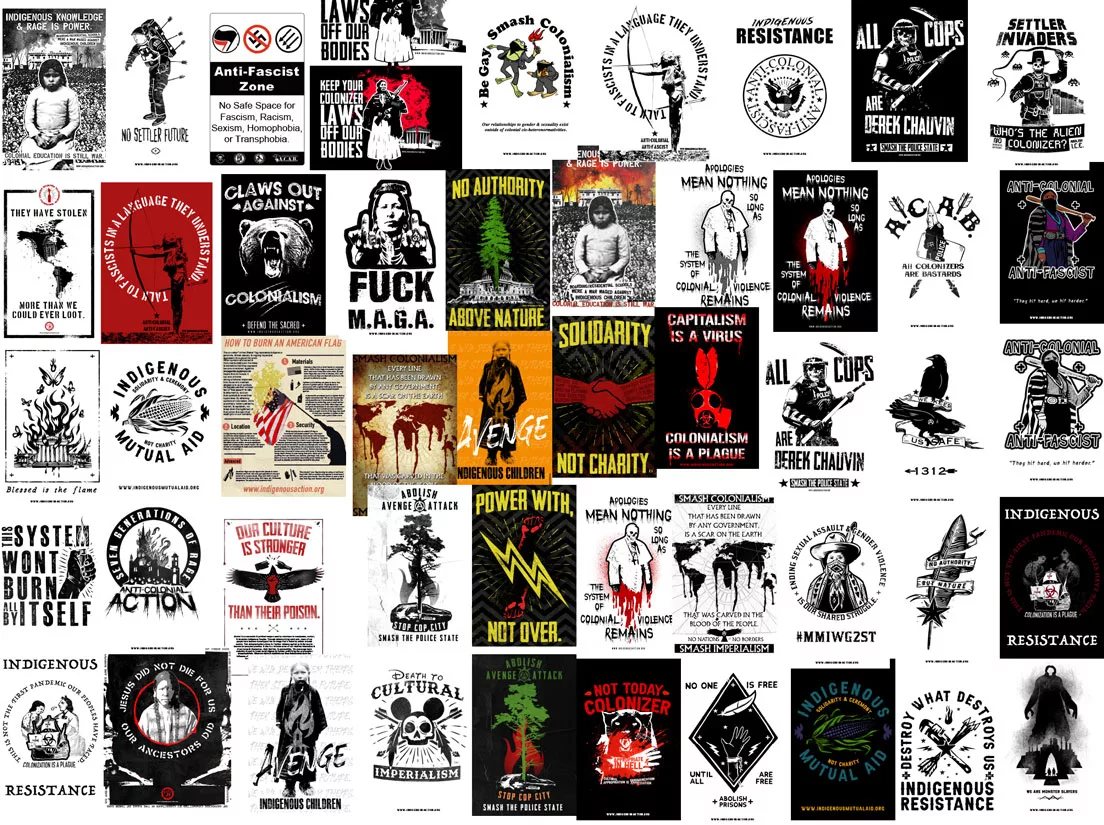 Fixed File link Zip file: 200MB: http://www.indigenousaction.org/wp-content/uploads/Indigenous-Action-posters-UPDATED-Spring-2023-2.zip

Here are 51 high resolution PDF posters (some duplicates as color and B&W versions) for you to print and destroy! We will be uploading another set of some of our older posters here too. You can always do a search for posters or PDFs on our site as well.

Feel free to use for any and all anti-capitalist anti-colonial agitational propaganda (patches, prints, shirts, buttons, etc. for radical benefits or personal use). Credit is nice but not always necessary. Support Indigenous resistance art & artists.

Link to our tried and true wheatpaste recipe:
Stop Cop City! Solidarity Poster
PRINTABLE PDFs: Black and White (831 KB)
COLOR (5.1MB)
Avenge Tortuguita!

No Justice on Stolen Lands!
Abolish the settler colonial police state.
Avenge Tort!
Attack. Cop city is everywhere!
When we resist the commodification and destruction of Mother Earth, we continue Indigenous resistance to over 500 years of colonial violence. Colonial enforcers continue to murder land, water, and forest defenders. Respect existence or expect resistance.
Printable posters up on our site: www.indigenousaction.org
"The City of Atlanta has leased 381-acres of Weelaunee Forest, stolen Muscogee land, to the Atlanta Police Foundation for a police military facility funded by corporations.
Cop City will never be built." #StopCopCity #DefendWeelaunee
Support:
Smash the settler and resource colonial police state.
#acab #ftp
Poster: Apologies Mean Nothing…Pope
"Apologies mean nothing so long as the system of colonial violence remains."
High resolution 11″x17″ PDFs: Color/Black background | White background/color | Black & White
A response to the recent "apology" by the pope to Indigenous Peoples of so-called kkkanada.
Christianity is a primary institution of cis-heteropatriarchal colonial violence. The systematic annihilation of Indigenous Peoples and lifeways in the "Name of God" continues throughout the world. Putting a headdress on genocide, ecocide & enslavement is not justice.
Feel free to share, print, and paste.
Wheat Paste recipe here.

Wheatpaste Recipe

Heat up 5 cups water.
Add 15 tbsp of flour to cold water in a separate container until you get a thin mixture.
Pour the cold mixture into the boiling water & stir.
Bring to a boil & let it cool.
Mix in 5 tbsp of sugar after mixture has thickened.
Paste up your art!
Thinner paper works best. Apply paste on a surface, put art up on the surface, & go over art with paste.
Get updates via email, sign up here:
Indigenous Action Podcast