No Pardon for Genocide: Rejecting the Catholic Church's "Repudiation" of the Doctrine of Discovery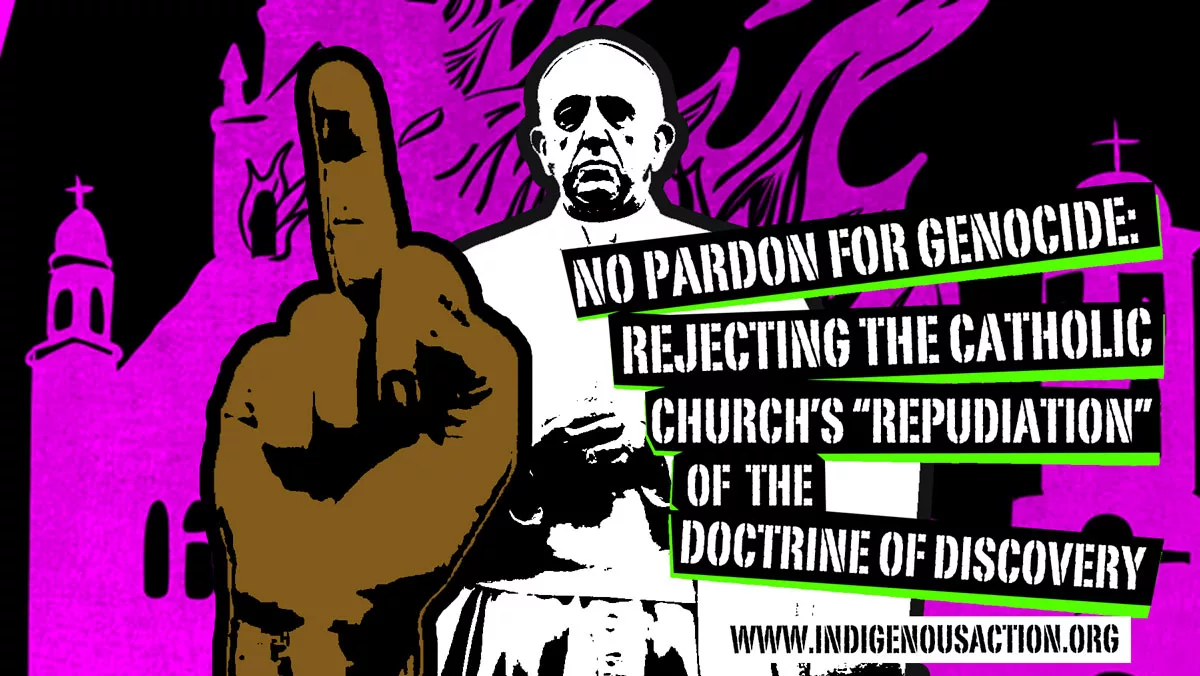 On March 30th, 2023 a joint statement was released by administrative departments of the Vatican City-State condemning "acts of violence, oppression, social injustice and slavery, including those committed against indigenous peoples." The Catholic Church stated that it "…repudiates those concepts that fail to recognize the inherent human rights of indigenous peoples, including what has become known as the legal and political 'doctrine of discovery'."
We are used to the deceptions of the church, this "repudiation" is no exception.
The words of the Catholic Church are nothing more than an attempt to damage control and downplay their genocidal legacy while obscuring their ongoing benefit from and perpetuation of colonial violence.
In 1493 the Papal Bull "Inter Caetera," was issued by Pope Alexander VI. The document established the "Doctrine of Discovery" and was central to Spain's Christianizing strategy to ensure "exclusive right" to enslaved Indigenous Peoples and lands invaded by Columbus the year prior. This decree also made clear the Pope's threat to forcibly assimilate Indigenous Peoples to Catholicism in order to strengthen the "Christian Empire." This doctrine of "civilization" led to successive generational patterns of genocidal and ecocidal wars waged by European settler colonizers against Indigenous lives, lands, spirit, and the living world of all of our relations. "Manifest destiny," the intensified invasion of Indigenous lands in the so-called U.S., was inspired and sanctioned by this religious "Doctrine."
In 1823 the "Doctrine of Discovery" was written into U.S. law as a way to deny land rights to Indigenous Peoples in the Supreme Court case, Johnson v. McIntosh. In a unanimous decision, Chief Justice John Marshall wrote that Christian European nations had assumed complete control over the lands of "America" during the "Age of Discovery." And in declaring "independence" from the Crown of England in 1776, he noted that the U.S. had in effect and thus by law inherited authority over these lands from Great Britain, "notwithstanding the occupancy of the natives, who were heathens…" According to the ruling, Indigenous Peoples did not have any rights as independent nations, but only as tenants or residents of the U.S. on our own lands. The papal bull inter caetera was enshrined in U.S. law and continues to be the basis of colonial legal domination of Indigenous existence.
The Doctrine of Discovery has long been contested by Indigenous Peoples. Multiple delegations since the 1970s have visited Vatican City and demanded repudiation. In occupied Hawaii, an annual ceremonial burning of the Papal Bull "Inter Caetera" has been held since 1997.
In response to the Catholic Church's repudiation, some Indigenous organizations have criticized the statement and are issuing demands for the Catholic Church to take "accountability." Deborah Parker, CEO of the National Native American Boarding School Healing Coalition stated, "While the Vatican's decision to renounce the Doctrine of Discovery is the right one, it downplays the Church's role and accountability for the harm it has caused to Native peoples. It does not change the fact that the Church's views gave permission to colonizers to take Native lands and assimilate Native peoples… We demand more transparency, including access to Indian boarding school documents, which they have refused to provide. We demand that the Church returns lands to the Tribal Nations in which it operated Indian boarding schools. We demand that the Church supports the Truth and Healing Bill, which would establish a federal commission and conduct a full inquiry into the assimilative policies of U.S. Indian boarding schools. And we demand that the Church respects Tribal sovereignty and Indigenous ways of being."
With the 215 remains of Indigenous children uncovered in 2021 in a mass grave at a residential school in "Canada," collective Indigenous rage was sparked to address the brutal legacy of forced colonial education. The strategy of boarding or residential schools, as they are called in so-called Canada, was part of a political, religious, and ideological war waged against Indigenous Peoples that targeted children.
In 2007, after decades of advocacy for reparations in so-called Canada, a settlement was agreed upon in the largest class action settlement ever faced by the colonial government. The settlement included a $10,000 "common experience" payment to the approximately 90,000 people who survived residential schools with an additional $3,000 for every year they were held at the schools. Approximately $200 million was allocated for funding for healing and educational programs. As part of this process, the Catholic Church has paid over $50 million and has offered to pay $30 million more.
A group called the Truth Commission into Genocide in "Canada," which has charged that the residential schools were responsible for the deaths and disappearances of thousands of Indigenous children, rejected the deal stating, "This bribe and legal gagging is being presented as a final 'resolution' of the claims of residential school survivors, as if such unspeakable crimes as mass sterilizations, gang rape, ritualistic torture and murder are resolvable by or reducible to an issue of money…"
On April 1, 2022 the Pope apologized for the Catholic Church's role in violent assimilation through "Canadian" residential schools. In a written statement, the Pope acknowledged colonial "lack of respect" and forced assimilation and said, "For the deplorable conduct of those members of the Catholic Church, I ask for God's forgiveness and I want to say to you with all my heart: I am very sorry. And I join my brothers, the Canadian bishops, in asking your pardon."
In the recent statement of repudiation, the Catholic Church has the audacity to say that while many Catholics "…gave their lives in defense of the dignity of [Indigenous] peoples… Many Christians have committed evil acts against indigenous peoples for which recent Popes have asked forgiveness on numerous occasions… As Pope Francis has emphasized, their sufferings constitute a powerful summons to abandon the colonizing mentality and to walk with them side by side, in mutual respect and dialogue, recognizing the rights and cultural values of all individuals and peoples. In this regard, the Church is committed to accompany indigenous peoples and to foster efforts aimed at promoting reconciliation and healing."

They absurdly state, "…the Church is committed to accompany indigenous peoples and to foster efforts aimed at promoting reconciliation and healing."
But we hear more theocratic lies as authoritarian religious dogmatists still spit their texts while murdering in the name of their god.
We do not desire to be "accompanied" by the church to heal. It is in its shadow that our trauma and abuse continue. We refuse to have our hand held by our abuser who is also attempting to set by which terms we may "heal." Statements of historical remorse change nothing if systems of colonial domination and exploitation remain.
The Church directly asks for forgiveness, "It is only just to recognize these errors, acknowledge the terrible effects of the assimilation policies and the pain experienced by indigenous peoples, and ask for pardon."
To this we state fuck their forgiveness. How dare they ask for "pardon" while they sit on a throne paid for by stolen wealth, lands, lives and resources throughout the world? We look forward to the day their walls crumble around them and the empires their ideals built are nothing but smoldering ash and ruin.
Christianity as a whole has long been a primary institution of cis-heteropatriarchal colonial violence which perpetuated mass femicide during the "inquisition." The Malleus Maleficarum and preceding papal bull Summis desiderantes affectibus were explicitly used to demonize and murder Indigenous "pagan witches" throughout Europe. The doctrine was the basis of the white supremacist initiated genocidal inquisition to remove Jews, Muslims, Roma, and land-based indigenous cultures from Europe while they set out to destroy and colonize indigenous lands in Africa and the so-called Americas.
The history of their faith is written in the blood. They cannot truly repudiate the discovery doctrine because it is the foundation of their "civilization." Christian civilization has always been a spiritual war of domination of Mother Earth. At every massacre of Indigenous Peoples, a cross. In every Indigenous child's boarding school desk, a bible. On nearly every slave ship from Africa, a devout Christian at the helm.
We do not speak of colonialism in the past-tense.
The systematic domination and annihilation of Indigenous Peoples and lifeways, women, and queer people in the "name of God" continues throughout the world. The Doctrine of Discovery fuels current missionary work by Catholics and other Christian sects who are violently trying to convert Indigenous Peoples throughout the world. They draw their missionizing tactics from the practices that the Catholic Church developed during the inquisition and colonial conquests. There's no difference between current evangelical, Mormon, jehovah witness, or any other missionary projects invading Africa, South "America," and reservations. All Christian denominations doing missionary work are part of the doctrine's legacy which continues to sanction the forcible assimilation of Indigenous Peoples to this day.
This is also the legacy that White Supremacist Christian nationalists are still rallying to uphold throughout the so-called U.S. They attempt to bury historical violence in attacks on the specter of "Critical Race Theory" while further dehumanizing queer folks and attacking women's bodily autonomy. The facade of mass scale victim blaming and scapegoating is not enough to escape the consequences of a history of genocide, enslavement, and ecocide.
The Catholic Church attempts to rewrite history and distance themselves from their role and responsibly in mass-scale violence systematically waged throughout the world against the Earth and existence.
The recent statement says, "The 'doctrine of discovery' is not part of the teaching of the Catholic Church. Historical research clearly demonstrates that the papal documents in question, written in a specific historical period and linked to political questions, have never been considered expressions of the Catholic faith… these documents were manipulated for political purposes by competing colonial powers in order to justify immoral acts against indigenous peoples that were carried out, at times, without opposition from ecclesiastical authorities."
In spite of Indigenous protests, Pope Francis canonized Junipero Serra as a saint in 2015. In 1769 Serra founded the first of 21 missions in so-called "California." Under Serra's leadership, tens of thousands of Indigenous people were forcibly enslaved and brutalized. As racist statues were torn down during the George Floyd uprisings of 2020, statues of Junipero Serra (at least 7 were toppled or beheaded), Christopher Columbus, and other colonial monuments were also destroyed. In so-called California 5 people were charged with felonies for their alleged role in toppling a Serra monument (Support here: https://linktr.ee/Decolonizers_Defense).
From Po'pay to Toypurina, Indigenous ancestors burned their missions to the ground and killed their missionaries to defend Mother Earth and all existence. As more bodies of Indigenous children have been found in mass graves at residential schools in so-called Canada, a reported 68 Christian churches have been vandalized with many being consumed by fires set by Indigenous rage and vengeance.
No apology will ever be enough. Excuses are not enough, an obligatory debt is owed in so many forms yet how could we ever claim it? While many demand reparations, we must counter: We do not seek any form of payment or recompense but the ruin of those institutions and ideals of domination, control, and exploitation. We make no demands of that which we seek to abolish. As sacred sites remain under attack and as intergenerational wounds remain open, we continue to resist the extremely brutal and ongoing legacies of colonial religious violence. Their repudiation is over 500 years too late. We seek abolition and revenge.
###
Read our previous post: Colonial Education is Still War. Indigenous knowledge & rage is power.
Vatican statements:
https://press.vatican.va/content/salastampa/en/bollettino/pubblico/2023/03/30/230330b.html
https://press.vatican.va/content/salastampa/it/bollettino/pubblico/2022/04/01/0232/00500.html#en

Recommended reading:
Columbus and Other Cannibals The Wetiko Disease of Exploitation, Imperialism, and Terrorism, Jack Forbes
An Indigenous Peoples' History of the United States, Roxanne Dunbar-Ortiz
Press Release: Announcing Burn the Fort, a Diné Designed Board Game of Indigenous Resistance
For Immediate Release
July 26, 2023
Contact:
Klee Benally
indigenousaction@gmail.com
www.burnthefort.com
Announcing Burn the Fort, a Diné Designed Board Game of Indigenous Resistance
Crowdfunding campaign is live on Gamefound
Occupied Kinłani (Flagstaff, AZ) — A new independent board game featuring Indigenous resistance is now crowdfunding to cover manufacturing costs. Burn the Fort is a semi-cooperative game designed by Diné artist, musician, filmmaker, organizer, and author Klee Benally.
In Burn the Fort, colonizers have built a military fortress and are invading your lands. 2-4 players each take the role of a different historic warrior fighting to stop the invasion. Players must prevent wagons from bringing supplies to the fort and burn it to the ground before the train, which acts as a game timer, reaches the Golden Spike. Players can choose how much they wish to work together while taking turns playing cards, trading, battling wagons, and gathering necessary tokens to win the game. With each wagon that reaches the fort the train moves forward, and if it reaches the Golden Spike everyone loses.
Components and cards are steeped in history with facts, trivia, and bios of historic Indigenous warriors, the game also uses traditional Diné Stick dice.

"I wanted to design a game that felt familiar to those who grew up playing board games, but one that was also familiar to those who grew up playing traditional cultural games," says Klee Benally, the artist and designer of the game, "Some of the game mechanics may feel contradictory and I wanted to embrace that dynamic. It's my first game so I'm sure I've made mistakes, but from the artwork to the gameplay, every aspect of the design is very intentional."
"Games can be powerful storytelling and teaching tools" says Benally. "Indigenous Peoples have played games rooted in ceremony since time immemorial. I've always loved table top games, but I never found one that I personally connected to. Indigenous Peoples and resistance are more often portrayed as threats to the heroic settler colonizers or when we're the occasional protagonist, we are either victims or grossly romanticized" Benally explains.
Benally continues, "Nearly every game available on the shelf today is rooted in colonialism and resource exploitation, I wanted to offer an alternative and challenge those narratives. This game focuses on the time period of the so-called 'Indian wars' to explore the history and offer an engaging and fun way of deepening our understandings of those times. History is an ongoing conflict of narratives, the history written by colonizers is obviously going to be very different than the narratives and accounts of those who have resisted colonization. For some people this will be just another table top game, for others, and this is my intention, it can be one small way to engage and build cultures of resistance and liberation".
The game has been in development for six years but Benally took a break during the pandemic to focus on organizing with Kinłani Mutual Aid. 

Benally says, "After the beginning of pandemic, as people were forced to stay at home due to the severity of the virus, there was also a renewed interest in board games. As I was making deliveries and coordinating supplies, I really was motivated to focus on the game as an alternative for people instead of just watching TV. Additionally, I have to express gratitude for this project to Ariel Celeste and Jacob, without their critical input this game would not be what it is. I am also forever grateful to my supporters on Patreon and all the play testers who made this game possible."
Burn the Fort is now on Gamefound, a premiere crowdfunding site for board games, where 70% of its goal was raised in just three days. If the campaign reaches its "stretch goal," Benally will use additional funds to distribute free copies to Indigenous community groups and schools. Eventually Benally intends to create a complementary lesson plan exploring the theme of the game that can be taught in schools.
Burn the Fort is now available as a crowdfunding reward for a pledge of $40. The crowdfunding campaign ends on August 22nd, 2023. After the crowdfunding campaign is complete it will be available sometime in the fall online and in select stores at a retail price of $45. You can view and support the campaign here: https://gamefound.com/projects/indigenousaction/burn-the-fort
Burn the Fort is for 2 – 4 players, ages 14 and older and takes approximately 60-90 minutes to play. It includes 5 game board pieces, 6 player cards, 1 Fort point tracker, 69 Draw cards, 40 Colonizer cards, 6 Victory cards, 5 US General tokens, 4 Reference cards, 48 Fire tokens, 40 Wagon tokens, 12 Arrowhead tokens, 4 Alliance tokens, 1 Colonizer token, 1 Wooden train token, 1 Arrowhead token bag, 3 Wooden Stick dice, 2 Colonizer dice, and 1 twenty-two page game guide.
For more information visit: www.burnthefort.com.

About the publisher
Indigenous Action (IA/originally Indigenous Action Media) was founded on August 25th, 2001 to provide strategic communications and direct action support for Indigenous sacred lands defense. We are a radical autonomous crew of anti-colonial & anti-capitalist Indigenous media makers, designers, artists, writers & agitators that work together on a project by project basis for liberation for Mother Earth and all her beings. www.indigenousaction.org
###
UPDATED: How to Burn American & Canadian Flags
PDFs:
How to Burn an American Flag COLOR PDF

How to Burn a Canadian Flag COLOR PDF

We've updated this poster and included a version for our relatives in so-called Canada!

The so-called "United States" and KKKanadian flags represent Indigenous genocide, African slavery, ecocide, & ongoing imperialist aggression throughout the world. When symbols are burned & monuments destroyed, the ideas & institutions that they represent become diminished. Agitative propaganda (agitprop) can inspire & build morale, it can also provoke strong emotional responses from those who maintain allegiance to such symbols.
As fascists use their colonial law of "free speech" to rally & dehumanize, we burn
their symbols & reveal their hypocrisies. By attacking symbols of colonialism, white supremacy, cis-heteropatriarchy, fascism, & capitalism, we break down the legitimacy of their power & loosen their death grip on our humanity.
Materials
Liberate a flag from a local fascist or corporate store. 100% cotton flags are easiest to light & don't emit toxic fumes like nylon ones. Burning nylon flags also can stick to clothes, skin, and any surface so they are best left to burn on the ground or affixed to a pole.
Lighters and matches are easy to carry. Any source of ignition will do. Road flares or a spray paint with a lighter held up to the nozzle are excellent ways to ensure good & quick ignition.
A flammable accelerant such as lighter fluid is highly recommended. We do not recommend using gasoline as it is extremely volatile. Do not douse the entire flag, just a small section & light away from your body. Most flags will not ignite immediately & can take time to start burning well. If no accelerants are available fold a couple of ends of the flag onto itself & hold your matches or lighter to the material until a good flame starts.
Location
As flag burning is highly symbolic, keep in mind the visual narrative that your location may provide i.e. a monument, a political office, etc. The idea is to maximize the effect of your action, so even significant dates can enhance the overall impact. Be aware of your surroundings to make sure unintended fires are not started ;).
Security
While burning the so-called US flag is considered "protected speech" you may want to consider researching local settler colonial laws.
There are no laws against burning the KKKanadian flag. It is NOT a criminal action, under the Canadian Criminal Code. It is considered a protected form of expression under the "Charter of Rights And Freedoms."

In some instances folx in the "US" have faced charges of "reckless burning." If the burning is held in a "private" area certain security concerns may not be warranted. Perhaps the biggest threats are from fascists & reactionary liberals aka movement police (usually the same thing). Be situationally aware of these possible threats on the ground & online. Serious doxxing of flag burners has occurred in some areas with some of those identified facing death threats & even losing their jobs. Mask up & cover anything that can identify you (tattoos, piercings, hair, etc). Make sure any documentation especially social media can't be used to identify you (don't tag yourself in the pics).
Advanced
American and KKKanadian flags can be ripped into pieces to make Molotov cocktails. Mix one part gasoline to one part motor oil in a glass bottle. Plug with cloth or cap & secure cloth to top by tying, duct tape, etc. Extremely dangerous *for educational purposes only*.
"Decolonize" your flag burning by using a traditional hand drill. Spin a wooden drill against a wood board with your bare hands. Use the ember to start a fire & then hold flag over flames until you achieve ignition.
www.indigenousaction.org
ICWA & Continued Legislation of Indigenous Existence

As many celebrate the defense of ICWA, we also must recognize the colonial violence that has demanded & produced it.
ICWA was passed in 1978 due to the rampant genocidal white christian driven legal practice of taking Indigenous children from their homes and placing them with white christian families. The law was created to resolve a problem colonialism created. The settler colonial state didn't become interested in "keeping Indigenous children with their Tribes" until it was assured that those children would be passively assimilated into its "civilized" order.
Through laws like ICWA, the State continues to legislate and enforce Indigenous existence.
White families stealing Indigenous children should be a non-issue. That any argument for justification for keeping Indigenous children with their peoples is occurring is part of the larger issue of white supremacy, cis-heteronormativity, and Indigenous genocide.
Before ICWA was enacted in 1978:
– 25%–35% of all Native children were being removed from their homes;
– of these, 85% were placed outside of their families and communities—even when fit and willing relatives were available.
– Today, Native families are 4x more likely to have their children removed and placed in foster care than their White counterparts.
(facts from https://www.nicwa.org/about-icwa)
Before 1492 Indigenous children weren't stolen by colonizing predators.
While ICWA is celebrated as an affirmation of Indigenous sovereignty, in actuality it affirms congressional power to regulate commerce (The Commerce Clause) with Indigenous Peoples and plenary power over "Indian affairs." A plenary power or plenary authority is a complete and absolute power to take action on a particular issue, with no limitations.
The legal battle over ICWA erases Indigenous children who are not from federally recognized tribes, border communities, & migrants doesn't address issues of dis-enrollment. Particularly as ICWA specifically "sets federal requirements that apply to state child custody proceedings involving an Indian child who is a member of or eligible for membership in a federally recognized tribe." ICWA reinforces "Indian" citizenship policies that some Tribal governments have used to exclude mixed race descendants. Regardless of ICWA, child theft still occurs within the foster care system, where Indigenous youth still are most likely to end up.
The discourse around ICWA is also inherently cis-heteronormative as it doesn't support queer & two-spirit family formations. ICWA defines Indian child as "any unmarried person who is under age eighteen and is either (a) a member of an Indian tribe or (b) is eligible for membership in an Indian tribe and is the biological child of a member of an Indian tribe…"
What justice can we expect from a colonial system that also maintains anti-Indigenous laws sanctioning desecration of sacred lands and attacks bodily autonomy?
Are our cultures and communities so desperate and broken that we celebrate that colonizers can determine if our children belong with us? The apparent "necessity" of ICWA demonstrates the fallacy of colonial laws and the predatory white supremacist violence that constantly looms outside our homes.
That colonial laws are required to stop white people from outright stealing Indigenous babies is the result of a much deeper systemic problem than laws like ICWA can address.
Many of our families & homes are broken due to colonization, more colonial laws won't fix that.
What are culturally-rooted non-state based solutions to keeping Indigenous children with our families?
www.indigenousaction.org
Get updates via email, sign up here:
Indigenous Action Podcast