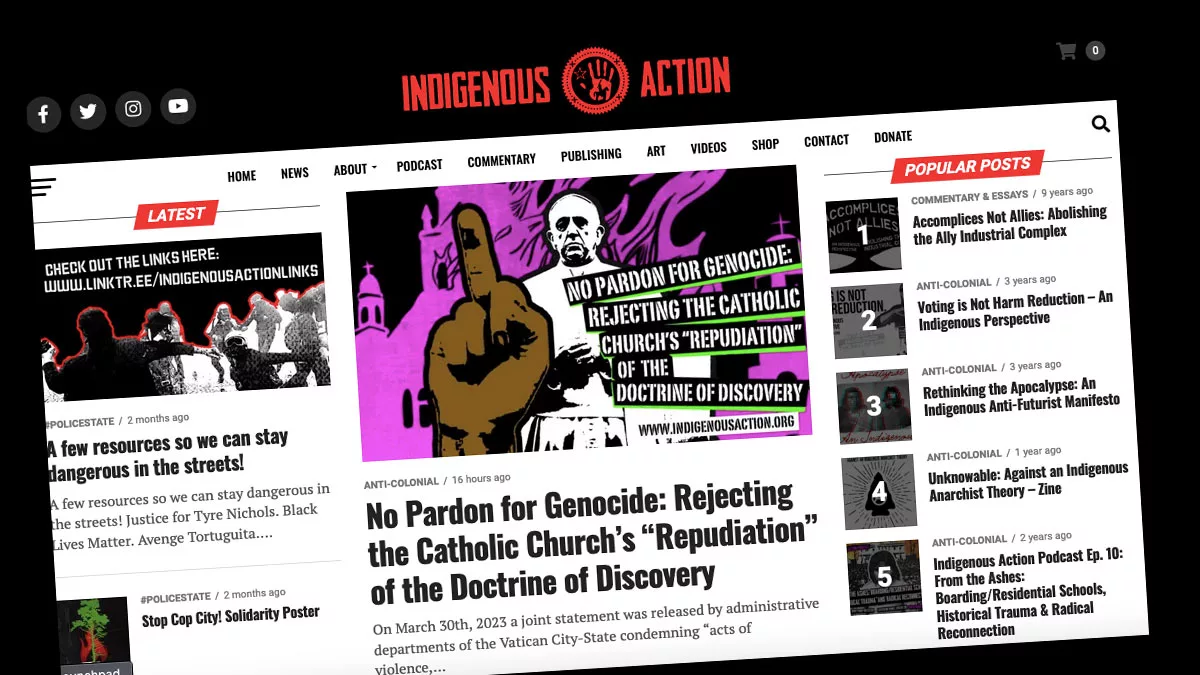 Ya'at'eeh!
Welcome to our new site.
We've made a range of changes, most notably with our menu items and categories.
We're still working on updating old posts so they show properly. If you're looking for something specific check out our search engine.
If you find anything broken with the site please email us.
Many of you have asked and yes, we are also re-organizing the shop but that will still take some time. Much of our capacity at Táala Hooghan Infoshop (where we print shirts etc) is still dedicated to Kinłani Mutual Aid. We are considering going with a print on demand service but we'd really prefer not to. We will provide updates soon.
You can also send us your press releases, rad art, articles, zines, etc. Please note that we focus on content produced by Indigenous Peoples and particularly anti-colonial/non-reformist/queer/anti-capitalist/anti-authoritarian.
We are also looking for more autonomous anti-colonial/anti-capitalist Indigenous writers & artists/designers to collaborate with on an ongoing basis.
Connect with us at IAinfo@protonmail.com.
Ahe' hee',
IA Crew
New Book: No Spiritual Surrender, Klee Benally
New Book: No Spiritual Surrender: Indigenous Anarchy in Defense of the Sacred is a searing anti-colonial analysis rooted in frontline experience.
NOW AVAILABLE ONLINE & SELECT BOOKSTORES: No Spiritual Surrender: Indigenous Anarchy in Defense of the Sacred


No Spiritual Surrender: Indigenous Anarchy in Defense of the Sacred is a searing anti-colonial analysis rooted in frontline experience. Klee Benally (Diné) unrelentingly agitates against colonial politics towards Indigenous autonomy and total liberation of Nahasdzáán (Mother Earth).
Available now from Detritus Books detritusbooks.com
406 pages | $20 Nonfiction | Paperback Available in select bookshops.
About the author: Klee Benally is a Diné (Navajo) anarchist and undisciplined agitational propagandist. Originally from Black Mesa. Klee currently resides in occupied Flagstaff, Arizona. kleebenally.com, indigenousaction.org
www.detritusbooks.com
Wholesale inquiries: detritusbooks.com
Now booking speaking tour dates: indigenousaction@gmail.com
Indigenous Action Podcast Episode 17: Decolonization isn't a Holiday
Rejecting Indigenous Peoples' Day of Tokenism

Hosts Klee and Bonn talk with some awesome guests & revisit our 2017 'zine "Uprooting Colonialism: The Limitations of Indigenous Peoples' Day." We dig into the questions, "How do whitewashed celebrations of Indigenous Peoples Day undermine decolonization?" and "What does it mean to be an anti-colonial abolitionist?"
Guests:
Amrah Salomón J. is a writer, artist, activist, and educator of Mexican, O'odham and Tohono O'odham, and European ancestry.
@oodhamantiborder, @defendoodhamjewed, Cashapp: $DefendOodhamJewed, Paypal.me/DefendOodhamJewed, Venmo: @DefendOodhamJewed
Kittie Kuntagion, @kittiekuntagion
Andrew Pedro, @desert.dweller.58 Got tired of seeing disapointing activist bullshit, now focused on music. Organizes metal/punk shows on and of the Rez.
Hosts:
Bonn: @bonnabella.xvx, Venmo: bonnabellaxvx
Klee: @kleebenally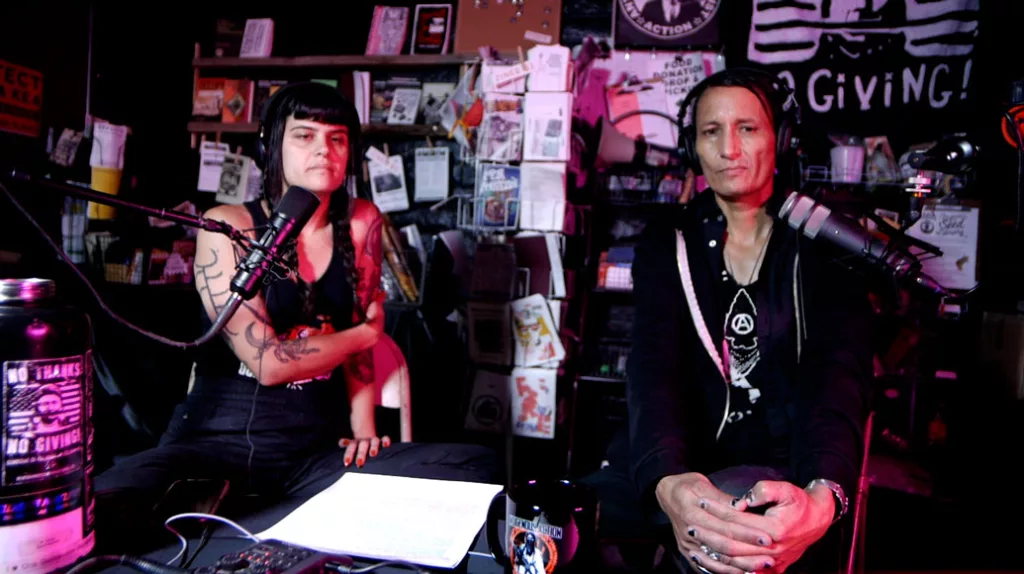 About the podcast: Indigenous Action is an autonomous anti-colonial broadcast with unapologetic and claws-out analysis towards total liberation. We feature radical frontline Indigenous voices and dig deep into critical issues impacting our communities. So take your seat by this fire and may the bridges we burn together, light our way. www.indigenousaction.org/podcast
Email us at IAInfo@protonmail.com.
Subscribe, like, share on iTunes | Spotify, and Youtube.
Read the 'zine here: https://www.indigenousaction.org/uprooting-colonialism-the-limitations-of-indigenous-peoples-day/
From the 2017 'zine: "…if the state dismantles these statues and proclaims Indigenous Peoples' Days, what do we actually achieve if the structures and systems rooted in colonial violence remain intact? Is it merely political posturing or window dressing to diminish liberatory agitations? Our senses are heightened as most re-brandings of Columbus Day into IPD appear to whitewash ongoing colonial legacies… If the goal is for Indigenous autonomy, liberation of the land, people, and other beings, then why plead with our oppressors to merely acknowledge or recognize our existence?…To claim Indigenous Peoples' Day as an act of decolonization is a failure of liberal assimilationists… Symbolically ending Columbus' legacy while continuing to perpetuate and benefit from the violence of the 'doctrine of discovery' is just one more dead-end direction of Indigenous liberalism. If we understand that colonization has always been war, then why are we fighting a battle for recognition and affirmation through colonial power structures?… Indigenous Peoples' Day, as a process of collusion with occupying state forces, risks becoming a colonial patriotic ritual more than anything that amounts to liberation."
Do "We keep us safe"? Notes on Action Security & Some Resources
"We keep us safe!" is an abolitionist assertion that the state or some paternalistic organization will not protect us from colonial, fascist, white supremacist, queerphobic attacks, so we must organize and defend ourselves and those we are in community with.
We cannot leave this slogan to be an empty gesture or posture. It must be conveyed with the necessary training and organizing to address the hyperpoliticized and conflictual environments that we organize in.
While we cannot anticipate and prevent all fascist assaults, if we pronounce that "we keep us safe," we can and must do what we can to organize and be prepared. Liberal and "radical" non-profit managers constantly decrying the "inactions of cops" does not keep us safe, it only invokes further police violence. Additionally, calling on colonial politicians to respond to fascist violence as a "hate crime," is really a call to further the carceral state and its institutional violences (courts, prisons, more policing, etc).
On September 28th, 2023 Jacob Johns, an Indigenous persn was shot by Ryan Martinez, a colonial invader and MAGA fascist at an action called to confront the re-establishment of a monument to the genocidal colonizer Juan de Oñate in so-called Española, New Mexico. This shooting occurred under the same watch of an organization that hosted a previous anti-Oñate monument action in 2020 where Scott Williams was shot and severely injured.
From Heather Heyer, Joseph Rosenbaum, and Anthony Huber to many more who have been injured or killed while resisting authoritarian nationalism (aka fascism), these deadly attacks are occurring within a context of historic, ongoing, and escalating colonial violence.
Since 2020, groups based in occupied New Mexico organizing anti-monument actions have been directly challenged for putting people at serious risk. Calls that have been made for more organized security have been denounced by inexperienced organizers in these groups.
These issues and considerations are not new, the Black Panther Party for Self Defense and AIM initiated armed patrols and armed resistance in the face of state, white supremacist, and colonial terror. Amorphous entities such as Antifa and Bash Back have continually mobilized street warfare in defensive and proactive ways. These groups have long recognized that we cannot merely rely on "safety in numbers," (though numbers do help) our enemies are more organized than that, so why aren't we?
We cannot pronounce liberation without simultaneously preparing and mobilizing defense.
As everyone should be doing mutual aid, everyone should be prepared for mutual defense. We cannot depend on any organizers or organizations to simply do this for us. If "We keep us safe," we better fucking mean it.
As Goldfinch Gun Club stated, "Community defense has to be about solidarity and uplift mutual aid, not just arming vulnerable peoples. By the time someone starts shooting, everyone has already lost. The best defense is a better world. It's possible. We have to believe that."
Support Jacob Johns, his family and community by contributing to the gofundme: https://www.gofundme.com/f/help-jacob-johns-recover-from-terrorist-shooting?utm_campaign=p_cp+share-sheet&utm_medium=copy_link_all&utm_source=customer
Some recommendations:
1. Organize and attend street medic trainings. Check these resources:
A Demonstrator's Guide to Responding to Gunshot Wounds https://crimethinc.com/2020/09/24/a-demonstrators-guide-to-responding-to-gunshot-wounds-what-everyone-should-know
An Activist's Guide to Basic First Aid https://www.sproutdistro.com/catalog/zines/direct-action/activists-guide-to-basic-first-aid/
2. Organize armed self defense. Check these resources:
Three Way Fight: Revolutionary Anti-Fascism and Armed-Self-Defense https://itsgoingdown.org/wp-content/uploads/2017/02/three_way_fight_print.pdf
Organizing Armed Defense in "America"
https://theanarchistlibrary.org/library/organizing-armed-defense-in-america

Gun Clubs:
https://www.hueypnewtongunclub.org/survival-programs
https://www.pinkpistols.org/about-the-pink-pistols/
https://socialistra.org/
https://www.john-brown-gun-club.org/about (Note: their founder and a lead organizer of Red Neck Revolt/JBGC is a known abuser).
3. Develop and maintain clear security protocols and presence (if not visible at least organized).
A note: By security we don't mean leftist police, we mean skilled warriors who are identified to respond and protect, not police actions. Beware of cis-heteropatriarcal and other oppressive behaviors, substance use, & abusers, etc.
Being prepared can be an escalation in and of itself, it also can be a powerful deterrent. Do what makes sense for your operating environment.
Defend Pride
https://www.sproutdistro.com/catalog/zines/direct-action/defend-pride/

Forming an Antifa group
https://theanarchistlibrary.org/library/forming-an-antifa-group
Check out all these great resources on Security Culture:
https://www.sproutdistro.com/catalog/zines/security/

These 'zines particularly address cop tactics but have great info for overall security:
Defend the Territory
https://www.sproutdistro.com/catalog/zines/direct-action/defend-the-territory

Warrior Crowd Control & Riot Manual
https://www.sproutdistro.com/catalog/zines/direct-action/warrior-crowd-control-riot-manual/
Other resources:
Dangerous Spaces: Violent Resistance, Self-Defense, and Insurrectional Struggle Against Gender
https://archive.org/details/dangerous-space-EN-pageparpage/mode/2up
Repress This
https://itsgoingdown.org/wp-content/uploads/2018/02/imposed-repress_this_print.pdf
Get updates via email, sign up here:
Indigenous Action Podcast