Court Denies Injunction to Halt Snowbowl Development
Web site: www.TrueSnow.org
NEWS RELEASE
Thursday, March 31, 2011

Court Denies Injunction to Halt Snowbowl Development
FLAGSTAFF, AZ — The Ninth Circuit Court of Appeals today denied an emergency motion to stop Snowbowl ski area and the U.S. Department of Agriculture from cutting down thousands of trees on the San Francisco Peaks, outside of Flagstaff, Arizona.
The Save the Peaks Coalition and other plaintiffs filed an appeal to the Ninth Circuit and sought an emergency injunction that would stop all tree cutting and construction in furtherance of snowmaking pending the outcome of the appeal.
Judge Murguia, at the District Court level, previously denied the Coalition any injunction pending appeal.
"The ski resort can start their destruction tomorrow and there isn't a legal recourse that can be taken." stated Jeneda Benally, a plaintiff in the case. "The legal system has failed to protect citizens and the delicate ecosystem of the San Francisco Peaks and instead compromised it's ethics by protecting a single for profit business that has blatant disregard for our children's health."
According to Howard Shanker, the attorney for the Save the Peaks Coalition and other plaintiffs, "We are gravely disappointed in the decision not to grant an injunction but will vigorously pursue our appeal in any event."  According to Shanker, "we remain hopeful that, at some point, the courts will properly apply the law to the facts of this case."  Shanker previously represented a number of the Tribes and environmental organizations in the first round of litigation opposing snowmaking with reclaimed sewer water.
The Justice Department under the Obama Administration continues to vigorously fight to cut down trees and to spray reclaimed sewer water to make snow on the San Francisco Peaks while the Administration has held 'listening sessions' on sacred sites protection, including the San Francisco Peaks, across the country.
Snowbowl threatens to clear-cut approximately 28,994 trees from 76.3 acres for construction of water impoundments, buildings, and trails. They would also begin cutting down 167 trees along the 14.8 mile snowmaking transmission line and approximately 800 trees in approximately 47.4 acres within the Agassiz and sunset trail areas.
In 2006, the Snowbowl Ski area, which operates under a permit on federal land, was granted permission by the U.S. Forest Service, part of the Department of Agriculture, to make snow using 100% reclaimed sewer water.  Something that is not done anywhere else in the world.  The project would use sewer water treated to Arizona A+ standards – A+ water in Arizona is known to contain endocrine disruptors, which block or mimic normal hormone activity.  It also contains a host of personal care products and pharmaceuticals, including things like steroids, antibiotics, and caffeine, which are neither tested for, nor adequately removed from the water during the treatment process.
The San Francisco Peaks, including the area used by Snowbowl, are sacred to 13 of the Native American Tribes in the southwestern United States.
In 2006, the Navajo Nation, the Hopi Tribe, the Yavapai-Apache Nation, the White Mountain Apache Tribe, the Havasupai Tribe and the Hualapai Tribe filed suit to stop the project which, they asserted, amounted to federally approved and sanctioned desecration of one of the best documented Native American sacred sites on record.  The tribes were joined by a number of individuals and organizations, including the Sierra Club and the Center for Biological Diversity.  After a unanimous ruling by a three judge panel of the Ninth Circuit Court of Appeals in favor of the tribes and environmental groups, the Ninth Circuit, however, agreed to re-hear the case en banc – something they only do about one or two percent of the time.  In an eight to three decision, the en banc panel reversed the prior panel decision and allowed Snowbowl and the Forest Service to go forward with the planned desecration of the area.
Shortly thereafter, a group of concerned citizens from the Flagstaff area, including the Save the Peaks Coalition, filed suit under the National Environmental Protection Act (NEPA) challenging the Forest Service's review of the impacts associated with the potential ingestion of snow made from reclaimed sewer water.  The prior three-judge panel of the Ninth Circuit unanimously found that the Forest Service failed to adequately consider such impacts.  The en banc panel, however, vacated that decision without addressing the merits of the claim.  On review of the issue in the current litigation, District Court Judge Mary Murguia found, contrary to the prior Ninth circuit ruling, that the Forest Service review was adequate and that the case should not be allowed to go forward.
Initial approvals for the controversial project were made under the administration of George W. Bush.  It was initially the Bush Justice Department and Department of Agriculture that vigorously fought to spray potentially unsafe reclaimed sewer water onto the sacred site.  The Obama Administration, which has made a public show of respecting tribal sovereignty and sacred sites, was however, quick to pick up the mantle. Judge Murguia was nominated by Obama to go to the Ninth Circuit.  Shortly after ruling against the Save the Peaks Coalition, her appointment was confirmed.
It appears that the prior three-judge panel consisted of Democratically appointed judges.  The en banc panel appears to have split in its eight to three decision largely on political party lines.  With the three dissenting judges having been appointed by Democratic Presidents.  In any event, the Administration continues to expend resources and time fighting to disrupt a unique and sensitive ecosystem, which also happens to be sacred land to Native Americans.  All to provide Snowbowl, a private, for profit company that operates on federal land, a consistent and reliable operating season.
###
No Thanks, No Giving! Indigenous Action Yearly Fundraiser (online)
Support Indigenous radical autonomous, anti-capitalist, anti-colonial organizing & agitation!
COLONIZERS GOTTA PAY! SMASH THE NON-PROFIT CAPITALIST
INDUSTRIAL COMPLEX!
Donate to Indigenous Action:
LINK: www.paypal.com/paypalme/indigenousaction
This is our yearly call for material support for Indigenous Action activities & donation drive for Táala Hooghan infoshop unsheltered support & operational expenses.
Indigenous Action (IA/originally Indigenous Action Media) was founded on August 25th, 2001 to provide strategic communications and direct action support for Indigenous sacred lands defense. We are a volunteer-run radical autonomous crew of anti-colonial & anti-capitalist Indigenous trouble makers & propagandists.
We generally are comprised of designers, artists, writers & frontline agitators that work together on a project by project basis (some long-term some short) for liberation for Mother Earth and all her beings. We've organized hundreds of actions, marches, banner drops, workshops, conferences, benefits, & much more. 100% of all proceeds directly support radical Indigenous organizing. Everything we do is based on community support. We don't rely on grants. We're all in for total liberation.
Some (not all) active projects & organizing we're currently directly involved with:
IA Podcast+ Táala Hooghan Infoshop
KinłaniMutualAid.org
HaulNo.com
ProtectthePeaks.org
Ongoing local/regional frontline support:
Resource/supply distro, bail, jail support
organizing, etc.
Graphic & web support for a dozen
current Indigenous-led campaigns.
Some larger yearly expenses we need immediate support for:
Táala Hooghan taxes & utilities (the space has been free to use by KMA for 3 years):
Approx. $6,000+/year.
Regional supply distro for Indigenous unsheltered relatives: $1,000-$3,000, we also maintain funds for emergency hotels.
Anti-state repression + DA support: $3,000+ varies, but we maintain an ongoing bail fund & frontline resource support.
www.indigenousaction.org
16th Annual No Thanks, No Giving!
Indigenous Action presents:
16th Annual No Thanks, No Giving!
Food share, anti-colonial resistance & solidarity discussion circle, & online fundraiser!

DONATE: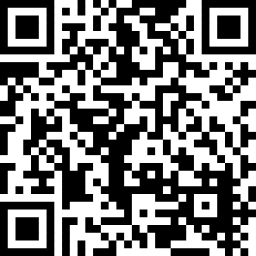 1:30p – 4pm
We will prepare and serve mutton stew and other foods for all who join us. Please bring any dish to contribute if you wish, we also plan on actively distributing (possibly mobile) any extra foods.
Local volunteers needed! Contact: indigenousaction@gmail.com
At 2:30p we will have a talking & action circle focused on anti-colonial resistance & solidarity. Representatives of Kinłani Mutual Aid, Haul No!, volunteers with Protect the Peaks, and autonomous organizers supporting unsheltered relatives will present & discuss upcoming actions & organizing. We will also discuss building Indigenous solidarity with local efforts to Free Palestine. Come ready to share, support and get involved! Everyone welcome!
This event is free, please bring donations for unsheltered relative support (tents, sleeping bags, tarps, jackets, etc).

This is also our yearly fundraiser for Táala Hooghan infoshop and Indigenous Action activities!
Please donate online via PayPal: https://www.paypal.com/paypalme/indigenousaction
Support Indigenous autonomous organizing and agitation!
*We will not host a livestream this year.

When: Thursday, Nov. 23, 2023
1:30pm – 4:00pm MST.
Where: Táala Hooghan Infoshop1704 N 2nd St, Kinłani (Occupied Flagstaff), AZ
MASKS REQUIRED This event will be held both indoors and outdoors (dress warm!) with limited indoor space. We will maintain social distancing & mask protocols for immunocompromised relatives.
For 16 years we have hosted No Thanks, No Giving! as an anti-colonial event to bring together radical Indigenous voices, share traditional foods, and benefit unsheltered relatives at Táala Hooghan Infoshop in Kinlani (Flagstaff, AZ). More info: www.indigenousaction.org
#nothanksnogiving #MutualAid #indigenousmutualaid #solidaritynotcharity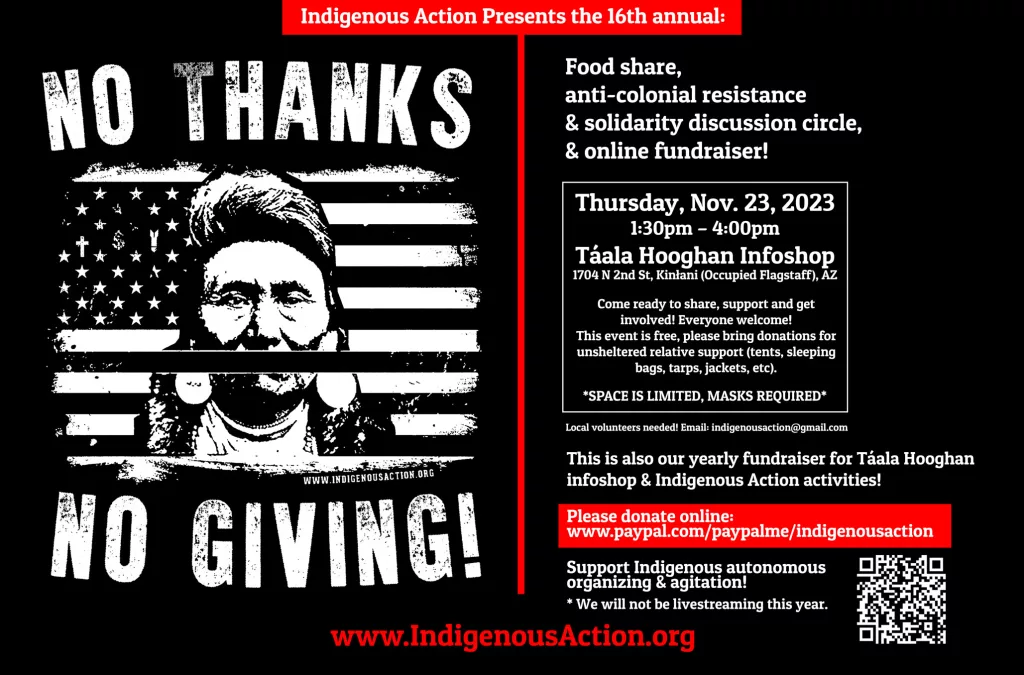 New Book: No Spiritual Surrender, Klee Benally
New Book: No Spiritual Surrender: Indigenous Anarchy in Defense of the Sacred is a searing anti-colonial analysis rooted in frontline experience.
NOW AVAILABLE ONLINE & SELECT BOOKSTORES: No Spiritual Surrender: Indigenous Anarchy in Defense of the Sacred


No Spiritual Surrender: Indigenous Anarchy in Defense of the Sacred is a searing anti-colonial analysis rooted in frontline experience. Klee Benally (Diné) unrelentingly agitates against colonial politics towards Indigenous autonomy and total liberation of Nahasdzáán (Mother Earth).
Available now from Detritus Books detritusbooks.com
406 pages | $20 Nonfiction | Paperback Available in select bookshops.
About the author: Klee Benally is a Diné (Navajo) anarchist and undisciplined agitational propagandist. Originally from Black Mesa. Klee currently resides in occupied Flagstaff, Arizona. kleebenally.com, indigenousaction.org
www.detritusbooks.com
Wholesale inquiries: detritusbooks.com
Now booking speaking tour dates: indigenousaction@gmail.com
Get updates via email, sign up here:
Indigenous Action Podcast