Ep. 6: Unsettling Settler Politics: Biden, Halaand & Accomplices Not Grammys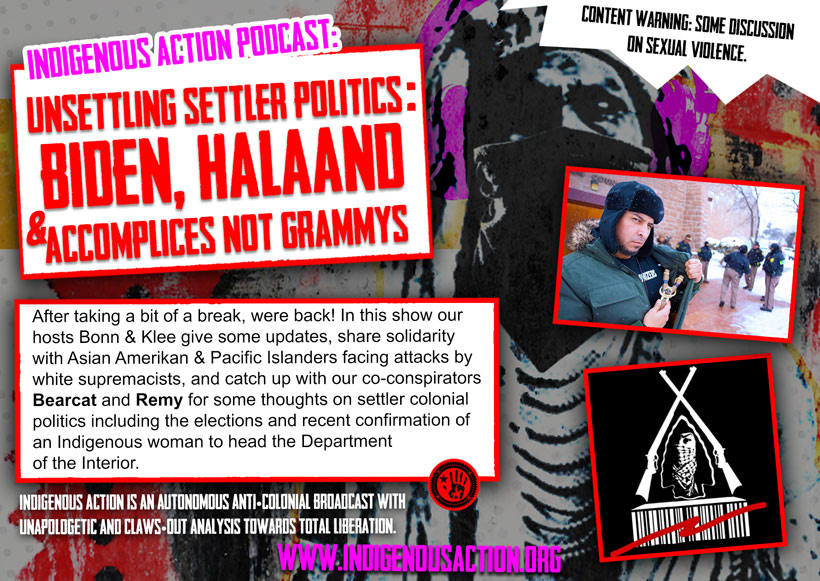 Ep. 6: Unsettling Settler Politics: Biden, Halaand & Accomplices Not Grammys
After taking a bit of a break, were back! In this show our hosts Bonn & Klee give some updates, share solidarity with Asian Amerikan & Pacific Islanders facing attacks by white supremacists, and catch up with our co-conspirators Bearcat and Remy for some thoughts on settler colonial politics including the elections and recent confirmation […]

Subscribe: iTunes | Spotify


After taking a bit of a break, were back! In this show our hosts Bonn & Klee give some updates, share solidarity with Asian Amerikan & Pacific Islanders facing attacks by white supremacists, and catch up with our co-conspirators Bearcat and Remy for some thoughts on settler colonial politics including the elections and recent confirmation of an Indigenous woman to head the Department of the Interior. We also talk about Accomplices not Allies and the Grammys spectacle.

Content warning: Some discussion on sexual violence.

Guests:

Remy is a multidisciplinary Indigenous activist and artist of many different media from the Black Mesa region on the Navajo Reservation in Arizona. By utilizing art, activism and technology, his creations are rooted in his heritage and culture addressing social, environmental and political issues. www.linktr.ee/f1rstse7en, @f1rstse7en

Jenn Bearcat (she/her): Newe-Numa (Tosa Wihi) from Doka Badee, so-called Northern Nevada currently residing in Albuquerque, NM. She's a 3rd generation land defender with a healthy respect for a diversity of tactics and a healthy distrust of the state. She contributes to a network of organizers and frontline defenders confronting issues surrounding colonization.

Hosts:
Bonn & Klee
Info links:
Loren Reed's case including ways to support: www.instagram.com/tucsonantirepression
Info and legal defense fund for Bonn's case: http://gf.me/u/zm2r65
Accomplices Not Grammys statement: www.indigenousaction.org/accomplices-not-grammys-against-woke-theatrics/

www.indigenousaction.org/gasoline-on-the-fire-the-strategic-opportunity-of-settler-on-settler-violence/
www.indigenousaction.org/16-things-you-can-do-to-be-ungovernable-p-s-fuck-biden/

About the podcast:
Welcome to Indigenous Action where we dig deep into critical issues impacting our communities throughout Occupied America/Turtle Island. This is an autonomous anti-colonial broadcast with unapologetic and claws-out analysis towards total liberation. So take your seat by this fire and may the bridges we burn together, light our way.
Subscribe, like, share on iTunes, Spotify, and Google Play. Check us out on the channelzeronetwork.com.
Email us at IAInfo@protonmail.com.
www.indigenousaction.org/podcast
Ox Sam Camp Update: Land Defenders Arrested, Camp Raided After Blocking Excavator
From www.oxsam.org (follow for more updates).
Read the new press release from 6/8/23 here: https://www.indigenousaction.org/ox-sam-camp-raid-update-one-arrested-as-prayer-tipis-are-bulldozed-and-ceremonial-items-confiscated/
6/7/23
First arrests are underway and camp is being raided after land defenders halted an excavator this morning at Thacker Pass.
OROVADA, NV — This morning, a group of Native American water protectors and allies used their bodies to non-violently block construction of the controversial Thacker Pass lithium mine in Nevada, turning back bulldozers and heavy equipment.
The dramatic scene unfolded this morning as workers attempting to dig trenches near Sentinel Rock were turned back by land defenders who ran and put their bodies between heavy equipment and the land.
Now they are being arrested and camp is being raided.
Northern Paiute and Western Shoshone people consider Thacker Pass to be sacred. So when they learned that the area was slated to become the biggest open-pit lithium mine in North America, they filed lawsuits, organized rallies, spoke at regulatory hearings, and organized in the community. But despite all efforts over the last three years, construction of the mine began in March.
That's what led Native American elders, friends and family, water protectors, and their allies to establish what they call a "prayer camp and ceremonial fire" at Thacker Pass on May 11th, when they setup a tipi at dawn blocking construction of a water pipeline for the mine. A second tipi was erected several days later two miles east, where Lithium Nevada's construction is defacing Sentinel Rock, one of their most important sacred sites.
Sentinel Rock is integral to many Nevada Tribes' worldview and ceremony. The area was the site of two massacres of Paiute and Shoshone people. The first was an inter-tribal conflict that gave the area it's Paiute name: Peehee Mu'huh, or rotten moon. The second was a surprise attack by the US Cavalry on September 12th, 1865, during which the US Army slaughtered dozens. One of the only survivors of the attack was a man named Ox Sam. It is some of Ox Sam's descendants, the Grandmas, that formed Ox Sam Newe Momokonee Nokotun (Indigenous Women's Camp) to protect this sacred land for the unborn, to honor and protect the remains of their ancestors, and to conduct ceremonies. Water protectors have been on-site in prayer for nearly a month.
On Monday, Lithium Nevada Corporation also attempted to breach the space occupied by the water protectors. As workers maneuvered trenching equipment into a valley between the two tipis, water protectors approached the attempted work site and peacefully forced workers and their excavator to back up and leave the area. According to one anonymous land defender, Lithium Nevada's action was "an attempted show of force to fully do away with our tipi and prayer camp around Sentinel Rock."
Ranchers, recreationists, and members of the public have been allowed to pass without incident and water protectors maintain friendly relationships with locals. Opposition to the mine is widespread in the area, and despite repeated warnings from the local Sheriff, there have been no arrests. Four people, including Dorece Sam Antonio of the Fort McDermitt Paiute-Shoshone Tribe (an Ox sam descendant) and Max Wilbert of Protect Thacker Pass, have been targeted by court orders barring them from the area. They await a court hearing in Humboldt County Justice Court.
"Lithium Nevada is fencing around the sacred site Sentinel Rock to disrupt our access and yesterday was an escalation to justify removal of our peaceful prayer camps," said one anonymous water protector at Ox Sam Camp. "Lithium Nevada intends to desecrate and bulldoze the remains of the ancestors here. We are calling out to all water protectors, land defenders, attorneys, human rights experts, and representatives of Tribal Nations to come and stand with us."
"I'm being threatened with arrest for protecting the graves of my ancestors," says Dorece Sam Antonio. "My great-great Grandfather Ox Sam was one of the survivors of the 1865 Thacker Pass massacre that took place here. His family was killed right here as they ran away from the U.S. Army. They were never buried. They're still here. And now these bulldozers are tearing up this place."
Another spiritual leader on the front lines has been Dean Barlese, a spiritual leader from the Pyramid Lake Paiute Tribe. Despite being confined to a wheelchair, Barlese led prayers at the site on April 25th (shutting down construction for a day) and returned on May 11th.
"I'm asking people to come to Peehee Mu'huh," Barlese said. "We need more prayerful people. I'm here because I have connections to these places. My great-great-great grandfathers fought and shed blood in these lands. We're defending the sacred. Water is sacred. Without water, there is no life. And one day, you'll find out you can't eat money."
The 1865 Thacker Pass massacre is well documented in historical sources, books, newspapers, and oral histories. Despite the evidence but unsurprisingly, the Federal Government has not protected Thacker Pass or even slowed construction of the mine to allow for consultation to take place with Tribes. In late February, the Federal Government recognized tribal arguments that Thacker Pass is a "Traditional Cultural District" eligible for the National Register of Historic Places. But that didn't stop construction from commencing.
"This is not a protest, it's a prayer," said Barlese. "But they're still scared of me. They're scared of all of us elders, because they know we're right and they're wrong."
O'odham Executed by Border Patrol: Statement by Raymond Mattia Family
Raymond Mattia of the Tohono O'odham Nation was executed by US border patrol agents on May 18th at his home. He was reportedly shot 38 times.

A peaceful gathering to support all victims of the
unmonitored violent actions of the Border Patrol and other agencies will be held at The Border
Patrol Station in Why, Az, and Tucson on Golf Links Road this Saturday, May 27th, from
10:00am-Noon.
For more information please visit: https://bsnorrell.blogspot.com/2023/05/us-border-patrol-shoots-tohono-oodham.html
Statement by Mattia Raymond's family:
We have been trying to find the strength to write this statement. This tragedy is so
grievous because it is apparent what had happened. Raymond called for help and, in turn, was
shot down at his doorstep. Raymond's rights were violated by the authorities whom we trust to
protect our Nation. Improper and unprofessional actions of the agencies involved were witnessed
by family members present near the crime scene. Loved ones sat in agony, not knowing of
Raymond's condition until they were told that he had passed hours later. Raymond lay in front of
his home for seven hours before a coroner from Tucson arrived.
In our eyes and hearts, we believe that Raymond was approached with excessive and
deadly force that took his life. He was a father, brother, uncle, friend, and an involved
community member. Raymond always fought for what was right, and he will continue to fight
even after his death. This is not an isolated incident, but it should bring awareness of the
oppression our people live through.
We want to thank so many of you for your condolences and support. A GoFundMe for
defense funds will be available soon. A peaceful gathering to support all victims of the
unmonitored violent actions of the Border Patrol and other agencies will be held at The Border Patrol Station in Why, Az, and Tucson on Golf Links Road this Saturday, May 27th, from 10:00am-Noon.
Contact for support: justiceforraymattia@gmail.com
ALERT: Imminent Uranium Mining Threat at Grand Canyon – Haul No!
Underground blasting & above ground work has begun at Pinyon Plain/Canyon Mine, just miles from the Grand Canyon.
Workers are readying to start mining uranium at the mine. According to the Forest Service, workers are blasting daily though no ore is being moved yet. Once Energy Fuels starts hauling out radioactive ore, they plan to haul 30 tons per day through Northern Arizona to the company's processing mill 300 miles away.
The Grand Canyon, sacred site Red Butte, precious water, and communities along the haul route are in danger!
As all legal options have failed, we need you to join us to stand up and stop this nuclear catastrophe from permanently poisoning our communities!
Join our telegram channel to connect for actions and support: https://t.me/haulno
For more info & to donate for legal defense: www.haulno.com
Pinyon Plain/Canyon Mine Haul Route Facts:
* Total distance of 300 miles.
* 12 trucks with capacity to haul up to 30 tons of highly radioactive ore per day.
* Truck loads to be covered with thin tarps, the only shielding from uranium and only protection from environmental contamination.
* Proposed route will go through high population areas such as Valle, Williams, and Flagstaff; as well as through rural Navajo reservation communities including Cameron, Tuba City, and Kayenta; near the Hopi reservation, and finally arrive at Energy Fuel's White Mesa Mill only three miles from the Ute Mountain Ute tribal community of White Mesa, Utah.
#haulno #stoppinyonplainmine
#nonukes
#dontnukethegrandcanyon
Get updates via email, sign up here:
Indigenous Action Podcast