Facebooking While Brown: Trial Set for Diné Man Arrested for Private Social Media Comments #FreeLorenReed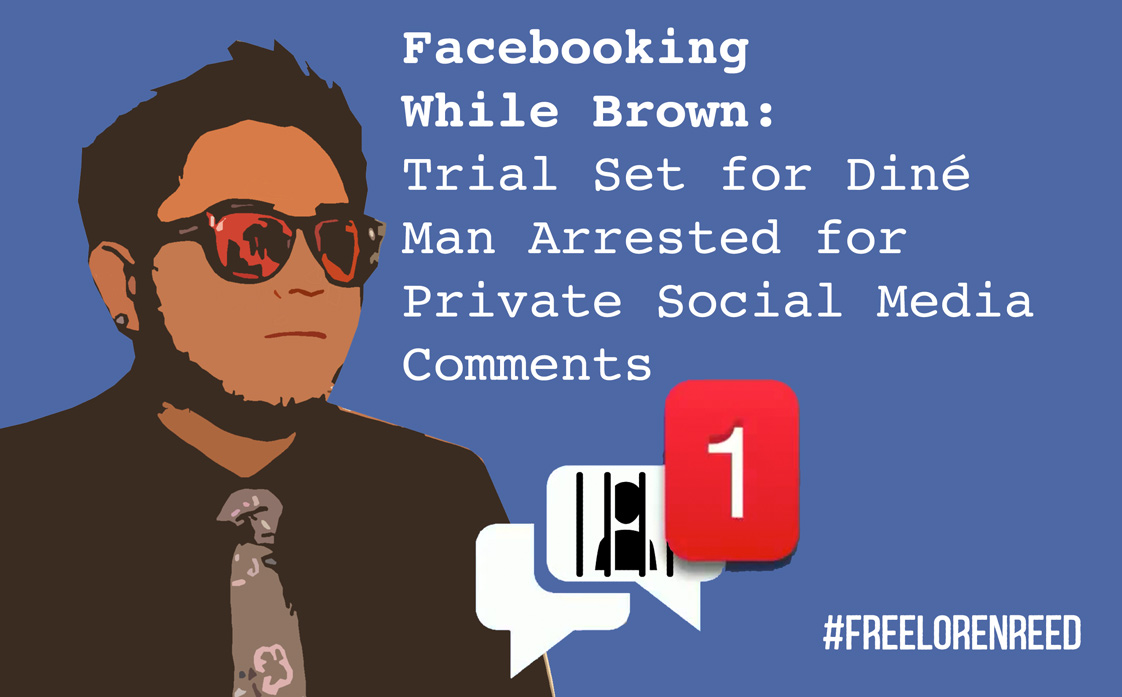 FOR IMMEDIATE RELEASE
April 14, 2021
Contacts:
Lauren Regan, Executive Director & Senior Staff Attorney, CLDC
info@cldc.org
Chava Shapiro, Tucson Anti-Repression Crew
Chava_tarc@protonmail.com
Facebooking While Brown:
Indigenous Man in Arizona Imprisoned for Social Media "Shock-Talk" about #BLM Protest
Page, Arizona – Loren Reed, a 26-year-old Diné (Navajo) man, is set for trial on May 4, 2021 for a trumped-up federal charge of "Threats to Damage and Destroy a Building by Means of Fire" after he
engaged in a heated debate over Black Lives Matter protest tactics[1] in a private Facebook chat group created to organize a local police brutality protest. Reed has been held in federal pretrial detention without bail for ten months after a prior high school acquaintance reported him to the police for a different satirical social media post about planning a protest or 'riot' at the courthouse that never actually happened. An undercover FBI agent then infiltrated the private chat group, and monitored numerous messages exchanged by Reed and his friends. After this intrusive monitoring of speech, and lacking any real evidence, Reed was quickly and violently arrested in his neighborhood on June, 2, 2020. Nothing incriminating was found during or after the arrest, despite officers thoroughly searching Reed's home and even his housemates.
"This federal charge is unconstitutional because there was never a legally-justified 'true threat' contained in the posts that would remove the broad protections of the First Amendment that apply even to vitriolic or offensive speech,[2]" said CLDC Executive Director Lauren Regan, one of the attorneys assisting Loren Reed on the case. "The supposed "threat" was never communicated to any target or victim, there was no intent to act or any evidence of an intent to act, and there is no lawful basis to federally prosecute someone for speech only – much less an Indigenous organizer confronting racism in a very conservative region of Arizona."
"Prosecuting someone in these circumstances takes us down the slippery slope of what is protected speech versus what is a 'true threat' justifying criminal prosecution. We must hold strong to the outer limits of the First Amendment or we all lose the right to freely speak our minds. Today the criminalized speech may pertain to Black Lives Matter protests, but tomorrow it could be religion, science, or other political beliefs." Regan said.
Over the course of the next ten months, Reed was held without formal charge for a month in the Coconino County Jail, where he contracted COVID-19 and where his close friend had died the year before after being denied medical care.[3] He was later transferred to a private for-profit  federal detention center in Florence, Arizona, a polluted copper mining town turned prison industrial complex hub. Reed was not indicted with a crime until late September. His trial has now been delayed three times and is currently set for May 4, 2021.
The U.S. Attorney's office blames the pandemic for the following nine months of additional detention in which Reed was denied a speedy trial –  or even bail –  and in which it filed three separate motions to 'extend' his case. However, that has not stopped the government from attempting to bury this miscarriage of justice by informally suggesting an oppressive plea agreement that would result in a felony conviction, and likely probationary sentence.
"For an Indigenous person who faces the reality of institutional racism in his daily life, being threatened with a conviction for a crime he did not commit is a precarious, life-devastating burden," stated Klee Benally, a longtime Diné (Navajo) sacred lands advocate and organizer from Flagstaff, Arizona. "It is courageous of Loren to refuse to accept this atrocious deal. While it could free him from custody immediately, it would endanger organizers and activists in the future by further criminalizing speech. Loren is taking a powerful stand, and we need to stand right there with him."
Reed, a rapper who is known as a sensitive yet enthusiastic jokester, adamantly denies that there was any threat implied in his posts. Anyone reading them[4] with an open mind would agree. And yet, the State wants to saddle a young Indigenous man with a felony conviction that will haunt him for the rest of his life.
"This is yet another attempt to control the speech and tone of a person of color amidst a year of heartbreaking – and increasingly fatal – racially-motivated police violence. Appallingly, in this situation the State has chosen to exploit a snitch's biased complaint to police[5] in order to further perpetuate this cycle of violence," said Regan.
"We are calling on the federal prosecutor to immediately dismiss the charge in the interests of justice. Mr. Reed has already served over 10 months in pretrial detention for speech that did not actually threaten anyone," she added.
"As Indigenous justice advocates, we stand with Loren Reed. The criminalization of Loren — and his right to free speech — is an ongoing violation of Indigenous rights and overall justice," said Morning Star Gali of the Pit River Tribe, a lifelong Indigenous rights advocate with Restoring Justice for Indigenous Peoples who is currently based out of Sacramento, California.
"We also need to talk about the racism at play here," said CLDC Attorney Sarah Alvarez. "Already, the feds are declining to prosecute, electing to charge petty misdemeanors, and/or negotiating lenient plea deals[6] for the white supremacists that assaulted the U.S. Capitol on January 6. They have also entirely turned a blind eye toward the hundreds of far-right individuals who threatened politicians and police via social media. Meanwhile, an Indigenous man has been sitting in jail without due process for 10 months – all over a tongue-in-cheek social media post where no violence or property damage ever occurred nor was ever intended to occur. It's difficult to prove this in court, but Mr. Reed's case is a textbook example of race-based disparate treatment, and it needs to end with an immediate dismissal of the charge against him."
Reed is scheduled for a jury trial starting May 4 but there's still time for the U.S. Attorney's Office and the Department of Justice to do the right thing and immediately drop the charge to let him return to his life.
[1] Defendant Mot. to Dismiss Due to Likely Presentation of Inaccurate, Incomplete or Misleading Information to Grand Jury at 4, US v. Reed, No. CR-20-09098-PCT-SPL (ESW) (Dist. Ct. 9d Cir. Ct. Phoenix Div., Arizona. April 2, 2021).
[2] Defendant Mot. to Dismiss for Inadequate Indictment at 6, US v. Reed, No. CR-20-09098-PCT-SPL (ESW) (Dist. Ct. 9d Cir. Ct. Phoenix Div., Arizona. April 2, 2021)
[3] "Jail footage shows Kyle Martinson yell for help before death," Arizona Daily Sun, June 17, 2019. https://azdailysun.com/news/jail-footage-shows-kyle-martinson-yell-for-help-before-death/article_ea48524d-8991-50cd-91a9-8f67ae8ec3c8.html
[4] "Indigenous man faces 10 years for Facebook comments," Al Jazeera, January 19, 2021. https://www.aljazeera.com/news/2021/1/19/holdindigenous-man-faces-10-years-for-facebook-comments-during-b
[5] Defendant Mot. to Dismiss for Selective Enforcement & Selective Prosecution; Mot. for Discovery at 5, US v. Reed, No. CR-20-09098-PCT-SPL (ESW) (Dist. Ct. 9d Cir. Ct. Phoenix Div., Arizona. April 2, 2021)
[6] "Many Capitol rioters unlikely to serve jail time," Politico. March 30, 2021. https://www.politico.com/news/2021/03/30/jan-6-capitol-riot-jail-time-478440
###
Civil Liberties Defense Center supports movements that seek to dismantle the political and economic structures at the root of social inequality and environmental destruction. 
Ox Sam Camp Raid Update: One Arrested as Prayer Tipis Are Bulldozed and Ceremonial Items Confiscated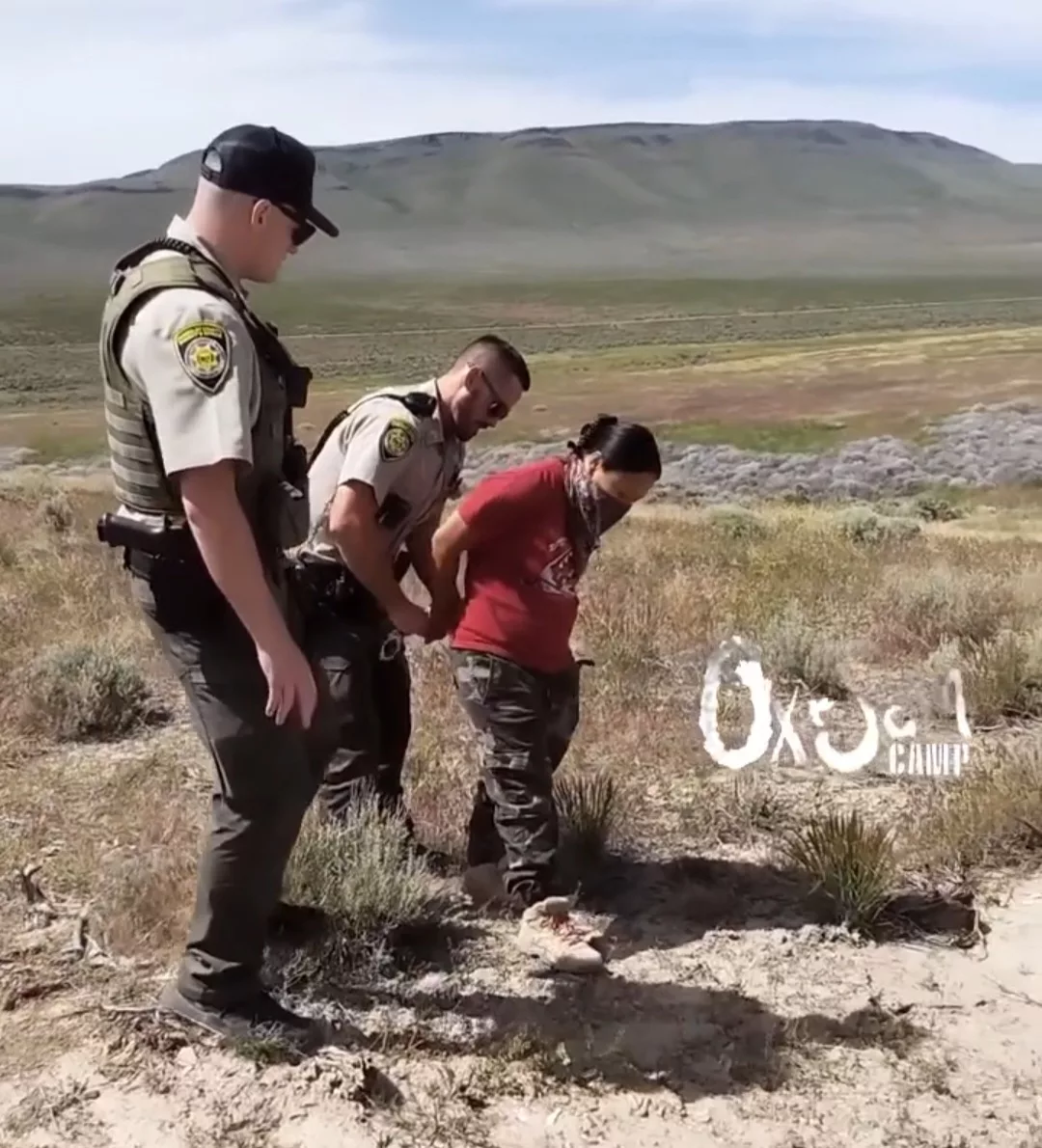 Thursday, June 8th, 2023

Contact: Ox Sam Camp
Email: oxsamcamp@proton.me
OxSam.org
THACKER PASS, NV — On Wednesday morning, the Humboldt County Sheriff's department on behalf of Lithium Nevada Corporation, raided the Ox Sam Newe Momokonee Nokutun (Ox Sam Indigenous Women's Camp), destroying the two ceremonial tipi lodges, mishandling and confiscating ceremonial instruments and objects, and extinguishing the sacred fire that has been lit since May 11th when the Paiute/Shoshone Grandma-led prayer action began.
One arrest took place on Wednesday at the direction of Lithium Nevada security. A young Diné female water protector was handcuffed with no warning and loaded into a windowless, pitch-black box in the back of a pickup truck. "I was really scared for my life," the woman said. "I didn't know where I was or where I was going, and I know that MMIW is a real thing and I didn't want to be the next one." She was transported to Humboldt County Jail, where she was charged with criminal trespass and resisting arrest, then released on bail.
Just hours before the raid, Ox Sam water protectors could be seen for the second time this week bravely standing in the way of large excavation equipment and shutting down construction at the base of Sentinel Rock.
To many Paiute and Shoshone, Sentinel Rock is a "center of the universe," integral to many Nevada Tribes' way of life and ceremony, as well as a site for traditional medicines, tools, and food supply for thousands of years. Thacker Pass is also the site of two massacres of Paiute and Shoshone people­. The remains of the massacred ancestors have remained unidentified and unburied since 1865, and are now being bulldozed and crushed by Lithium Nevada for a mineral known as "the new white gold."
Since May 11th, despite numerous requests by Lithium Nevada workers, the Humboldt County Sheriff Department has been reticent and even unwilling to arrest members of the prayer camp, even after issuing three warnings for blocking Pole Creek Road access to Lithium Nevada workers and sub-contractors, while allowing the public to pass through.
"We absolutely respect your guys' right to peacefully protest," explained Humboldt County Sheriff Sean Wilkin on May 12th. "We have zero issues with [the tipi] whatsoever… We respect your right to be out here."
On March 19th the Sheriff arrived again, serving individual fourteen-day Temporary Protection Orders against several individuals at camp. The protection orders were granted by the Humboldt County Court on behalf of Lithium Nevada based on sworn statements loaded with misrepresentations, false claims, and, according to those targeted, outright false accusations by their employees. Still, Ox Sam Camp continued for another week. The tipis, the sacred fire, and the prayers occurred for a total of twenty-seven days of ceremony and resistance.
The scene at Thacker Pass this week looked like Standing Rock, Line 3, or Oak Flat, as Lithium Nevada's workers and heavy equipment tried to bulldoze and trench their way through the ceremonial grounds surrounding the tipi at Sentinel Rock, and water protectors put their bodies in the way of the destruction, forcing work stoppage on two occasions.
Observers stated that Lithium Nevada's head of security was directing the Sheriff's deputies where to go and what to do during the raid.
Lithium Nevada's ownership and control of Thacker Pass only exists because of the flawed permitting and questionable administrative approvals issued by the Bureau of Land Management (BLM). BLM officials have refused to acknowledge that Peehee Mu'huh is a sacred site to regional Tribal Nations, and have continued to downplay and question the significance of the double massacre through two years of court battles.
Three tribes — the Reno-Sparks Indian Colony, Summit Lake Paiute Tribe, and Burns Paiute Tribe — remain locked in litigation with the Federal Government for permitting the mine. The tribes filed their latest response to the BLM's Motion to Dismiss on Monday. BLM is part of the Department of the Interior which is led by Deb Haaland (Laguna Pueblo).
On Wednesday, at least five Sheriff's vehicles, several Lithium Nevada worker vehicles, and two security trucks arrived at the original tipi site that contained the ceremonial fire, immediately adjacent to Pole Creek Road. One camper was arrested without warning, and others were issued with trespass warnings and allowed to leave the area. Once the main camp was secured, law enforcement then moved up to the tipi site at Sentinel Rock, a mile away.
There is a proper way to take down a tipi and ceremonial camp, and then there is the way Humboldt County Sheriffs proceeded on behalf of Lithium Nevada Corporation. Tipis were knocked down, tipi poles were snapped, and ceremonial objects and instruments were rummaged through, mishandled, and impounded. Empty tents were approached and secured in classic SWAT-raid fashion. One car was towed.
As is often the case when lost profits lead to government assaults on peaceful water protectors, Lithium Nevada Corporation and the Humboldt County Sheriffs have begun to claim that the raid was done for the safety of the camp members and for public health.
Josephine Dick (Fort McDermitt Paiute-Shoshone), who is a descendent of Ox Sam and one of the matriarchs of Ox Sam Newe Momokonee Nokutun, made the following statement in response to the raid:
"As Vice Chair of the Native American Indian Church of the State of Nevada, and as a Paiute-Shoshone Tribal Nation elder and member, I am requesting the immediate access to and release of my ceremonial instruments and objects, including my Eagle Feathers and staff which have held the prayers of my ancestors and the Ox Sam camp since the beginning. There was also a ceremonial hand drum and medicines such as cedar and tobacco, which are protected by the American Indian Religious Freedom Act.
In addition, my understanding is that Humboldt County Sherriffs along with Lithium Nevada security desecrated two ceremonial tipi lodges, which include canvasses, poles, and ropes. The Ox Sam Newe Momokonee Nokutun has been conducting prayers and ceremony in these tipis which are also protected by the American Indian Religious Freedom Act. When our ceremonial belongings are brought together around the sacred fire, this is our church. Our Native American church is a sacred ceremony. I am demanding the immediate access to our prayer site at Peehee Mu'huh and the return of our confiscated ceremonial objects.
The desecration that Humboldt County Sherriffs and Lithium Nevada conducted by knocking the tipis down and rummaging through sacred objects is equivalent to taking a bible, breaking The Cross, knocking down a cathedral, disrespecting the sacrament, and denying deacons and pastors access to their places of worship, in direct violation of my American Indian Religious Freedom rights. This violation of access to our ceremonial church and the ground on which it sits is a violation of Executive Order 13007.
The location of the tipi lodge that was pushed over and destroyed is at the base of Sentinel Rock, a place our Paiute-Shoshone have been praying since time immemorial. After two years of our people explaining that Peehee Mu'huh is sacred, BLM Winnemucca finally acknowledged that Thacker Pass is a Traditional Cultural District, but they are still allowing it to be destroyed."
Josephine and others plan to make a statement on live stream outside the Humboldt County Sheriff's Office in Winnemucca on the afternoon of Friday, June 9th around 1pm.
Another spiritual leader on the front lines has been Dean Barlese from the Pyramid Lake Paiute Tribe. Despite being confined to a wheelchair, Barlese led prayers at the site on April 25th which led to Lithium Nevada shutting down construction for a day, and returned on May 11th to pray over the new sacred fire as Ox Sam camp was established.
"This is not a protest, it's a prayer," said Barlese. "But they're still scared of me. They're scared of all of us elders, because they know we're right and they're wrong."
###
Background
Thacker Pass is located in northern Nevada near the Oregon border, where Lithium Nevada Corporation is in the first phase of building a $2 billion open-pit lithium mine which would be the largest of its kind in North America. The lithium is mainly destined for General Motors Corporation's electric car batteries, which the corporation laughably claims is "green." Mine opponents call this greenwashing and have stated that "it's not green to blow up a mountain."
The U.S. Supreme Court has granted Lithium Nevada corporation and all other business corporations a whole variety of constitutional "rights" that were never meant for business entities. Without these special so-called corporate "rights," the mine owners would never have been allowed to construct this mine.
Three Native American tribes filed a new lawsuit against the Federal Government over Lithium Nevada Corporation's planned Thacker Pass lithium mine on February 16, 2023, the latest legal move in the two-and-a-half-year struggle over mining, greenwashing, and sacred land in northern Nevada.
The Tribes notified the 9th Circuit Court of Appeals on May 19th that they mean to appeal their Motion seeking a Preliminary Injunction which was rejected by a lower court in early March. Four environmental groups which lost their case in January have also appealed to the 9th Circuit Court of Appeals, and are expected to be heard in June.
O'odham Executed by Border Patrol: Statement by Raymond Mattia Family
Raymond Mattia of the Tohono O'odham Nation was executed by US border patrol agents on May 18th at his home. He was reportedly shot 38 times.

A peaceful gathering to support all victims of the
unmonitored violent actions of the Border Patrol and other agencies will be held at The Border
Patrol Station in Why, Az, and Tucson on Golf Links Road this Saturday, May 27th, from
10:00am-Noon.
For more information please visit: https://bsnorrell.blogspot.com/2023/05/us-border-patrol-shoots-tohono-oodham.html

Statement by Mattia Raymond's family:
We have been trying to find the strength to write this statement. This tragedy is so
grievous because it is apparent what had happened. Raymond called for help and, in turn, was
shot down at his doorstep. Raymond's rights were violated by the authorities whom we trust to
protect our Nation. Improper and unprofessional actions of the agencies involved were witnessed
by family members present near the crime scene. Loved ones sat in agony, not knowing of
Raymond's condition until they were told that he had passed hours later. Raymond lay in front of
his home for seven hours before a coroner from Tucson arrived.
In our eyes and hearts, we believe that Raymond was approached with excessive and
deadly force that took his life. He was a father, brother, uncle, friend, and an involved
community member. Raymond always fought for what was right, and he will continue to fight
even after his death. This is not an isolated incident, but it should bring awareness of the
oppression our people live through.
We want to thank so many of you for your condolences and support. A GoFundMe for
defense funds will be available soon. A peaceful gathering to support all victims of the
unmonitored violent actions of the Border Patrol and other agencies will be held at The Border Patrol Station in Why, Az, and Tucson on Golf Links Road this Saturday, May 27th, from 10:00am-Noon.
Contact for support: justiceforraymattia@gmail.com
The Intercept and Grist begin release of 50,000 TigerSwan spy documents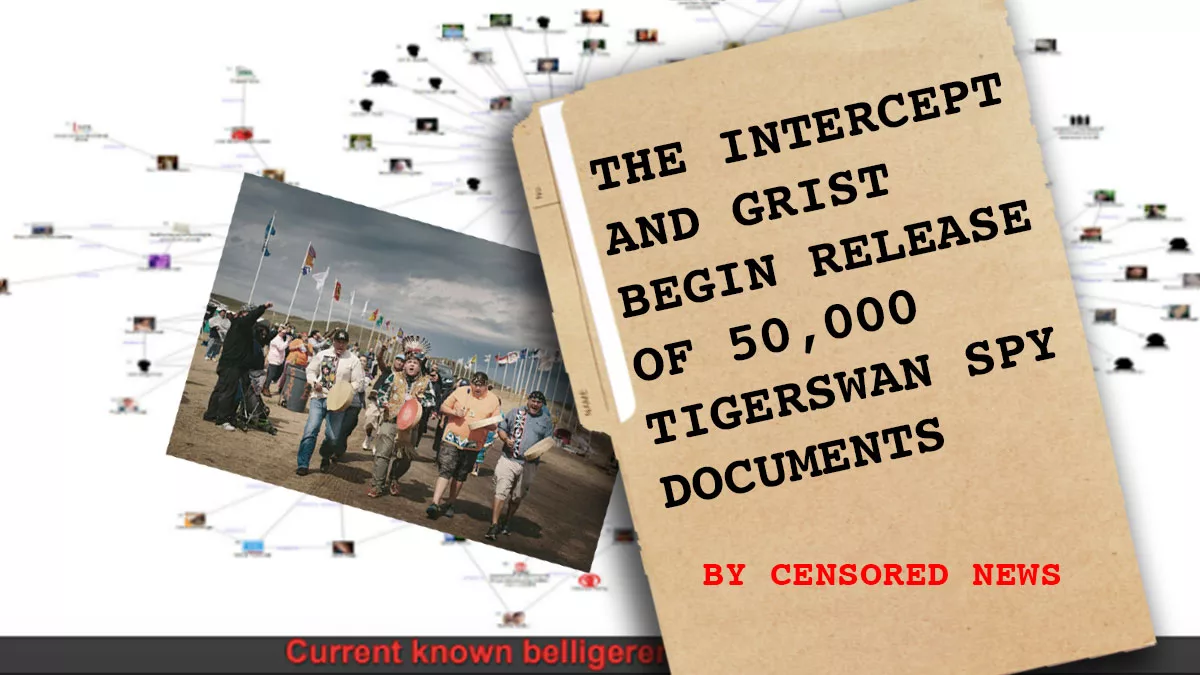 Article by Brenda Norrell, Censored News
Reprinted with permission.
April 14, 2023
Facebook: https://www.facebook.com/profile.php?id=100075796248532
The Intercept and Grist began releasing new TigerSwan spy documents in new coverage of the mercenaries hired by the Dakota Access Pipeline. They now have 50,000 TigerSwan spy documents, and another 9,000 are held up in the court battle for now. The documents reveal TigerSwan spying on Water Protectors at Standing Rock in North Dakota, Bold Iowa, and at other locations.
Reporters Alleen Brown and Naveena Sadasivam expose the new spy documents in their article, After Spying on Standing Rock, TigerSwan Shopped Anti-Protest 'Countinsurgency' to Other Oil Companies.
The article follows an expensive court battle by The Intercept seeking the release of the documents. The North Dakota Supreme Court ordered the release after TigerSwan was found operating without a license in North Dakota.
"The released documents provide startling new details about how TigerSwan used social media monitoring, aerial surveillance, radio eavesdropping, undercover personnel, and subscription-based records databases to build watchlists and dossiers on Indigenous activists and environmental organizations," The Intercept writes. Read the article at The Intercept: https://theintercept.com/2023/04/13/standing-rock-tigerswan-protests/
Paiute journalist, drone activist and filmmaker Myron Dewey was among those that TigerSwan spied on and stalked at Standing Rock 2016-2017, as revealed in the new documents that were ordered released by the court.
On Tuesday, the driver that killed Myron Dewey on an isolated road near his family's home in Yomba, Nevada, entered a surprise plea bargain deal that was cut with a new prosecutor assigned to the case in Nye County, Nevada. John Walsh pleaded guilty to the lesser charge of vehicular manslaughter.
This TigerSwan spy document, showing TigerSwan stalking Myron Dewey and Prolific the Rapper at Standing Rock on Dec. 17, 2016, is from the new documents at The Intercept. Document link: https://www.documentcloud.org/documents/23773105-tigerswan-document-daily-intelligence-update-20161217
Below: From the TigerSwan spy files just released: The power of the global movement, with its heart in Standing Rock.
Below: The first flood of documents show how rattled DAPL was over the involvement of celebrities, the Standing Rock Chairman at the United Nations, Bernie Sanders, the Palestinian flag flying, and big orgs. The doc is from a pitch that TigerSwan made for more work, hustling another pipeline to spy on resistance.
Above: TigerSwan spy file at Bold Iowa. The mercenaries hired by the Dakota Access Pipeline called Bold Iowa Water Protectors "belligerents." Document link:
TigerSwan spied on, and stalked the media, including Paiute journalist Myron Dewey, Amy Goodman at Democracy Now, and myself, publisher of Censored News, as revealed in the newly released documents by The Intercept and Grist. TigerSwan used its surveillance on the media in its pitches for more spy work to other oil and pipeline companies.
TigerSwan turned its surveillance at Standing Rock into a potential money maker, using it for powerpoints in its pitches to other oil and pipeline companies for spy work.
T
TigerSwan even stalked the United Nations Commission on Human Rights, in its high-stakes spying for dollars.
TigerSwan's Opposition Model, shown below, was used as a potential maker in PowerPoints to other oil and pipeline companies.
The Intercept described the battle for these documents.
"A discovery request filed as part of the case forced thousands of new internal TigerSwan documents into the public record. Energy Transfer's lawyers fought for nearly two years to keep the documents secret, until North Dakota's Supreme Court ruled in 2022 that the material falls under the state's open records statute," The Intercept said.
"Because an arrangement between North Dakota and Energy Transfer allows the fossil fuel company to weigh in on which documents should be redacted, the state has yet to release over 9,000 disputed pages containing material that Energy Transfer is, for now at least, fighting to keep out of the public eye."
TigerSwan spy documents on Water Protectors
Note: The documents show that TigerSwan spied on Censored News, as shown in today's article at The Intercept.
Get updates via email, sign up here:
Indigenous Action Podcast