Ep. 11: Against the Academy: Voices Countering the Academic Industrial Complex
In this show we hear from host Edxi Betts and our guests about their experiences within the Academic Industrial Complex and discuss the ways...
Subscribe:
iTunes
|
Spotify
In this show we hear from host Edxi Betts and our guests about their experiences within the Academic Industrial Complex and discuss the ways they navigate, disorient, and seek to abolish institutional colonial education systems.
Guests:
Bre Byrd (she/they) is a writer, performer, plant enthusiast, and PhD student in the Department of Feminist Studies at UC Santa Cruz. Her poetry is a deep dive into memory, grief, race, and relationships to the natural world. Their current body of work engages questions around the "Anthropocene," apocalypse, and sustainable futures through the lens of African Diaspora, Native/Indigenous Studies, and Black Feminisms. Bre's writing is influenced by the vision within Zapatismo un mundo donde quepan muchos mundos/a world where many worlds fit and hopes to write her way towards it.
Pilas is a street artist associated with Sin Fronteras 1312, which is a crew that can be anything from a street theatre duo to a 8 piece experimental musical ensemble. "Displaced from our own homelands due to US proxy wars and extractivist industries, we carry the responsibility of continuing the struggle against colonization, imperialism and global capitalism."
Amrah Salomón J. PhD is a writer, artist, activist, and educator of Mexican, Akimel O'odham and Tohono O'odham descendant, and European ancestry. She is a co-founder of Rez Beats Indigenous youth performance project, a member of the Center for Interdisciplinary Environmental Justice, a member of the O'odham Anti Border Collective, and her work has been published in both academic and literary publications in the United States and in Mexico. @oodhamantiborder @defendoodhamjewed Cashapp: $DefendOodhamJewed Paypal.me/DefendOodhamJewed Venmo: @DefendOodhamJewed
Anthony Choice, host and regular contributor of Indigenous Action.
Hosts: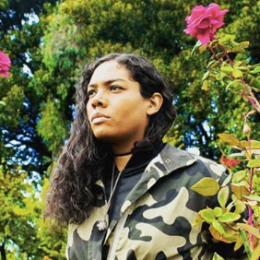 edxi betts is an Afro Blackfeet Indigenous trans feminine Pinay multi media insurrectionary artist & organizer. Her work entails political education while providing material support to oppressed & colonized communities. Creating art/media for the sake of propagating resistance culture, counter narrative and collective liberatory projects that spark discourse, sources of healing, critical thought, dialogue, and direct action. More info & support: www.linktr.ee/bettsurevolt
About the podcast: Indigenous Action is an autonomous anti-colonial broadcast with unapologetic and claws-out analysis towards total liberation. We feature radical frontline Indigenous voices and dig deep into critical issues impacting our communities. So take your seat by this fire and may the bridges we burn together, light our way.
Subscribe, like, share on iTunes, Spotify, and Google Play. Check us out on the channelzeronetwork.com. Email us at IAInfo@protonmail.com.