Indigenous Action Podcast Ep. 5: Stolen Kinship: Confronting Anti-Blackness in Indigenous Communities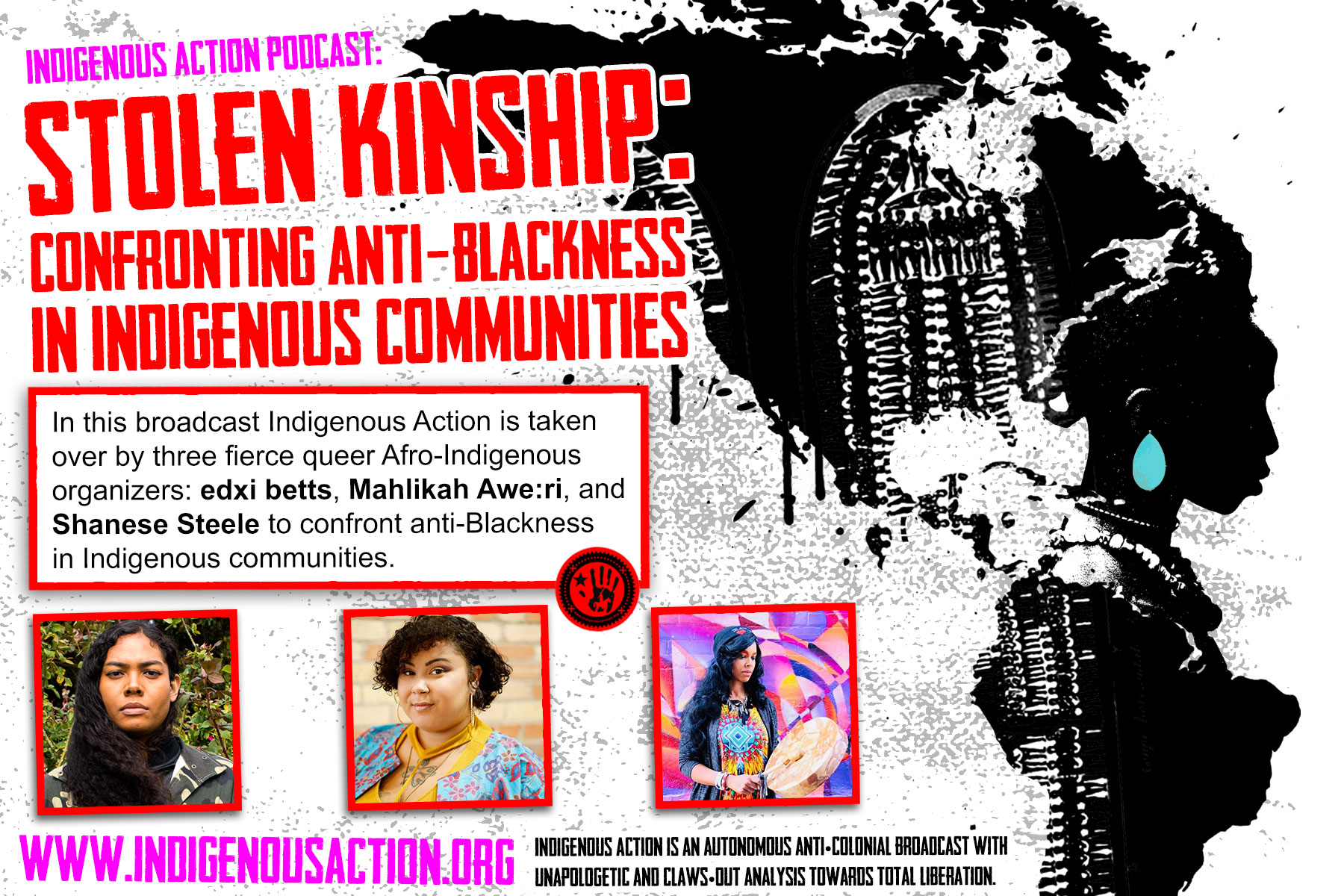 Ep. 5: Stolen Kinship: Confronting Anti-Blackness in Indigenous Communities
In this broadcast Indigenous Action is taken over by three fierce queer Afro-Indigenous organizers: edxi betts, Mahlikah Awe:ri, and Shanese Steele to confront anti-Blackness in Indigenous communities. "If we're speaking liberation. If we're speaking reparations. Than we need to be speaking to each other." – Mahlikah Awe:riGuests: edxi betts is an Afro Blackfeet Indigenous trans […]
Download file
|
Play in new window
Subscribe:
iTunes
|
Spotify
In this broadcast Indigenous Action is taken over by three fierce queer Afro-Indigenous organizers: edxi betts, Mahlikah Awe:ri, and Shanese Steele to confront anti-Blackness in Indigenous communities. "If we're speaking liberation. If we're speaking reparations. Than we need to be speaking to each other." – Mahlikah Awe:ri

Guests:

edxi betts is an Afro Blackfeet Indigenous trans feminine Pinay multi media insurrectionary artist & organizer. Her work entails political education while providing material support to oppressed & colonized communities. Creating art/media for the sake of propagating resistance culture, counter narrative and collective liberatory projects that spark discourse, sources of healing, critical thought, dialogue, and direct action. More info & support: www.linktr.ee/bettsurevolt
Haudenosaunee Kanien'kéhà:ka & Mi'kmaw L'sitkuk, Canadian Poet Of Honor, Mahlikah Awe:ri is an Afro-Indigenous Artist For Social Change, "Shifting paradigms through Indigenized ways of knowing and being; while reimagining what it means to be "In-Relation", to the Land and to each other". Awe:ri is a nationally recognized Spoken Word Artist, Arts Educator, Land Defender & Water Protector, Public Speaker, Performance Artist, Curator and Afro-Indigenous Futurist Writer, who was awarded the 2019-2020 Paula Fund for the development of new works for younger audiences for her acclaimed solo work Tionnhéhkwen Tionnká:non (Our Sustenance Our Medicines). Mahlikah is currently based in Sewatokwa'tshera't Wampum Tsi Tkarón:to, Oniatarí:io, Kanata, as the acting Deputy Director of Programming for Neighbourhood Impact at the Centre of Learning & Development in Regent Park, Founding member of Red Slam, an Indigenous Art 4 Social Change Movement, Prologue To The Performing Arts Provincial School Touring Artist, and an Indigenous Art Educator for the The Art Gallery Of Ontario. www.Paypal.me/RedSlam
Shanese Steele is a 27 year old, fat, queer, Mukaade Anishinaabe Kwe (Afro-Indigenous person) with ties to the Nbissing, Metis communities and Trinidad and Carriacou, Grenada and a member of the Crane Clan. She is now living on the traditional unceeded territory of the Omàmiwini (Algonquin), but grew up on Edoopikang, which is the Anishinaabemowin word for North York. Over the last 10 years Shanese has been focusing her work on bridging the gap between the Black diasporic Indigenous community and Indigenous communities belonging to Turtle Island. . www.Paypal.me/Shaneseanne

Hosts: Bonn, edxi, Mahlikah & Shanese

About the podcast: Welcome to Indigenous Action where we dig deep into critical issues impacting our communities throughout Occupied America/Turtle Island. This is an autonomous anti-colonial broadcast with unapologetic and claws-out analysis towards total liberation. So take your seat by this fire and may the bridges we burn together, light our way.

Subscribe, like, share on iTunes, Spotify, and Google Play. Email us at IAInfo@protonmail.com. www.indigenousaction.org/podcast
O'odham Executed by Border Patrol: Statement by Raymond Mattia Family
Raymond Mattia of the Tohono O'odham Nation was executed by US border patrol agents on May 18th at his home. He was reportedly shot 38 times.

A peaceful gathering to support all victims of the
unmonitored violent actions of the Border Patrol and other agencies will be held at The Border
Patrol Station in Why, Az, and Tucson on Golf Links Road this Saturday, May 27th, from
10:00am-Noon.
For more information please visit: https://bsnorrell.blogspot.com/2023/05/us-border-patrol-shoots-tohono-oodham.html
Statement by Mattia Raymond's family:
We have been trying to find the strength to write this statement. This tragedy is so
grievous because it is apparent what had happened. Raymond called for help and, in turn, was
shot down at his doorstep. Raymond's rights were violated by the authorities whom we trust to
protect our Nation. Improper and unprofessional actions of the agencies involved were witnessed
by family members present near the crime scene. Loved ones sat in agony, not knowing of
Raymond's condition until they were told that he had passed hours later. Raymond lay in front of
his home for seven hours before a coroner from Tucson arrived.
In our eyes and hearts, we believe that Raymond was approached with excessive and
deadly force that took his life. He was a father, brother, uncle, friend, and an involved
community member. Raymond always fought for what was right, and he will continue to fight
even after his death. This is not an isolated incident, but it should bring awareness of the
oppression our people live through.
We want to thank so many of you for your condolences and support. A GoFundMe for
defense funds will be available soon. A peaceful gathering to support all victims of the
unmonitored violent actions of the Border Patrol and other agencies will be held at The Border Patrol Station in Why, Az, and Tucson on Golf Links Road this Saturday, May 27th, from 10:00am-Noon.
Contact for support: justiceforraymattia@gmail.com
ALERT: Imminent Uranium Mining Threat at Grand Canyon – Haul No!
Underground blasting & above ground work has begun at Pinyon Plain/Canyon Mine, just miles from the Grand Canyon.
Workers are readying to start mining uranium at the mine. According to the Forest Service, workers are blasting daily though no ore is being moved yet. Once Energy Fuels starts hauling out radioactive ore, they plan to haul 30 tons per day through Northern Arizona to the company's processing mill 300 miles away.
The Grand Canyon, sacred site Red Butte, precious water, and communities along the haul route are in danger!
As all legal options have failed, we need you to join us to stand up and stop this nuclear catastrophe from permanently poisoning our communities!
Join our telegram channel to connect for actions and support: https://t.me/haulno
For more info & to donate for legal defense: www.haulno.com
Pinyon Plain/Canyon Mine Haul Route Facts:
* Total distance of 300 miles.
* 12 trucks with capacity to haul up to 30 tons of highly radioactive ore per day.
* Truck loads to be covered with thin tarps, the only shielding from uranium and only protection from environmental contamination.
* Proposed route will go through high population areas such as Valle, Williams, and Flagstaff; as well as through rural Navajo reservation communities including Cameron, Tuba City, and Kayenta; near the Hopi reservation, and finally arrive at Energy Fuel's White Mesa Mill only three miles from the Ute Mountain Ute tribal community of White Mesa, Utah.
#haulno #stoppinyonplainmine
#nonukes
#dontnukethegrandcanyon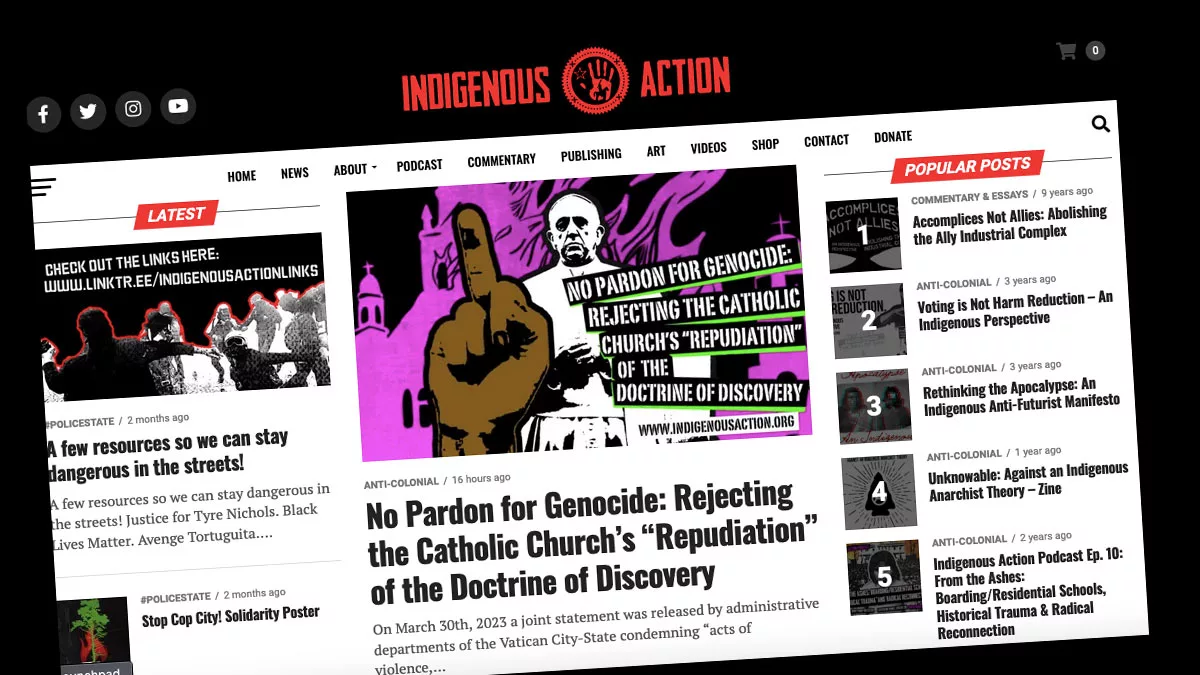 Ya'at'eeh!
Welcome to our new site.
We've made a range of changes, most notably with our menu items and categories.
We're still working on updating old posts so they show properly. If you're looking for something specific check out our search engine.
If you find anything broken with the site please email us.
Many of you have asked and yes, we are also re-organizing the shop but that will still take some time. Much of our capacity at Táala Hooghan Infoshop (where we print shirts etc) is still dedicated to Kinłani Mutual Aid. We are considering going with a print on demand service but we'd really prefer not to. We will provide updates soon.
You can also send us your press releases, rad art, articles, zines, etc. Please note that we focus on content produced by Indigenous Peoples and particularly anti-colonial/non-reformist/queer/anti-capitalist/anti-authoritarian.
We are also looking for more autonomous anti-colonial/anti-capitalist Indigenous writers & artists/designers to collaborate with on an ongoing basis.
Connect with us at IAinfo@protonmail.com.
Ahe' hee',
IA Crew
Get updates via email, sign up here:
Indigenous Action Podcast