Klamath River Tribes Confront Feds for Water Releases To Prevent Fish Kill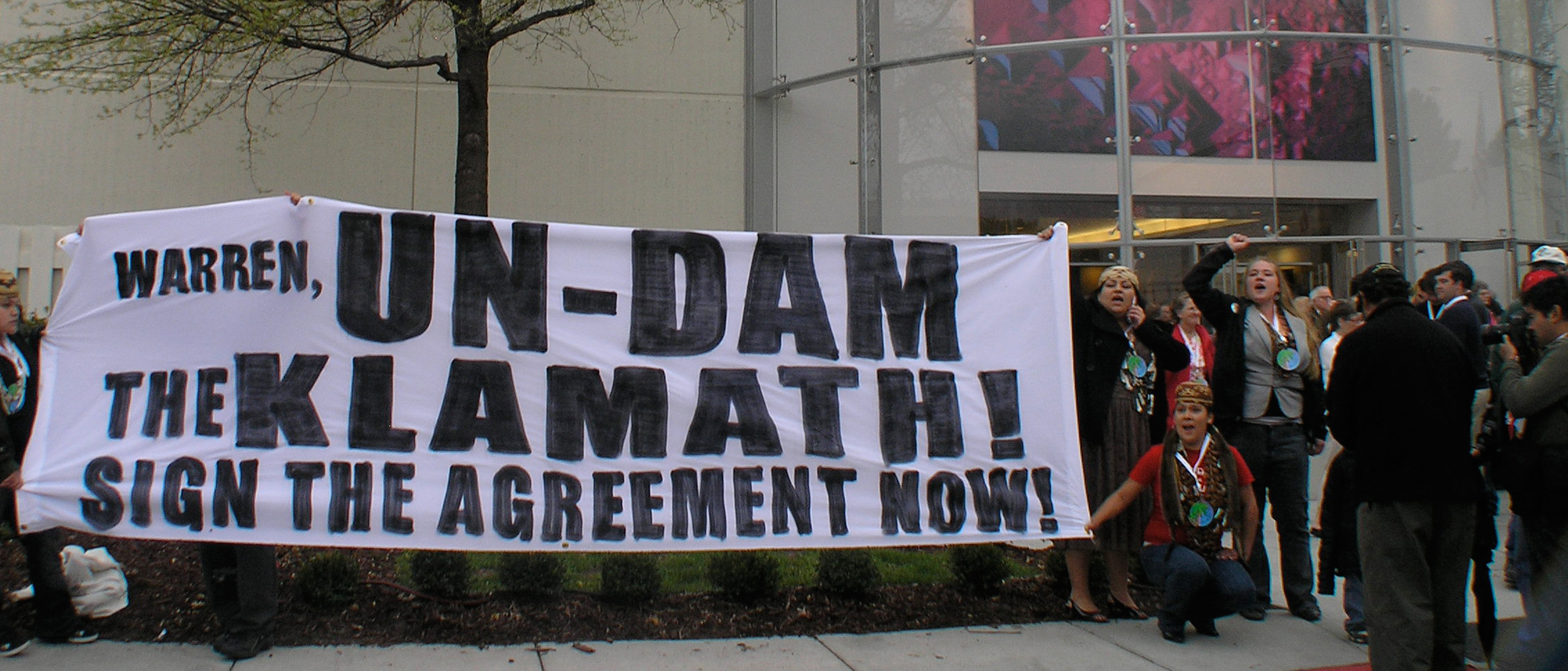 For Immediate Release 
August 19, 2013
 Klamath River Tribes Confront Feds for Water Releases To Prevent Fish Kill
Sacramento, California – Hundreds of Tribal members and supporters from the Trinity and Klamath Rivers converged at the Bureau of Reclamation in Sacramento today. They demanded increased water flows, known as preventative flows, from Lewiston Dam into the Trinity River, the largest tributary of the Klamath River. They also asked that more water be let out of Iron Gate Dam on the Klamath.
Participants protested Reclamation's recent decision to withhold emergency releases until large numbers of adult salmon die. Emergency flow releases from Lewiston Dam would take four days to reach the struggling Klamath River salmon. Fisheries biologists commonly agree that by the time the emergency flows are triggered and the water has traveled from the dam, it would be too late to prevent a large-scale fish die-off. Tribal members say Reclamation is ignoring the beginning stages of a disaster.
"Fish are pooled up at cold water tributaries because the water in the river is so warm and polluted," said Hoopa Valley Tribal member, Kayla Brown. "These fish are diseased and dying. Once the disease starts to spread, it can't be stopped and we will have a fish kill on our hands, courtesy of the Bureau of Reclamation."
Currently, five times more water is diverted to the Sacramento Basin for Central Valley irrigators than is released into the Trinity River. Rally organizers and participants said they support Klamath River fisheries biologists' assertion that a minimum of 2,500 cubic feet per second be maintained near the mouth of the Klamath River. This can be achieved if the Bureau of Reclamation approves preventative releases from the Lewiston Dam reservoir.
According to Nat Pennington, Fisheries Biologist for the Salmon River Restoration Council, "Klamath River flows are lower than they were during the 2002 fish kill. River temperatures are consistently higher than the acute stress level for Chinook salmon at seventy-two degrees Fahrenheit. If this trend continues, a large-scale fish kill is likely and the Klamath could loose the entire run."
"The Klamath fish kill of 2002 was devastating for our tribal communities and to the West Coast Fisheries. Previously, Tribes, fisheries scientists, and the Department of the Interior have worked together to avert fish kills by releasing preventative flows during drought years," said Frankie Myers of the Yurok Tribe Watershed Restoration Program, "We need these releases now more then ever."
Karuk tribal member Molli White said "Reclamation says they need the water for Sacramento River salmon, but our rivers are actually being exported to meet the demands of corporate agriculture like the Westland's Water district." White went on to say California's almond growers who are projecting an eight percent increase in harvests while the rest of California experiences a devastating drought year.
When the dams and diversion tunnels were built on the Trinity, laws were set up to protect the river and fish, before exporting water to the Central Valley. These laws established that fish, and the tribes that depend on them, are the top priority for the Trinity River flows.
Klamath Justice Coalition members have made it clear that Tribal people and traditional fishermen will not give up until Reclamation releases water.
Follow us on twitter at #releasethewater #savethesalmon #stopafishkill #neveragain
For information about current river conditions and fisheries health visit:
http://www.kbmp.net/collaboration/kfhat
For more information visithttp://klamathjustice.blogspot.com/
Video b-roll and photos are available at: 
https://www.dropbox.com/sh/inlrbwrdwr76yrg/AABQS4cGakSkNhy0Eg85kYQNa
VIDEO b-roll
https://www.dropbox.com/sh/jsdhlwgrn6gjavc/AAB9UUIsly-zZyUg40oe8Jisa
Past Articles:
http://www.sfgate.com/news/science/article/Agency-reconsidering-water-for-Klamath-salmon-5691797.php
http://www.times-standard.com/localnews/ci_26249506/feds-say-no-fish-kill-preventive-water-releases
http://www.times-standard.com/localnews/ci_26341700/feds-visit-rivers-see-effects-drought-water-release
                                                           #####
ALERT: Imminent Uranium Mining Threat at Grand Canyon – Haul No!
Underground blasting & above ground work has begun at Pinyon Plain/Canyon Mine, just miles from the Grand Canyon.
Workers are readying to start mining uranium at the mine. According to the Forest Service, workers are blasting daily though no ore is being moved yet. Once Energy Fuels starts hauling out radioactive ore, they plan to haul 30 tons per day through Northern Arizona to the company's processing mill 300 miles away.
The Grand Canyon, sacred site Red Butte, precious water, and communities along the haul route are in danger!
As all legal options have failed, we need you to join us to stand up and stop this nuclear catastrophe from permanently poisoning our communities!
Join our telegram channel to connect for actions and support: https://t.me/haulno
For more info & to donate for legal defense: www.haulno.com
Pinyon Plain/Canyon Mine Haul Route Facts:
* Total distance of 300 miles.
* 12 trucks with capacity to haul up to 30 tons of highly radioactive ore per day.
* Truck loads to be covered with thin tarps, the only shielding from uranium and only protection from environmental contamination.
* Proposed route will go through high population areas such as Valle, Williams, and Flagstaff; as well as through rural Navajo reservation communities including Cameron, Tuba City, and Kayenta; near the Hopi reservation, and finally arrive at Energy Fuel's White Mesa Mill only three miles from the Ute Mountain Ute tribal community of White Mesa, Utah.
#haulno #stoppinyonplainmine
#nonukes
#dontnukethegrandcanyon
The Intercept and Grist begin release of 50,000 TigerSwan spy documents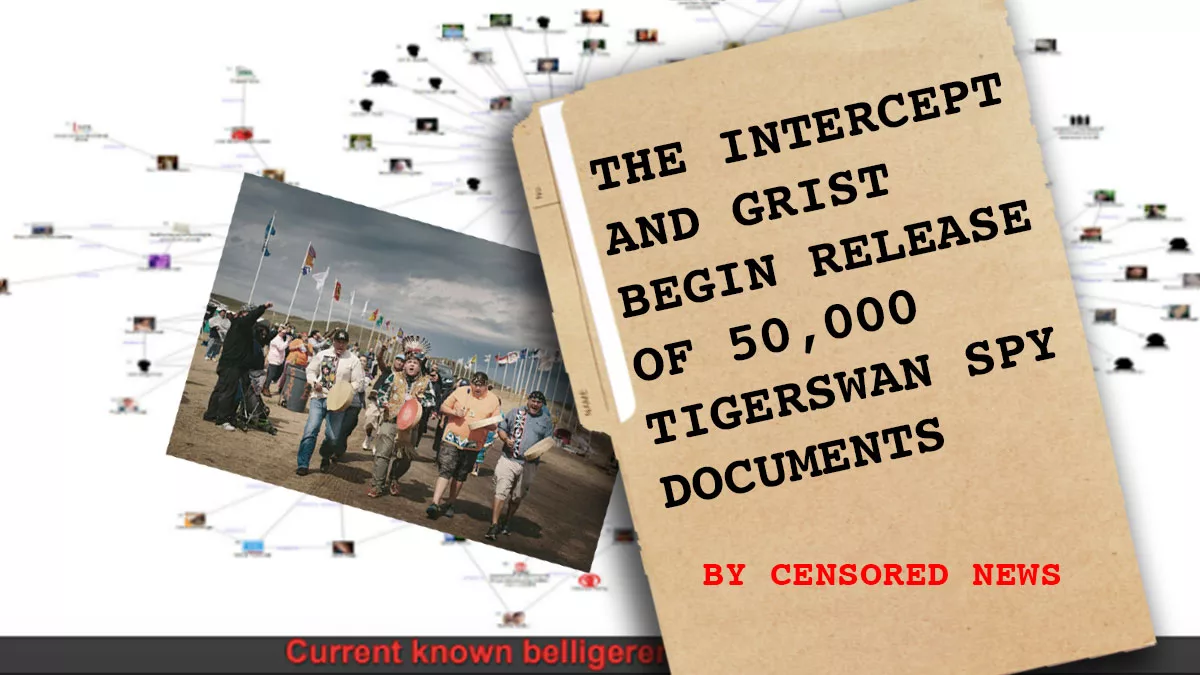 Article by Brenda Norrell, Censored News
Reprinted with permission.
April 14, 2023
Facebook: https://www.facebook.com/profile.php?id=100075796248532
The Intercept and Grist began releasing new TigerSwan spy documents in new coverage of the mercenaries hired by the Dakota Access Pipeline. They now have 50,000 TigerSwan spy documents, and another 9,000 are held up in the court battle for now. The documents reveal TigerSwan spying on Water Protectors at Standing Rock in North Dakota, Bold Iowa, and at other locations.
Reporters Alleen Brown and Naveena Sadasivam expose the new spy documents in their article, After Spying on Standing Rock, TigerSwan Shopped Anti-Protest 'Countinsurgency' to Other Oil Companies.
The article follows an expensive court battle by The Intercept seeking the release of the documents. The North Dakota Supreme Court ordered the release after TigerSwan was found operating without a license in North Dakota.
"The released documents provide startling new details about how TigerSwan used social media monitoring, aerial surveillance, radio eavesdropping, undercover personnel, and subscription-based records databases to build watchlists and dossiers on Indigenous activists and environmental organizations," The Intercept writes. Read the article at The Intercept: https://theintercept.com/2023/04/13/standing-rock-tigerswan-protests/
Paiute journalist, drone activist and filmmaker Myron Dewey was among those that TigerSwan spied on and stalked at Standing Rock 2016-2017, as revealed in the new documents that were ordered released by the court.
On Tuesday, the driver that killed Myron Dewey on an isolated road near his family's home in Yomba, Nevada, entered a surprise plea bargain deal that was cut with a new prosecutor assigned to the case in Nye County, Nevada. John Walsh pleaded guilty to the lesser charge of vehicular manslaughter.
This TigerSwan spy document, showing TigerSwan stalking Myron Dewey and Prolific the Rapper at Standing Rock on Dec. 17, 2016, is from the new documents at The Intercept. Document link: https://www.documentcloud.org/documents/23773105-tigerswan-document-daily-intelligence-update-20161217
Below: From the TigerSwan spy files just released: The power of the global movement, with its heart in Standing Rock.
Below: The first flood of documents show how rattled DAPL was over the involvement of celebrities, the Standing Rock Chairman at the United Nations, Bernie Sanders, the Palestinian flag flying, and big orgs. The doc is from a pitch that TigerSwan made for more work, hustling another pipeline to spy on resistance.
Above: TigerSwan spy file at Bold Iowa. The mercenaries hired by the Dakota Access Pipeline called Bold Iowa Water Protectors "belligerents." Document link:
TigerSwan spied on, and stalked the media, including Paiute journalist Myron Dewey, Amy Goodman at Democracy Now, and myself, publisher of Censored News, as revealed in the newly released documents by The Intercept and Grist. TigerSwan used its surveillance on the media in its pitches for more spy work to other oil and pipeline companies.
TigerSwan turned its surveillance at Standing Rock into a potential money maker, using it for powerpoints in its pitches to other oil and pipeline companies for spy work.
T
TigerSwan even stalked the United Nations Commission on Human Rights, in its high-stakes spying for dollars.
TigerSwan's Opposition Model, shown below, was used as a potential maker in PowerPoints to other oil and pipeline companies.
The Intercept described the battle for these documents.
"A discovery request filed as part of the case forced thousands of new internal TigerSwan documents into the public record. Energy Transfer's lawyers fought for nearly two years to keep the documents secret, until North Dakota's Supreme Court ruled in 2022 that the material falls under the state's open records statute," The Intercept said.
"Because an arrangement between North Dakota and Energy Transfer allows the fossil fuel company to weigh in on which documents should be redacted, the state has yet to release over 9,000 disputed pages containing material that Energy Transfer is, for now at least, fighting to keep out of the public eye."
TigerSwan spy documents on Water Protectors
Note: The documents show that TigerSwan spied on Censored News, as shown in today's article at The Intercept.
Indigenous Action Podcast Ep. 9: Against Colonial Logics: Rethinking Resistance to Resource Extraction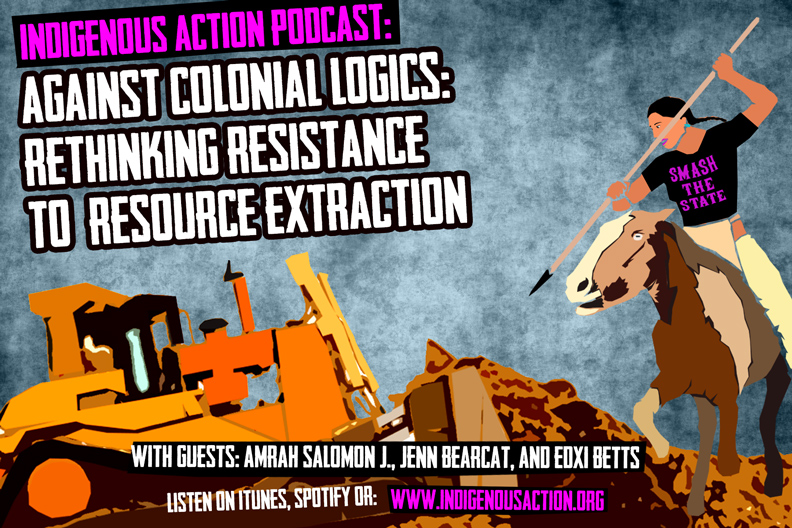 Ep. 9: Against Colonial Logics: Rethinking Resistance to Resource Extraction
Many Indigenous frontline resistance struggles are wrought with strategies and tactics that reinforce colonial logics. From resource extraction resistances, "honoring" treaties, green capitalism, and Indigenous non-profit capitalists, how do we identify, challenge, and go beyond these issues so we can more effectively fight for liberation?In this show we hear from Bearcat reporting from the frontlines […]
Subscribe:
iTunes
|
Spotify
Many Indigenous frontline resistance struggles are wrought with strategies and tactics that reinforce colonial logics. From resource extraction resistances, "honoring" treaties, green capitalism, and Indigenous non-profit capitalists, how do we identify, challenge, and go beyond these issues so we can more effectively fight for liberation? In this show we hear from Bearcat reporting from the frontlines of the Treaty People Gathering and powerful perspectives from Amrah and edxi about their frontline experiences and analysis. As always, claws out!
Guests: edxi betts is an Afro Blackfeet Indigenous trans feminine Pinay multi media insurrectionary artist & organizer. Her work entails political education while providing material support to oppressed & colonized communities. Creating art/media for the sake of propagating resistance culture, counter narrative and collective liberatory projects that spark discourse, sources of healing, critical thought, dialogue, and direct action. More info & support: www.linktr.ee/bettsurevolt
Amrah Salomón J. is a writer, artist, activist, and educator of Mexican, O'odham and Tohono O'odham, and European ancestry. @oodhamantiborder @defendoodhamjewed Cashapp: $DefendOodhamJewed Paypal.me/DefendOodhamJewed Venmo: @DefendOodhamJewed
Jenn Bearcat (she/her): Newe-Numa (Tosa Wihi) from Doka Badee, so-called Northern Nevada currently residing in Albuquerque, NM. She's a 3rd generation land defender with a healthy respect for a diversity of tactics and a healthy distrust of the state. She contributes to a network of organizers and frontline defenders confronting issues surrounding colonization.
Host: Klee – Instagram: @kleebenally
About the podcast: Welcome to Indigenous Action where we dig deep into critical issues impacting our communities throughout Occupied America/Turtle Island. This is an autonomous anti-colonial broadcast with unapologetic and claws-out analysis towards total liberation. So take your seat by this fire and may the bridges we burn together, light our way.
Subscribe, like, share on iTunes, Spotify, and Google Play. Check us out on the channelzeronetwork.com.
Email us at IAInfo@protonmail.com.
Get updates via email, sign up here:
Indigenous Action Podcast