May the Bridges we Burn, Light the Way

May the bridges we burn…
"May the bridges I burn, light my way" has been a popular assertion against making amends with fuckery, this is our offering of fuel to the "art of resistance" fires. We see no use in cautiously navigating the geography of respectability politics & movement policing towards a false destination of "unity." The red/whitewashed bridge-building of capitalism & colonialism through the non-profit & ally industrial complexes only acculturates our domination.
We have no desire to reform and further this system which is predicated upon our destruction.
Some division is necessary when we make our calculations in the physics of liberation.
As we enter a new year (according to colonial conventions) we recognize the ongoing ways our communities and Mother Earth are under attack; from escalated xenophobic assaults, hetero-patriarchal violence, desecration of sacred places, mass incarceration & state violence, to forced-relocation, and many other extreme deprivations.
We celebrate every fierce and unapologetic act, no matter how small or "symbolic", of radical and fanatical resistance.
We can smell the burning sage and gasoline.
For those who share our deep and intense longing for total liberation, may the bridges we burn, light the way.
Indigenous Action Posters – Spring 2023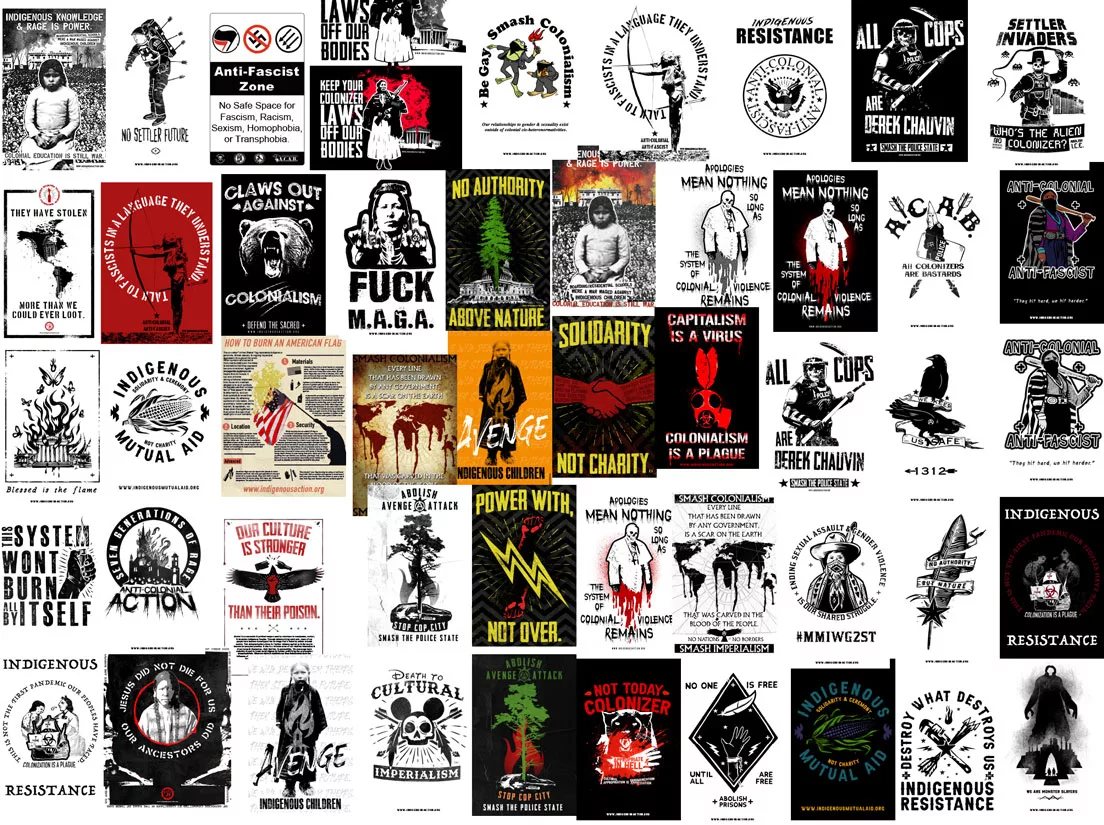 Zip file: 200MB

Here are 51 high resolution PDF posters (some duplicates as color and B&W versions) for you to print and destroy! We will be uploading another set of some of our older posters here too. You can always do a search for posters or PDFs on our site as well.

Feel free to use for any and all anti-capitalist anti-colonial agitational propaganda (patches, prints, shirts, buttons, etc. for radical benefits or personal use). Credit is nice but not always necessary. Support Indigenous resistance art & artists.

Link to our tried and true wheatpaste recipe:
Stop Cop City! Solidarity Poster
PRINTABLE PDFs: Black and White (831 KB)
COLOR (5.1MB)
Avenge Tortuguita!

No Justice on Stolen Lands!
Abolish the settler colonial police state.
Avenge Tort!
Attack. Cop city is everywhere!
When we resist the commodification and destruction of Mother Earth, we continue Indigenous resistance to over 500 years of colonial violence. Colonial enforcers continue to murder land, water, and forest defenders. Respect existence or expect resistance.
Printable posters up on our site: www.indigenousaction.org
"The City of Atlanta has leased 381-acres of Weelaunee Forest, stolen Muscogee land, to the Atlanta Police Foundation for a police military facility funded by corporations.
Cop City will never be built." #StopCopCity #DefendWeelaunee
Support:
Smash the settler and resource colonial police state.
#acab #ftp
Poster: Apologies Mean Nothing…Pope
"Apologies mean nothing so long as the system of colonial violence remains."
High resolution 11″x17″ PDFs: Color/Black background | White background/color | Black & White
A response to the recent "apology" by the pope to Indigenous Peoples of so-called kkkanada.
Christianity is a primary institution of cis-heteropatriarchal colonial violence. The systematic annihilation of Indigenous Peoples and lifeways in the "Name of God" continues throughout the world. Putting a headdress on genocide, ecocide & enslavement is not justice.
Feel free to share, print, and paste.
Wheat Paste recipe here.

Wheatpaste Recipe

Heat up 5 cups water.
Add 15 tbsp of flour to cold water in a separate container until you get a thin mixture.
Pour the cold mixture into the boiling water & stir.
Bring to a boil & let it cool.
Mix in 5 tbsp of sugar after mixture has thickened.
Paste up your art!
Thinner paper works best. Apply paste on a surface, put art up on the surface, & go over art with paste.
Get updates via email, sign up here:
Indigenous Action Podcast