News Release: Peaks Defenders Targeted with Federal Charges Coerced into Collateral Forfeiture Agreement
FOR IMMEDIATE RELEASE
March 1, 2013
Peaks Defenders Targeted with Federal Charges Coerced into Collateral Forfeiture Agreement
Flagstaff Couple Felt 'Forced' when Threatened with Additional Charges

FLAGSTAFF, AZ –Despite wanting to legally fight the charges brought on them by the Coconino County Forest Service, James Anders and Dawn Dyer state that coercion and underhanded tactics by federal prosecutors left them no choice but to sign the agreement. James Anders and Dawn Dyer were originally charged with two other individuals in December with two counts of a misdemeanor charge (Section 261.3a) for allegedly interfering with a Forest officer, after about a dozen concerned citizens had entered the Coconino County Forest Service lobby on September 21st to address cultural and health concerns with the agencies' allowing the use of treated sewage effluent for snow making on the San Francisco Peaks.
According to Anders and Dyer the prosecutors threatened to add two more charges, possibly disorderly conduct and littering if they attempted to take the case to trial. Anders was advised that it was likely the judge had pre-determined notions about this case and that he was likely to receive stiffer penalties and higher fines. According to Anders, "It is simply outrageous how the 'justice' system works in this country! For simply attempting to address your government, you can be arrested, held, restricted, threatened and extorted. Forest service officials outright lied in their original complaint affidavit and have continued to do so throughout this entire process."
The couple believe they were charged simply because they had attended previous protests regarding the San Francisco Peaks. According to Dawn, "We were there to show our support, assist in delivering two letters addressed to forest service supervisor Earl Stewart, USDA Secretary Tom Vilsak and others in the Obama administration. We were addressing our government officials, I took a few photos, but otherwise did not even utter a word. We were targeted by one individual in that office because we had attended previous protests."
Since the charges were brought in December, the couple have had their freedom of movement restricted and were not allowed to attend prayer circles or even travel for any other reason on Snowbowl road. 
The couple now believe that the reason and timing of the arrests was to keep people from protesting at Arizona Snowbowl during their 75th anniversary celebrations. (Although protests did occur in town that week.) The anniversary celebrations also coincided with the first sewage effluent snow being made on the San Francisco Peaks. Dawn Dyer stated, "I believe this whole thing was truly a violation of our freedom of speech and that it was deliberately done to squash legal protest on the issue."
The collateral Forfeiture agreement contains a dismissal of all charges without prejudice and no admission of guilt. The couple must agree to pay $200 in court fees and restitution each.
###
Watch video of the Protest here: http://www.youtube.com/watch?v=OaTb-uaK58c&feature=youtu.be

Read the delivered letters here: http://protectthepeaks.org/protect-the-peaks-letter-to-usda-protect-the-holy-san-francisco-peaks-terminate-snowbowls-special-use-permit-for-higher-public-purpose/
Statement by Evan Hawbaker:
On September 21st, 2012, at a US Forest Service office in Flagstaff, I decided to drive home a point–however small–that I am fed up with the USFS practice of disregarding the legitimate concerns and opposition of many, many Flagstaff residents regarding wastewater snowmaking on the San Francisco Peaks. Now–after decades of struggle and resistance–the Arizona Snowbowl has proceeded to flood, pollute and–in the eyes and hearts especially of my indigenous friends and neighbors–desecrate a place that is special, beautiful, sensitive and sacred to literally hundreds of thousands of people in Flagstaff and the greater Southwest. When I entered the Forest Service office in September, I brought a small bucket of reclaimed wastewater with me and tipped it over, partially flooding one corner of the gray-tiled office. Looking back, I think a bigger bucket may have been more appropriate. Snowbowl is authorized by the USFS to douse the rare alpine habitat it leases in 1.5 million gallons of treated sewage effluent snow per day. One and a half million gallons! Since that day in September I've been charged with one count of disorderly conduct and ordered to pay $200 in restitution, supposedly to pay for the cost of HAZMAT workers to clean up the "potentially dangerous contents" of my bucket. The Forest Service even sought up to two years in jail time for this! If HAZMAT is called in when four gallons of reclaimed water is spilled on their polished tile floors, and I am labeled a criminal for this act, what does it indicate when the USFS, the City of Flagstaff, and the Arizona Snowbowl choose to spray 180 million gallons of reclaimed water per year on a pristine and sensitive mountain environment?
###
16th Annual No Thanks, No Giving!
Indigenous Action presents:
16th Annual No Thanks, No Giving!
Food share, anti-colonial resistance & solidarity discussion circle, & online fundraiser!

DONATE: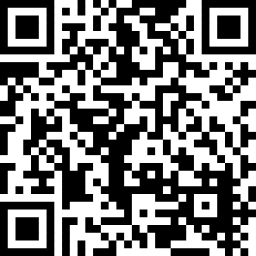 1:30p – 4pm
We will prepare and serve mutton stew and other foods for all who join us. Please bring any dish to contribute if you wish, we also plan on actively distributing (possibly mobile) any extra foods.
Local volunteers needed! Contact: indigenousaction@gmail.com
At 2:30p we will have a talking & action circle focused on anti-colonial resistance & solidarity. Representatives of Kinłani Mutual Aid, Haul No!, volunteers with Protect the Peaks, and autonomous organizers supporting unsheltered relatives will present & discuss upcoming actions & organizing. We will also discuss building Indigenous solidarity with local efforts to Free Palestine. Come ready to share, support and get involved! Everyone welcome!
This event is free, please bring donations for unsheltered relative support (tents, sleeping bags, tarps, jackets, etc).

This is also our yearly fundraiser for Táala Hooghan infoshop and Indigenous Action activities!
Please donate online via PayPal: https://www.paypal.com/paypalme/indigenousaction
Support Indigenous autonomous organizing and agitation!
*We will not host a livestream this year.

When: Thursday, Nov. 23, 2023
1:30pm – 4:00pm MST.
Where: Táala Hooghan Infoshop1704 N 2nd St, Kinłani (Occupied Flagstaff), AZ
MASKS REQUIRED This event will be held both indoors and outdoors (dress warm!) with limited indoor space. We will maintain social distancing & mask protocols for immunocompromised relatives.
For 16 years we have hosted No Thanks, No Giving! as an anti-colonial event to bring together radical Indigenous voices, share traditional foods, and benefit unsheltered relatives at Táala Hooghan Infoshop in Kinlani (Flagstaff, AZ). More info: www.indigenousaction.org
#nothanksnogiving #MutualAid #indigenousmutualaid #solidaritynotcharity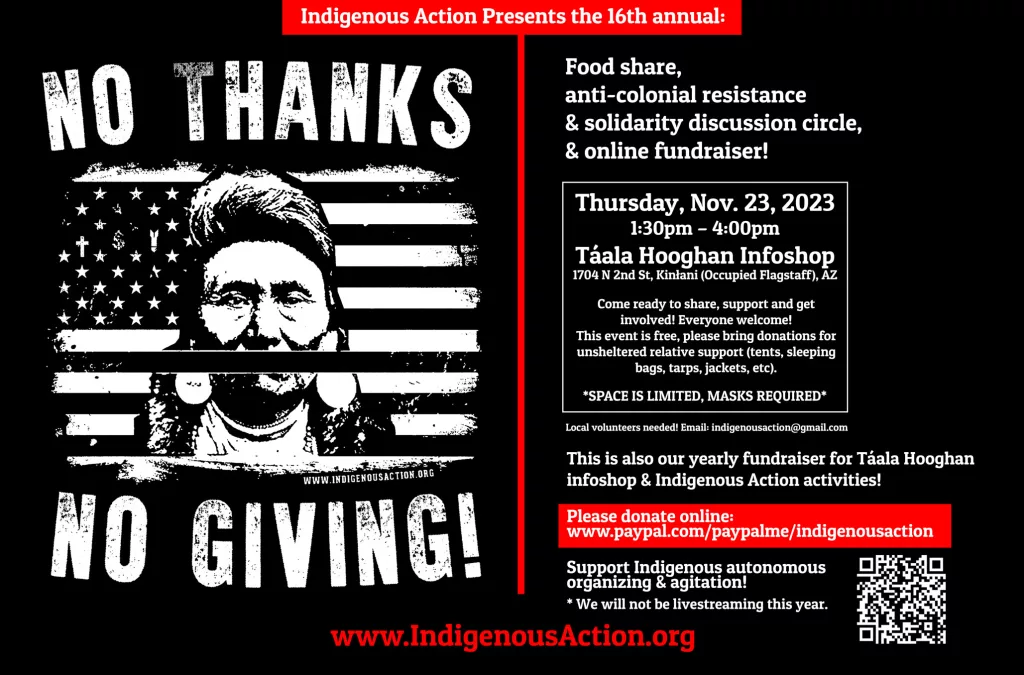 New Book: No Spiritual Surrender, Klee Benally
New Book: No Spiritual Surrender: Indigenous Anarchy in Defense of the Sacred is a searing anti-colonial analysis rooted in frontline experience.
NOW AVAILABLE ONLINE & SELECT BOOKSTORES: No Spiritual Surrender: Indigenous Anarchy in Defense of the Sacred


No Spiritual Surrender: Indigenous Anarchy in Defense of the Sacred is a searing anti-colonial analysis rooted in frontline experience. Klee Benally (Diné) unrelentingly agitates against colonial politics towards Indigenous autonomy and total liberation of Nahasdzáán (Mother Earth).
Available now from Detritus Books detritusbooks.com
406 pages | $20 Nonfiction | Paperback Available in select bookshops.
About the author: Klee Benally is a Diné (Navajo) anarchist and undisciplined agitational propagandist. Originally from Black Mesa. Klee currently resides in occupied Flagstaff, Arizona. kleebenally.com, indigenousaction.org
www.detritusbooks.com
Wholesale inquiries: detritusbooks.com
Now booking speaking tour dates: indigenousaction@gmail.com
Indigenous Resistance Teach-in Oct 13, 2023 
Direct action training, workshop, & panel discussion with Haul No! Protect the Peaks, Indigenous Action, & Louise Benally.
Friday, Oct 13th, 4p-8p
Free (bring a warm clothing/sleeping bag/tent donation for unsheltered relatives).
At Mayan Winds Coffee Emporium
2144 N 4th St. Flagstaff AZ
*Masks required!*
How do whitewashed celebrations of Indigenous Peoples' Day undermine decolonization?
What ways can you directly support regional anti-colonial struggles?
Schedule:
4:00p-5:30p – Direct Action training
5:30p – Haul No! Resisting Nuclear Colonialism workshop
6:15p – Break for food (Provided, w gluten free & vegan options avail.)
6:45p – Panel Discussion: Supporting Regional Indigenous Resistance Struggles
8:30p – end
Celebrate and support ongoing frontline Indigenous resistance struggles!
Get updates via email, sign up here:
Indigenous Action Podcast