News Release: Peaks Defenders Targeted with Federal Charges Coerced into Collateral Forfeiture Agreement
FOR IMMEDIATE RELEASE
March 1, 2013
Peaks Defenders Targeted with Federal Charges Coerced into Collateral Forfeiture Agreement
Flagstaff Couple Felt 'Forced' when Threatened with Additional Charges

FLAGSTAFF, AZ –Despite wanting to legally fight the charges brought on them by the Coconino County Forest Service, James Anders and Dawn Dyer state that coercion and underhanded tactics by federal prosecutors left them no choice but to sign the agreement. James Anders and Dawn Dyer were originally charged with two other individuals in December with two counts of a misdemeanor charge (Section 261.3a) for allegedly interfering with a Forest officer, after about a dozen concerned citizens had entered the Coconino County Forest Service lobby on September 21st to address cultural and health concerns with the agencies' allowing the use of treated sewage effluent for snow making on the San Francisco Peaks.
According to Anders and Dyer the prosecutors threatened to add two more charges, possibly disorderly conduct and littering if they attempted to take the case to trial. Anders was advised that it was likely the judge had pre-determined notions about this case and that he was likely to receive stiffer penalties and higher fines. According to Anders, "It is simply outrageous how the 'justice' system works in this country! For simply attempting to address your government, you can be arrested, held, restricted, threatened and extorted. Forest service officials outright lied in their original complaint affidavit and have continued to do so throughout this entire process."
The couple believe they were charged simply because they had attended previous protests regarding the San Francisco Peaks. According to Dawn, "We were there to show our support, assist in delivering two letters addressed to forest service supervisor Earl Stewart, USDA Secretary Tom Vilsak and others in the Obama administration. We were addressing our government officials, I took a few photos, but otherwise did not even utter a word. We were targeted by one individual in that office because we had attended previous protests."
Since the charges were brought in December, the couple have had their freedom of movement restricted and were not allowed to attend prayer circles or even travel for any other reason on Snowbowl road. 
The couple now believe that the reason and timing of the arrests was to keep people from protesting at Arizona Snowbowl during their 75th anniversary celebrations. (Although protests did occur in town that week.) The anniversary celebrations also coincided with the first sewage effluent snow being made on the San Francisco Peaks. Dawn Dyer stated, "I believe this whole thing was truly a violation of our freedom of speech and that it was deliberately done to squash legal protest on the issue."
The collateral Forfeiture agreement contains a dismissal of all charges without prejudice and no admission of guilt. The couple must agree to pay $200 in court fees and restitution each.
###
Watch video of the Protest here: http://www.youtube.com/watch?v=OaTb-uaK58c&feature=youtu.be

Read the delivered letters here: http://protectthepeaks.org/protect-the-peaks-letter-to-usda-protect-the-holy-san-francisco-peaks-terminate-snowbowls-special-use-permit-for-higher-public-purpose/
Statement by Evan Hawbaker:
On September 21st, 2012, at a US Forest Service office in Flagstaff, I decided to drive home a point–however small–that I am fed up with the USFS practice of disregarding the legitimate concerns and opposition of many, many Flagstaff residents regarding wastewater snowmaking on the San Francisco Peaks. Now–after decades of struggle and resistance–the Arizona Snowbowl has proceeded to flood, pollute and–in the eyes and hearts especially of my indigenous friends and neighbors–desecrate a place that is special, beautiful, sensitive and sacred to literally hundreds of thousands of people in Flagstaff and the greater Southwest. When I entered the Forest Service office in September, I brought a small bucket of reclaimed wastewater with me and tipped it over, partially flooding one corner of the gray-tiled office. Looking back, I think a bigger bucket may have been more appropriate. Snowbowl is authorized by the USFS to douse the rare alpine habitat it leases in 1.5 million gallons of treated sewage effluent snow per day. One and a half million gallons! Since that day in September I've been charged with one count of disorderly conduct and ordered to pay $200 in restitution, supposedly to pay for the cost of HAZMAT workers to clean up the "potentially dangerous contents" of my bucket. The Forest Service even sought up to two years in jail time for this! If HAZMAT is called in when four gallons of reclaimed water is spilled on their polished tile floors, and I am labeled a criminal for this act, what does it indicate when the USFS, the City of Flagstaff, and the Arizona Snowbowl choose to spray 180 million gallons of reclaimed water per year on a pristine and sensitive mountain environment?
###
O'odham Executed by Border Patrol: Statement by Raymond Mattia Family
Raymond Mattia of the Tohono O'odham Nation was executed by US border patrol agents on May 18th at his home. He was reportedly shot 38 times.

A peaceful gathering to support all victims of the
unmonitored violent actions of the Border Patrol and other agencies will be held at The Border
Patrol Station in Why, Az, and Tucson on Golf Links Road this Saturday, May 27th, from
10:00am-Noon.
For more information please visit: https://bsnorrell.blogspot.com/2023/05/us-border-patrol-shoots-tohono-oodham.html

Statement by Mattia Raymond's family:
We have been trying to find the strength to write this statement. This tragedy is so
grievous because it is apparent what had happened. Raymond called for help and, in turn, was
shot down at his doorstep. Raymond's rights were violated by the authorities whom we trust to
protect our Nation. Improper and unprofessional actions of the agencies involved were witnessed
by family members present near the crime scene. Loved ones sat in agony, not knowing of
Raymond's condition until they were told that he had passed hours later. Raymond lay in front of
his home for seven hours before a coroner from Tucson arrived.
In our eyes and hearts, we believe that Raymond was approached with excessive and
deadly force that took his life. He was a father, brother, uncle, friend, and an involved
community member. Raymond always fought for what was right, and he will continue to fight
even after his death. This is not an isolated incident, but it should bring awareness of the
oppression our people live through.
We want to thank so many of you for your condolences and support. A GoFundMe for
defense funds will be available soon. A peaceful gathering to support all victims of the
unmonitored violent actions of the Border Patrol and other agencies will be held at The Border Patrol Station in Why, Az, and Tucson on Golf Links Road this Saturday, May 27th, from 10:00am-Noon.
Contact for support: justiceforraymattia@gmail.com
Xenophobic Title 42 Ends, Biden's Immigration Reform Nowhere to Be Found
Indigenous Action recently supported @abolition.yumacounty (on Instagram) at the "US-Mexico" border. They are a crew of radical femme and queer folks who provide essential supplies to Indigenous people and other asylum seekers who are kept in holding with nothing but what they walked up to thousands of miles with. They also offer confidential pregnancy release support. Please $$$upport and volunteer if you're in the "Yuma" area. Venmo: @ycabolition, Cash App: @YumaCountyAbolition
With Title 42 ending on May 11th, (a xenophobic policy that gave the government power to rapidly expel any migrant, without giving them a chance to make a case for crossing legally, including to seek asylum), Biden has made no attempt at immigration reform as he promised on the campaign trail, "I can only imagine what it's like to see someone in your family deported. To me it's all about family. Beginning, middle and end. That's not going to happen in my administration. The idea you can't even seek asylum on American soil. When did that happen? Trump. It's wrong."
These policies are well within Biden's power to remedy, and yet, HE HASN'T. He's had 2 years to prepare for the ending of Title 42 to introduce new policies that he claimed "offer hope and a safe haven to refugees."
What we're seeing now at the border is heinous. Shelters and detention centers at and near capacity. Hundreds of people turned away every day. Just last month, a fire at a detention center killed 40 people.
In 2022, more than 890 migrants died in border crossings, and that is only of the deaths that have been reported. To paint an even broader picture, since 2021, there have been 13,480 reports of murder, torture, kidnapping, rape and other violent attacks on migrants and asylum seekers blocked or expelled to Mexico under Title 42.
The time is now to stand up against xenophobia. Let us be free to roam and free to rage wherever we please!
The Intercept and Grist begin release of 50,000 TigerSwan spy documents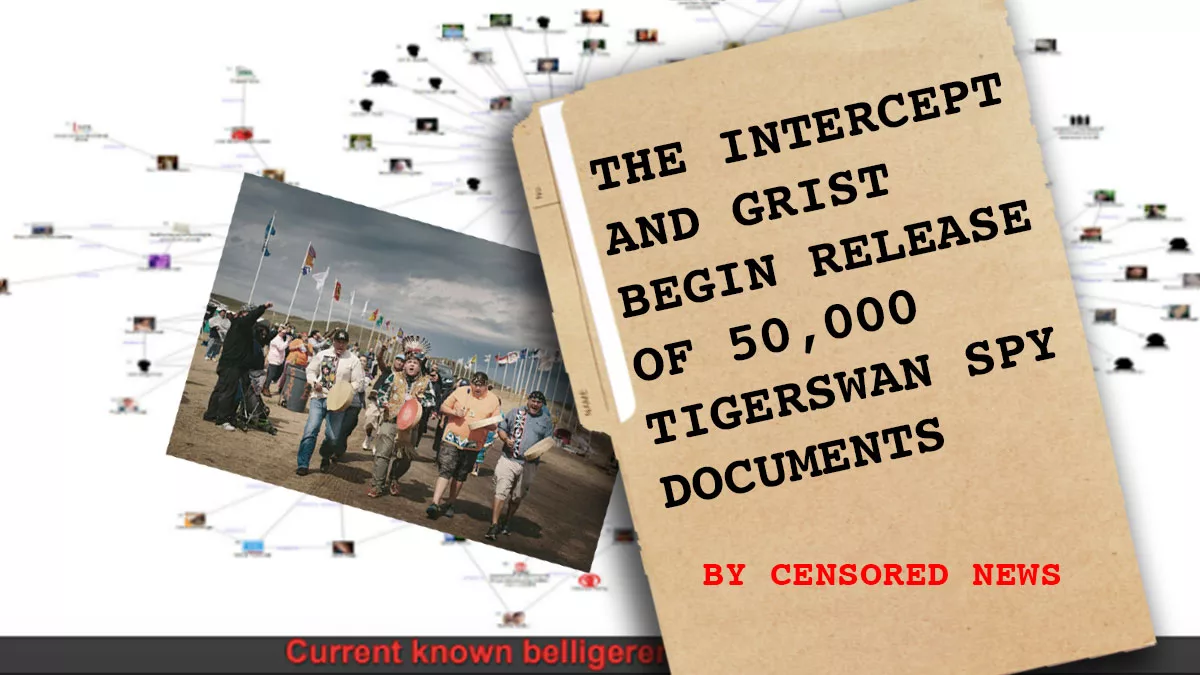 Article by Brenda Norrell, Censored News
Reprinted with permission.
April 14, 2023
Facebook: https://www.facebook.com/profile.php?id=100075796248532
The Intercept and Grist began releasing new TigerSwan spy documents in new coverage of the mercenaries hired by the Dakota Access Pipeline. They now have 50,000 TigerSwan spy documents, and another 9,000 are held up in the court battle for now. The documents reveal TigerSwan spying on Water Protectors at Standing Rock in North Dakota, Bold Iowa, and at other locations.
Reporters Alleen Brown and Naveena Sadasivam expose the new spy documents in their article, After Spying on Standing Rock, TigerSwan Shopped Anti-Protest 'Countinsurgency' to Other Oil Companies.
The article follows an expensive court battle by The Intercept seeking the release of the documents. The North Dakota Supreme Court ordered the release after TigerSwan was found operating without a license in North Dakota.
"The released documents provide startling new details about how TigerSwan used social media monitoring, aerial surveillance, radio eavesdropping, undercover personnel, and subscription-based records databases to build watchlists and dossiers on Indigenous activists and environmental organizations," The Intercept writes. Read the article at The Intercept: https://theintercept.com/2023/04/13/standing-rock-tigerswan-protests/
Paiute journalist, drone activist and filmmaker Myron Dewey was among those that TigerSwan spied on and stalked at Standing Rock 2016-2017, as revealed in the new documents that were ordered released by the court.
On Tuesday, the driver that killed Myron Dewey on an isolated road near his family's home in Yomba, Nevada, entered a surprise plea bargain deal that was cut with a new prosecutor assigned to the case in Nye County, Nevada. John Walsh pleaded guilty to the lesser charge of vehicular manslaughter.
This TigerSwan spy document, showing TigerSwan stalking Myron Dewey and Prolific the Rapper at Standing Rock on Dec. 17, 2016, is from the new documents at The Intercept. Document link: https://www.documentcloud.org/documents/23773105-tigerswan-document-daily-intelligence-update-20161217
Below: From the TigerSwan spy files just released: The power of the global movement, with its heart in Standing Rock.
Below: The first flood of documents show how rattled DAPL was over the involvement of celebrities, the Standing Rock Chairman at the United Nations, Bernie Sanders, the Palestinian flag flying, and big orgs. The doc is from a pitch that TigerSwan made for more work, hustling another pipeline to spy on resistance.
Above: TigerSwan spy file at Bold Iowa. The mercenaries hired by the Dakota Access Pipeline called Bold Iowa Water Protectors "belligerents." Document link:
TigerSwan spied on, and stalked the media, including Paiute journalist Myron Dewey, Amy Goodman at Democracy Now, and myself, publisher of Censored News, as revealed in the newly released documents by The Intercept and Grist. TigerSwan used its surveillance on the media in its pitches for more spy work to other oil and pipeline companies.
TigerSwan turned its surveillance at Standing Rock into a potential money maker, using it for powerpoints in its pitches to other oil and pipeline companies for spy work.
T
TigerSwan even stalked the United Nations Commission on Human Rights, in its high-stakes spying for dollars.
TigerSwan's Opposition Model, shown below, was used as a potential maker in PowerPoints to other oil and pipeline companies.
The Intercept described the battle for these documents.
"A discovery request filed as part of the case forced thousands of new internal TigerSwan documents into the public record. Energy Transfer's lawyers fought for nearly two years to keep the documents secret, until North Dakota's Supreme Court ruled in 2022 that the material falls under the state's open records statute," The Intercept said.
"Because an arrangement between North Dakota and Energy Transfer allows the fossil fuel company to weigh in on which documents should be redacted, the state has yet to release over 9,000 disputed pages containing material that Energy Transfer is, for now at least, fighting to keep out of the public eye."
TigerSwan spy documents on Water Protectors
Note: The documents show that TigerSwan spied on Censored News, as shown in today's article at The Intercept.
Get updates via email, sign up here:
Indigenous Action Podcast