News Release: Tribes & Environmental Groups Petition Supreme Court to Protect Sacred Mountain
Take Action: Contact a US Congressional representative here.

News Release
FOR IMMEDIATE RELEASE
Date: Tuesday, January 6th 2009
Contact: Klee Benally – Save the Peaks Coalition
Email: indigenousaction@gmail.com
Website: www.savethepeaks.org
Tribes & Environmental Groups Petition Supreme Court in Appeal to Protect Religious Freedom & Environmental Integrity of Sacred Mountain
FLAGSTAFF, AZ – On Monday, January 5th 2009, Tribes & environmental groups in Arizona filed a unified petition for the U.S. Supreme Court to hear appeals in a precedent setting legal battle to protect religious freedom and the ecological integrity of the holy San Francisco Peaks.

The slopes of the holy San Francisco Peaks, located in Northern Arizona, have been at the center of a historical and lengthy battle that has pitted economic interests on public lands against environmental integrity, public health and cultural survival. Arizona Snowbowl, a small private ski business that leases land from the U.S. Forest Service, is attempting to expand current development and use millions of gallons of recycled sewage water to make fake snow.
"This is an important case for the Supreme Court to hear. The Supreme Court, in a split decision, previously deprived Native Americans of First Amendment rights vis-à-vis sacred sites under the control of the federal government." said Howard Shanker, who represents Navajo Nation, Havasupai Tribe, White Mountain Apache Nation, Yavapai-Apache Nation, Sierra Club, Center for Biological Diversity, and the Flagstaff Activist Network. "This case represents the last, best chance for Native Americans to have some substantive protection of sites that they hold holy or sacred through application of existing law." stated Shanker.
"In a country that supposedly values the free exercise and accommodation of all religion, it is unconscionable that Native American religious and cultural beliefs have essentially been relegated to second-class status by the federal government. The Supreme Court now has an opportunity to right this wrong." Shanker said.
Tribes' primary arguments have focused on religious freedom issues by utilizing the Religious Freedom Restoration Act (RFRA), which they had hoped would provide the necessary legal protection where other laws such as the American Indian Religious Freedom Act have failed.
"The proposed development at Snowbowl, particularly the use of treated sewage effluent for snowmaking, would have profound effects upon the ability of several tribes to engage in vitally important religious practices at the sacred San Francisco Peaks." said Jack Trope of the Association on American Indian Affairs who is working together with DNA Legal Services, representing the Hualapai Tribe, Navajo medicine practitioner Norris Nez and Hopi spiritual practitioner Bill Preston. "The en banc panel of the Ninth Circuit's narrow interpretation of the Religious Freedom Restoration Act in this case, which rejected the claims of the tribal plaintiffs, conflicts with the intent of Congress and the interpretation of the law by other Circuits. For these reasons, we have asked the Supreme Court to review this case in order to clarify the law and interpret it in a manner that would require the government to show a compelling interest in this case (and similar cases) before it can implement its land management decision. We do not believe that the government can show that approval of the Snowbowl development is in fulfillment of a compelling governmental interest." Trope said.
The Forest Service manages the San Francisco Peaks as public land and has faced multiple lawsuits by the Navajo Nation, Hopi, White Mountain Apache, Yavapai Apache, Hualapai, and Havasupai tribes, as well as the Sierra Club, Flagstaff Activist Network, Center of Biological Diversity, and others after it initially approved the proposed ski area development in 2005.
In a recent ruling, a 9th Circuit Court "en banc" panel overturned another 9th Circuit decision protecting the holy place. The divided en banc panel found that using recycled sewer water to make snow for skiing on an admittedly sacred site posed no 'substantial burden' on the Plaintiffs' exercise of religion in this case. According to the Court, the "only effect of the proposed upgrades is on the Plaintiffs' subjective, emotional religious experience. That is, the presence of recycled wastewater on the Peaks is offensive to the Plaintiffs' religious sensibilities…the diminishment of spiritual fulfillment – serious though it may be – is not a 'substantial burden' on the free exercise of religion." The Court dismissed Plaintiffs' religious beliefs as calling them mere "damaged spiritual feelings."
It is not clear on when the Supreme Court will decide whether it will hear the case or not.
Pending a decision, Snowbowl is legally barred from development on the holy mountain.
While the current appeal focuses on RFRA, many citizens and environmental organizations continue to be concerned with potential health implications of the use of recycled sewage water upon the fragile mountain ecosystem and the untested impacts that would occur if humans ingested the artificial effluent snow.
"This case should concern everyone who values religious freedom, human rights, public health and environmental integrity." said Klee Benally, a volunteer with the Save the Peaks Coalition. "This issue also isn't just about one mountain, there are a number of sacred places located on public lands that are being threatened by development right now; Mt. Tenabo in Nevada, Medicine Lake in Northern California, Bear Butte in South Dakota, Mt. Taylor in New Mexico, for example. We are asking for everyone to call their Congressional representatives to hold hearings and to enact new legislation that guarantees protection for Native American sacred places."
The City of Flagstaff still maintains a contract with the ski area to sell up to 180 million gallons of treated sewage effluent during the winter seasons. Without the contract for the treated sewage effluent, it would not be possible for the business owners of Snowbowl to attempt their desecration.
"A ski area should know better than to attempt to make fake snow from treated sewage effluent and dominate Mother Nature in the high desert, especially in the face of global warming. It's not only unsustainable, it's insane." said Rachel Tso, a volunteer with the Save the Peaks Coalition.
"The question is, what do we value more: a healthy community, ecological integrity and the cultural survival of more than 13 Indigenous Nations, or the interests of a single for profit private ski business?"
For more information and to read the Petition for a Writ of Certiorari, visit: www.savethepeaks.org.
O'odham Executed by Border Patrol: Statement by Raymond Mattia Family
Raymond Mattia of the Tohono O'odham Nation was executed by US border patrol agents on May 18th at his home. He was reportedly shot 38 times.

A peaceful gathering to support all victims of the
unmonitored violent actions of the Border Patrol and other agencies will be held at The Border
Patrol Station in Why, Az, and Tucson on Golf Links Road this Saturday, May 27th, from
10:00am-Noon.
For more information please visit: https://bsnorrell.blogspot.com/2023/05/us-border-patrol-shoots-tohono-oodham.html

Statement by Mattia Raymond's family:
We have been trying to find the strength to write this statement. This tragedy is so
grievous because it is apparent what had happened. Raymond called for help and, in turn, was
shot down at his doorstep. Raymond's rights were violated by the authorities whom we trust to
protect our Nation. Improper and unprofessional actions of the agencies involved were witnessed
by family members present near the crime scene. Loved ones sat in agony, not knowing of
Raymond's condition until they were told that he had passed hours later. Raymond lay in front of
his home for seven hours before a coroner from Tucson arrived.
In our eyes and hearts, we believe that Raymond was approached with excessive and
deadly force that took his life. He was a father, brother, uncle, friend, and an involved
community member. Raymond always fought for what was right, and he will continue to fight
even after his death. This is not an isolated incident, but it should bring awareness of the
oppression our people live through.
We want to thank so many of you for your condolences and support. A GoFundMe for
defense funds will be available soon. A peaceful gathering to support all victims of the
unmonitored violent actions of the Border Patrol and other agencies will be held at The Border Patrol Station in Why, Az, and Tucson on Golf Links Road this Saturday, May 27th, from 10:00am-Noon.
Contact for support: justiceforraymattia@gmail.com
Xenophobic Title 42 Ends, Biden's Immigration Reform Nowhere to Be Found
Indigenous Action recently supported @abolition.yumacounty (on Instagram) at the "US-Mexico" border. They are a crew of radical femme and queer folks who provide essential supplies to Indigenous people and other asylum seekers who are kept in holding with nothing but what they walked up to thousands of miles with. They also offer confidential pregnancy release support. Please $$$upport and volunteer if you're in the "Yuma" area. Venmo: @ycabolition, Cash App: @YumaCountyAbolition
With Title 42 ending on May 11th, (a xenophobic policy that gave the government power to rapidly expel any migrant, without giving them a chance to make a case for crossing legally, including to seek asylum), Biden has made no attempt at immigration reform as he promised on the campaign trail, "I can only imagine what it's like to see someone in your family deported. To me it's all about family. Beginning, middle and end. That's not going to happen in my administration. The idea you can't even seek asylum on American soil. When did that happen? Trump. It's wrong."
These policies are well within Biden's power to remedy, and yet, HE HASN'T. He's had 2 years to prepare for the ending of Title 42 to introduce new policies that he claimed "offer hope and a safe haven to refugees."
What we're seeing now at the border is heinous. Shelters and detention centers at and near capacity. Hundreds of people turned away every day. Just last month, a fire at a detention center killed 40 people.
In 2022, more than 890 migrants died in border crossings, and that is only of the deaths that have been reported. To paint an even broader picture, since 2021, there have been 13,480 reports of murder, torture, kidnapping, rape and other violent attacks on migrants and asylum seekers blocked or expelled to Mexico under Title 42.
The time is now to stand up against xenophobia. Let us be free to roam and free to rage wherever we please!
The Intercept and Grist begin release of 50,000 TigerSwan spy documents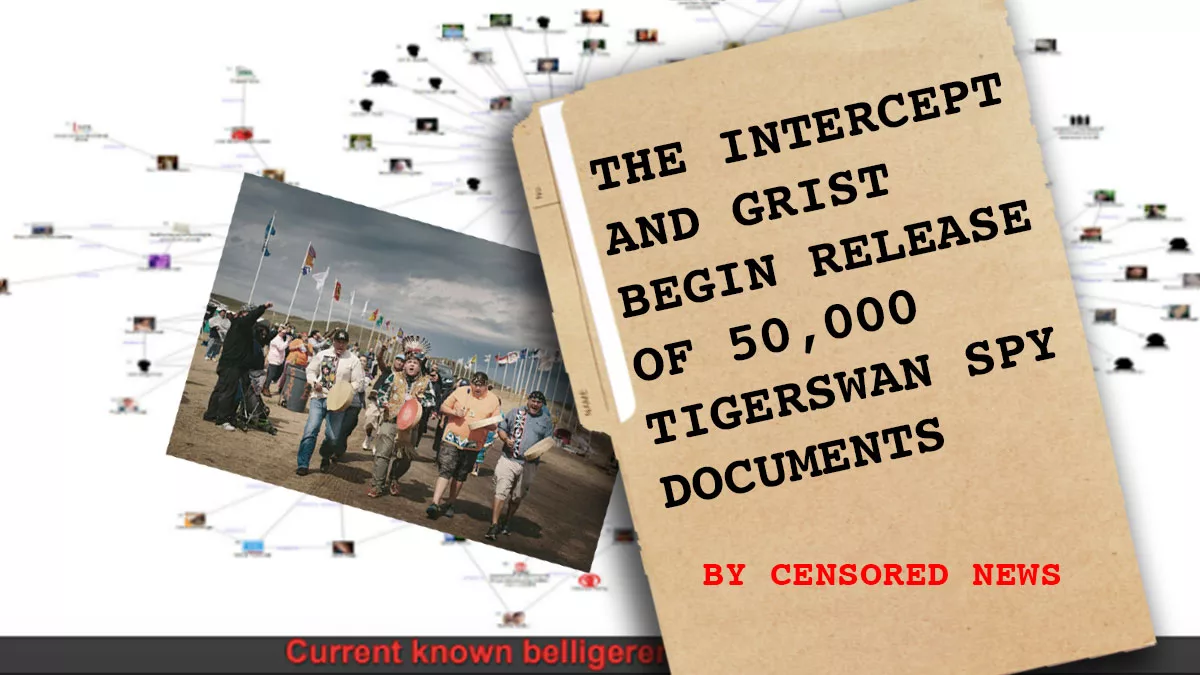 Article by Brenda Norrell, Censored News
Reprinted with permission.
April 14, 2023
Facebook: https://www.facebook.com/profile.php?id=100075796248532
The Intercept and Grist began releasing new TigerSwan spy documents in new coverage of the mercenaries hired by the Dakota Access Pipeline. They now have 50,000 TigerSwan spy documents, and another 9,000 are held up in the court battle for now. The documents reveal TigerSwan spying on Water Protectors at Standing Rock in North Dakota, Bold Iowa, and at other locations.
Reporters Alleen Brown and Naveena Sadasivam expose the new spy documents in their article, After Spying on Standing Rock, TigerSwan Shopped Anti-Protest 'Countinsurgency' to Other Oil Companies.
The article follows an expensive court battle by The Intercept seeking the release of the documents. The North Dakota Supreme Court ordered the release after TigerSwan was found operating without a license in North Dakota.
"The released documents provide startling new details about how TigerSwan used social media monitoring, aerial surveillance, radio eavesdropping, undercover personnel, and subscription-based records databases to build watchlists and dossiers on Indigenous activists and environmental organizations," The Intercept writes. Read the article at The Intercept: https://theintercept.com/2023/04/13/standing-rock-tigerswan-protests/
Paiute journalist, drone activist and filmmaker Myron Dewey was among those that TigerSwan spied on and stalked at Standing Rock 2016-2017, as revealed in the new documents that were ordered released by the court.
On Tuesday, the driver that killed Myron Dewey on an isolated road near his family's home in Yomba, Nevada, entered a surprise plea bargain deal that was cut with a new prosecutor assigned to the case in Nye County, Nevada. John Walsh pleaded guilty to the lesser charge of vehicular manslaughter.
This TigerSwan spy document, showing TigerSwan stalking Myron Dewey and Prolific the Rapper at Standing Rock on Dec. 17, 2016, is from the new documents at The Intercept. Document link: https://www.documentcloud.org/documents/23773105-tigerswan-document-daily-intelligence-update-20161217
Below: From the TigerSwan spy files just released: The power of the global movement, with its heart in Standing Rock.
Below: The first flood of documents show how rattled DAPL was over the involvement of celebrities, the Standing Rock Chairman at the United Nations, Bernie Sanders, the Palestinian flag flying, and big orgs. The doc is from a pitch that TigerSwan made for more work, hustling another pipeline to spy on resistance.
Above: TigerSwan spy file at Bold Iowa. The mercenaries hired by the Dakota Access Pipeline called Bold Iowa Water Protectors "belligerents." Document link:
TigerSwan spied on, and stalked the media, including Paiute journalist Myron Dewey, Amy Goodman at Democracy Now, and myself, publisher of Censored News, as revealed in the newly released documents by The Intercept and Grist. TigerSwan used its surveillance on the media in its pitches for more spy work to other oil and pipeline companies.
TigerSwan turned its surveillance at Standing Rock into a potential money maker, using it for powerpoints in its pitches to other oil and pipeline companies for spy work.
T
TigerSwan even stalked the United Nations Commission on Human Rights, in its high-stakes spying for dollars.
TigerSwan's Opposition Model, shown below, was used as a potential maker in PowerPoints to other oil and pipeline companies.
The Intercept described the battle for these documents.
"A discovery request filed as part of the case forced thousands of new internal TigerSwan documents into the public record. Energy Transfer's lawyers fought for nearly two years to keep the documents secret, until North Dakota's Supreme Court ruled in 2022 that the material falls under the state's open records statute," The Intercept said.
"Because an arrangement between North Dakota and Energy Transfer allows the fossil fuel company to weigh in on which documents should be redacted, the state has yet to release over 9,000 disputed pages containing material that Energy Transfer is, for now at least, fighting to keep out of the public eye."
TigerSwan spy documents on Water Protectors
Note: The documents show that TigerSwan spied on Censored News, as shown in today's article at The Intercept.
Get updates via email, sign up here:
Indigenous Action Podcast