News Release: Tribes & Environmental Groups Petition Supreme Court to Protect Sacred Mountain
Take Action: Contact a US Congressional representative here.

News Release
FOR IMMEDIATE RELEASE
Date: Tuesday, January 6th 2009
Contact: Klee Benally – Save the Peaks Coalition
Email: indigenousaction@gmail.com
Website: www.savethepeaks.org
Tribes & Environmental Groups Petition Supreme Court in Appeal to Protect Religious Freedom & Environmental Integrity of Sacred Mountain
FLAGSTAFF, AZ – On Monday, January 5th 2009, Tribes & environmental groups in Arizona filed a unified petition for the U.S. Supreme Court to hear appeals in a precedent setting legal battle to protect religious freedom and the ecological integrity of the holy San Francisco Peaks.

The slopes of the holy San Francisco Peaks, located in Northern Arizona, have been at the center of a historical and lengthy battle that has pitted economic interests on public lands against environmental integrity, public health and cultural survival. Arizona Snowbowl, a small private ski business that leases land from the U.S. Forest Service, is attempting to expand current development and use millions of gallons of recycled sewage water to make fake snow.
"This is an important case for the Supreme Court to hear. The Supreme Court, in a split decision, previously deprived Native Americans of First Amendment rights vis-à-vis sacred sites under the control of the federal government." said Howard Shanker, who represents Navajo Nation, Havasupai Tribe, White Mountain Apache Nation, Yavapai-Apache Nation, Sierra Club, Center for Biological Diversity, and the Flagstaff Activist Network. "This case represents the last, best chance for Native Americans to have some substantive protection of sites that they hold holy or sacred through application of existing law." stated Shanker.
"In a country that supposedly values the free exercise and accommodation of all religion, it is unconscionable that Native American religious and cultural beliefs have essentially been relegated to second-class status by the federal government. The Supreme Court now has an opportunity to right this wrong." Shanker said.
Tribes' primary arguments have focused on religious freedom issues by utilizing the Religious Freedom Restoration Act (RFRA), which they had hoped would provide the necessary legal protection where other laws such as the American Indian Religious Freedom Act have failed.
"The proposed development at Snowbowl, particularly the use of treated sewage effluent for snowmaking, would have profound effects upon the ability of several tribes to engage in vitally important religious practices at the sacred San Francisco Peaks." said Jack Trope of the Association on American Indian Affairs who is working together with DNA Legal Services, representing the Hualapai Tribe, Navajo medicine practitioner Norris Nez and Hopi spiritual practitioner Bill Preston. "The en banc panel of the Ninth Circuit's narrow interpretation of the Religious Freedom Restoration Act in this case, which rejected the claims of the tribal plaintiffs, conflicts with the intent of Congress and the interpretation of the law by other Circuits. For these reasons, we have asked the Supreme Court to review this case in order to clarify the law and interpret it in a manner that would require the government to show a compelling interest in this case (and similar cases) before it can implement its land management decision. We do not believe that the government can show that approval of the Snowbowl development is in fulfillment of a compelling governmental interest." Trope said.
The Forest Service manages the San Francisco Peaks as public land and has faced multiple lawsuits by the Navajo Nation, Hopi, White Mountain Apache, Yavapai Apache, Hualapai, and Havasupai tribes, as well as the Sierra Club, Flagstaff Activist Network, Center of Biological Diversity, and others after it initially approved the proposed ski area development in 2005.
In a recent ruling, a 9th Circuit Court "en banc" panel overturned another 9th Circuit decision protecting the holy place. The divided en banc panel found that using recycled sewer water to make snow for skiing on an admittedly sacred site posed no 'substantial burden' on the Plaintiffs' exercise of religion in this case. According to the Court, the "only effect of the proposed upgrades is on the Plaintiffs' subjective, emotional religious experience. That is, the presence of recycled wastewater on the Peaks is offensive to the Plaintiffs' religious sensibilities…the diminishment of spiritual fulfillment – serious though it may be – is not a 'substantial burden' on the free exercise of religion." The Court dismissed Plaintiffs' religious beliefs as calling them mere "damaged spiritual feelings."
It is not clear on when the Supreme Court will decide whether it will hear the case or not.
Pending a decision, Snowbowl is legally barred from development on the holy mountain.
While the current appeal focuses on RFRA, many citizens and environmental organizations continue to be concerned with potential health implications of the use of recycled sewage water upon the fragile mountain ecosystem and the untested impacts that would occur if humans ingested the artificial effluent snow.
"This case should concern everyone who values religious freedom, human rights, public health and environmental integrity." said Klee Benally, a volunteer with the Save the Peaks Coalition. "This issue also isn't just about one mountain, there are a number of sacred places located on public lands that are being threatened by development right now; Mt. Tenabo in Nevada, Medicine Lake in Northern California, Bear Butte in South Dakota, Mt. Taylor in New Mexico, for example. We are asking for everyone to call their Congressional representatives to hold hearings and to enact new legislation that guarantees protection for Native American sacred places."
The City of Flagstaff still maintains a contract with the ski area to sell up to 180 million gallons of treated sewage effluent during the winter seasons. Without the contract for the treated sewage effluent, it would not be possible for the business owners of Snowbowl to attempt their desecration.
"A ski area should know better than to attempt to make fake snow from treated sewage effluent and dominate Mother Nature in the high desert, especially in the face of global warming. It's not only unsustainable, it's insane." said Rachel Tso, a volunteer with the Save the Peaks Coalition.
"The question is, what do we value more: a healthy community, ecological integrity and the cultural survival of more than 13 Indigenous Nations, or the interests of a single for profit private ski business?"
For more information and to read the Petition for a Writ of Certiorari, visit: www.savethepeaks.org.
No Thanks, No Giving! Indigenous Action Yearly Fundraiser (online)
Support Indigenous radical autonomous, anti-capitalist, anti-colonial organizing & agitation!
COLONIZERS GOTTA PAY! SMASH THE NON-PROFIT CAPITALIST
INDUSTRIAL COMPLEX!
Donate to Indigenous Action:
LINK: www.paypal.com/paypalme/indigenousaction
This is our yearly call for material support for Indigenous Action activities & donation drive for Táala Hooghan infoshop unsheltered support & operational expenses.
Indigenous Action (IA/originally Indigenous Action Media) was founded on August 25th, 2001 to provide strategic communications and direct action support for Indigenous sacred lands defense. We are a volunteer-run radical autonomous crew of anti-colonial & anti-capitalist Indigenous trouble makers & propagandists.
We generally are comprised of designers, artists, writers & frontline agitators that work together on a project by project basis (some long-term some short) for liberation for Mother Earth and all her beings. We've organized hundreds of actions, marches, banner drops, workshops, conferences, benefits, & much more. 100% of all proceeds directly support radical Indigenous organizing. Everything we do is based on community support. We don't rely on grants. We're all in for total liberation.
Some (not all) active projects & organizing we're currently directly involved with:
IA Podcast+ Táala Hooghan Infoshop
KinłaniMutualAid.org
HaulNo.com
ProtectthePeaks.org
Ongoing local/regional frontline support:
Resource/supply distro, bail, jail support
organizing, etc.
Graphic & web support for a dozen
current Indigenous-led campaigns.
Some larger yearly expenses we need immediate support for:
Táala Hooghan taxes & utilities (the space has been free to use by KMA for 3 years):
Approx. $6,000+/year.
Regional supply distro for Indigenous unsheltered relatives: $1,000-$3,000, we also maintain funds for emergency hotels.
Anti-state repression + DA support: $3,000+ varies, but we maintain an ongoing bail fund & frontline resource support.
www.indigenousaction.org
16th Annual No Thanks, No Giving!
Indigenous Action presents:
16th Annual No Thanks, No Giving!
Food share, anti-colonial resistance & solidarity discussion circle, & online fundraiser!

DONATE: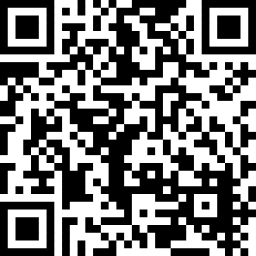 1:30p – 4pm
We will prepare and serve mutton stew and other foods for all who join us. Please bring any dish to contribute if you wish, we also plan on actively distributing (possibly mobile) any extra foods.
Local volunteers needed! Contact: indigenousaction@gmail.com
At 2:30p we will have a talking & action circle focused on anti-colonial resistance & solidarity. Representatives of Kinłani Mutual Aid, Haul No!, volunteers with Protect the Peaks, and autonomous organizers supporting unsheltered relatives will present & discuss upcoming actions & organizing. We will also discuss building Indigenous solidarity with local efforts to Free Palestine. Come ready to share, support and get involved! Everyone welcome!
This event is free, please bring donations for unsheltered relative support (tents, sleeping bags, tarps, jackets, etc).

This is also our yearly fundraiser for Táala Hooghan infoshop and Indigenous Action activities!
Please donate online via PayPal: https://www.paypal.com/paypalme/indigenousaction
Support Indigenous autonomous organizing and agitation!
*We will not host a livestream this year.

When: Thursday, Nov. 23, 2023
1:30pm – 4:00pm MST.
Where: Táala Hooghan Infoshop1704 N 2nd St, Kinłani (Occupied Flagstaff), AZ
MASKS REQUIRED This event will be held both indoors and outdoors (dress warm!) with limited indoor space. We will maintain social distancing & mask protocols for immunocompromised relatives.
For 16 years we have hosted No Thanks, No Giving! as an anti-colonial event to bring together radical Indigenous voices, share traditional foods, and benefit unsheltered relatives at Táala Hooghan Infoshop in Kinlani (Flagstaff, AZ). More info: www.indigenousaction.org
#nothanksnogiving #MutualAid #indigenousmutualaid #solidaritynotcharity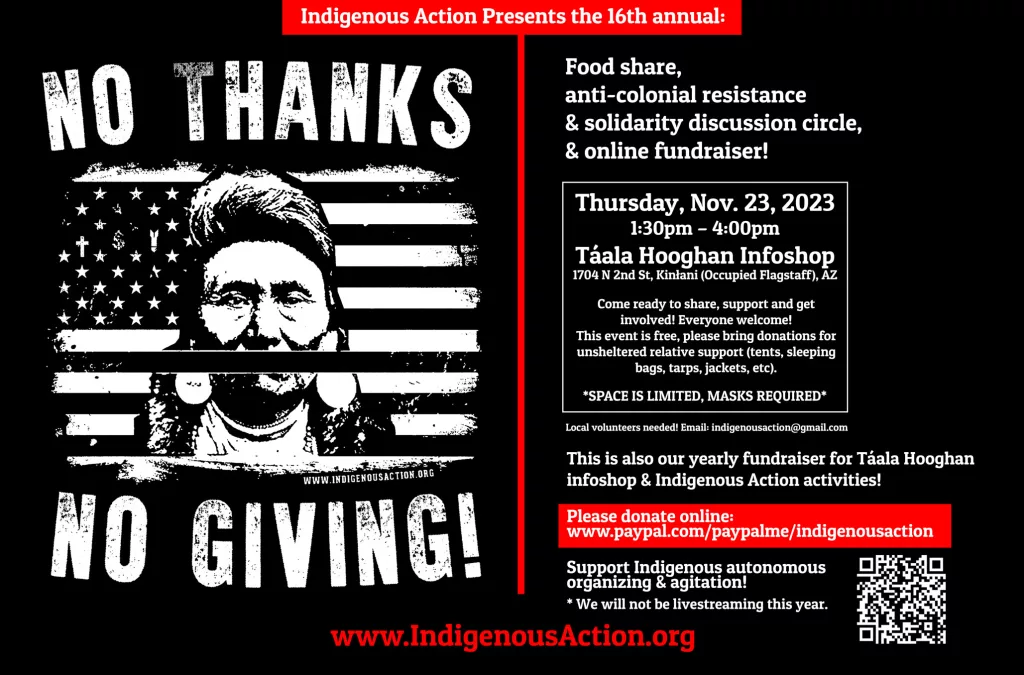 New Book: No Spiritual Surrender, Klee Benally
New Book: No Spiritual Surrender: Indigenous Anarchy in Defense of the Sacred is a searing anti-colonial analysis rooted in frontline experience.
NOW AVAILABLE ONLINE & SELECT BOOKSTORES: No Spiritual Surrender: Indigenous Anarchy in Defense of the Sacred


No Spiritual Surrender: Indigenous Anarchy in Defense of the Sacred is a searing anti-colonial analysis rooted in frontline experience. Klee Benally (Diné) unrelentingly agitates against colonial politics towards Indigenous autonomy and total liberation of Nahasdzáán (Mother Earth).
Available now from Detritus Books detritusbooks.com
406 pages | $20 Nonfiction | Paperback Available in select bookshops.
About the author: Klee Benally is a Diné (Navajo) anarchist and undisciplined agitational propagandist. Originally from Black Mesa. Klee currently resides in occupied Flagstaff, Arizona. kleebenally.com, indigenousaction.org
www.detritusbooks.com
Wholesale inquiries: detritusbooks.com
Now booking speaking tour dates: indigenousaction@gmail.com
Get updates via email, sign up here:
Indigenous Action Podcast