Peaks Activists Targeted with Federal Charges and Arrest Warrants as Forest Service Announces New Sacred Sites Policy
FOR IMMEDIATE RELEASE
Monday, December 10, 2012
CONTACT:
Klee Benally
indigenousaction@gmail.com
National Forest Service Announces New Sacred Sites Policy at the Same Time That Flagstaff Peaks Activists Are Targeted with Federal Charges and Arrest WarrantsPeaks Activists Vow to Fight Charges and Plan to Turn themselves Over to U.S. Marshalls
What: Peaks activist Klee Benally and others expected to be arrested
When: Tuesday, December 11, 2012 at 8:15 a.m
Where: US Marshall's Office 123 N. San Francisco St, Flagstaff, AZ
FLAGSTAFF, AZ — On the same day that secretary Tom Vilsack of the US Department of Agriculture issued a final report on Sacred Sites and an inter-agency memorandum to work towards Sacred Sites protection, the Coconino Forest Service filed federal charges against four Sacred Sites advocates who were part of a protest at the Forest Service offices three months earlier.
On September 21, 2012 more than a dozen Flagstaff community members peacefully delivered letters to address the US Department of Agriculture's policy on sacred places. While community members delivered the letters, a "quarantine" was also theatrically staged in the Coconino National Forest Service lobby to protest the agency's role in approving of an Arizona Snowbowl ski area expansion and snowmaking with treated sewage effluent on the Holy San Francisco Peaks. Several members of the theatrical staging wore white suits and held caution tape with signs that said, "Quarantine Snowbowl," "Forest Service Kills Native Culture, Stop Snowbowl," and "Protect the Sacred."
The four protestors are facing multiple counts (Section 261.3a) of a misdemeanor charge for allegedly interfering with a Forest officer. The statute reads, "Threatening, resisting, intimidating, or interfering with any forest officer engaged in or on account of the performance of his official duties in the protection, improvement, or administration of the National Forest System is prohibited."
"Not only are these federal charges absurd, they are an attack on freedom of expression," stated Klee Benally, a Dine' (Navajo) activist who has been advocating for Indigenous religious freedom and protection of the holy Peaks for more than 14 years. "The fact that the USFS would bring these charges the same day they released their report on the protection of sacred sites demonstrates that they are not acting in good faith."
Klee Benally delivered two letters to acting Forest Supervisor Earl Stewart calling for an immediate halt to ski area expansion and snowmaking with treated sewage effluent on the holy San Francisco Peaks. The letters were addressed to the Obama administration and included: US Department of Agriculture (USDA) Tom Vilsack, Senior Adviser for Tribal Affairs USDA Janie Hipp, Coconino National Forest Supervisor Earl Stewart, and Counselor to the Assistant Secretary of Indian Affairs Dion Killsback. The letters called for the termination of Snowbowl's Special Use Permit and the protection of sacred places.
The letters also focused on public health concerns due to contaminants in the treated sewage effluent that Snowbowl ski resort intends on using for snowmaking on the Holy site and demanded a moratorium on the use of treated sewage effluent, commonly called reclaimed wastewater to avoid the "ick factor", in public places.
"I entered the building with a group of people and requested to speak to Forest Supervisor Earl Stewart, we had a cordial conversation, he accepted letters regarding the sacred sites policy, we shook hands multiple times. We broke no laws. The Forest Service is the one who is violating the law of the creator." stated Benally. "Myself and others will turn ourselves over to the U.S. Marshall tomorrow at 8:15 a.m. so we can move towards ending this act of repression and political retaliation against us by the US Forest Service."
The U.S. Marshall's office is located at 123 N. San Francisco St.. Benally and others are expected to be arrested and appear before a judge for arraignment at 10:00 a.m.
According to the Forest Service complaint, the fire department and a hazmat team were called to address a potentially hazardous spill of clear liquid that had flooded the Forest Service lobby floor after protesters exited. An unknown individual allegedly tipped over a 5 gallon bucket full of what the hazmat team determined to be treated sewage effluent.
"These charges are absurd! The irony is that the USFS has authorized Snowbowl to spill more than one million five hundred thousand gallons of treated sewage effluent per day onto a rare and pristine alpine habitat. Yet they feel its appropriate to call hazmat when a pail of wastewater is allegedly poured onto their polished tile floors? I hold the USFS liable for the environmental poisoning that is set to occur on the Peaks right now," stated Flagstaff resident Evan Hawbaker.
On December 6, 2012, while addressing more than 500 Indigenous leaders at the "White House Tribal Nations Conference" Secretary Vilsack unveiled a sacred sites report stating, "This report represents a commitment by USDA and other agencies to be better partners and improve communications about Sacred Sites, better protecting those sites, access and provide government-wide training to ensure that there is a better understanding of the relationship those sites have to decisions we make." Vilsack continued, "While we have made strides in improving services to Tribes, much is left to be done. One step we are taking today is the filing of our Sacred Sites report."
"The President is insistent that these Sacred Sites be protected and preserved: treated with dignity and respect.  That is also my commitment as Secretary of USDA.  I know my fellow Secretaries share in this commitment.  We understand the importance of these sites and will do our best to make sure they are protected and respected." Vilsack stated. (http://blogs.usda.gov/2012/12/06/secretary-vilsack-addresses-white-house-tribal-nations-conference-unveils-sacred-sites-report/#more-43547)
Read the delivered letters here: http://protectthepeaks.org/protect-the-peaks-letter-to-usda-protect-the-holy-san-francisco-peaks-terminate-snowbowls-special-use-permit-for-higher-public-purpose/
Read the sacred sites report here: http://www.fs.fed.us/spf/tribalrelations/documents/sacredsites/SacredSitesFinalReportDec2012.pdf
###
16th Annual No Thanks, No Giving!
Indigenous Action presents:
16th Annual No Thanks, No Giving!
Food share, anti-colonial resistance & solidarity discussion circle, & online fundraiser!

DONATE: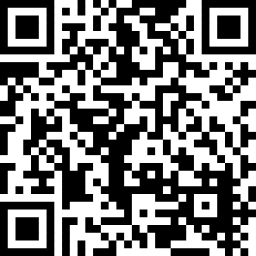 1:30p – 4pm
We will prepare and serve mutton stew and other foods for all who join us. Please bring any dish to contribute if you wish, we also plan on actively distributing (possibly mobile) any extra foods.
Local volunteers needed! Contact: indigenousaction@gmail.com
At 2:30p we will have a talking & action circle focused on anti-colonial resistance & solidarity. Representatives of Kinłani Mutual Aid, Haul No!, volunteers with Protect the Peaks, and autonomous organizers supporting unsheltered relatives will present & discuss upcoming actions & organizing. We will also discuss building Indigenous solidarity with local efforts to Free Palestine. Come ready to share, support and get involved! Everyone welcome!
This event is free, please bring donations for unsheltered relative support (tents, sleeping bags, tarps, jackets, etc).

This is also our yearly fundraiser for Táala Hooghan infoshop and Indigenous Action activities!
Please donate online via PayPal: https://www.paypal.com/paypalme/indigenousaction
Support Indigenous autonomous organizing and agitation!
*We will not host a livestream this year.

When: Thursday, Nov. 23, 2023
1:30pm – 4:00pm MST.
Where: Táala Hooghan Infoshop1704 N 2nd St, Kinłani (Occupied Flagstaff), AZ
MASKS REQUIRED This event will be held both indoors and outdoors (dress warm!) with limited indoor space. We will maintain social distancing & mask protocols for immunocompromised relatives.
For 16 years we have hosted No Thanks, No Giving! as an anti-colonial event to bring together radical Indigenous voices, share traditional foods, and benefit unsheltered relatives at Táala Hooghan Infoshop in Kinlani (Flagstaff, AZ). More info: www.indigenousaction.org
#nothanksnogiving #MutualAid #indigenousmutualaid #solidaritynotcharity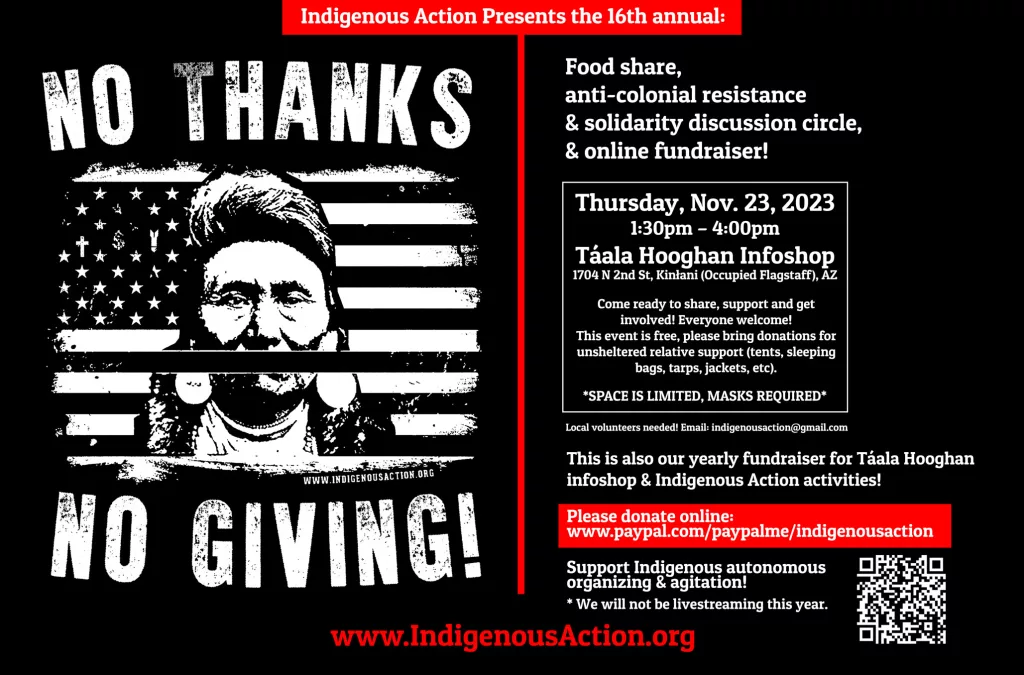 New Book: No Spiritual Surrender, Klee Benally
New Book: No Spiritual Surrender: Indigenous Anarchy in Defense of the Sacred is a searing anti-colonial analysis rooted in frontline experience.
NOW AVAILABLE ONLINE & SELECT BOOKSTORES: No Spiritual Surrender: Indigenous Anarchy in Defense of the Sacred


No Spiritual Surrender: Indigenous Anarchy in Defense of the Sacred is a searing anti-colonial analysis rooted in frontline experience. Klee Benally (Diné) unrelentingly agitates against colonial politics towards Indigenous autonomy and total liberation of Nahasdzáán (Mother Earth).
Available now from Detritus Books detritusbooks.com
406 pages | $20 Nonfiction | Paperback Available in select bookshops.
About the author: Klee Benally is a Diné (Navajo) anarchist and undisciplined agitational propagandist. Originally from Black Mesa. Klee currently resides in occupied Flagstaff, Arizona. kleebenally.com, indigenousaction.org
www.detritusbooks.com
Wholesale inquiries: detritusbooks.com
Now booking speaking tour dates: indigenousaction@gmail.com
Indigenous Action Podcast Episode 17: Decolonization isn't a Holiday
Rejecting Indigenous Peoples' Day of Tokenism

Hosts Klee and Bonn talk with some awesome guests & revisit our 2017 'zine "Uprooting Colonialism: The Limitations of Indigenous Peoples' Day." We dig into the questions, "How do whitewashed celebrations of Indigenous Peoples Day undermine decolonization?" and "What does it mean to be an anti-colonial abolitionist?"
Guests:
Amrah Salomón J. is a writer, artist, activist, and educator of Mexican, O'odham and Tohono O'odham, and European ancestry.
@oodhamantiborder, @defendoodhamjewed, Cashapp: $DefendOodhamJewed, Paypal.me/DefendOodhamJewed, Venmo: @DefendOodhamJewed
Kittie Kuntagion, @kittiekuntagion
Andrew Pedro, @desert.dweller.58 Got tired of seeing disapointing activist bullshit, now focused on music. Organizes metal/punk shows on and of the Rez.
Hosts:
Bonn: @bonnabella.xvx, Venmo: bonnabellaxvx
Klee: @kleebenally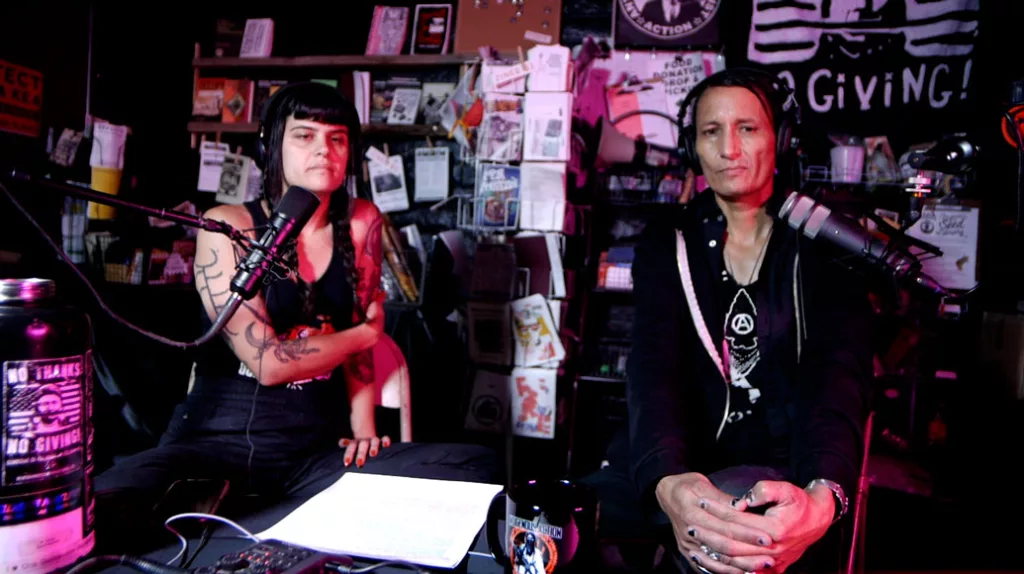 About the podcast: Indigenous Action is an autonomous anti-colonial broadcast with unapologetic and claws-out analysis towards total liberation. We feature radical frontline Indigenous voices and dig deep into critical issues impacting our communities. So take your seat by this fire and may the bridges we burn together, light our way. www.indigenousaction.org/podcast
Email us at IAInfo@protonmail.com.
Subscribe, like, share on iTunes | Spotify, and Youtube.
Read the 'zine here: https://www.indigenousaction.org/uprooting-colonialism-the-limitations-of-indigenous-peoples-day/
From the 2017 'zine: "…if the state dismantles these statues and proclaims Indigenous Peoples' Days, what do we actually achieve if the structures and systems rooted in colonial violence remain intact? Is it merely political posturing or window dressing to diminish liberatory agitations? Our senses are heightened as most re-brandings of Columbus Day into IPD appear to whitewash ongoing colonial legacies… If the goal is for Indigenous autonomy, liberation of the land, people, and other beings, then why plead with our oppressors to merely acknowledge or recognize our existence?…To claim Indigenous Peoples' Day as an act of decolonization is a failure of liberal assimilationists… Symbolically ending Columbus' legacy while continuing to perpetuate and benefit from the violence of the 'doctrine of discovery' is just one more dead-end direction of Indigenous liberalism. If we understand that colonization has always been war, then why are we fighting a battle for recognition and affirmation through colonial power structures?… Indigenous Peoples' Day, as a process of collusion with occupying state forces, risks becoming a colonial patriotic ritual more than anything that amounts to liberation."
Get updates via email, sign up here:
Indigenous Action Podcast