[Protect Sacred Places] Saving Mount Taylor
Posted by: David V. Hill
Hello Friends,
We are getting information that the uranium industry has mounted a full out battle to stop the MT Taylor Traditional Cultural Property nomination.  They have hired a professional to work within the community of Grants to drive the wedge issues.   The Grants uranium people are sending letters that have far exceeded the numbers of letters received in favor of preserving MT Taylor.
We need every person to write a letter to the Cultural Properties Review Committee and tell them how they feel about Mt Taylor and why it is important to protect it, so that the Cultural Properties Review Committee can feel strong in approving the TCP due to strong public support.
If this nomination is not successful, the nominating tribes (Navajo Nation, the Pueblos of Hopi, Zuni, Acoma, and Laguna) will not be allowed to reapply again for five years.   This will mean that the mining operations can resume on the mountain with no controls or concern for native religious interests.   We cannot let this happen.  Please write your letter.  Please forward this email to anyone that you know who may be interested.
This is the address to send your letter.
State of New Mexico
Department of Cultural Affairs
Historic Preservation Division
Att: Cultural Properties Review Committee
Bataan Memorial Building,
407 Galisteo St., RM 236
Sante Fe, New Mexico 87501
The deadline for all written comments to the Cultural Properties Review Committee is May 20, 2009.
The following was sent to me by a friend who is familiar with the nomination proposal, so that you may read for yourself the important points being placed before the review committee.
Here are excerpts from the conclusion of the significance statement in the application.
In order to obtain permanent protection from the mountain, the Tribes assert that the Mt. Taylor TCP fulfills three of the four NRHP criteria:  Criterion (a) for its associations that have made a significant contribution to the broad patterns of our history; Criterion (b) association with the lives of persons significant in our past, and Criterion (d) history of yielding or potential to yield, information important in prehistory and history (Benedict and Hudson 2008:30-31).
With regard to Criterion (a), the Nominating Tribes' significance statements show that the historical, cultural, and religious importance of the Mt. Taylor TCP is firmly established in each of the community's history and traditions.  The period of significance, according to each of the Tribes, extends from time immemorial to the present.
Mt. Taylor occupies a pivotal place in the origins of each of the Nominating Tribes, either during the emergence of the first humans onto the face of this earth and/or during the people's migrations in search of their promised homelands.  Considered the home of many Spiritual Beings and a source of water that sustains life throughout the natural world, Mt. Taylor is important in calendrical ceremonies and daily ritual observances that motivate, organize, and structure how people live their everyday lives as members of their communities.  The Mountain is a prominent element in the communities' respective cosmologies.            As first noted in the introduction comments of this statement and illustrated through the Tribe's substantive contributions, the Nominating Tribes' people literally and figuratively "Look to the Mountain" for guidance (e.g., see discussion by Cajete1994, 1999). It is through these many-tiered relationships between the communities traditional cultural beliefs and practices and the Mt. Taylor Cultural Landscape that the TCP is eligible for listing in the National Register.
The importance of the Mountain in migrations of people over time is not limited to members of the Nominating Tribes. Until the invention of the car, it assured early settlers setting out across the desert from the Rio Grande valley that they could survive the trip, it was a beacon then, as it was in pre-historic times.
Regarding Criterion (b), National Register Bulletin 38 offers relevant insight for understanding and assessing the Mountain's significance in terms of its association with the lives of persons significant in out past:
The word "persons" can be taken to refer both to persons whose tangible, human existence in the past can be inferred on the basis of historical, ethnographic, or other research, and to "persons" such as gods and demigods who feature in the traditions of a group.  [Parker and King 2008:13]
Mt. Taylor has been the home of many different Spiritual Beings dating back to the very beginning of time.  These Beings figure prominently in the tra ditional beliefs and histories that each of the Nominating Tribes hold dear concerning their origins, either at the time of emergence and/or through their prolonged migrations in search of their pledged homelands.  Moreover, the Mountain itself is traditionally understood to be a living, breathing Spiritual Being.  Clearly, the available documentation makes obvious that Mt. Taylor TCP fulfills this criterion.
Criterion (d), with its focus on the likely potential of a traditional cultural property to yield information important in history and prehistory, occupies a somewhat lesser status relative to Criteria (a) and (b).  Nonetheless, this criterion is relevant and it underscores the Mountain's significance as a traditional cultural property to the Nominating Tribes, collectively and individually.
The unprecedented wealth of cultural and historical information that the Nominating Tribes have shared in this nomination effort provide important perspectives and data with which to more fully understand, and respect, the cultural traditions that these communities maintain through their continuing associations with Mt. Taylor (after Benedict and Hudson 2008:31).  Continuing ethnographic study, scholarly research, and literary work can be expected to continue to enhance our collective understanding of the beliefs and practices that the Nominating Tribes associate with the Mountain.
The Nominating Tribes view the locations of many of the contributing cultural properties through which they maintain their relationships with Mt. Taylor, as well as the specific beliefs and practices that are associated with these landscape features, as privileged information.  Nonetheless, the Tribes have identified hundreds of cultural properties, including traditional plant and mineral gathering locations, boundary markers, springs, lakes, shrines, blessing places, and archaeological properties, as material evidence in support of their significance statements.   This rich assemblage of contributing cultural properties suggests that there exists the very high potential that study of these known landscape features will result in the documentation of much more quantitative information about the Tribe's physical occupation and use of the Mountain.  Additionally, the large number of known archaeological properties (n=1056) with which at least one of the Tribes has stated its affiliation relative to the small sample of area inventoried by professional archaeologists suggests that a very great many significant contributing archaeological properties exist with this landscape awaiting rediscovery and evaluation.
Concluding Statement
The Mount Taylor Cultural Landscape is the intersection of so many different community landscapes, and the Mountain does so many different things—economically, socially, and ideationally—for so many different people from culturally diverse backgrounds.  These factors make Mt. Taylor one of New Mexico's truly exceptional landscapes.  Although there is no consensus on what Mt. Taylor is, what the Mountain does for people, and what this landscape should become, all stakeholders intrinsically know that Mt. Taylor not only is a place to talk about (after Ortiz 1992: 321–324), but warrants an emotional response even when there exists only a perception that one community's interests might somehow supersede another's.  The often rancorous debate whether the Mt. Taylor TCP should be listed on the SRCP, h owever, speaks volumes of the significance of the Mountain among New Mexico's communities.  Listing of the Mount Taylor Cultural Landscape protects the Mountain and each of the communities in turn by ensuring that no one community's interests will automatically take precedence over the others as humans shape the future of the Mountain.
Ox Sam Camp Raid Update: One Arrested as Prayer Tipis Are Bulldozed and Ceremonial Items Confiscated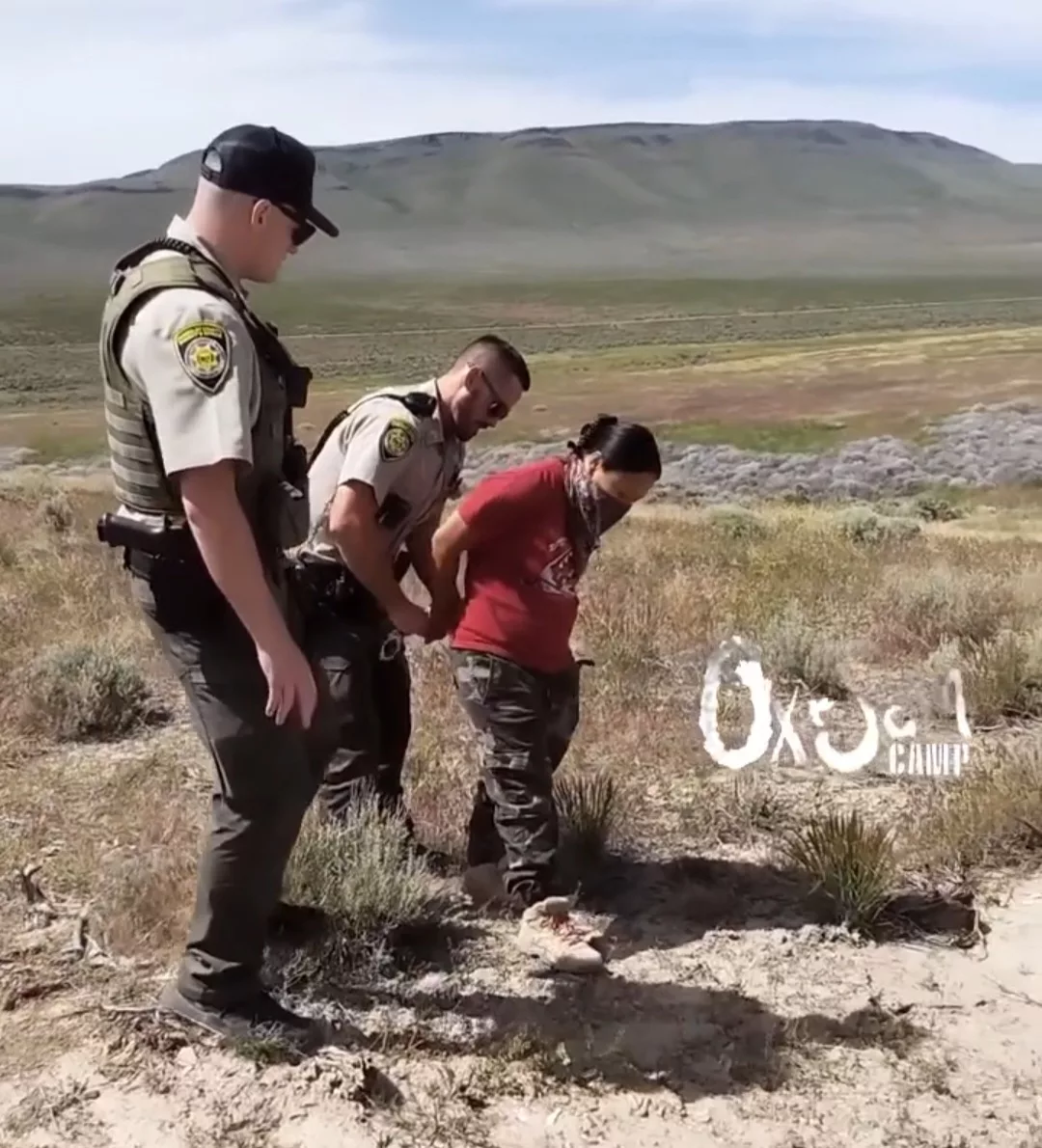 Thursday, June 8th, 2023

Contact: Ox Sam Camp
Email: oxsamcamp@proton.me
OxSam.org
THACKER PASS, NV — On Wednesday morning, the Humboldt County Sheriff's department on behalf of Lithium Nevada Corporation, raided the Ox Sam Newe Momokonee Nokutun (Ox Sam Indigenous Women's Camp), destroying the two ceremonial tipi lodges, mishandling and confiscating ceremonial instruments and objects, and extinguishing the sacred fire that has been lit since May 11th when the Paiute/Shoshone Grandma-led prayer action began.
One arrest took place on Wednesday at the direction of Lithium Nevada security. A young Diné female water protector was handcuffed with no warning and loaded into a windowless, pitch-black box in the back of a pickup truck. "I was really scared for my life," the woman said. "I didn't know where I was or where I was going, and I know that MMIW is a real thing and I didn't want to be the next one." She was transported to Humboldt County Jail, where she was charged with criminal trespass and resisting arrest, then released on bail.
Just hours before the raid, Ox Sam water protectors could be seen for the second time this week bravely standing in the way of large excavation equipment and shutting down construction at the base of Sentinel Rock.
To many Paiute and Shoshone, Sentinel Rock is a "center of the universe," integral to many Nevada Tribes' way of life and ceremony, as well as a site for traditional medicines, tools, and food supply for thousands of years. Thacker Pass is also the site of two massacres of Paiute and Shoshone people­. The remains of the massacred ancestors have remained unidentified and unburied since 1865, and are now being bulldozed and crushed by Lithium Nevada for a mineral known as "the new white gold."
Since May 11th, despite numerous requests by Lithium Nevada workers, the Humboldt County Sheriff Department has been reticent and even unwilling to arrest members of the prayer camp, even after issuing three warnings for blocking Pole Creek Road access to Lithium Nevada workers and sub-contractors, while allowing the public to pass through.
"We absolutely respect your guys' right to peacefully protest," explained Humboldt County Sheriff Sean Wilkin on May 12th. "We have zero issues with [the tipi] whatsoever… We respect your right to be out here."
On March 19th the Sheriff arrived again, serving individual fourteen-day Temporary Protection Orders against several individuals at camp. The protection orders were granted by the Humboldt County Court on behalf of Lithium Nevada based on sworn statements loaded with misrepresentations, false claims, and, according to those targeted, outright false accusations by their employees. Still, Ox Sam Camp continued for another week. The tipis, the sacred fire, and the prayers occurred for a total of twenty-seven days of ceremony and resistance.
The scene at Thacker Pass this week looked like Standing Rock, Line 3, or Oak Flat, as Lithium Nevada's workers and heavy equipment tried to bulldoze and trench their way through the ceremonial grounds surrounding the tipi at Sentinel Rock, and water protectors put their bodies in the way of the destruction, forcing work stoppage on two occasions.
Observers stated that Lithium Nevada's head of security was directing the Sheriff's deputies where to go and what to do during the raid.
Lithium Nevada's ownership and control of Thacker Pass only exists because of the flawed permitting and questionable administrative approvals issued by the Bureau of Land Management (BLM). BLM officials have refused to acknowledge that Peehee Mu'huh is a sacred site to regional Tribal Nations, and have continued to downplay and question the significance of the double massacre through two years of court battles.
Three tribes — the Reno-Sparks Indian Colony, Summit Lake Paiute Tribe, and Burns Paiute Tribe — remain locked in litigation with the Federal Government for permitting the mine. The tribes filed their latest response to the BLM's Motion to Dismiss on Monday. BLM is part of the Department of the Interior which is led by Deb Haaland (Laguna Pueblo).
On Wednesday, at least five Sheriff's vehicles, several Lithium Nevada worker vehicles, and two security trucks arrived at the original tipi site that contained the ceremonial fire, immediately adjacent to Pole Creek Road. One camper was arrested without warning, and others were issued with trespass warnings and allowed to leave the area. Once the main camp was secured, law enforcement then moved up to the tipi site at Sentinel Rock, a mile away.
There is a proper way to take down a tipi and ceremonial camp, and then there is the way Humboldt County Sheriffs proceeded on behalf of Lithium Nevada Corporation. Tipis were knocked down, tipi poles were snapped, and ceremonial objects and instruments were rummaged through, mishandled, and impounded. Empty tents were approached and secured in classic SWAT-raid fashion. One car was towed.
As is often the case when lost profits lead to government assaults on peaceful water protectors, Lithium Nevada Corporation and the Humboldt County Sheriffs have begun to claim that the raid was done for the safety of the camp members and for public health.
Josephine Dick (Fort McDermitt Paiute-Shoshone), who is a descendent of Ox Sam and one of the matriarchs of Ox Sam Newe Momokonee Nokutun, made the following statement in response to the raid:
"As Vice Chair of the Native American Indian Church of the State of Nevada, and as a Paiute-Shoshone Tribal Nation elder and member, I am requesting the immediate access to and release of my ceremonial instruments and objects, including my Eagle Feathers and staff which have held the prayers of my ancestors and the Ox Sam camp since the beginning. There was also a ceremonial hand drum and medicines such as cedar and tobacco, which are protected by the American Indian Religious Freedom Act.
In addition, my understanding is that Humboldt County Sherriffs along with Lithium Nevada security desecrated two ceremonial tipi lodges, which include canvasses, poles, and ropes. The Ox Sam Newe Momokonee Nokutun has been conducting prayers and ceremony in these tipis which are also protected by the American Indian Religious Freedom Act. When our ceremonial belongings are brought together around the sacred fire, this is our church. Our Native American church is a sacred ceremony. I am demanding the immediate access to our prayer site at Peehee Mu'huh and the return of our confiscated ceremonial objects.
The desecration that Humboldt County Sherriffs and Lithium Nevada conducted by knocking the tipis down and rummaging through sacred objects is equivalent to taking a bible, breaking The Cross, knocking down a cathedral, disrespecting the sacrament, and denying deacons and pastors access to their places of worship, in direct violation of my American Indian Religious Freedom rights. This violation of access to our ceremonial church and the ground on which it sits is a violation of Executive Order 13007.
The location of the tipi lodge that was pushed over and destroyed is at the base of Sentinel Rock, a place our Paiute-Shoshone have been praying since time immemorial. After two years of our people explaining that Peehee Mu'huh is sacred, BLM Winnemucca finally acknowledged that Thacker Pass is a Traditional Cultural District, but they are still allowing it to be destroyed."
Josephine and others plan to make a statement on live stream outside the Humboldt County Sheriff's Office in Winnemucca on the afternoon of Friday, June 9th around 1pm.
Another spiritual leader on the front lines has been Dean Barlese from the Pyramid Lake Paiute Tribe. Despite being confined to a wheelchair, Barlese led prayers at the site on April 25th which led to Lithium Nevada shutting down construction for a day, and returned on May 11th to pray over the new sacred fire as Ox Sam camp was established.
"This is not a protest, it's a prayer," said Barlese. "But they're still scared of me. They're scared of all of us elders, because they know we're right and they're wrong."
###
Background
Thacker Pass is located in northern Nevada near the Oregon border, where Lithium Nevada Corporation is in the first phase of building a $2 billion open-pit lithium mine which would be the largest of its kind in North America. The lithium is mainly destined for General Motors Corporation's electric car batteries, which the corporation laughably claims is "green." Mine opponents call this greenwashing and have stated that "it's not green to blow up a mountain."
The U.S. Supreme Court has granted Lithium Nevada corporation and all other business corporations a whole variety of constitutional "rights" that were never meant for business entities. Without these special so-called corporate "rights," the mine owners would never have been allowed to construct this mine.
Three Native American tribes filed a new lawsuit against the Federal Government over Lithium Nevada Corporation's planned Thacker Pass lithium mine on February 16, 2023, the latest legal move in the two-and-a-half-year struggle over mining, greenwashing, and sacred land in northern Nevada.
The Tribes notified the 9th Circuit Court of Appeals on May 19th that they mean to appeal their Motion seeking a Preliminary Injunction which was rejected by a lower court in early March. Four environmental groups which lost their case in January have also appealed to the 9th Circuit Court of Appeals, and are expected to be heard in June.
Ox Sam Camp Update: Land Defenders Arrested, Camp Raided After Blocking Excavator
From www.oxsam.org (follow for more updates).

Read the new press release from 6/8/23 here: https://www.indigenousaction.org/ox-sam-camp-raid-update-one-arrested-as-prayer-tipis-are-bulldozed-and-ceremonial-items-confiscated/
6/7/23
First arrests are underway and camp is being raided after land defenders halted an excavator this morning at Thacker Pass.
OROVADA, NV — This morning, a group of Native American water protectors and allies used their bodies to non-violently block construction of the controversial Thacker Pass lithium mine in Nevada, turning back bulldozers and heavy equipment.
The dramatic scene unfolded this morning as workers attempting to dig trenches near Sentinel Rock were turned back by land defenders who ran and put their bodies between heavy equipment and the land.
Now they are being arrested and camp is being raided.
Northern Paiute and Western Shoshone people consider Thacker Pass to be sacred. So when they learned that the area was slated to become the biggest open-pit lithium mine in North America, they filed lawsuits, organized rallies, spoke at regulatory hearings, and organized in the community. But despite all efforts over the last three years, construction of the mine began in March.
That's what led Native American elders, friends and family, water protectors, and their allies to establish what they call a "prayer camp and ceremonial fire" at Thacker Pass on May 11th, when they setup a tipi at dawn blocking construction of a water pipeline for the mine. A second tipi was erected several days later two miles east, where Lithium Nevada's construction is defacing Sentinel Rock, one of their most important sacred sites.
Sentinel Rock is integral to many Nevada Tribes' worldview and ceremony. The area was the site of two massacres of Paiute and Shoshone people. The first was an inter-tribal conflict that gave the area it's Paiute name: Peehee Mu'huh, or rotten moon. The second was a surprise attack by the US Cavalry on September 12th, 1865, during which the US Army slaughtered dozens. One of the only survivors of the attack was a man named Ox Sam. It is some of Ox Sam's descendants, the Grandmas, that formed Ox Sam Newe Momokonee Nokotun (Indigenous Women's Camp) to protect this sacred land for the unborn, to honor and protect the remains of their ancestors, and to conduct ceremonies. Water protectors have been on-site in prayer for nearly a month.
On Monday, Lithium Nevada Corporation also attempted to breach the space occupied by the water protectors. As workers maneuvered trenching equipment into a valley between the two tipis, water protectors approached the attempted work site and peacefully forced workers and their excavator to back up and leave the area. According to one anonymous land defender, Lithium Nevada's action was "an attempted show of force to fully do away with our tipi and prayer camp around Sentinel Rock."
Ranchers, recreationists, and members of the public have been allowed to pass without incident and water protectors maintain friendly relationships with locals. Opposition to the mine is widespread in the area, and despite repeated warnings from the local Sheriff, there have been no arrests. Four people, including Dorece Sam Antonio of the Fort McDermitt Paiute-Shoshone Tribe (an Ox sam descendant) and Max Wilbert of Protect Thacker Pass, have been targeted by court orders barring them from the area. They await a court hearing in Humboldt County Justice Court.
"Lithium Nevada is fencing around the sacred site Sentinel Rock to disrupt our access and yesterday was an escalation to justify removal of our peaceful prayer camps," said one anonymous water protector at Ox Sam Camp. "Lithium Nevada intends to desecrate and bulldoze the remains of the ancestors here. We are calling out to all water protectors, land defenders, attorneys, human rights experts, and representatives of Tribal Nations to come and stand with us."
"I'm being threatened with arrest for protecting the graves of my ancestors," says Dorece Sam Antonio. "My great-great Grandfather Ox Sam was one of the survivors of the 1865 Thacker Pass massacre that took place here. His family was killed right here as they ran away from the U.S. Army. They were never buried. They're still here. And now these bulldozers are tearing up this place."
Another spiritual leader on the front lines has been Dean Barlese, a spiritual leader from the Pyramid Lake Paiute Tribe. Despite being confined to a wheelchair, Barlese led prayers at the site on April 25th (shutting down construction for a day) and returned on May 11th.
"I'm asking people to come to Peehee Mu'huh," Barlese said. "We need more prayerful people. I'm here because I have connections to these places. My great-great-great grandfathers fought and shed blood in these lands. We're defending the sacred. Water is sacred. Without water, there is no life. And one day, you'll find out you can't eat money."
The 1865 Thacker Pass massacre is well documented in historical sources, books, newspapers, and oral histories. Despite the evidence but unsurprisingly, the Federal Government has not protected Thacker Pass or even slowed construction of the mine to allow for consultation to take place with Tribes. In late February, the Federal Government recognized tribal arguments that Thacker Pass is a "Traditional Cultural District" eligible for the National Register of Historic Places. But that didn't stop construction from commencing.
"This is not a protest, it's a prayer," said Barlese. "But they're still scared of me. They're scared of all of us elders, because they know we're right and they're wrong."
O'odham Executed by Border Patrol: Statement by Raymond Mattia Family
Raymond Mattia of the Tohono O'odham Nation was executed by US border patrol agents on May 18th at his home. He was reportedly shot 38 times.

A peaceful gathering to support all victims of the
unmonitored violent actions of the Border Patrol and other agencies will be held at The Border
Patrol Station in Why, Az, and Tucson on Golf Links Road this Saturday, May 27th, from
10:00am-Noon.
For more information please visit: https://bsnorrell.blogspot.com/2023/05/us-border-patrol-shoots-tohono-oodham.html

Statement by Mattia Raymond's family:
We have been trying to find the strength to write this statement. This tragedy is so
grievous because it is apparent what had happened. Raymond called for help and, in turn, was
shot down at his doorstep. Raymond's rights were violated by the authorities whom we trust to
protect our Nation. Improper and unprofessional actions of the agencies involved were witnessed
by family members present near the crime scene. Loved ones sat in agony, not knowing of
Raymond's condition until they were told that he had passed hours later. Raymond lay in front of
his home for seven hours before a coroner from Tucson arrived.
In our eyes and hearts, we believe that Raymond was approached with excessive and
deadly force that took his life. He was a father, brother, uncle, friend, and an involved
community member. Raymond always fought for what was right, and he will continue to fight
even after his death. This is not an isolated incident, but it should bring awareness of the
oppression our people live through.
We want to thank so many of you for your condolences and support. A GoFundMe for
defense funds will be available soon. A peaceful gathering to support all victims of the
unmonitored violent actions of the Border Patrol and other agencies will be held at The Border Patrol Station in Why, Az, and Tucson on Golf Links Road this Saturday, May 27th, from 10:00am-Noon.
Contact for support: justiceforraymattia@gmail.com
Get updates via email, sign up here:
Indigenous Action Podcast