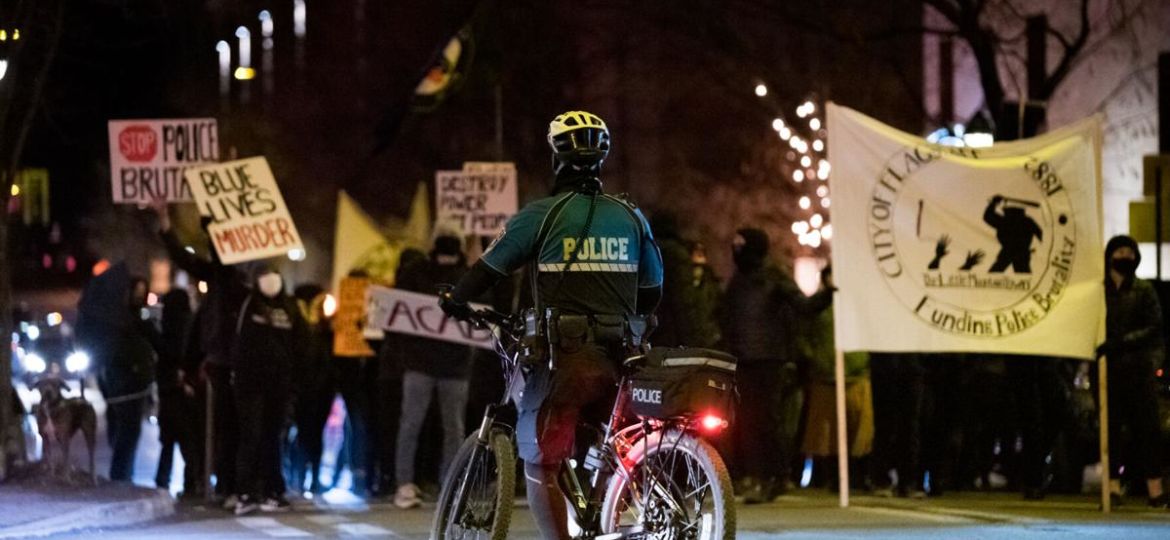 Cops Target and Arrest One Person 
Occupied Kinłani (so-called "Flagstaff, AZ") —
On February 28, 2021, over
one hundred
people gathered at Heritage Square
then marched throughout the
downtown
area in response to ongoing police violence against unshletered Indigenous community members
.
Immediately after the march one individual was arrested and charged with "aggravated assault."
The demonstration was called by Indigenous Peoples
and
accomplices after an unsheltered Indigenous man was brutally attacked by the Flagstaff Police Department
in early February
.
Demonstrators also addressed the utter failures of Flagstaff politicians
to support
unsheltered Indigenous Peoples
prior to and during this pandemic. Along with daily police harassment and common reports of violence, unsheltered relatives have faced mis
managed
and discriminatory
shelters
and have been left
vulnerable to freezing temperatures and increased risk of COVID infection. 
A crowd of over
one hundred
people gathered in the Square where 11 police officers, as well as a tactical unit on a nearby roof, were in sight. 
In solidarity with
unsheltered relatives, participants set up tables before the event with items such as jackets, gloves,
and
beanies
in anticipation of
plummeting
temperatures. 
People in the
crowd were also able to utilize the clothing to maintain black-bloc
in
order to preserve
anonymity in opposition to the hyper-surveillance of
the
Flagstaff Police Department (
FPD
) which included undercover agents
. Everyone was keeping COVID safe
by wearing
masks and socially distanc
ing
. Snacks, water bottles, masks, hand warmers,
and
hand sanitizer
were distributed
. Know Your Rights fliers and jail support information w
ere
also shared
and the crowd was made aware of participating
street
medics and legal observer
s
.
Participants presented statistics about FPD racism and violence. For example, from 1 Jan 2015 to 31 July 2020, 60% of FPD arrests in "Flagstaff" targeted Indigenous Peoples——7.8x greater than what it would be if arrest rates were not racially biased——with Indigenous men alone constituting nearly half (46.4%) of all arrests[3]. 
This clearly racist policing occurs in a city where police officers face very little danger. In 2019, there were only 2.6 serious ("part one") violent crimes per officer in Flagstaff[6], and only 3.5% of FPD arrests from 1/1/2015 to 7/31/2020 were for violent crimes[6]. 
In fact, the FPD is the most prolific murderer in so-called Flagstaff. Police homicides accounted for 36.4% of all homicides in Flagstaff from 2015 to 2019, with FPD officers shooting and killing at a rate over 6x the national average[6].
These statistics beg the question as to what exactly the FPD is accomplishing with its $25 million annual budget. Defunding the police would enable alternative resources and infrastructures could be funded. 
For example, reallocating just 3% of the FPD budget could house all unsheltered people in so-called Flagstaff, a notoriously cruel place for unsheltered relatives[7]. Almost half of the unsheltered people in "Flagstaff" are Indigenous[1], even though only 7.7% of the city's population is Indigenous[2]. Additionally, Indigenous people were targeted in 88% of arrests due to the criminalization of being unsheltered[3]. As a result, Flagstaff has been named one of the 10 meanest cities in the so-called U.S. toward unsheltered people[4]. 
Next
the participants made viewers aware of a
content
warning for excessive force by Officer Nick Rubey who has a history of violence toward unsheltered relatives, including the attempted murder of Matt Dearing in 2019. Participants then
screened the body cam footage released by
FPD
with text and breaks in the video to describe what is going on and the atrocity in which the relative was being treated by
officers Nick Rubey (badge #8) and Tyler David
s
(badge #4)
[5]
.
Horrified by what the crowd had witnessed, experiences were then shared by unsheltered relatives who spoke of the same kind of treatement
and demanded the city's anti-camping ordinance be revoked as it essentially gives permission to the pigs to harass and target unsheltered folks just for sleeping or "gathering."
At that point, the crowd was ready to march. 
80
-90
people
then
took to the streets, disrupting the usual activity of so-called Flagstaff's Saturday night. The group was tactically led by strategically placed banners, which provided cover and safety.
Some of the banners read "Land Back" and "Housing not Handcuffs." 
The police sprinted to keep up and struggled to overtake the crowd. It was noticed that the officers flanking the sides of the march were attempting to identify who they presumed to be leaders. Security acted quickly to cover those who were profiled by the racist police. 
The energy from the crowd, emboldened by the earlier v
ideo
of police brutality, was collective and rowdy as the group took Historic Route 66. The crowd's movement blocked oncoming traffic for several streets and the size of the crowd made it possible to overtake multiple lanes at a time
as well as occupy multiple intersections throughout town
. At one point in the march, as protestors chanted, "Out of your house and into the streets," accomplices exited their homes to join the action.
Accomplices
from neighboring cities traveled to Kinłání to show their solidarity, escorted by black umbrellas and signs that read "ACAB" and "Abolition Now!"   
As the crowd weaved through the busy downtown area, more support was shown by onlookers. At one point, while overtaking an intersection, a passing vehicle began to loudly play N.W.A'S "Fuck Tha Police." Throughout the march, demonstraters showed solidarity with Black kin by chanting, "Black Lives Matter" and "hands up, don't shoot" as Black and Indigenous Peoples are the most likely to die in the hands of the pigs. In fact, almost 40% of all homicide in "Flagstaff" are from the blood s
tained
hands of the police. 
After gathering momentum for nearly two hours, the march circled up at a large intersection. Participants passed out water, hand warmers, and other care items while chants of "We keep us safe"
re
verberated through the town. A pass the mic session was held, allowing people to share their experiences of police brutality by F
PD
. Stories of
abolitionist futures and
community
liberation
encourage
d the crowd to locate Indigenous leadership and resistance efforts and to show up with skills sharpened.
The march culminated in a gathering at Wheeler Park, where community remained the central theme. Local and out-of-town demonstrators discussed plans for forming accomplice networks across so-called Arizona. Unsheltered relatives told stories of sharing their limited resources with others on the street, demonstrating the truth of the "we keep us safe" chant. Meanwhile, the cops were escalating their harassment, encircling the group with increased numbers. With safety from pig violence in mind
,
and subtle awareness of undercover infiltration
,
the group collectively decided to disperse at this point. Before separating, participants were reminded of their rights and advised to use the buddy system. Escorts were arranged to keep people safe. Nearly all
of the
participants made it home. 
After leaving Wheeler Park, participants organized
safe rides
for unsheltered relatives to hotels or other places they
chose
to go. 
Participants w
ere walking
with unsheltered relatives to organize rides when
two
police
cruisers flanked to the left and
two
from the right, including an undercover vehicle
.
Officers jumped out of barely halted vehicles and swarmed a previously targeted individual within the group. A small group of participants ran toward the police in an attempt to disrupt an arrest. Police continued to arrest the participant for "aggravated assault". Participants filmed the interaction and yelled at the police.
The crew quickly reacted to the arrest by identifying legal and jail support. The progress of the arrest was tracked throughout the night, and nine supporters gathered the next morning to show solidarity upon the release of the targeted member
.
This incidence of organizers being targeted on their way home out of the eye of the public is neither isolated nor coincidental. It is a repetitive tactic used on behalf of FPD and its purpose serves to strike fear and isolation in targeted members who become vulnerable without the support
of a
hundred
person crowd. It also allows the Flagstaff Police to maintain
its
"hands off" public persona in regard to montitoring protests and direct action. The reality being that police treat post-action like a witch hunt, utilizing undercover police and hyper-surveillance in the form of frequent stalking and intimidation of Indigenous organizers on a day to day basis.
F
PD
has a history of continuously targeting the same Indigenous organizers in Northern Arizona in an attempt to suppress movement building and calls to action. For those unaware, consistent exposure to the criminal punishment system is not only exhausting spiritually, but it is also exhausting of community resources and support, and can lead to extended incarceration as movement organizers continue to be hyper-criminalized by a state that wishes to maintain status quo violence. 
These strategies weaponized by the state to repress Indigenous voices will never see success because Indigenous Resistance is ongoing and will never become obsolete on land occupied by savage white supremacist pigs. Stay vigilant.