Statement from 6 Protesters Arrested for Stopping Snowbowl Pipeline
*PROTECT THE PEAKS – STOP DESTRUCTION & DESECRATION NOW!*
Today we take direct action to stop further desecration and destruction of
the Holy San Francisco Peaks. We stand with our ancestors, with allies and
with those who also choose to embrace diverse tactics to safeguard
Indigenous People's cultural survival, our community's health, and this
sensitive mountain ecosystem.
On May 25th 2011, sanctioned by the US Forest Service, owners of Arizona
Snowbowl began further destruction and desecration of the Holy San Francisco
Peaks. Snowbowl's hired work crews have laid over a mile and a half of the
planned 14.8 mile wastewater pipeline. They have cut a six foot wide and six
foot deep gash into the Holy Mountain.
Although a current legal battle is under appeal, Snowbowl owners have chosen
to undermine judicial process by rushing to construct the pipeline. Not only
do they disregard culture, environment, and our children's health, they have
proven that they are criminals beyond reproach.
Four weeks of desecration has already occurred. Too much has already been
taken.  Today, tomorrow and for a healthy future, we say "enough!"
As we take action, we look to the East and see Bear Butte facing
desecration, Mt. Taylor facing further uranium mining; to the South, Mt.
Graham desecrated, South Mountain threatened, the US/Mexico border severing
Indigenous communities from sacred places; to the West, inspiring resistance
at Sogorea Te, Moana Keya facing desecration; to the North, Mt. Tenabo,
Grand Canyon, Black Mesa, and so many more… our homelands and our culture
under assault.
We thought that the USDA, heads of the Forest Service, had meant it when
they initiated nationwide listening sessions to protect sacred places. If
the process was meaningful, we would not have to take action today.
More than 13 Indigenous Nations hold the Peaks Holy. The question has been
asked yet we hear no response, "what part of sacred don't you understand?"
For hundreds of years resistance to colonialism, slavery, & destruction of
Mother Earth has existed and continues here in what we now call Arizona.
The United States recently moved to join the United Nations Declaration on
the Rights of Indigenous Peoples, evidently the US has not currently
observed and acted upon this declaration, otherwise we would not be taking
action today. This document informs our action, we also assert that UNDRIP
supports the basis for our action.
Article 11, 1: Indigenous peoples have the right to practice and revitalize
their cultural traditions and
customs. This includes the right to maintain, protect and develop the past,
present and future manifestations of their cultures, such as archaeological
and historical sites, artifacts, designs, ceremonies, technologies and
visual and performing arts and literature.
"Article 11, 2: States shall provide redress through effective mechanisms,
which may include restitution,
developed in conjunction with indigenous peoples, with respect to their
cultural, intellectual, religious and spiritual property taken without their
free, prior and informed consent or in violation of their laws, traditions
and customs."
"Article 12, 1: Indigenous peoples have the right to manifest, practice,
develop and teach their spiritual and religious traditions, customs and
ceremonies; the right to maintain, protect, and have access in privacy to
their religious and cultural sites; the right to the use and control of
their ceremonial objects; and the right to the repatriation of their human
remains."
"Article 25: Indigenous peoples have the right to maintain and strengthen
their distinctive spiritual
relationship with their traditionally owned or otherwise occupied and used
lands, territories, waters and coastal seas and other resources and to
uphold their responsibilities to future generations in this regard."
For nearly 4 decades, resistance to desecration and destruction of the Peaks
has been sustained.  Prayer vigils, petitions, lobbying, protests, and many
diverse tactics have been embraced.  Historic court battles have been
fought.
We continue today resisting Snowbowl's plan to spray millions of gallons of
wastewater snow, which is filled with cancer causing and other harmful
contaminants, as well as clear-cut over 30,000 trees. The Peaks are a
pristine and beautiful place, a fragile ecosystem, and home to rare and
endangered species of plants and animals.
Our action is a prayer.
We invite those of you who could not join us today and who believe in the
protection of culture, the environment and community health to resist
destruction and desecration of the Peaks:
– Join us and others in physically stopping all Snowbowl development!
– Honor and defend Indigenous Peoples' inherent right to protect Sacred
Places
– Resist colonialism and capitalism! Embrace diverse tactics to end
Snowbowl's and all corporate greed
– Demand USDA end Snowbowl's Special Use Permit
– Demand that the City of Flagstaff Mayor and Council find a way out of
their contract to sell wastewater to Snowbowl
– Demand that Arizona Department of Environmental Quality change its
permission allowing wastewater to be used for snowmaking.
— Protect the Peaks! –
16th Annual No Thanks, No Giving!
Indigenous Action presents:
16th Annual No Thanks, No Giving!
Food share, anti-colonial resistance & solidarity discussion circle, & online fundraiser!

DONATE: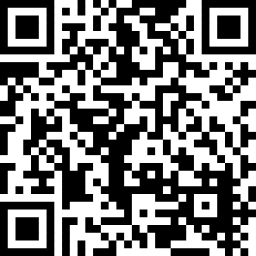 1:30p – 4pm
We will prepare and serve mutton stew and other foods for all who join us. Please bring any dish to contribute if you wish, we also plan on actively distributing (possibly mobile) any extra foods.
Local volunteers needed! Contact: indigenousaction@gmail.com
At 2:30p we will have a talking & action circle focused on anti-colonial resistance & solidarity. Representatives of Kinłani Mutual Aid, Haul No!, volunteers with Protect the Peaks, and autonomous organizers supporting unsheltered relatives will present & discuss upcoming actions & organizing. We will also discuss building Indigenous solidarity with local efforts to Free Palestine. Come ready to share, support and get involved! Everyone welcome!
This event is free, please bring donations for unsheltered relative support (tents, sleeping bags, tarps, jackets, etc).

This is also our yearly fundraiser for Táala Hooghan infoshop and Indigenous Action activities!
Please donate online via PayPal: https://www.paypal.com/paypalme/indigenousaction
Support Indigenous autonomous organizing and agitation!
*We will not host a livestream this year.

When: Thursday, Nov. 23, 2023
1:30pm – 4:00pm MST.
Where: Táala Hooghan Infoshop1704 N 2nd St, Kinłani (Occupied Flagstaff), AZ
MASKS REQUIRED This event will be held both indoors and outdoors (dress warm!) with limited indoor space. We will maintain social distancing & mask protocols for immunocompromised relatives.
For 16 years we have hosted No Thanks, No Giving! as an anti-colonial event to bring together radical Indigenous voices, share traditional foods, and benefit unsheltered relatives at Táala Hooghan Infoshop in Kinlani (Flagstaff, AZ). More info: www.indigenousaction.org
#nothanksnogiving #MutualAid #indigenousmutualaid #solidaritynotcharity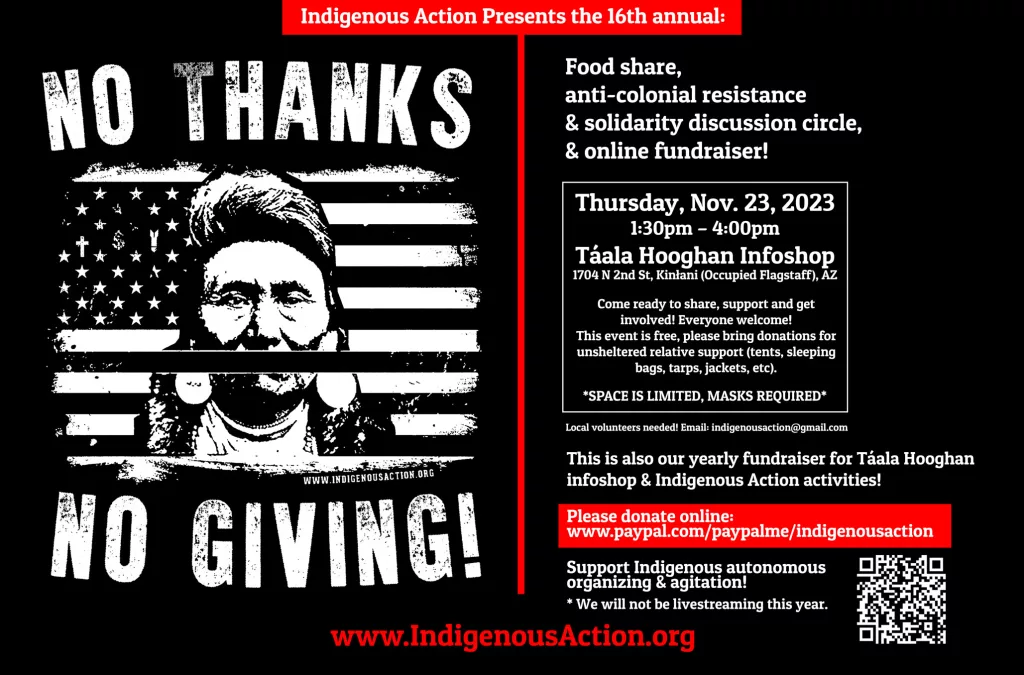 New Book: No Spiritual Surrender, Klee Benally
New Book: No Spiritual Surrender: Indigenous Anarchy in Defense of the Sacred is a searing anti-colonial analysis rooted in frontline experience.
NOW AVAILABLE ONLINE & SELECT BOOKSTORES: No Spiritual Surrender: Indigenous Anarchy in Defense of the Sacred


No Spiritual Surrender: Indigenous Anarchy in Defense of the Sacred is a searing anti-colonial analysis rooted in frontline experience. Klee Benally (Diné) unrelentingly agitates against colonial politics towards Indigenous autonomy and total liberation of Nahasdzáán (Mother Earth).
Available now from Detritus Books detritusbooks.com
406 pages | $20 Nonfiction | Paperback Available in select bookshops.
About the author: Klee Benally is a Diné (Navajo) anarchist and undisciplined agitational propagandist. Originally from Black Mesa. Klee currently resides in occupied Flagstaff, Arizona. kleebenally.com, indigenousaction.org
www.detritusbooks.com
Wholesale inquiries: detritusbooks.com
Now booking speaking tour dates: indigenousaction@gmail.com
Indigenous Action Podcast Episode 17: Decolonization isn't a Holiday
Rejecting Indigenous Peoples' Day of Tokenism

Hosts Klee and Bonn talk with some awesome guests & revisit our 2017 'zine "Uprooting Colonialism: The Limitations of Indigenous Peoples' Day." We dig into the questions, "How do whitewashed celebrations of Indigenous Peoples Day undermine decolonization?" and "What does it mean to be an anti-colonial abolitionist?"
Guests:
Amrah Salomón J. is a writer, artist, activist, and educator of Mexican, O'odham and Tohono O'odham, and European ancestry.
@oodhamantiborder, @defendoodhamjewed, Cashapp: $DefendOodhamJewed, Paypal.me/DefendOodhamJewed, Venmo: @DefendOodhamJewed
Kittie Kuntagion, @kittiekuntagion
Andrew Pedro, @desert.dweller.58 Got tired of seeing disapointing activist bullshit, now focused on music. Organizes metal/punk shows on and of the Rez.
Hosts:
Bonn: @bonnabella.xvx, Venmo: bonnabellaxvx
Klee: @kleebenally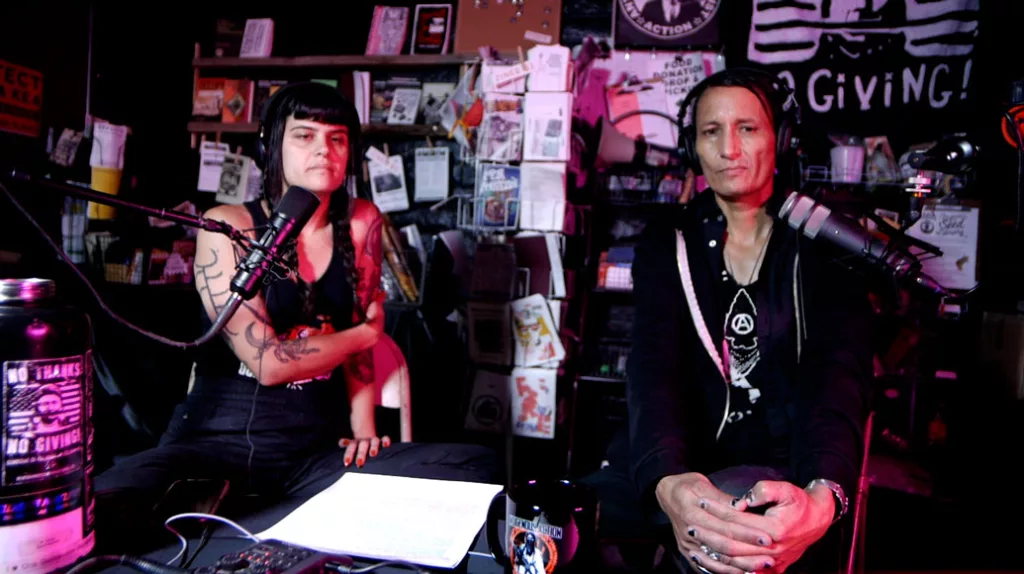 About the podcast: Indigenous Action is an autonomous anti-colonial broadcast with unapologetic and claws-out analysis towards total liberation. We feature radical frontline Indigenous voices and dig deep into critical issues impacting our communities. So take your seat by this fire and may the bridges we burn together, light our way. www.indigenousaction.org/podcast
Email us at IAInfo@protonmail.com.
Subscribe, like, share on iTunes | Spotify, and Youtube.
Read the 'zine here: https://www.indigenousaction.org/uprooting-colonialism-the-limitations-of-indigenous-peoples-day/
From the 2017 'zine: "…if the state dismantles these statues and proclaims Indigenous Peoples' Days, what do we actually achieve if the structures and systems rooted in colonial violence remain intact? Is it merely political posturing or window dressing to diminish liberatory agitations? Our senses are heightened as most re-brandings of Columbus Day into IPD appear to whitewash ongoing colonial legacies… If the goal is for Indigenous autonomy, liberation of the land, people, and other beings, then why plead with our oppressors to merely acknowledge or recognize our existence?…To claim Indigenous Peoples' Day as an act of decolonization is a failure of liberal assimilationists… Symbolically ending Columbus' legacy while continuing to perpetuate and benefit from the violence of the 'doctrine of discovery' is just one more dead-end direction of Indigenous liberalism. If we understand that colonization has always been war, then why are we fighting a battle for recognition and affirmation through colonial power structures?… Indigenous Peoples' Day, as a process of collusion with occupying state forces, risks becoming a colonial patriotic ritual more than anything that amounts to liberation."
Get updates via email, sign up here:
Indigenous Action Podcast