Xenophobic Title 42 Ends, Biden's Immigration Reform Nowhere to Be Found
Indigenous Action recently supported @abolition.yumacounty (on Instagram) at the "US-Mexico" border. They are a crew of radical femme and queer folks who provide essential supplies to Indigenous people and other asylum seekers who are kept in holding with nothing but what they walked up to thousands of miles with. They also offer confidential pregnancy release support. Please $$$upport and volunteer if you're in the "Yuma" area. Venmo: @ycabolition, Cash App: @YumaCountyAbolition
With Title 42 ending on May 11th, (a xenophobic policy that gave the government power to rapidly expel any migrant, without giving them a chance to make a case for crossing legally, including to seek asylum), Biden has made no attempt at immigration reform as he promised on the campaign trail, "I can only imagine what it's like to see someone in your family deported. To me it's all about family. Beginning, middle and end. That's not going to happen in my administration. The idea you can't even seek asylum on American soil. When did that happen? Trump. It's wrong."
These policies are well within Biden's power to remedy, and yet, HE HASN'T. He's had 2 years to prepare for the ending of Title 42 to introduce new policies that he claimed "offer hope and a safe haven to refugees."
What we're seeing now at the border is heinous. Shelters and detention centers at and near capacity. Hundreds of people turned away every day. Just last month, a fire at a detention center killed 40 people.
In 2022, more than 890 migrants died in border crossings, and that is only of the deaths that have been reported. To paint an even broader picture, since 2021, there have been 13,480 reports of murder, torture, kidnapping, rape and other violent attacks on migrants and asylum seekers blocked or expelled to Mexico under Title 42.
The time is now to stand up against xenophobia. Let us be free to roam and free to rage wherever we please!
16th Annual No Thanks, No Giving!
Indigenous Action presents:
16th Annual No Thanks, No Giving!
Food share, anti-colonial resistance & solidarity discussion circle, & online fundraiser!

DONATE: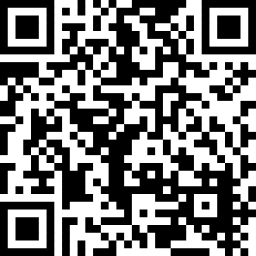 1:30p – 4pm
We will prepare and serve mutton stew and other foods for all who join us. Please bring any dish to contribute if you wish, we also plan on actively distributing (possibly mobile) any extra foods.
Local volunteers needed! Contact: indigenousaction@gmail.com
At 2:30p we will have a talking & action circle focused on anti-colonial resistance & solidarity. Representatives of Kinłani Mutual Aid, Haul No!, volunteers with Protect the Peaks, and autonomous organizers supporting unsheltered relatives will present & discuss upcoming actions & organizing. We will also discuss building Indigenous solidarity with local efforts to Free Palestine. Come ready to share, support and get involved! Everyone welcome!
This event is free, please bring donations for unsheltered relative support (tents, sleeping bags, tarps, jackets, etc).

This is also our yearly fundraiser for Táala Hooghan infoshop and Indigenous Action activities!
Please donate online via PayPal: https://www.paypal.com/paypalme/indigenousaction
Support Indigenous autonomous organizing and agitation!
*We will not host a livestream this year.

When: Thursday, Nov. 23, 2023
1:30pm – 4:00pm MST.
Where: Táala Hooghan Infoshop1704 N 2nd St, Kinłani (Occupied Flagstaff), AZ
MASKS REQUIRED This event will be held both indoors and outdoors (dress warm!) with limited indoor space. We will maintain social distancing & mask protocols for immunocompromised relatives.
For 16 years we have hosted No Thanks, No Giving! as an anti-colonial event to bring together radical Indigenous voices, share traditional foods, and benefit unsheltered relatives at Táala Hooghan Infoshop in Kinlani (Flagstaff, AZ). More info: www.indigenousaction.org
#nothanksnogiving #MutualAid #indigenousmutualaid #solidaritynotcharity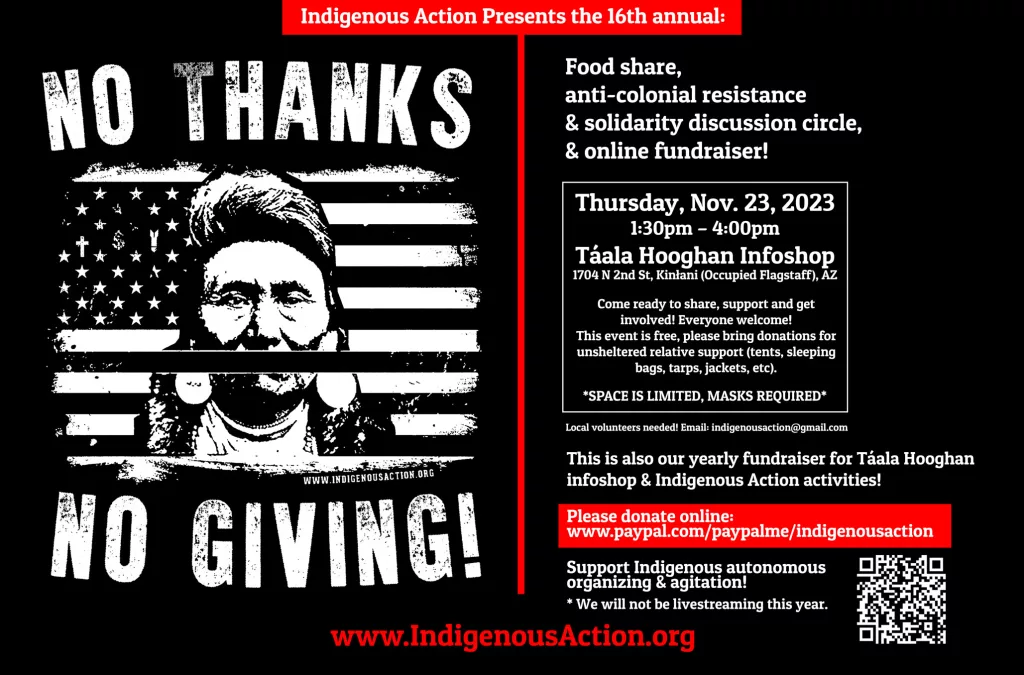 New Book: No Spiritual Surrender, Klee Benally
New Book: No Spiritual Surrender: Indigenous Anarchy in Defense of the Sacred is a searing anti-colonial analysis rooted in frontline experience.
NOW AVAILABLE ONLINE & SELECT BOOKSTORES: No Spiritual Surrender: Indigenous Anarchy in Defense of the Sacred


No Spiritual Surrender: Indigenous Anarchy in Defense of the Sacred is a searing anti-colonial analysis rooted in frontline experience. Klee Benally (Diné) unrelentingly agitates against colonial politics towards Indigenous autonomy and total liberation of Nahasdzáán (Mother Earth).
Available now from Detritus Books detritusbooks.com
406 pages | $20 Nonfiction | Paperback Available in select bookshops.
About the author: Klee Benally is a Diné (Navajo) anarchist and undisciplined agitational propagandist. Originally from Black Mesa. Klee currently resides in occupied Flagstaff, Arizona. kleebenally.com, indigenousaction.org
www.detritusbooks.com
Wholesale inquiries: detritusbooks.com
Now booking speaking tour dates: indigenousaction@gmail.com
Indigenous Resistance Teach-in Oct 13, 2023 
Direct action training, workshop, & panel discussion with Haul No! Protect the Peaks, Indigenous Action, & Louise Benally.
Friday, Oct 13th, 4p-8p
Free (bring a warm clothing/sleeping bag/tent donation for unsheltered relatives).
At Mayan Winds Coffee Emporium
2144 N 4th St. Flagstaff AZ
*Masks required!*
How do whitewashed celebrations of Indigenous Peoples' Day undermine decolonization?
What ways can you directly support regional anti-colonial struggles?
Schedule:
4:00p-5:30p – Direct Action training
5:30p – Haul No! Resisting Nuclear Colonialism workshop
6:15p – Break for food (Provided, w gluten free & vegan options avail.)
6:45p – Panel Discussion: Supporting Regional Indigenous Resistance Struggles
8:30p – end
Celebrate and support ongoing frontline Indigenous resistance struggles!
Get updates via email, sign up here:
Indigenous Action Podcast