Xenophobic Title 42 Ends, Biden's Immigration Reform Nowhere to Be Found
Indigenous Action recently supported @abolition.yumacounty (on Instagram) at the "US-Mexico" border. They are a crew of radical femme and queer folks who provide essential supplies to Indigenous people and other asylum seekers who are kept in holding with nothing but what they walked up to thousands of miles with. They also offer confidential pregnancy release support. Please $$$upport and volunteer if you're in the "Yuma" area. Venmo: @ycabolition, Cash App: @YumaCountyAbolition
With Title 42 ending on May 11th, (a xenophobic policy that gave the government power to rapidly expel any migrant, without giving them a chance to make a case for crossing legally, including to seek asylum), Biden has made no attempt at immigration reform as he promised on the campaign trail, "I can only imagine what it's like to see someone in your family deported. To me it's all about family. Beginning, middle and end. That's not going to happen in my administration. The idea you can't even seek asylum on American soil. When did that happen? Trump. It's wrong."
These policies are well within Biden's power to remedy, and yet, HE HASN'T. He's had 2 years to prepare for the ending of Title 42 to introduce new policies that he claimed "offer hope and a safe haven to refugees."
What we're seeing now at the border is heinous. Shelters and detention centers at and near capacity. Hundreds of people turned away every day. Just last month, a fire at a detention center killed 40 people.
In 2022, more than 890 migrants died in border crossings, and that is only of the deaths that have been reported. To paint an even broader picture, since 2021, there have been 13,480 reports of murder, torture, kidnapping, rape and other violent attacks on migrants and asylum seekers blocked or expelled to Mexico under Title 42.
The time is now to stand up against xenophobia. Let us be free to roam and free to rage wherever we please!
O'odham Executed by Border Patrol: Statement by Raymond Mattia Family
Raymond Mattia of the Tohono O'odham Nation was executed by US border patrol agents on May 18th at his home. He was reportedly shot 38 times.

A peaceful gathering to support all victims of the
unmonitored violent actions of the Border Patrol and other agencies will be held at The Border
Patrol Station in Why, Az, and Tucson on Golf Links Road this Saturday, May 27th, from
10:00am-Noon.
For more information please visit: https://bsnorrell.blogspot.com/2023/05/us-border-patrol-shoots-tohono-oodham.html

Statement by Mattia Raymond's family:
We have been trying to find the strength to write this statement. This tragedy is so
grievous because it is apparent what had happened. Raymond called for help and, in turn, was
shot down at his doorstep. Raymond's rights were violated by the authorities whom we trust to
protect our Nation. Improper and unprofessional actions of the agencies involved were witnessed
by family members present near the crime scene. Loved ones sat in agony, not knowing of
Raymond's condition until they were told that he had passed hours later. Raymond lay in front of
his home for seven hours before a coroner from Tucson arrived.
In our eyes and hearts, we believe that Raymond was approached with excessive and
deadly force that took his life. He was a father, brother, uncle, friend, and an involved
community member. Raymond always fought for what was right, and he will continue to fight
even after his death. This is not an isolated incident, but it should bring awareness of the
oppression our people live through.
We want to thank so many of you for your condolences and support. A GoFundMe for
defense funds will be available soon. A peaceful gathering to support all victims of the
unmonitored violent actions of the Border Patrol and other agencies will be held at The Border Patrol Station in Why, Az, and Tucson on Golf Links Road this Saturday, May 27th, from 10:00am-Noon.
Contact for support: justiceforraymattia@gmail.com
The Intercept and Grist begin release of 50,000 TigerSwan spy documents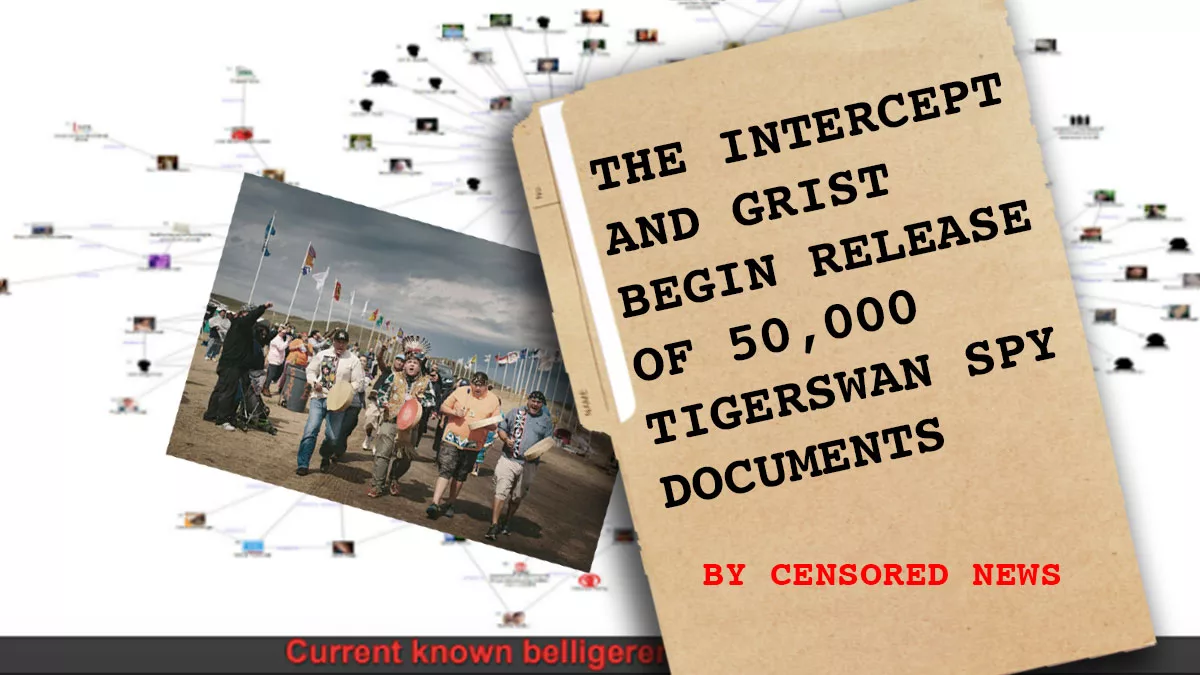 Article by Brenda Norrell, Censored News
Reprinted with permission.
April 14, 2023
Facebook: https://www.facebook.com/profile.php?id=100075796248532
The Intercept and Grist began releasing new TigerSwan spy documents in new coverage of the mercenaries hired by the Dakota Access Pipeline. They now have 50,000 TigerSwan spy documents, and another 9,000 are held up in the court battle for now. The documents reveal TigerSwan spying on Water Protectors at Standing Rock in North Dakota, Bold Iowa, and at other locations.
Reporters Alleen Brown and Naveena Sadasivam expose the new spy documents in their article, After Spying on Standing Rock, TigerSwan Shopped Anti-Protest 'Countinsurgency' to Other Oil Companies.
The article follows an expensive court battle by The Intercept seeking the release of the documents. The North Dakota Supreme Court ordered the release after TigerSwan was found operating without a license in North Dakota.
"The released documents provide startling new details about how TigerSwan used social media monitoring, aerial surveillance, radio eavesdropping, undercover personnel, and subscription-based records databases to build watchlists and dossiers on Indigenous activists and environmental organizations," The Intercept writes. Read the article at The Intercept: https://theintercept.com/2023/04/13/standing-rock-tigerswan-protests/
Paiute journalist, drone activist and filmmaker Myron Dewey was among those that TigerSwan spied on and stalked at Standing Rock 2016-2017, as revealed in the new documents that were ordered released by the court.
On Tuesday, the driver that killed Myron Dewey on an isolated road near his family's home in Yomba, Nevada, entered a surprise plea bargain deal that was cut with a new prosecutor assigned to the case in Nye County, Nevada. John Walsh pleaded guilty to the lesser charge of vehicular manslaughter.
This TigerSwan spy document, showing TigerSwan stalking Myron Dewey and Prolific the Rapper at Standing Rock on Dec. 17, 2016, is from the new documents at The Intercept. Document link: https://www.documentcloud.org/documents/23773105-tigerswan-document-daily-intelligence-update-20161217
Below: From the TigerSwan spy files just released: The power of the global movement, with its heart in Standing Rock.
Below: The first flood of documents show how rattled DAPL was over the involvement of celebrities, the Standing Rock Chairman at the United Nations, Bernie Sanders, the Palestinian flag flying, and big orgs. The doc is from a pitch that TigerSwan made for more work, hustling another pipeline to spy on resistance.
Above: TigerSwan spy file at Bold Iowa. The mercenaries hired by the Dakota Access Pipeline called Bold Iowa Water Protectors "belligerents." Document link:
TigerSwan spied on, and stalked the media, including Paiute journalist Myron Dewey, Amy Goodman at Democracy Now, and myself, publisher of Censored News, as revealed in the newly released documents by The Intercept and Grist. TigerSwan used its surveillance on the media in its pitches for more spy work to other oil and pipeline companies.
TigerSwan turned its surveillance at Standing Rock into a potential money maker, using it for powerpoints in its pitches to other oil and pipeline companies for spy work.
T
TigerSwan even stalked the United Nations Commission on Human Rights, in its high-stakes spying for dollars.
TigerSwan's Opposition Model, shown below, was used as a potential maker in PowerPoints to other oil and pipeline companies.
The Intercept described the battle for these documents.
"A discovery request filed as part of the case forced thousands of new internal TigerSwan documents into the public record. Energy Transfer's lawyers fought for nearly two years to keep the documents secret, until North Dakota's Supreme Court ruled in 2022 that the material falls under the state's open records statute," The Intercept said.
"Because an arrangement between North Dakota and Energy Transfer allows the fossil fuel company to weigh in on which documents should be redacted, the state has yet to release over 9,000 disputed pages containing material that Energy Transfer is, for now at least, fighting to keep out of the public eye."
TigerSwan spy documents on Water Protectors
Note: The documents show that TigerSwan spied on Censored News, as shown in today's article at The Intercept.
Kinłani/Flagstaff Mutual Aid UPDATE: Taking a Break & Focusing on Infrastructure
Spring 2023, Occupied Kinłani – In March of 2020 a small autonomous crew of organizers sprung into action to respond to the COVID-19 pandemic, we named this effort Kinłani Mutual Aid. For three years we have focused on intensified Indigenous-led mutual aid support for those most vulnerable in our community and throughout the region. During the pandemic we sourced and distributed truckloads of food, PPE, cleaning supplies, and medicine. We made deliveries of firewood & water to elders living in remote areas. We organized street patrols during harsh winter storms to support unsheltered relatives. When basic supplies for babies and children were hard to find, we found ways to acquire them and get them to those in dire need. We had a well operating process of acquiring supplies (particularly with all the generous donations that came in), sanitizing, and distribution. Volunteers were dropping off medicines and wellness/Covid quarantine supply boxes. We produced nearly 20,000 bottles of hand sanitizer and coordinated distributions for essential items throughout the region. Beyond Kinłani, we sent food & supplies to Hopi, White Mountain Apache, Hualapai, Havasupai, sites throughout New Mexico, even as far as unceded Tohono O'odham territory in Mexico.
After unloading countless pallets from shipping trucks we stopped counting. We started seeing others taking inventory and assigning value to their efforts based on numbers and clamoring for media attention. To us, mutual aid has never been about quantity or recognition, but about the relationships and solidarity we build through direct action, not the amount of charity or how much our organizational capacity has grown.
We moved through the pandemic and failures of capitalism with the political assertions of mutuality, direct action, and most critically: our cultural frameworks. We networked with dozens of other mutual aid crews spread throughout the so-called U.S. We coordinated with other Indigenous organizers and groups to form a network called Indigenous Mutual Aid. We also worked locally with the start of Navajo & Hopi Families COVID-19 Relief Fund, Diné Healers Relief Initiative, Masks for the People, Kaibeto Mutual Aid, Defend our Communities, and many others. We further distributed material resources and particularly organized mass distribution of supplies for unsheltered support efforts.
We also faced attacks during the MAGA/fascist/alt-right frenzy that was whipped up during Trump's reign. We had constant monitoring by cops who parked across the street and other unmarked vehicles. We faced fascists attempting to intimidate us with drive-bys, online threats (that included photos of Táala Hooghan), & spray painted messages on our sidewalks.
In the midst of the George Floyd uprising we also mobilized support and organized actions. When Flagstaff police attacked unsheltered relatives or when they were shut out from a local shelter in snowstorms, we fought back.
As the nature of the pandemic became more understood, testing and vaccines became available, and supply chains stabilized, we also saw the intensity of support (materially and with volunteers) shift as well: from a time when we had more than 100 active volunteers signed up to a time when it was challenging to get 5. We worked to re-configure and sustain autonomy and what some would call a sense of alternate power. We clashed with groups that started profiteering off of mutual aid efforts when they coopted work and pocketed funds. We called on them to support longer term visions of mutuality and autonomy as mutual aid is not something we "move on from" – as non-profit activists move from campaign to campaign as resources shift – mutual aid is something we seek to embody in everything that we do.
We constantly evaluated what we were doing in the immediate and in the long-term to ensure that we were not just responding to the crisis of pandemic, but radically redistributing resources and challenging the ongoing crises of capitalism and colonialism through all of our work.
From planting, harvesting and distributing, there were moments when meals we would share with unsheltered relatives were completely grown from ancestral seeds planted here. These are and still are the moments when our work feels most whole.
We have been frustrated though not deterred by the recuperations of capitalism. During the height of the pandemic, so many experienced how possible it is to live outside of (or really in spite of) capitalism and colonialism and most importantly witnessed its failings and vulnerabilities.
More people have been forced onto the streets.
More people are crowdfunding basic healthcare.
The pressures of surviving in the brutal matrix of economic exploitation have also made it more difficult for volunteers to commit as much as they were able to previously. These are also not unique dynamics facing us, through sharings with other mutual aid projects it's clear they are facing similar matters.
Though many act like it, the pandemic is not over and we will not ignore the wellbeing of those who are immunocompromised or have other health issues that put them at great risk. As attention from the impacts COVID-19 had on Diné Bikéyah (Navajo Nation) have shifted, we still are assisting families without electricity and running water with support requests. We are still receiving reports of whole families severely stricken by the virus. The pandemic is not over until disabled, immunocompromised, and our medicine practitioners say it is.
This brings us to our break.
One thing that our collective comes back to is how necessary Táala Hooghan Infoshop was/is as infrastructure to directly mobilize a well scaled response to the pandemic. This organizing would not have been possible without this autonomous space.
There are many repairs that Táala Hooghan Infoshop is in dire need of and other improvements that we initiated both before and during the pandemic that must be tended to.
We started work on a community kitchen and have only about 20% of that project done.
We have some basic construction repairs that are badly needed (both inside and out) and ideas for a new larger bathroom where the old kitchen currently is.
We have to tend to old broken windows, exterior painting, and the garden area as well as replace all the fencing and gates. We would like to install solar panels and move farther off grid.
And so our break (which is not really a break) will be a shift of focus from general distribution to infrastructure projects.
We still intend on distributing necessary supplies for those making direct requests and unsheltered relatives during this pause, but our primary focus will be on the space.
We intend to open parts of the space to community again soon, but for now it is only open to volunteers who are oriented with our health protocols. Our protocols still stand as infection rates are still high and people are still dying from this virus.
We will be taking down our request form from the website and FB group though we will still respond to direct requests for support.
Through this process we intend to strengthen what we do as a mutual aid project but as we've stated in other communications, we do not wish to be the "mutual aid org" specialists as we believe that mutual aid is what we should all be doing everyday in our lives.
Táala Hooghan Infoshop started in 2007 (16 years!) as a radical resource center and has continued to shift, grow, and be a site to wage conflict against systems of oppression. The space also maintains its roots and works with Indigenous Action as a foundation for its direction.
We invite you to connect, volunteer, and support our efforts as we shift, focus, fix some things and break others. So pardon our dust, broken concrete, and dirt beneath our fingernails.
We will have a KMA & Táala Hooghan Infoshop meeting with orientation, discussion, and a small work party for new and old volunteers on April 22, 2023 (Earth Day) at 12:00pm outside in our garden. Masks required.
Ahe' hee' nitsaago,
– KMA crew

Email us any questions or to volunteer here: kinlanimutualaid@protonmail.com
Donate to our Venmo or Indigenous Action's PayPal:
Venmo @kinlanimutualaid
Paypal: https://www.paypal.com/paypalme/indigenousaction
Facebook Group: https://www.facebook.com/groups/flgmutualaid/
Website: www.kinlanimutualaid.org
Get updates via email, sign up here:
Indigenous Action Podcast