10 Anti-Capitalist Indigenous Projects & People to Support – 2019
Instead of donating to non-profits with massive bu
dgets and uncritically buying from Indigenous capitalists, how about providing support for these Indigenous projects & people that are incredibly resourceful and do powerful work with very little financial support? This is an opportunity to be part of and grow these necessary efforts beyond #givingtuesday.
While some of these folx or projects aren't explicitly anti-capitalist, we recognize that often times much of what they do is out of pocket and that they always put more in than they are supported or recognized for.
R.I.S.E. is an Indigenous initiative dedicated to amplifying the voices of Indigenous Queer, Trans, Gender Gradient/GNC, Two Spirit, & Matriarchal communities. R.I.S.E. is a collective presence of Indigenous ancestors. Rise is a collective resistance created, burteures, and led by Indigenous peoples.
More info: www.facebook.com/RISEIndigenous
Donations/paypal: burymyart@gmail.com
Anti-colonial, anti-heteropatriarchy, and anti-capitalist infoshop located in Window Rock, Arizona in the capital of the Diné/Navajo Nation. Operating with indigenous feminism as their guiding principles, Ké' infoshop is a collective of Diné uniting to liberate nihi k'ei/our relatives.
More info: www.facebook.com/pg/KeInfoshop
Donate: www.Keinfoshop.org/donate
MAMA Julz (Julie Richards/Oglala Lakota) is a water protector from the Mothers Against Meth Alliance. MAMA Julz works passionately on the frontlines to protect sacred lands, water, and her community.
More info: www.facebook.com/julez.richards
Paypal: julzzzzrich@gmail.com
Indigenous resistance to nuclear colonialism on the Diné/Navajo Nation & beyond.
From projects like the Radiation Monitoring Project, Haul No! and the Nuclear Issues Study Group, Leona works tirelessly to ensure a nuclear free future.
More info: www.dinenonukes.org, www.facebook.com/NuclearIssuesStudyGroup
Donate: www.paypal.me/l30n4
O'odham who are taking action and resisting border militarization and development of the border wall in their sacred lands.
More info: www.facebook.com/AntiBorderCollective/
Donations: www.paypal.me/antibordercollective
Utilizing media and direct action, Amanda is a fierce force of Indigenous Resistance to resource colonialism.
More info: www.facebook.com/reclaimturtleisland
Donate/Paypal: reclaimturtleisland@gmail.com
Warrior Publications is published in occupied Coast Salish territory (Vancouver, KKKanada). Its purpose is to promote warrior culture, fighting spirit, and resistance movements.
More info: www.warriorpublications.wordpress.com
Donate/Paypal: zig_zag48@hotmail.com
A radical Indigenous infoshop & direct action resource center located in Kinlani/Flagstaff, Arizona. Throughout the winter they organize to ensure unsheltered relatives don't freeze. They are in desperate need of funds. Disclosure: this is a project we work deeply with and support through our shop sales at www.indigenousaction.org.
More info: www.facebook.com/taalahooghaninfoshop, www.taalahooghan.org
Donate: www.paypal.me/indigenousaction
Sakej is a Mi'kmaw warrior from the community of Esgenoopetitj (Burnt Church First Nation, New Brunswick). He provides survival skills workshops and warrior trainings throughout Turtle Island.
More info: www.facebook.com/sakej.ward
Donate: Contact via FB to support.
Louise is Diné from the Big Mountain area on Black Mesa where she has been resisting forced relocation and resource colonialism for almost all her life.
More info: www.facebook.com/louise.benally.94
UPDATED: Donate via paypal: louisebenally6@gmail.com

We're happy to add to this list so feel free to email us at indigenousaction@gmail.com for your nominations.
www.indigenousaction.org
JUST ADDED:
Indigenous led autonomous mutual aid collective resisting border militarization on the frontlines of the so-called "cd juarez/el paso" region and providing resources and support to asylees.
More info: www.instagram.com/alianza_migrante/
Donate: www.Paypal.me/borderresistance
O'odham Executed by Border Patrol: Statement by Raymond Mattia Family
Raymond Mattia of the Tohono O'odham Nation was executed by US border patrol agents on May 18th at his home. He was reportedly shot 38 times.

A peaceful gathering to support all victims of the
unmonitored violent actions of the Border Patrol and other agencies will be held at The Border
Patrol Station in Why, Az, and Tucson on Golf Links Road this Saturday, May 27th, from
10:00am-Noon.
For more information please visit: https://bsnorrell.blogspot.com/2023/05/us-border-patrol-shoots-tohono-oodham.html

Statement by Mattia Raymond's family:
We have been trying to find the strength to write this statement. This tragedy is so
grievous because it is apparent what had happened. Raymond called for help and, in turn, was
shot down at his doorstep. Raymond's rights were violated by the authorities whom we trust to
protect our Nation. Improper and unprofessional actions of the agencies involved were witnessed
by family members present near the crime scene. Loved ones sat in agony, not knowing of
Raymond's condition until they were told that he had passed hours later. Raymond lay in front of
his home for seven hours before a coroner from Tucson arrived.
In our eyes and hearts, we believe that Raymond was approached with excessive and
deadly force that took his life. He was a father, brother, uncle, friend, and an involved
community member. Raymond always fought for what was right, and he will continue to fight
even after his death. This is not an isolated incident, but it should bring awareness of the
oppression our people live through.
We want to thank so many of you for your condolences and support. A GoFundMe for
defense funds will be available soon. A peaceful gathering to support all victims of the
unmonitored violent actions of the Border Patrol and other agencies will be held at The Border Patrol Station in Why, Az, and Tucson on Golf Links Road this Saturday, May 27th, from 10:00am-Noon.
Contact for support: justiceforraymattia@gmail.com
ALERT: Imminent Uranium Mining Threat at Grand Canyon – Haul No!
Underground blasting & above ground work has begun at Pinyon Plain/Canyon Mine, just miles from the Grand Canyon.
Workers are readying to start mining uranium at the mine. According to the Forest Service, workers are blasting daily though no ore is being moved yet. Once Energy Fuels starts hauling out radioactive ore, they plan to haul 30 tons per day through Northern Arizona to the company's processing mill 300 miles away.
The Grand Canyon, sacred site Red Butte, precious water, and communities along the haul route are in danger!
As all legal options have failed, we need you to join us to stand up and stop this nuclear catastrophe from permanently poisoning our communities!
Join our telegram channel to connect for actions and support: https://t.me/haulno
For more info & to donate for legal defense: www.haulno.com
Pinyon Plain/Canyon Mine Haul Route Facts:
* Total distance of 300 miles.
* 12 trucks with capacity to haul up to 30 tons of highly radioactive ore per day.
* Truck loads to be covered with thin tarps, the only shielding from uranium and only protection from environmental contamination.
* Proposed route will go through high population areas such as Valle, Williams, and Flagstaff; as well as through rural Navajo reservation communities including Cameron, Tuba City, and Kayenta; near the Hopi reservation, and finally arrive at Energy Fuel's White Mesa Mill only three miles from the Ute Mountain Ute tribal community of White Mesa, Utah.
#haulno #stoppinyonplainmine
#nonukes
#dontnukethegrandcanyon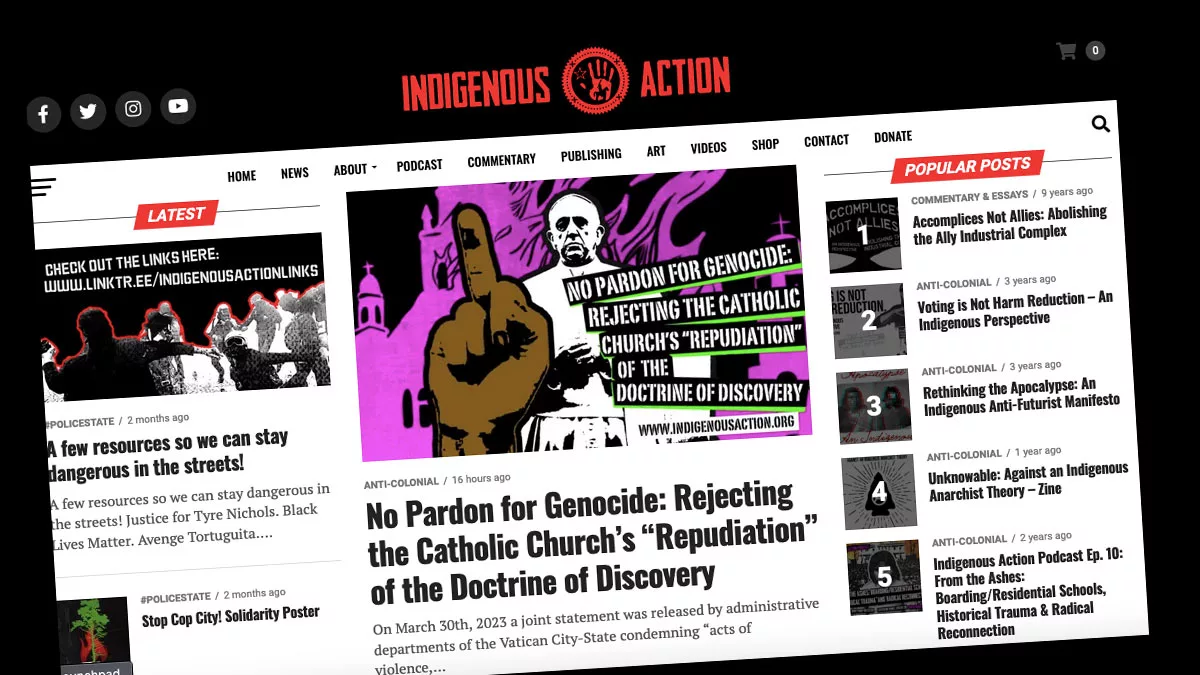 Ya'at'eeh!
Welcome to our new site.
We've made a range of changes, most notably with our menu items and categories.
We're still working on updating old posts so they show properly. If you're looking for something specific check out our search engine.
If you find anything broken with the site please email us.
Many of you have asked and yes, we are also re-organizing the shop but that will still take some time. Much of our capacity at Táala Hooghan Infoshop (where we print shirts etc) is still dedicated to Kinłani Mutual Aid. We are considering going with a print on demand service but we'd really prefer not to. We will provide updates soon.
You can also send us your press releases, rad art, articles, zines, etc. Please note that we focus on content produced by Indigenous Peoples and particularly anti-colonial/non-reformist/queer/anti-capitalist/anti-authoritarian.
We are also looking for more autonomous anti-colonial/anti-capitalist Indigenous writers & artists/designers to collaborate with on an ongoing basis.
Connect with us at IAinfo@protonmail.com.
Ahe' hee',
IA Crew
Get updates via email, sign up here:
Indigenous Action Podcast