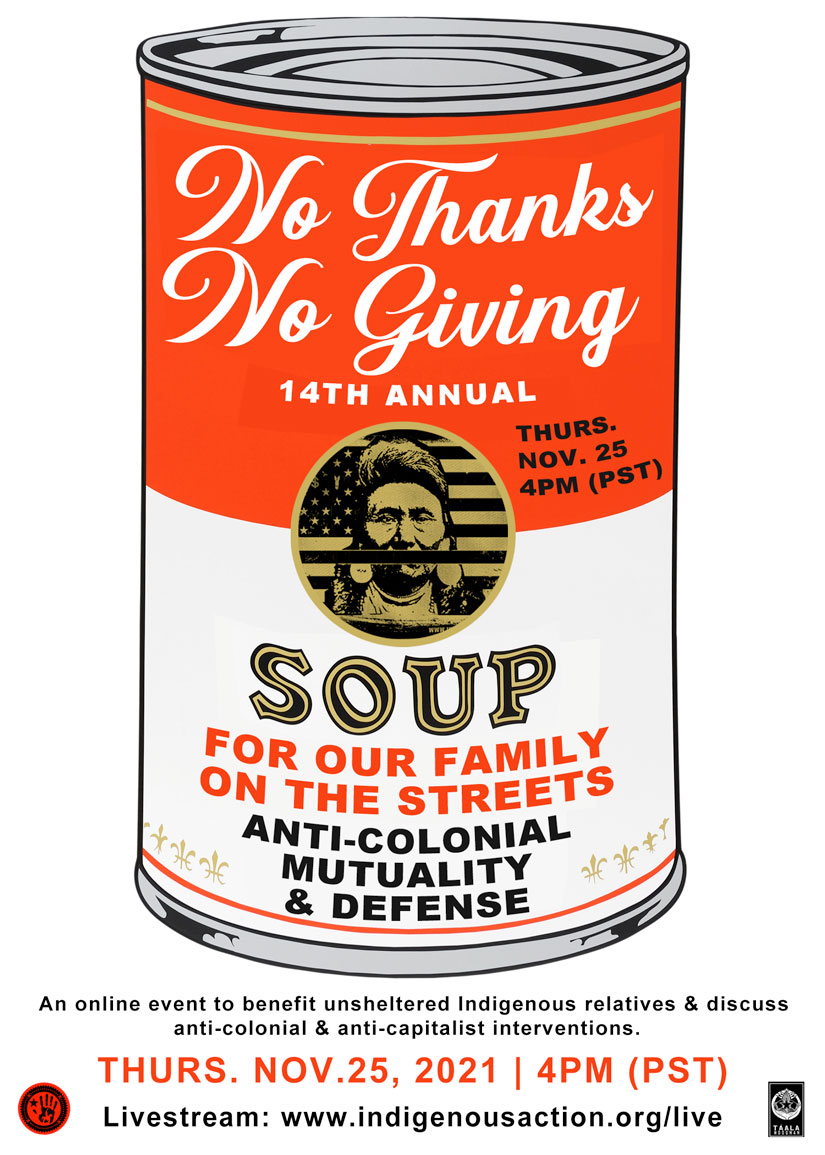 Livestream Event: 14th Annual No Thanks, No Giving! Benefit
When: Thursday, Nov. 25, 2021
4pm – 6pm PST.
Livestream will be on youtube at https://youtu.be/v3i9U1bbt8c or connect at www.indigenousaction.org/live
For 14 years we have hosted No Thanks, No giving! as an anti-colonial event to bring together radical Indigenous voices, share traditional foods, and benefit unsheltered relatives at Táala Hooghan Infoshop in Kinlani (Flagstaff, AZ).
Due to Covid-19 we will host an online benefit to support unsheltered relatives and to uplift voices of Indigenous folx from throughout turtle island who have been doing front-line mutual aid & community defense organizing.
When: Thursday, Nov. 25, 2021 4pm – 6pm PST.
Where: Live streaming info will be posted at www.indigenousaction.org/live
Who: Indigenous front-line organizers from throughout Turtle Island (see below).
Hosted by Indigenous Action & Táala Hooghan Infoshop
Why: 'cause Thanksgiving is over. No more celebrations of genocide! As of 2019, Indigenous Peoples account for approximately 1.5% of North America's population, yet we make up more than 10% of the homeless population nationally.
Donate: www.indigenousmutualaid.org
#nothanksnogiving #nothanksgiving #mutualdefense #MutualAid #indigenousmutualaid #solidaritynotcharity
Featuring guests:
Tiny aka Lisa Gray-Garcia
Tiny is a formerly unhoused, incarcerated poverty scholar, revolutionary journalist, lecturer, poet, visionary, teacher and single mama of Tiburcio, daughter of a houseless, disabled, indigenous mama Dee, and the co–founder of POOR Magazine/Prensa POBRE/PoorNewsNetwork.
Julie "Mama Julz" Richards
Mama Julz is the founder of Mothers Against Meth Alliance and a frontline protector.
Lady Shug
Lady Shug (Diné) has been fighting for equal rights as an activist for her LGBTQIA2S+ indigenous relatives, to create equal rights in rural areas and reservations that do not normally protect those on Indigenous lands.
Han
Han is with Red Sleeves ACA, an autonomous affinity group serving unsheltered refugees during the pandemic of settler colonialism in so-called Northern New Mexico.
Jenn Bearcat
Bearcat is Newe-Numa (Tosa Wihi) from Doka Badee, so-called Northern Nevada currently residing in Albuquerque, NM. She's a 3rd generation land defender with a healthy respect for a diversity of tactics and a healthy distrust of the state.
Demian DinéYazhi'
Demian is a transdisciplinary artist who uses social interventions to interrupt colonial power structures.