Militarized RCMP Enforcement, Violent Arrests Continue on Gidimt'en Land Defenders
"CONTENT WARNING: POLICE VIOLENCE.

Violent RCMP Raid on Unarmed Gidimt'en Checkpoint#AllOutForWedzinKwa pic.twitter.com/RxfYmFi1M0

— Gidimt'en Checkpoint (@Gidimten) November 19, 2021
NOVEMBER 20, 2021
WET'SUWET'EN TERRITORY, SMITHERS, BC: Sleydo' Molly Wickham, Chief Woos' daughter, and other Indigenous land defenders were among 11 people arrested at Coyote Camp yesterday. This was the second day in an ongoing siege. A convoy of dozens of RCMP officers, escorting Coastal GasLink workers and heavy equipment, violently raided Coyote Camp removing Wet'suwet'en people from their own lands. Chief Woos, other Wet'suwet'en supporters, allies, and media were denied access to the territory at an illegal exclusion zone set up by RCMP.

Prior to her arrest, Sleydo' stated: "The Wet'suwet'en people, under the governance of their hereditary Chiefs, are standing in the way of the largest fracking project in Canadian history. Our medicines, our berries, our food, the animals, our water, our culture, our homes are all here since time immemorial. We will never abandon our children to live in a world with no clean water. We uphold our ancestral responsibilities. There will be no pipelines on Wet'suwet'en territory."

Police were deployed in military garb, armed with assault weapons and dog teams, and enforced a media and communications blackout at the site. First, a cabin was breached with an axe and dog unit. Moments later, a separate cabin built on Coastal GasLink's proposed drill pad site was breached with a chainsaw and snipers aimed at the door. RCMP did not have warrants required to enter either dwelling. After raiding Coyote Camp, police swept through Gidimt'en Checkpoint and made four more arrests, including Sleydo's partner, Cody Merriman (Haida nation), legal observers and accredited journalists who were there to witness the events.
On Thursday, November 18, the RCMP carried out a similar militarized raid on the Gidimt'en Checkpoint at 44km, arresting 17 people including legal observers, an accredited journalist, two Haudenosaunee allies, and two Wet'suwet'en elders. The total number of confirmed arrests over the two day siege is 32 people.

According to Chief Woos, "I do not see any reconciliation in this. For our brothers and sisters of all Indigenous organizations, let this be a sign that reconciliation in their eyes is really the White Paper in disguise." Gidimt'en strongly condemns the repeated violations of Wet'suwet'en jurisdiction and Wet'suwet'en law in the middle of unprecedented climate-induced floods, storms, and a provincial state of emergency. Wet'suwet'en Hereditary chiefs released a statement today declaring "RCMP are not welcome on our territories." All Wet'suwet'en Clans have also rejected the Coastal GasLink fracked gas pipeline, which has no authority to operate on Wet'suwet'en yintah. Solidarity actions have taken place across the nation. A rail blockade in New Hazelton by our Gitxsan neighbours and ancient allies was faced with a similarly violent and militarized RCMP operation. Actions also took place in Burnaby, Toronto, Winnipeg, Vancouver, Montreal, and Victoria yesterday, and more cities are hosting marches and rallies over the weekend. The Wet'suwet'en continue to call on solidarity actions to take place.
Support has also poured in from Indigenous leadership and major human rights organizations, including The Haisla Nation, the Union of BC Indian Chiefs and an open letter from Amnesty International.
Take Action!
• Issue a solidarity statement from your organization or group.
• Host a solidarity rally or action in your area.
• Pressure the government, banks, and investors. http://yintahaccess.com/take-action-1
Donate. http://go.rallyup.com/wetsuwetenstrong
The violence towards Indigenous elders is unacceptable and must end NOW. Take action wherever you are. Come to the land. http://yintahaccess.com/come-to-camp
Spread the word. 
#WetsuwetenStrong #AllOutForWedzinKwa #ShutDownCanada #FreeSleydo #Wetsuweten
More information and developing stories:
• Website: Yintahaccess.com
• IG: @yintah_access
• Twitter: @Gidimten
• Facebook: @wetsuwetenstrong
• Youtube: Gidimten Access Point
• TikTok: GidimtenCheckpoint
###
16th Annual No Thanks, No Giving!
Indigenous Action presents:
16th Annual No Thanks, No Giving!
Food share, anti-colonial resistance & solidarity discussion circle, & online fundraiser!

DONATE: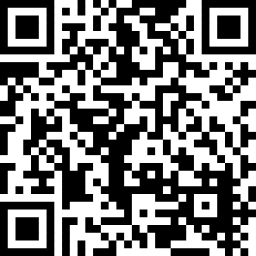 1:30p – 4pm
We will prepare and serve mutton stew and other foods for all who join us. Please bring any dish to contribute if you wish, we also plan on actively distributing (possibly mobile) any extra foods.
Local volunteers needed! Contact: indigenousaction@gmail.com
At 2:30p we will have a talking & action circle focused on anti-colonial resistance & solidarity. Representatives of Kinłani Mutual Aid, Haul No!, volunteers with Protect the Peaks, and autonomous organizers supporting unsheltered relatives will present & discuss upcoming actions & organizing. We will also discuss building Indigenous solidarity with local efforts to Free Palestine. Come ready to share, support and get involved! Everyone welcome!
This event is free, please bring donations for unsheltered relative support (tents, sleeping bags, tarps, jackets, etc).

This is also our yearly fundraiser for Táala Hooghan infoshop and Indigenous Action activities!
Please donate online via PayPal: https://www.paypal.com/paypalme/indigenousaction
Support Indigenous autonomous organizing and agitation!
*We will not host a livestream this year.

When: Thursday, Nov. 23, 2023
1:30pm – 4:00pm MST.
Where: Táala Hooghan Infoshop1704 N 2nd St, Kinłani (Occupied Flagstaff), AZ
MASKS REQUIRED This event will be held both indoors and outdoors (dress warm!) with limited indoor space. We will maintain social distancing & mask protocols for immunocompromised relatives.
For 16 years we have hosted No Thanks, No Giving! as an anti-colonial event to bring together radical Indigenous voices, share traditional foods, and benefit unsheltered relatives at Táala Hooghan Infoshop in Kinlani (Flagstaff, AZ). More info: www.indigenousaction.org
#nothanksnogiving #MutualAid #indigenousmutualaid #solidaritynotcharity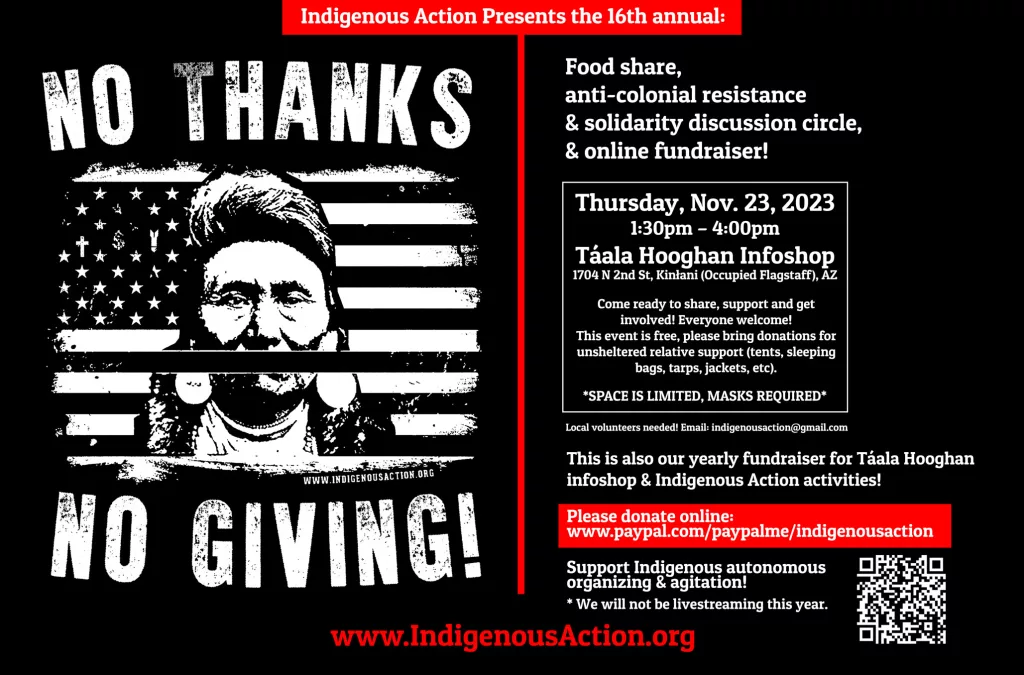 New Book: No Spiritual Surrender, Klee Benally
New Book: No Spiritual Surrender: Indigenous Anarchy in Defense of the Sacred is a searing anti-colonial analysis rooted in frontline experience.
NOW AVAILABLE ONLINE & SELECT BOOKSTORES: No Spiritual Surrender: Indigenous Anarchy in Defense of the Sacred


No Spiritual Surrender: Indigenous Anarchy in Defense of the Sacred is a searing anti-colonial analysis rooted in frontline experience. Klee Benally (Diné) unrelentingly agitates against colonial politics towards Indigenous autonomy and total liberation of Nahasdzáán (Mother Earth).
Available now from Detritus Books detritusbooks.com
406 pages | $20 Nonfiction | Paperback Available in select bookshops.
About the author: Klee Benally is a Diné (Navajo) anarchist and undisciplined agitational propagandist. Originally from Black Mesa. Klee currently resides in occupied Flagstaff, Arizona. kleebenally.com, indigenousaction.org
www.detritusbooks.com
Wholesale inquiries: detritusbooks.com
Now booking speaking tour dates: indigenousaction@gmail.com
Anti-Colonial Solidarity with Palestine Posters: While we mourn, we also fight.
Anti-Colonial Solidarity with Palestine Posters: While we mourn, we also fight.
Support @fauda_palestine (on IG) and check the resource list here: https://docs.google.com/document/d/1D6HDDbHiz6je0txmEL8pALcQtI0vpPUlQdNQJ7exMqo/edit

High resolution printable PDFs:

While we mourn, we also fight. Our hearts are the frontlines against occupation & genocide. 
Anti-Colonial Solidarity is mourning genocide & resisting occupation while fighting for liberation.
Anti-Colonial Solidarity means we won't stop until all are free.
Colonization is war. Indigenous resistance is everywhere.  
freepalestine #freeturtleisland
Get updates via email, sign up here:
Indigenous Action Podcast