BREAKING: Man Threatens Elders at Winnemucca Community Resistance Camp
CAMP ADVISORY
JANUARY 13, 2022
Newe'neen So'ko'pa Camp
Winnemucca Indian Colony
Winnemucca, NV
BREAKING: Man Threatens Elders at Winnemucca Community Resistance Camp 
Note: This is a breaking story that is unfolding now. Approved camp media available through camp IG account: @neweneensokopa. Media requests: AutonomousABQ@protonmail.com
WINNEMUCCA, NV – On Monday, January 10th, 2022, an unknown man entered the Winnemucca Indian Colony located in occupied Northwestern Nevada and made threats to harm elders and guests.
Conflict has been escalating throughout this small Indigenous community where elder's homes have been under threat of being bulldozed by private contract workers hired by self-appointed "chairwoman" Judy Rojo who resides out of state and is not recognized by residents of the colony
A solidarity occupation camp was established in early November, 2021 when a call for help was posted to social media by resident elders. Done as a last ditch effort to protect their homes from demolition as Rojo and her Goons attempted illegal forced evictions. 4 homes in the community were bulldozed with little to no notice before the construction crews were stopped with the help of Indigenous land defenders who heard the elders pleas and immediately responded to help. This was later backed up by a temporary court order preventing Rojo and her crew from entering the colony, which has since been lifted leaving the community vulnerable once again.
Ongoing assistance is requested, please see the action notes at the bottom of this article.
Many outsiders rushed to the community to offer support and most have been respectful people with genuine hearts. Unfortunately, this hasn't been our experience with the American Indian Movement Northern NV chapter (AIMNNV) and we will take a moment to share about this now.
In early December 2021 AIMNNV began making visits to the colony. During their visits there was ongoing conflict due to disrespectful, misogynistic, and abusive behaviors they displayed. They badgered elders instead of asking how they can help and honoring choices they have made. They have been disrespectful to the women and femmes and abusive to our guests, allies, and supporters. They have shown ignorance and violence towards our queer, two-spririt, non-binary, and trans relatives. They have taken from donations made to the community and attempted to pad the pockets of their friends and associates. They have promoted our struggles for their own benefit on social media. They have attempted to speak for us without being invited to do so, we can speak for ourselves.They have worked to silence our people and have attempted to recruit others to assist in this violence by creating false narratives.
December 23rd, 2021 an AIM flag that was flying over the sacred fire was cut down by a Shoshone-Paiute organizer. As she has been involved in assisting camp work since early November 2021, she had been made aware that AIM had been violating camp agreements and denying others the right to speak, saying they weren't Native, or weren't Shoshone, or weren't from the colony – all of these were excuses used to dismiss valid concerns. As a Newe-Numa person she recognized her responsibility to speak up where others had been silenced. After many other attempts had been made to hold open and honest dialogue in a safe space and with the guidance of elders and input from all residents and guests of the community were denied or not conducted in good faith – she took it upon herself to cut the AIM flag down and insist that our Newe identities not be exploited and used to deny others their right to speak up for themselves. She did not anticipate the response she got; though she did return the flag undamaged with the simple request for said meeting – a group of hostile adult men surrounded her, threatened her safety, and forced her to leave the area.
Things quickly went downhill from there, as these individuals became more brazen with their disrespect and pushed to seize control until there were no longer any protocols being respected. Things came to a head on January 7th, 2022 when the resident elders took back their community and reasserted their demand that AIM Northern NV, and affiliated individuals causing harm and dissension, leave and not return.
This ask has not been respected.
Though they did initially leave, individuals have returned almost daily and have attempted to recruit others to do so, reaching out to other orgs presenting things to be the opposite of what they actually are. Fortunately there's many solid comrades out there who are disciplined enough to reach out and validate info first. Unfortunately though, there's many others who have fallen prey when asked to do things without being given honest and necessary info so they may make informed decisions for themselves.
On January 10th, 2022 an unknown individual arrived at the colony and went to the home of an elder demanding that camp be cleared and full control be handed over to AIMNNV within two hours time. He showed that he was armed and made culturally specific threats of violence referencing the Massacre at Wounded Knee of 1880. He claimed to be acting on behalf of a former camp visitor who is no longer welcome in the community. Then he stated that he was acting on orders from higher ups within the org (AIMGGC), though did not offer any proof of that. Two older land defenders took the time to sit with this young man and treat him with care. After he was provided evidence, he chose to leave the colony without carrying out the violence he had threatened to commit.
This is the reason we can no longer be silent. We must be honest with each other if we want this violence to stop.
The truth is, there are unacceptable acts of aggression being carried out by forces from outside of our community. AIM members and their affiliates have turned on their code to protect the people by threatening Indigenous elders with colonial violence. Others have used their Indigeneity to present themselves as if they speak for camp, they do not. Former camp members have stolen what they could and refused to relinquish their access to camp accounts, which they've used to intercept deliveries and divert donation funds. All of this is what the BIA and mining companies want, yes; but we must understand that these same forms of colonial violence can be co-opted by our own relatives, other Native people, and weaponized against us to perpetrate the same harms. This is what is being done and it must stop.
We wish to make it clear: No one can destroy our sacred bond to the earth here, not agitators within AIM, nor government officials, nor construction crews and hired goons. We pray for a peaceful resolution and call on the Grand Governing Council of AIM to hold their membership immediately accountable. Regardless, let it be known that we will continue standing our ground and defending our homes and we will continue supporting, protecting, and appreciating the land defenders who have come to stand with us. We ask that any experienced frontliners who wish to come, do so in a good way. We invite you and will welcome you here but ask that you follow camp agreements.
This is all we will be disclosing at this time, as we hold respect for our sister communities and continue to stand in solidarity with all other camps and frontlines. From Winnemucca to Wet'suwet'en, we resist together. Thank you.
TAKE ACTION NOW!
2. Stay updated on IG: @neweneensokopa
O'odham Executed by Border Patrol: Statement by Raymond Mattia Family
Raymond Mattia of the Tohono O'odham Nation was executed by US border patrol agents on May 18th at his home. He was reportedly shot 38 times.

A peaceful gathering to support all victims of the
unmonitored violent actions of the Border Patrol and other agencies will be held at The Border
Patrol Station in Why, Az, and Tucson on Golf Links Road this Saturday, May 27th, from
10:00am-Noon.
For more information please visit: https://bsnorrell.blogspot.com/2023/05/us-border-patrol-shoots-tohono-oodham.html

Statement by Mattia Raymond's family:
We have been trying to find the strength to write this statement. This tragedy is so
grievous because it is apparent what had happened. Raymond called for help and, in turn, was
shot down at his doorstep. Raymond's rights were violated by the authorities whom we trust to
protect our Nation. Improper and unprofessional actions of the agencies involved were witnessed
by family members present near the crime scene. Loved ones sat in agony, not knowing of
Raymond's condition until they were told that he had passed hours later. Raymond lay in front of
his home for seven hours before a coroner from Tucson arrived.
In our eyes and hearts, we believe that Raymond was approached with excessive and
deadly force that took his life. He was a father, brother, uncle, friend, and an involved
community member. Raymond always fought for what was right, and he will continue to fight
even after his death. This is not an isolated incident, but it should bring awareness of the
oppression our people live through.
We want to thank so many of you for your condolences and support. A GoFundMe for
defense funds will be available soon. A peaceful gathering to support all victims of the
unmonitored violent actions of the Border Patrol and other agencies will be held at The Border Patrol Station in Why, Az, and Tucson on Golf Links Road this Saturday, May 27th, from 10:00am-Noon.
Contact for support: justiceforraymattia@gmail.com
Xenophobic Title 42 Ends, Biden's Immigration Reform Nowhere to Be Found
Indigenous Action recently supported @abolition.yumacounty (on Instagram) at the "US-Mexico" border. They are a crew of radical femme and queer folks who provide essential supplies to Indigenous people and other asylum seekers who are kept in holding with nothing but what they walked up to thousands of miles with. They also offer confidential pregnancy release support. Please $$$upport and volunteer if you're in the "Yuma" area. Venmo: @ycabolition, Cash App: @YumaCountyAbolition
With Title 42 ending on May 11th, (a xenophobic policy that gave the government power to rapidly expel any migrant, without giving them a chance to make a case for crossing legally, including to seek asylum), Biden has made no attempt at immigration reform as he promised on the campaign trail, "I can only imagine what it's like to see someone in your family deported. To me it's all about family. Beginning, middle and end. That's not going to happen in my administration. The idea you can't even seek asylum on American soil. When did that happen? Trump. It's wrong."
These policies are well within Biden's power to remedy, and yet, HE HASN'T. He's had 2 years to prepare for the ending of Title 42 to introduce new policies that he claimed "offer hope and a safe haven to refugees."
What we're seeing now at the border is heinous. Shelters and detention centers at and near capacity. Hundreds of people turned away every day. Just last month, a fire at a detention center killed 40 people.
In 2022, more than 890 migrants died in border crossings, and that is only of the deaths that have been reported. To paint an even broader picture, since 2021, there have been 13,480 reports of murder, torture, kidnapping, rape and other violent attacks on migrants and asylum seekers blocked or expelled to Mexico under Title 42.
The time is now to stand up against xenophobia. Let us be free to roam and free to rage wherever we please!
The Intercept and Grist begin release of 50,000 TigerSwan spy documents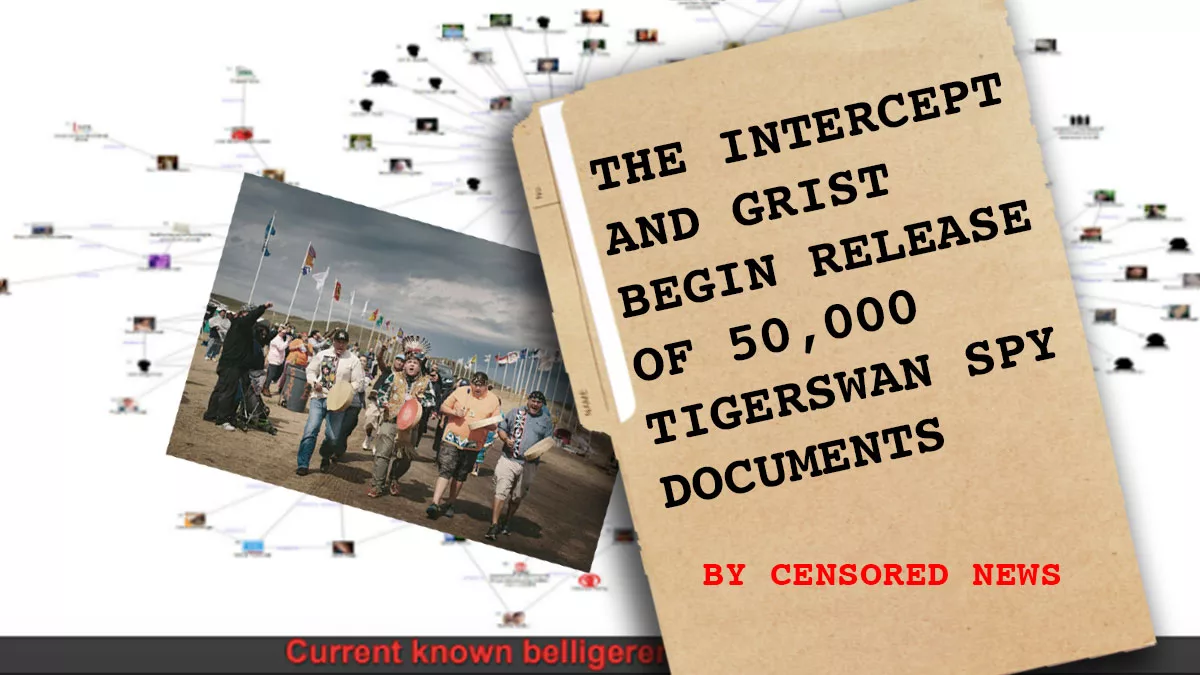 Article by Brenda Norrell, Censored News
Reprinted with permission.
April 14, 2023
Facebook: https://www.facebook.com/profile.php?id=100075796248532
The Intercept and Grist began releasing new TigerSwan spy documents in new coverage of the mercenaries hired by the Dakota Access Pipeline. They now have 50,000 TigerSwan spy documents, and another 9,000 are held up in the court battle for now. The documents reveal TigerSwan spying on Water Protectors at Standing Rock in North Dakota, Bold Iowa, and at other locations.
Reporters Alleen Brown and Naveena Sadasivam expose the new spy documents in their article, After Spying on Standing Rock, TigerSwan Shopped Anti-Protest 'Countinsurgency' to Other Oil Companies.
The article follows an expensive court battle by The Intercept seeking the release of the documents. The North Dakota Supreme Court ordered the release after TigerSwan was found operating without a license in North Dakota.
"The released documents provide startling new details about how TigerSwan used social media monitoring, aerial surveillance, radio eavesdropping, undercover personnel, and subscription-based records databases to build watchlists and dossiers on Indigenous activists and environmental organizations," The Intercept writes. Read the article at The Intercept: https://theintercept.com/2023/04/13/standing-rock-tigerswan-protests/
Paiute journalist, drone activist and filmmaker Myron Dewey was among those that TigerSwan spied on and stalked at Standing Rock 2016-2017, as revealed in the new documents that were ordered released by the court.
On Tuesday, the driver that killed Myron Dewey on an isolated road near his family's home in Yomba, Nevada, entered a surprise plea bargain deal that was cut with a new prosecutor assigned to the case in Nye County, Nevada. John Walsh pleaded guilty to the lesser charge of vehicular manslaughter.
This TigerSwan spy document, showing TigerSwan stalking Myron Dewey and Prolific the Rapper at Standing Rock on Dec. 17, 2016, is from the new documents at The Intercept. Document link: https://www.documentcloud.org/documents/23773105-tigerswan-document-daily-intelligence-update-20161217
Below: From the TigerSwan spy files just released: The power of the global movement, with its heart in Standing Rock.
Below: The first flood of documents show how rattled DAPL was over the involvement of celebrities, the Standing Rock Chairman at the United Nations, Bernie Sanders, the Palestinian flag flying, and big orgs. The doc is from a pitch that TigerSwan made for more work, hustling another pipeline to spy on resistance.
Above: TigerSwan spy file at Bold Iowa. The mercenaries hired by the Dakota Access Pipeline called Bold Iowa Water Protectors "belligerents." Document link:
TigerSwan spied on, and stalked the media, including Paiute journalist Myron Dewey, Amy Goodman at Democracy Now, and myself, publisher of Censored News, as revealed in the newly released documents by The Intercept and Grist. TigerSwan used its surveillance on the media in its pitches for more spy work to other oil and pipeline companies.
TigerSwan turned its surveillance at Standing Rock into a potential money maker, using it for powerpoints in its pitches to other oil and pipeline companies for spy work.
T
TigerSwan even stalked the United Nations Commission on Human Rights, in its high-stakes spying for dollars.
TigerSwan's Opposition Model, shown below, was used as a potential maker in PowerPoints to other oil and pipeline companies.
The Intercept described the battle for these documents.
"A discovery request filed as part of the case forced thousands of new internal TigerSwan documents into the public record. Energy Transfer's lawyers fought for nearly two years to keep the documents secret, until North Dakota's Supreme Court ruled in 2022 that the material falls under the state's open records statute," The Intercept said.
"Because an arrangement between North Dakota and Energy Transfer allows the fossil fuel company to weigh in on which documents should be redacted, the state has yet to release over 9,000 disputed pages containing material that Energy Transfer is, for now at least, fighting to keep out of the public eye."
TigerSwan spy documents on Water Protectors
Note: The documents show that TigerSwan spied on Censored News, as shown in today's article at The Intercept.
Get updates via email, sign up here:
Indigenous Action Podcast