BREAKING: Man Threatens Elders at Winnemucca Community Resistance Camp
CAMP ADVISORY
JANUARY 13, 2022
Newe'neen So'ko'pa Camp
Winnemucca Indian Colony
Winnemucca, NV
BREAKING: Man Threatens Elders at Winnemucca Community Resistance Camp 
Note: This is a breaking story that is unfolding now. Approved camp media available through camp IG account: @neweneensokopa. Media requests: AutonomousABQ@protonmail.com
WINNEMUCCA, NV – On Monday, January 10th, 2022, an unknown man entered the Winnemucca Indian Colony located in occupied Northwestern Nevada and made threats to harm elders and guests.
Conflict has been escalating throughout this small Indigenous community where elder's homes have been under threat of being bulldozed by private contract workers hired by self-appointed "chairwoman" Judy Rojo who resides out of state and is not recognized by residents of the colony
A solidarity occupation camp was established in early November, 2021 when a call for help was posted to social media by resident elders. Done as a last ditch effort to protect their homes from demolition as Rojo and her Goons attempted illegal forced evictions. 4 homes in the community were bulldozed with little to no notice before the construction crews were stopped with the help of Indigenous land defenders who heard the elders pleas and immediately responded to help. This was later backed up by a temporary court order preventing Rojo and her crew from entering the colony, which has since been lifted leaving the community vulnerable once again.
Ongoing assistance is requested, please see the action notes at the bottom of this article.
Many outsiders rushed to the community to offer support and most have been respectful people with genuine hearts. Unfortunately, this hasn't been our experience with the American Indian Movement Northern NV chapter (AIMNNV) and we will take a moment to share about this now.
In early December 2021 AIMNNV began making visits to the colony. During their visits there was ongoing conflict due to disrespectful, misogynistic, and abusive behaviors they displayed. They badgered elders instead of asking how they can help and honoring choices they have made. They have been disrespectful to the women and femmes and abusive to our guests, allies, and supporters. They have shown ignorance and violence towards our queer, two-spririt, non-binary, and trans relatives. They have taken from donations made to the community and attempted to pad the pockets of their friends and associates. They have promoted our struggles for their own benefit on social media. They have attempted to speak for us without being invited to do so, we can speak for ourselves.They have worked to silence our people and have attempted to recruit others to assist in this violence by creating false narratives.
December 23rd, 2021 an AIM flag that was flying over the sacred fire was cut down by a Shoshone-Paiute organizer. As she has been involved in assisting camp work since early November 2021, she had been made aware that AIM had been violating camp agreements and denying others the right to speak, saying they weren't Native, or weren't Shoshone, or weren't from the colony – all of these were excuses used to dismiss valid concerns. As a Newe-Numa person she recognized her responsibility to speak up where others had been silenced. After many other attempts had been made to hold open and honest dialogue in a safe space and with the guidance of elders and input from all residents and guests of the community were denied or not conducted in good faith – she took it upon herself to cut the AIM flag down and insist that our Newe identities not be exploited and used to deny others their right to speak up for themselves. She did not anticipate the response she got; though she did return the flag undamaged with the simple request for said meeting – a group of hostile adult men surrounded her, threatened her safety, and forced her to leave the area.
Things quickly went downhill from there, as these individuals became more brazen with their disrespect and pushed to seize control until there were no longer any protocols being respected. Things came to a head on January 7th, 2022 when the resident elders took back their community and reasserted their demand that AIM Northern NV, and affiliated individuals causing harm and dissension, leave and not return.
This ask has not been respected.
Though they did initially leave, individuals have returned almost daily and have attempted to recruit others to do so, reaching out to other orgs presenting things to be the opposite of what they actually are. Fortunately there's many solid comrades out there who are disciplined enough to reach out and validate info first. Unfortunately though, there's many others who have fallen prey when asked to do things without being given honest and necessary info so they may make informed decisions for themselves.
On January 10th, 2022 an unknown individual arrived at the colony and went to the home of an elder demanding that camp be cleared and full control be handed over to AIMNNV within two hours time. He showed that he was armed and made culturally specific threats of violence referencing the Massacre at Wounded Knee of 1880. He claimed to be acting on behalf of a former camp visitor who is no longer welcome in the community. Then he stated that he was acting on orders from higher ups within the org (AIMGGC), though did not offer any proof of that. Two older land defenders took the time to sit with this young man and treat him with care. After he was provided evidence, he chose to leave the colony without carrying out the violence he had threatened to commit.
This is the reason we can no longer be silent. We must be honest with each other if we want this violence to stop.
The truth is, there are unacceptable acts of aggression being carried out by forces from outside of our community. AIM members and their affiliates have turned on their code to protect the people by threatening Indigenous elders with colonial violence. Others have used their Indigeneity to present themselves as if they speak for camp, they do not. Former camp members have stolen what they could and refused to relinquish their access to camp accounts, which they've used to intercept deliveries and divert donation funds. All of this is what the BIA and mining companies want, yes; but we must understand that these same forms of colonial violence can be co-opted by our own relatives, other Native people, and weaponized against us to perpetrate the same harms. This is what is being done and it must stop.
We wish to make it clear: No one can destroy our sacred bond to the earth here, not agitators within AIM, nor government officials, nor construction crews and hired goons. We pray for a peaceful resolution and call on the Grand Governing Council of AIM to hold their membership immediately accountable. Regardless, let it be known that we will continue standing our ground and defending our homes and we will continue supporting, protecting, and appreciating the land defenders who have come to stand with us. We ask that any experienced frontliners who wish to come, do so in a good way. We invite you and will welcome you here but ask that you follow camp agreements.
This is all we will be disclosing at this time, as we hold respect for our sister communities and continue to stand in solidarity with all other camps and frontlines. From Winnemucca to Wet'suwet'en, we resist together. Thank you.
TAKE ACTION NOW!
2. Stay updated on IG: @neweneensokopa
No Thanks, No Giving! Indigenous Action Yearly Fundraiser (online)
Support Indigenous radical autonomous, anti-capitalist, anti-colonial organizing & agitation!
COLONIZERS GOTTA PAY! SMASH THE NON-PROFIT CAPITALIST
INDUSTRIAL COMPLEX!
Donate to Indigenous Action:
LINK: www.paypal.com/paypalme/indigenousaction
This is our yearly call for material support for Indigenous Action activities & donation drive for Táala Hooghan infoshop unsheltered support & operational expenses.
Indigenous Action (IA/originally Indigenous Action Media) was founded on August 25th, 2001 to provide strategic communications and direct action support for Indigenous sacred lands defense. We are a volunteer-run radical autonomous crew of anti-colonial & anti-capitalist Indigenous trouble makers & propagandists.
We generally are comprised of designers, artists, writers & frontline agitators that work together on a project by project basis (some long-term some short) for liberation for Mother Earth and all her beings. We've organized hundreds of actions, marches, banner drops, workshops, conferences, benefits, & much more. 100% of all proceeds directly support radical Indigenous organizing. Everything we do is based on community support. We don't rely on grants. We're all in for total liberation.
Some (not all) active projects & organizing we're currently directly involved with:
IA Podcast+ Táala Hooghan Infoshop
KinłaniMutualAid.org
HaulNo.com
ProtectthePeaks.org
Ongoing local/regional frontline support:
Resource/supply distro, bail, jail support
organizing, etc.
Graphic & web support for a dozen
current Indigenous-led campaigns.
Some larger yearly expenses we need immediate support for:
Táala Hooghan taxes & utilities (the space has been free to use by KMA for 3 years):
Approx. $6,000+/year.
Regional supply distro for Indigenous unsheltered relatives: $1,000-$3,000, we also maintain funds for emergency hotels.
Anti-state repression + DA support: $3,000+ varies, but we maintain an ongoing bail fund & frontline resource support.
www.indigenousaction.org
16th Annual No Thanks, No Giving!
Indigenous Action presents:
16th Annual No Thanks, No Giving!
Food share, anti-colonial resistance & solidarity discussion circle, & online fundraiser!

DONATE: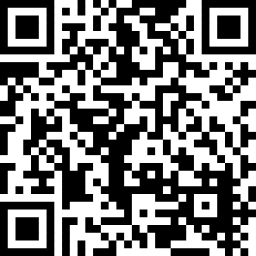 1:30p – 4pm
We will prepare and serve mutton stew and other foods for all who join us. Please bring any dish to contribute if you wish, we also plan on actively distributing (possibly mobile) any extra foods.
Local volunteers needed! Contact: indigenousaction@gmail.com
At 2:30p we will have a talking & action circle focused on anti-colonial resistance & solidarity. Representatives of Kinłani Mutual Aid, Haul No!, volunteers with Protect the Peaks, and autonomous organizers supporting unsheltered relatives will present & discuss upcoming actions & organizing. We will also discuss building Indigenous solidarity with local efforts to Free Palestine. Come ready to share, support and get involved! Everyone welcome!
This event is free, please bring donations for unsheltered relative support (tents, sleeping bags, tarps, jackets, etc).

This is also our yearly fundraiser for Táala Hooghan infoshop and Indigenous Action activities!
Please donate online via PayPal: https://www.paypal.com/paypalme/indigenousaction
Support Indigenous autonomous organizing and agitation!
*We will not host a livestream this year.

When: Thursday, Nov. 23, 2023
1:30pm – 4:00pm MST.
Where: Táala Hooghan Infoshop1704 N 2nd St, Kinłani (Occupied Flagstaff), AZ
MASKS REQUIRED This event will be held both indoors and outdoors (dress warm!) with limited indoor space. We will maintain social distancing & mask protocols for immunocompromised relatives.
For 16 years we have hosted No Thanks, No Giving! as an anti-colonial event to bring together radical Indigenous voices, share traditional foods, and benefit unsheltered relatives at Táala Hooghan Infoshop in Kinlani (Flagstaff, AZ). More info: www.indigenousaction.org
#nothanksnogiving #MutualAid #indigenousmutualaid #solidaritynotcharity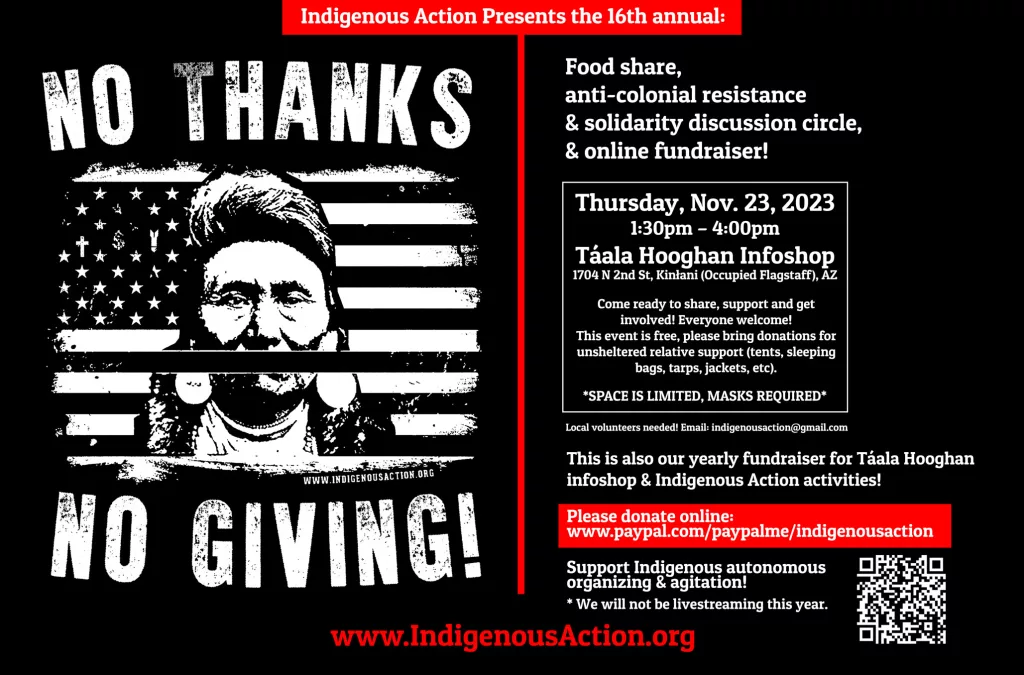 New Book: No Spiritual Surrender, Klee Benally
New Book: No Spiritual Surrender: Indigenous Anarchy in Defense of the Sacred is a searing anti-colonial analysis rooted in frontline experience.
NOW AVAILABLE ONLINE & SELECT BOOKSTORES: No Spiritual Surrender: Indigenous Anarchy in Defense of the Sacred


No Spiritual Surrender: Indigenous Anarchy in Defense of the Sacred is a searing anti-colonial analysis rooted in frontline experience. Klee Benally (Diné) unrelentingly agitates against colonial politics towards Indigenous autonomy and total liberation of Nahasdzáán (Mother Earth).
Available now from Detritus Books detritusbooks.com
406 pages | $20 Nonfiction | Paperback Available in select bookshops.
About the author: Klee Benally is a Diné (Navajo) anarchist and undisciplined agitational propagandist. Originally from Black Mesa. Klee currently resides in occupied Flagstaff, Arizona. kleebenally.com, indigenousaction.org
www.detritusbooks.com
Wholesale inquiries: detritusbooks.com
Now booking speaking tour dates: indigenousaction@gmail.com
Get updates via email, sign up here:
Indigenous Action Podcast