Tending Sacred Fires: Make Colonizers Afraid Again – Part 3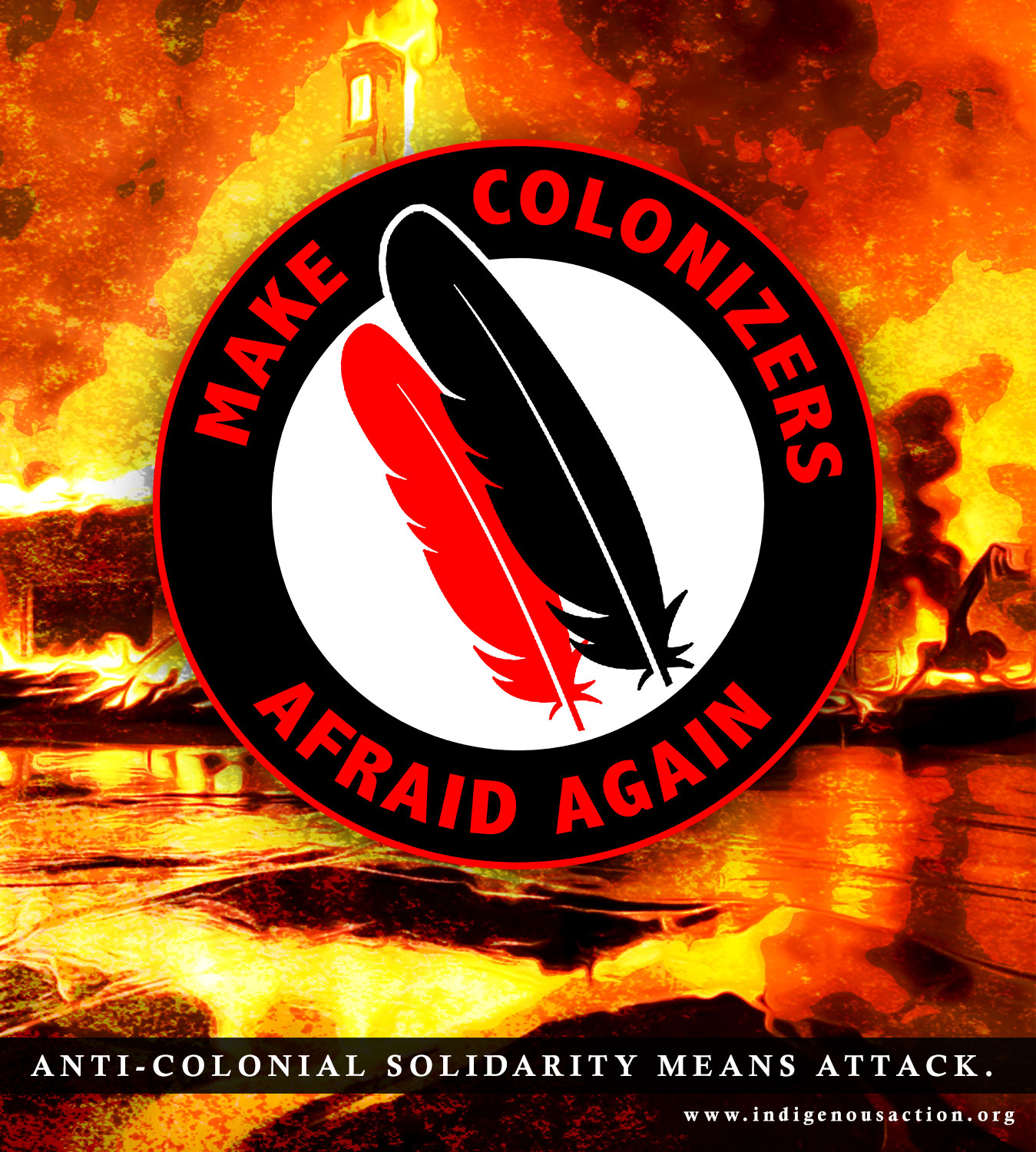 Indigenous Action
Winter Solstice, 2021


Although the white supremacist contortion of the "alt-right" has largely met its end, its urge persists with varied strategies towards social-political legitimization. We can see its trajectory clearly from the post-election convulsions on January 6th, 2021 and subsequent cheerleading, to the Rittenhouse verdict and in-between every corporate (social media) channel.
With some of the more prominent neo-fascist gelded in the aftermath of Charlottesville legal battles, settler colonizers are live-streaming the demise of their social order.
It's terrified that its prejudices and xenophobia are being "cancelled."

It's hysterical over "medical tyranny" so it's pumping horse dewormer into its veins. It's brutally gotten ideals of "freedoms" matter more than the well-being of those most vulnerable (as they've always mattered more than our lives).
White supremacist con artists are playing the victims of a "culture war" that they've been waging against our lives and lands for more than 500 years. We have resisted and survived generations upon generations of this "culture war" called colonization. 
Colonizers are reacting predictably, as they've always feared what they can't dominate and control. To this extent, perhaps they're so fearful of "wokeness" because those who remain unconscious are easier to control and exploit. No conscious being will willingly choose an existence of suffering induced by someone else's nightmares.

Yet the (stolen) ground gained in the streets during the George Floyd rebellions has largely been ceded by liberals contracting into their electorally induced delusional safe(r) terrains. But what was to be expected from those so readily willing to kneel with cops and performatively "decolonize" their lifestyles?
Post-election liberal decelerationism has emerged in all its reactionary and pacifying glory.
Liberals have a predictable tendency to rest on their votes and so resign their energy to those who represent them. But theirs are the politics that should be called for what they are: "MAGA-lite." Their moral denouncements rarely broach on root causes, and when they do indict the State and white supremacy, it is always within the well-mapped binary geography of left versus right. They fail to recognize that making and maintaining of the idea of "America" is really what the problem is (recall the settler colonizer myopia of the chant, "We're a nation of immigrants?").
Migrant children are still in cages under the same brutal policies just with different political faces, drone bombs are still circling like imperialist vultures over the geopolitical transcontinental region of the Middle East, and in his first few months behind the desk Biden signed more oil and gas leases than his demagogue predecessor.
When they're not policing movements, if there's one thing that is consistent about liberal MAGA-liters, it's that their theatrical spurts of outrage must be contained within the realm of "legitimate" politics. They rest on reforms in hopes that the State will solve the problems that it is structurally built from and cannot exist without. Whether the tactics are holding signs for "visibility" or are escalated with lock-boxes and tripods, they're still begging the politicians they voted into office for scraps from the rotting carcass of an imagined ideal called "justice." They hold onto the most pitiful of political handouts of recognition by colonized tokens like Deb Haaland. They remain rapt with attention and offer their patriotic ovations during the magic act called "climate justice" where the illusion of an industrial system built on destroying the Earth can magically solve the crisis that it thrives off of.

In response, liberals are either investing more in their team (which is really just another side of the same colonial polity), and hyper-focused on pumping the "harm reduction" breaks with "solutions" to make capitalism and settler colonial occupation "green" with economic restraints on policing.
Behind this are the non-profit capitalists engineering "leftist" social and ecological justice wars for their own gain.
 Making settler colonialism and capitalism more sustainable means the death of Indigenous existence. Just look to the mass lithium mining rush targeting Indigenous lands at Thacker Pass, Big Sandy River Valley, and beyond.
In the midst of this pandemic of pandemics, neo-fascists rally and prepare to escalate towards the next major election cycle and beyond, fracking wells and oil pipelines poison sacred lands and waters, Indigenous womxn, girls, trans, and two-spirit relatives are stolen, families are ripped apart, deported, or left to die seeking refuge across colonial political lines, relatives on the streets go without shelter in the cold, we're locked up and killed by State forces with impunity, all while the existence our ancestors dreamt is being reshaped in the obscene nightmarish billionaire funded selfie-driven theater of trading post "decolonizers ™" waving "land back" flags cashing-in to "decolonize wealth" with their wokest hipster (and celebrity) settler allies.
It's clear that some can't and won't stop imagining colonial futures.
For many rabid antagonists, catching our breaths between tear gas and pepper spray, taking up our shifts for COVID mutual aid deliveries or anti-state repression work (aka making sure we stay free), we cannot unsee the blood stained writing on the walls of this settler colonial social order.

For many reasons, including a revulsion of the homogenizing propositions found in leftist "revolutionary" politics (especially from authoritarian Indigenous Marxists), we prefer principles rather than platforms, our elder's teachings rather than those of dead European men, autonomous attacks rather than political campaigns, and we have more questions than answers.
What are we doing? And who is this "we" composed of? What lessons have we learned from years of rolling street battles, autonomous spaces, and frontline blockades? What more effective tactics can we devise? Can cell-based affinity groups and lone-wolf actions be just as or more effective than the idealized mass mobilization? Is it an either/or question or can we dig deeper into diversifying tactics? What opportunities can be made from the predictabilities of law enforcement reactions? What institutions, ideas, and infrastructure can we attack within our means? How can we effectively ensure abusers will be held accountable in our communities? How do we embed those practices into security culture? What are our advantages? What are our disadvantages and how can we overcome or shift them? How can we accelerate internal and external settler colonial social, economic, and political ruptures and precipitate their ruin? What further provocations, interventions, and attacks can be devised to undermine and destabilize the settler-colonial social order?


The answers are certainly complex, varied, and purposefully incomplete because in many ways it's what we're already doing with radical education and interventions, mutual aid (not the non-profit or liberal co-opted shit), community defense, and autonomous (conflict) infrastructure projects. In this way some of our responses are more oriented towards the questions of how do we stabilize and sustain radical projects. How can we proliferate and grow these liberatory possibilities?
In "Black Seed: Not on Any Map," a new book (mostly) about Indigenous Anarchy, these questions leads to the task one of our Indigenous Action crew members proposes of Indigenous anarchy (or autonomy if you prefer to drop the colonial political identifier), which is to replace the principle of political authority with the principle of autonomous Indigenous mutuality. 
This is not at all theoretical, it's the urge of our ancestors and the continuity of ways of being that exist with, not against Nature.
This power is something colonizers could never fully understand or control and so they've committed everything to annihilate it. From Ghost Dance massacres to the systematic spiritual violence of boarding schools, to the outright banning of spiritual practices until the late 1970s, to the ongoing specific and intentional desecration of sacred sites, the power of Indigenous prayer and ceremony has always terrified colonizers to their core.

We study the contours of our emergence hxstories. We trace the lines in the hands of our elders who guide and shape the frameworks for our actions. We trace footsteps back to gather sacred medicines. We patiently watch the light and the way the rains flow and collect so we know where to gently place seeds. We listen intently when the earth shifts and the moon is covered by the sun.
We warm our spirits on the sacred fires on front lines throughout these occupied lands.
From those tended by Gidimt'en land defenders to those lit by elders resisting forced removal in Winnemucca, and those tended by Indigenous trans and two-spirit youth at Camp Migizi. The sacred fire of Black rage that burnt down the Third Precinct police headquarters in so-called Minneapolis. The sacred fires that made ashes of churches responsible for boarding schools.
We are still tending sacred fires.
To live a life in conflict with authoritarian constraint on stolen land is a spiritual, mental, and material proposition, it is the negation of settler colonial domination.
This is our continuous ceremony of resistance and restoration.
As autonomous anti-colonial agitators we're not vying to appeal to the sympathies and charity of settler allies. Anti-colonial solidarity means attack.
Make colonizers afraid again.
+ + + +
Press Release: Announcing Burn the Fort, a Diné Designed Board Game of Indigenous Resistance
For Immediate Release
July 26, 2023
Contact:
Klee Benally
indigenousaction@gmail.com
www.burnthefort.com
Announcing Burn the Fort, a Diné Designed Board Game of Indigenous Resistance
Crowdfunding campaign is live on Gamefound
Occupied Kinłani (Flagstaff, AZ) — A new independent board game featuring Indigenous resistance is now crowdfunding to cover manufacturing costs. Burn the Fort is a semi-cooperative game designed by Diné artist, musician, filmmaker, organizer, and author Klee Benally.
In Burn the Fort, colonizers have built a military fortress and are invading your lands. 2-4 players each take the role of a different historic warrior fighting to stop the invasion. Players must prevent wagons from bringing supplies to the fort and burn it to the ground before the train, which acts as a game timer, reaches the Golden Spike. Players can choose how much they wish to work together while taking turns playing cards, trading, battling wagons, and gathering necessary tokens to win the game. With each wagon that reaches the fort the train moves forward, and if it reaches the Golden Spike everyone loses.
Components and cards are steeped in history with facts, trivia, and bios of historic Indigenous warriors, the game also uses traditional Diné Stick dice.

"I wanted to design a game that felt familiar to those who grew up playing board games, but one that was also familiar to those who grew up playing traditional cultural games," says Klee Benally, the artist and designer of the game, "Some of the game mechanics may feel contradictory and I wanted to embrace that dynamic. It's my first game so I'm sure I've made mistakes, but from the artwork to the gameplay, every aspect of the design is very intentional."
"Games can be powerful storytelling and teaching tools" says Benally. "Indigenous Peoples have played games rooted in ceremony since time immemorial. I've always loved table top games, but I never found one that I personally connected to. Indigenous Peoples and resistance are more often portrayed as threats to the heroic settler colonizers or when we're the occasional protagonist, we are either victims or grossly romanticized" Benally explains.
Benally continues, "Nearly every game available on the shelf today is rooted in colonialism and resource exploitation, I wanted to offer an alternative and challenge those narratives. This game focuses on the time period of the so-called 'Indian wars' to explore the history and offer an engaging and fun way of deepening our understandings of those times. History is an ongoing conflict of narratives, the history written by colonizers is obviously going to be very different than the narratives and accounts of those who have resisted colonization. For some people this will be just another table top game, for others, and this is my intention, it can be one small way to engage and build cultures of resistance and liberation".
The game has been in development for six years but Benally took a break during the pandemic to focus on organizing with Kinłani Mutual Aid. 

Benally says, "After the beginning of pandemic, as people were forced to stay at home due to the severity of the virus, there was also a renewed interest in board games. As I was making deliveries and coordinating supplies, I really was motivated to focus on the game as an alternative for people instead of just watching TV. Additionally, I have to express gratitude for this project to Ariel Celeste and Jacob, without their critical input this game would not be what it is. I am also forever grateful to my supporters on Patreon and all the play testers who made this game possible."
Burn the Fort is now on Gamefound, a premiere crowdfunding site for board games, where 70% of its goal was raised in just three days. If the campaign reaches its "stretch goal," Benally will use additional funds to distribute free copies to Indigenous community groups and schools. Eventually Benally intends to create a complementary lesson plan exploring the theme of the game that can be taught in schools.
Burn the Fort is now available as a crowdfunding reward for a pledge of $40. The crowdfunding campaign ends on August 22nd, 2023. After the crowdfunding campaign is complete it will be available sometime in the fall online and in select stores at a retail price of $45. You can view and support the campaign here: https://gamefound.com/projects/indigenousaction/burn-the-fort
Burn the Fort is for 2 – 4 players, ages 14 and older and takes approximately 60-90 minutes to play. It includes 5 game board pieces, 6 player cards, 1 Fort point tracker, 69 Draw cards, 40 Colonizer cards, 6 Victory cards, 5 US General tokens, 4 Reference cards, 48 Fire tokens, 40 Wagon tokens, 12 Arrowhead tokens, 4 Alliance tokens, 1 Colonizer token, 1 Wooden train token, 1 Arrowhead token bag, 3 Wooden Stick dice, 2 Colonizer dice, and 1 twenty-two page game guide.
For more information visit: www.burnthefort.com.

About the publisher
Indigenous Action (IA/originally Indigenous Action Media) was founded on August 25th, 2001 to provide strategic communications and direct action support for Indigenous sacred lands defense. We are a radical autonomous crew of anti-colonial & anti-capitalist Indigenous media makers, designers, artists, writers & agitators that work together on a project by project basis for liberation for Mother Earth and all her beings. www.indigenousaction.org
###
UPDATED: How to Burn American & Canadian Flags
PDFs:
How to Burn an American Flag COLOR PDF

How to Burn a Canadian Flag COLOR PDF

We've updated this poster and included a version for our relatives in so-called Canada!

The so-called "United States" and KKKanadian flags represent Indigenous genocide, African slavery, ecocide, & ongoing imperialist aggression throughout the world. When symbols are burned & monuments destroyed, the ideas & institutions that they represent become diminished. Agitative propaganda (agitprop) can inspire & build morale, it can also provoke strong emotional responses from those who maintain allegiance to such symbols.
As fascists use their colonial law of "free speech" to rally & dehumanize, we burn
their symbols & reveal their hypocrisies. By attacking symbols of colonialism, white supremacy, cis-heteropatriarchy, fascism, & capitalism, we break down the legitimacy of their power & loosen their death grip on our humanity.
Materials
Liberate a flag from a local fascist or corporate store. 100% cotton flags are easiest to light & don't emit toxic fumes like nylon ones. Burning nylon flags also can stick to clothes, skin, and any surface so they are best left to burn on the ground or affixed to a pole.
Lighters and matches are easy to carry. Any source of ignition will do. Road flares or a spray paint with a lighter held up to the nozzle are excellent ways to ensure good & quick ignition.
A flammable accelerant such as lighter fluid is highly recommended. We do not recommend using gasoline as it is extremely volatile. Do not douse the entire flag, just a small section & light away from your body. Most flags will not ignite immediately & can take time to start burning well. If no accelerants are available fold a couple of ends of the flag onto itself & hold your matches or lighter to the material until a good flame starts.
Location
As flag burning is highly symbolic, keep in mind the visual narrative that your location may provide i.e. a monument, a political office, etc. The idea is to maximize the effect of your action, so even significant dates can enhance the overall impact. Be aware of your surroundings to make sure unintended fires are not started ;).
Security
While burning the so-called US flag is considered "protected speech" you may want to consider researching local settler colonial laws.
There are no laws against burning the KKKanadian flag. It is NOT a criminal action, under the Canadian Criminal Code. It is considered a protected form of expression under the "Charter of Rights And Freedoms."

In some instances folx in the "US" have faced charges of "reckless burning." If the burning is held in a "private" area certain security concerns may not be warranted. Perhaps the biggest threats are from fascists & reactionary liberals aka movement police (usually the same thing). Be situationally aware of these possible threats on the ground & online. Serious doxxing of flag burners has occurred in some areas with some of those identified facing death threats & even losing their jobs. Mask up & cover anything that can identify you (tattoos, piercings, hair, etc). Make sure any documentation especially social media can't be used to identify you (don't tag yourself in the pics).
Advanced
American and KKKanadian flags can be ripped into pieces to make Molotov cocktails. Mix one part gasoline to one part motor oil in a glass bottle. Plug with cloth or cap & secure cloth to top by tying, duct tape, etc. Extremely dangerous *for educational purposes only*.
"Decolonize" your flag burning by using a traditional hand drill. Spin a wooden drill against a wood board with your bare hands. Use the ember to start a fire & then hold flag over flames until you achieve ignition.
www.indigenousaction.org
ICWA & Continued Legislation of Indigenous Existence

As many celebrate the defense of ICWA, we also must recognize the colonial violence that has demanded & produced it.
ICWA was passed in 1978 due to the rampant genocidal white christian driven legal practice of taking Indigenous children from their homes and placing them with white christian families. The law was created to resolve a problem colonialism created. The settler colonial state didn't become interested in "keeping Indigenous children with their Tribes" until it was assured that those children would be passively assimilated into its "civilized" order.
Through laws like ICWA, the State continues to legislate and enforce Indigenous existence.
White families stealing Indigenous children should be a non-issue. That any argument for justification for keeping Indigenous children with their peoples is occurring is part of the larger issue of white supremacy, cis-heteronormativity, and Indigenous genocide.
Before ICWA was enacted in 1978:
– 25%–35% of all Native children were being removed from their homes;
– of these, 85% were placed outside of their families and communities—even when fit and willing relatives were available.
– Today, Native families are 4x more likely to have their children removed and placed in foster care than their White counterparts.
(facts from https://www.nicwa.org/about-icwa)
Before 1492 Indigenous children weren't stolen by colonizing predators.
While ICWA is celebrated as an affirmation of Indigenous sovereignty, in actuality it affirms congressional power to regulate commerce (The Commerce Clause) with Indigenous Peoples and plenary power over "Indian affairs." A plenary power or plenary authority is a complete and absolute power to take action on a particular issue, with no limitations.
The legal battle over ICWA erases Indigenous children who are not from federally recognized tribes, border communities, & migrants doesn't address issues of dis-enrollment. Particularly as ICWA specifically "sets federal requirements that apply to state child custody proceedings involving an Indian child who is a member of or eligible for membership in a federally recognized tribe." ICWA reinforces "Indian" citizenship policies that some Tribal governments have used to exclude mixed race descendants. Regardless of ICWA, child theft still occurs within the foster care system, where Indigenous youth still are most likely to end up.
The discourse around ICWA is also inherently cis-heteronormative as it doesn't support queer & two-spirit family formations. ICWA defines Indian child as "any unmarried person who is under age eighteen and is either (a) a member of an Indian tribe or (b) is eligible for membership in an Indian tribe and is the biological child of a member of an Indian tribe…"
What justice can we expect from a colonial system that also maintains anti-Indigenous laws sanctioning desecration of sacred lands and attacks bodily autonomy?
Are our cultures and communities so desperate and broken that we celebrate that colonizers can determine if our children belong with us? The apparent "necessity" of ICWA demonstrates the fallacy of colonial laws and the predatory white supremacist violence that constantly looms outside our homes.
That colonial laws are required to stop white people from outright stealing Indigenous babies is the result of a much deeper systemic problem than laws like ICWA can address.
Many of our families & homes are broken due to colonization, more colonial laws won't fix that.
What are culturally-rooted non-state based solutions to keeping Indigenous children with our families?
www.indigenousaction.org
Get updates via email, sign up here:
Indigenous Action Podcast