Flagstaff Council Unanimously Supports Indigenous Peoples' Day Proposal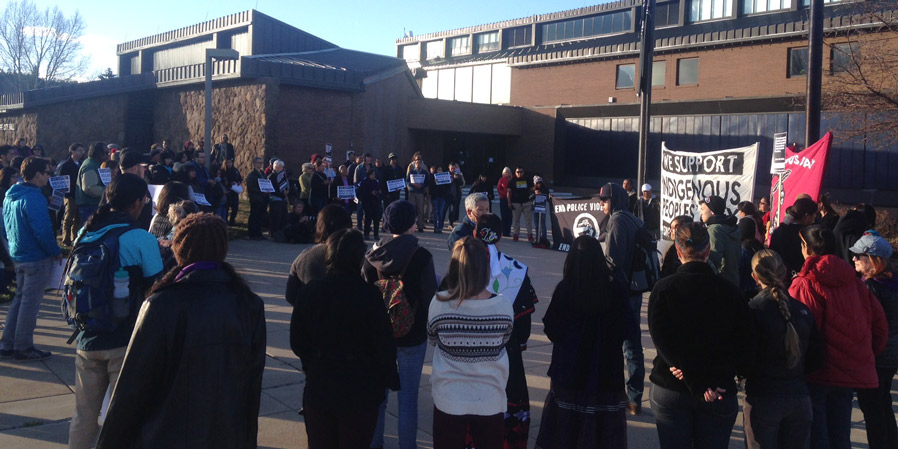 Flagstaff, AZ — More than 100 community members rallied outside Flagstaff City Hall then filled the council chambers to support a proposal for Indigenous Peoples' Day. After hearing strong testimony regarding injustices Indigenous community members face, city council members discussed and unanimously supported the proposal brought forth by council member Eva Putzova.
The proposal includes; reviewing a 2012 memorandum of understanding on race relations the City signed with the Navajo Nation Human Rights Commission, public forums to hear concerns and seek solutions on injustices faced by Indigenous community members, reports and an action plan for policies impacting Indigenous community members. When the process is complete the council will vote on a declaration of Indigenous Peoples' Day to be recognized on the second Monday of every October.
Daisy Purdy, NAU faculty member and student, read a statement signed by more than 230 Flagstaff residents stating, "We… support the proposed process put forth to Flagstaff City council as a necessary and proper beginning by which the City of Flagstaff will work with Indigenous Peoples impacted by Flagstaff City policies to honor Indigenous histories, respect Indigenous contemporary holistic wellbeing, and work intentionally and diligently for the benefit of future generations of Indigenous Peoples. We… insist these changes are systemic, culturally appropriate, transparent, and implemented through policy actions of the Flagstaff City council." stated Purdy on behalf of the signatories.
"Conversations about race, racism, traditions… are never easy, but that does not mean it should be avoided." stated councilmember Coral Evans who compared the challenge to Columbus Day to the removal of the Confederate flag in South Carolina, "What do I think about Indigenous Peoples' Day? Nikki Haley the governor of South Carolina said on June 22 2015, 'this is a moment in which we can say that that flag, while an integral part of our past, does not represent the future of our great state.' I think the same can and should be said of Columbus Day." stated Evans.
Radmilla Cody, renowned recording artist, advocate against gender abuse and violence, and former Miss Navajo, thanked councilmember Eva Putzova for introducing the Indigenous Peoples' Day proposal and stated, "Today, we see the reality Columbus helped to create. We see it here in the border-town of Flagstaff and other border-towns where homelessness, racial profiling, discrimination, racism, and the desecration to sacred sites are clear and evident towards Indigenous people, their lives, intelligence, and lands. By voting on this proposal, you will be on the right side of history and it will be a step towards to having critical discussions in addressing a long history of racism, violence, and the marginalization of Indigenous people." stated Cody.
"Indigenous Peoples' Day is a step toward acknowledgement, acceptance, and healing within our community." stated Lyncia Begay, a lifelong resident of Flagstaff and part of Nihígaal bee Iiná, "Indigenous Peoples' Day is a chance to return and elevate the confidence of Indigenous People living in Flagstaff. Indigenous Peoples' Day allows us to openly acknowledge that non-Indigenous residents are living on occupied Diné territory which allows us the historical reality that respects and honors our ancestral roots as they continue on and represent the burgeoning of our return in a place where our ancestral relatives were massacred and displaced upon Flagstaff's colonization. Something has got to give in a world that tells us we are merely Columbus' fallout." said Begay.
"The complexities that exist within communities are often amplified when concerns go unheard and solutions go unrecognized." stated Adrian Manygoats, Flagstaff resident and Program Coordinator for Native American Business Incubator Network, "The designation of Indigenous Peoples' Day is a positive action being presented by Native American people to shift a celebration of colonialism into an opportunity to reveal historic truths about genocide and oppression of Indigenous people in America. I see this as an opportunity to educate, show support, and to unify this community of Flagstaff. " stated Manygoats.
"After Indigenous Peoples' Day is implemented we cannot forget the continuing struggles within Flagstaff, and surrounding areas." stated Belinda Ayze, Flagstaff resident and student at NAU. "If there are to be changes, the work is ahead for all members of the community."
Flagstaff Police Department's Annual Report from 2014 shows that out of 7,379 total arrests, 45% or 3,044 of them were Native American. According to 2010 Census there are 7,704 Indigenous People residing in Flagstaff.
Last year nearly a dozen cities across the US including the entire state of Alaska renamed Columbus Day "Indigenous Peoples' Day." A partial list of cities that currently celebrate Indigenous Peoples' Day on the second Monday of October:
California: Berkely, Sebastapool, Santa Cruz & San Fernando
Minnesota: Minneapolis, St. Paul & Grand Rapids
New York: Newstead & Akron
Traverse City, MI
Portland, OR
Seattle, WA
Albuquerque, NM
Durango, CO
Carrborro, NC
Belfast, ME
###
Radmilla Cody's full statement:
"Thank you to Councilwoman, Eva Putzova, for introducing the "Indigenous Peoples' Day" proposal to the Flagstaff City Council.
Columbus set a course for the rape of our mother, The Earth. The rape of our land and women are one and the same. Columbus was the first european male on this continent with the backing of state and religious authority to ignore and even encourage the murder and kidnapping of indigenous women, a terribly prolonged legacy that exists to this day as over 3000 missing and murdered indigenous women cases remain unsolved.
Columbus charted a course of hetero-patriarchy sustained and enforced by violence, an illness that we have sadly inherited.
Today, we see the reality Columbus helped to create. We see it here in the border-town of Flagstaff and other border-towns where homelessness, racial profiling, discrimination, racism, and the desecration to sacred sites (to name a few) are clear and evident towards Indigenous people, their lives, intelligence, and lands.
I see it in my work as an advocate against gender abuse and violence on and off our homelands. The generational and psychological trauma continues to poison healthy relationships between each other and the universe.
For Diné people, we have a system of hope and resilience called Siihasin. Siihasin is enforced by the truth, and that truth is we all have love and compassion for each other. We all desire a life to be lived on our terms and with dignity. We must return to this truth because it exists within all of us.
To the councilors of the City Council of Flagstaff, we believe that you will stand with your indigenous friends and neighbors by voting this proposal through to replace Columbus Day with Indigenous Peoples Day. By voting on this proposal, you will be on the right side of history and it will be a step towards to having critical discussions in addressing a long history of racism, violence, and the marginalization of Indigenous people."
Indigenous Action Podcast Episode 17: Decolonization isn't a Holiday
Rejecting Indigenous Peoples' Day of Tokenism

Hosts Klee and Bonn talk with some awesome guests & revisit our 2017 'zine "Uprooting Colonialism: The Limitations of Indigenous Peoples' Day." We dig into the questions, "How do whitewashed celebrations of Indigenous Peoples Day undermine decolonization?" and "What does it mean to be an anti-colonial abolitionist?"
Guests:
Amrah Salomón J. is a writer, artist, activist, and educator of Mexican, O'odham and Tohono O'odham, and European ancestry.
@oodhamantiborder, @defendoodhamjewed, Cashapp: $DefendOodhamJewed, Paypal.me/DefendOodhamJewed, Venmo: @DefendOodhamJewed
Kittie Kuntagion, @kittiekuntagion
Andrew Pedro, @desert.dweller.58 Got tired of seeing disapointing activist bullshit, now focused on music. Organizes metal/punk shows on and of the Rez.
Hosts:
Bonn: @bonnabella.xvx, Venmo: bonnabellaxvx
Klee: @kleebenally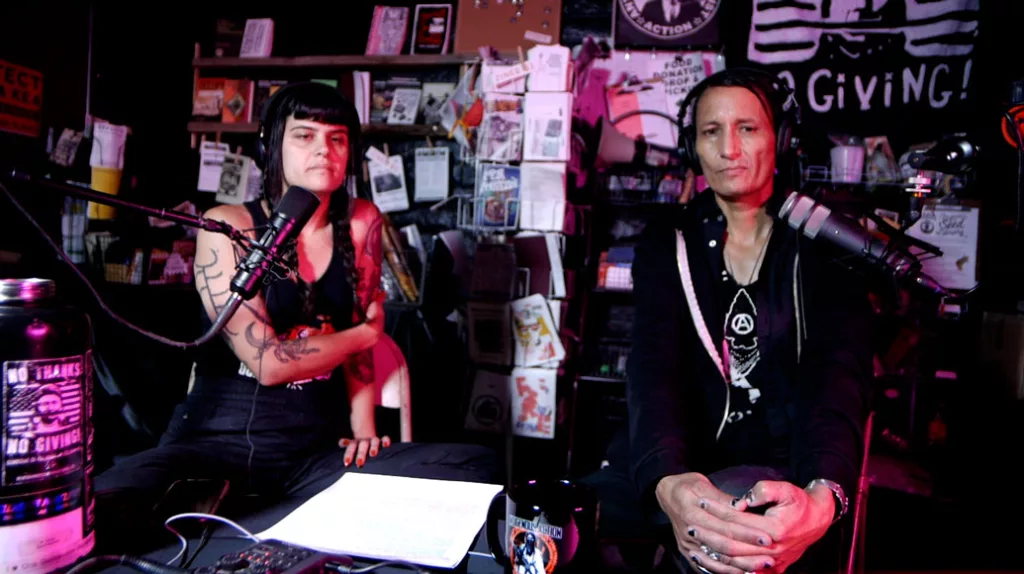 About the podcast: Indigenous Action is an autonomous anti-colonial broadcast with unapologetic and claws-out analysis towards total liberation. We feature radical frontline Indigenous voices and dig deep into critical issues impacting our communities. So take your seat by this fire and may the bridges we burn together, light our way. www.indigenousaction.org/podcast
Email us at IAInfo@protonmail.com.
Subscribe, like, share on iTunes | Spotify, and Youtube.
Read the 'zine here: https://www.indigenousaction.org/uprooting-colonialism-the-limitations-of-indigenous-peoples-day/
From the 2017 'zine: "…if the state dismantles these statues and proclaims Indigenous Peoples' Days, what do we actually achieve if the structures and systems rooted in colonial violence remain intact? Is it merely political posturing or window dressing to diminish liberatory agitations? Our senses are heightened as most re-brandings of Columbus Day into IPD appear to whitewash ongoing colonial legacies… If the goal is for Indigenous autonomy, liberation of the land, people, and other beings, then why plead with our oppressors to merely acknowledge or recognize our existence?…To claim Indigenous Peoples' Day as an act of decolonization is a failure of liberal assimilationists… Symbolically ending Columbus' legacy while continuing to perpetuate and benefit from the violence of the 'doctrine of discovery' is just one more dead-end direction of Indigenous liberalism. If we understand that colonization has always been war, then why are we fighting a battle for recognition and affirmation through colonial power structures?… Indigenous Peoples' Day, as a process of collusion with occupying state forces, risks becoming a colonial patriotic ritual more than anything that amounts to liberation."
Indigenous Resistance Teach-in Oct 13, 2023 
Direct action training, workshop, & panel discussion with Haul No! Protect the Peaks, Indigenous Action, & Louise Benally.
Friday, Oct 13th, 4p-8p
Free (bring a warm clothing/sleeping bag/tent donation for unsheltered relatives).
At Mayan Winds Coffee Emporium
2144 N 4th St. Flagstaff AZ
*Masks required!*
How do whitewashed celebrations of Indigenous Peoples' Day undermine decolonization?
What ways can you directly support regional anti-colonial struggles?
Schedule:
4:00p-5:30p – Direct Action training
5:30p – Haul No! Resisting Nuclear Colonialism workshop
6:15p – Break for food (Provided, w gluten free & vegan options avail.)
6:45p – Panel Discussion: Supporting Regional Indigenous Resistance Struggles
8:30p – end
Celebrate and support ongoing frontline Indigenous resistance struggles!
Indigenous Peoples' Day of Rage 2022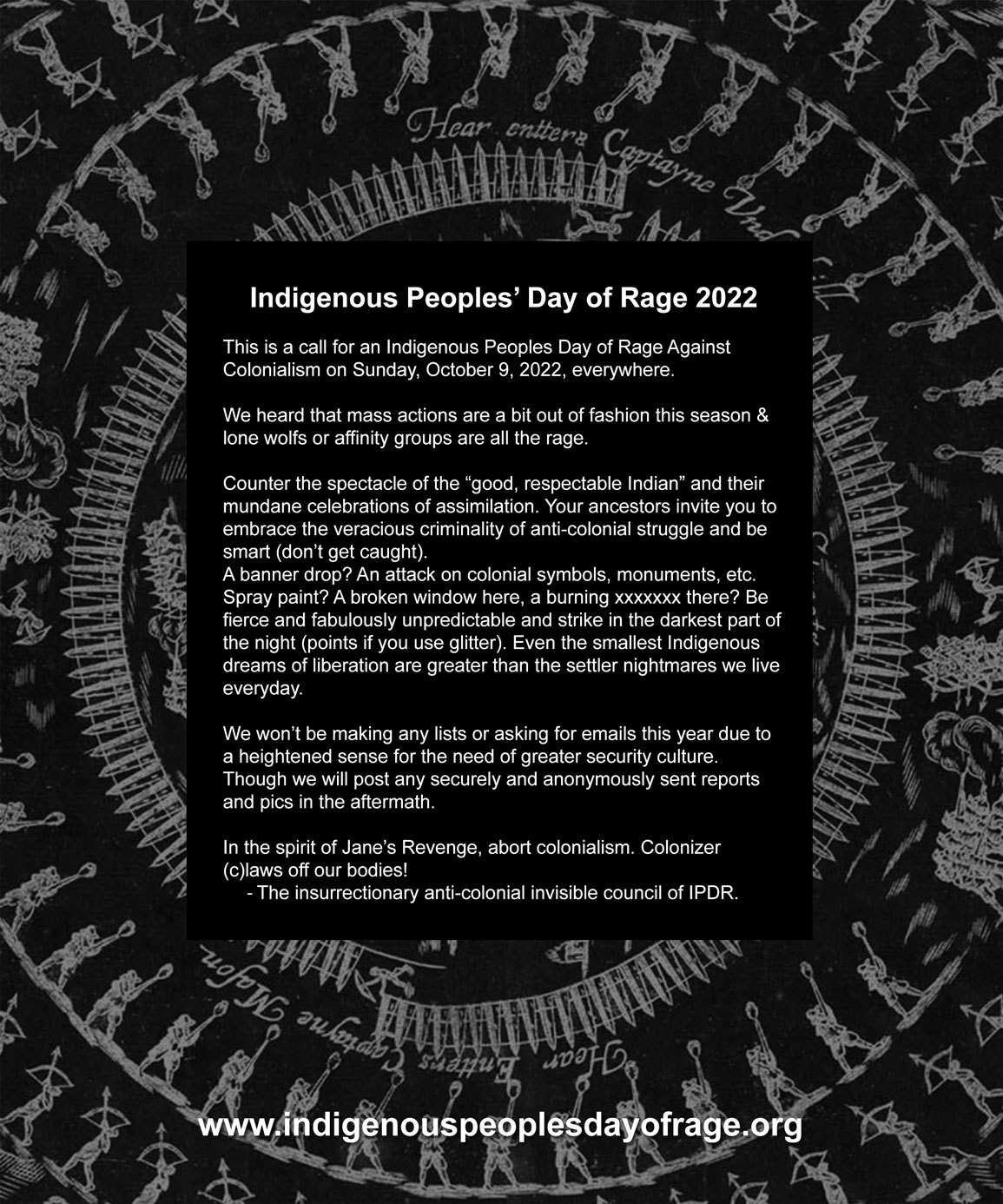 This is a call for an Indigenous Peoples Day of Rage Against Colonialism on Sunday, October 9, 2022, everywhere.
We heard that mass actions are a bit out of fashion this season & lone wolfs or affinity groups are all the rage.
Counter the spectacle of the "good, respectable Indian" and their mundane celebrations of assimilation. Your ancestors invite you to embrace the veracious criminality of anti-colonial struggle and be smart (don't get caught).
A banner drop? An attack on colonial symbols, monuments, etc. Spray paint? A broken window here, a burning xxxxxxx there? Be fierce and fabulously unpredictable and strike in the darkest part of the night (points if you use glitter). Even the smallest Indigenous dreams of liberation are greater than the settler nightmares we live everyday.
We won't be making any lists or asking for emails this year due to a heightened sense for the need of greater security culture. Though we will post any securely and anonymously sent reports and pics in the aftermath.
In the spirit of Jane's Revenge, abort colonialism. Colonizer (c)laws off our bodies!
– The insurrectionary anti-colonial invisible council of IPDR.
https://indigenouspeoplesdayofrage.org/
Get updates via email, sign up here:
Indigenous Action Podcast