Indigenous Activists Disrupt Thanksgiving Parade in Occupied Lenapehoking aka Philadelphia, PA
INDIGENOUS ACTIVISTS DISRUPT THANKSGIVING PARADE, DEMAND TRUTH OF HOLIDAY BE TOLD
Press Contact: IndigenousinPhilly@gmail.com
Image & Video Credit: Marquis Valdez
11/25/2021 – For Immediate Release – Lenapehoking (Philadelphia, PA) – As part of coordinated actions against colonialism led by matriarchs across Turtle Island, Indigenous women & femme activists disrupted the nation's oldest "Thanksgiving" Day parade today, demanding the true story of Thanksgiving be told. Activists interrupted the parade & walked for several blocks wearing red fancy dance shawls with the messages "Land Back," "MMIW," & "No Thanks, No Giving" while chanting "No pride in genocide." Though most spectators were quiet or supportive, a few heckled saying "Go home" and "Get out of Philly." The Indigenous group included members of several tribes from across the so-called Americas, including local Algonquin & Lenape people, the rightful stewards of Lenapehoking, the Lenapes' ancestral homeland that includes Philadelphia & NYC as well as other parts of settler-called Pennsylvania, New Jersey, Delaware, & New York.
The Thanksgiving myth perpetuated in schools across the nation celebrates unidentified "Indians" saving the early European settlers from certain death in the Eastern Coast woodlands. Holiday tables today are graced with foods indigenous to the Eastern Woodlands including turkey, squash, corn, & beans as well as other foods indigenous to the Americas including potatoes & rice. We are presented the story of a peaceful meal to honor friendship & prosperity between colonizers & those being violently colonized. And while there is certainly truth to the generosity of Native peoples, this romanticized version of a holiday feast is far from the colonial violence & genocide that the holiday truly commemorates. In 1637, Pequot elders, children, & families gathered in their villages for their annual Green Corn Dance ceremony, a harvest ceremony commemorated by dancing, feasts, fasting, & religious ceremonies. These sacred celebrations were often targets of colonial violence, as armed settlers used them to launch
attacks against & murder entire family structures. The first Thanksgiving was exactly that, as English & Dutch colonizers from the Massachusetts Bay Colony surrounded a Pequot village & mercilessly murdered over 700 Pequot elders, men, women, children, & two-spirit people, setting their village on fire & shooting anyone who attempted to escape the blazes. The next day, the colony's governor declared a day of thanksgiving to celebrate & thank God for their victory. This was the first Thanksgiving.
It has been 529 years since the invasion of the Tainos, 497 years since the first reported enslavement of a member of the Wampanoag Nation, 384 years since this Pequot massacre, & 158 years since Lincoln declared Thanksgiving a national holiday. Yet to this day Indigenous people across Turtle Island are fighting for their sovereignty including the Lenape continuing to work for recognition within their own homelands; the Anishinaabe & others fighting Line 3; the Carrizo-Comecrudo, Tohono O'odham & others fighting the border wall; and Indigenous & Afro-Indigenous people from Central & South America, the Caribbean, Africa & more held in US detention centers & terrorized by US police & military. Today we demand the true colonial history of the United States be told, including Thanksgiving.
Quotes: "Thanksgiving is bittersweet. On the one hand it is the modern continuation of a very ancient time of fellowship & community. On the other hand, the whitewashed & Eurocentric version of Thanksgiving that we're given with our pilgrim hats & our Indian headdresses is insulting not just to this longstanding cultural tradition, but to the memories & the spirits of the people who were murdered by colonizers who wanted their land & wanted their resources." – Kate Thorn, Lenape/Seneca
"We are taking a stand because our genocide never stopped. They still poison our water, food, & air. They still steal our children & imprison our parents in jails & detention centers. They pump drugs into our homes & blame us for the epidemics. They stop us from moving freely in our lands. They erase us from the collective minds & consciousness, killing our memories when they cannot kill us. Colonizers are further erasing the history through renaming their holidays but not changing their participation in the settler-colonial project called the United States. The only true celebration of Native people will come when the US is abolished & we are free." – Felicia Teter, Yakama
O'odham Executed by Border Patrol: Statement by Raymond Mattia Family
Raymond Mattia of the Tohono O'odham Nation was executed by US border patrol agents on May 18th at his home. He was reportedly shot 38 times.

A peaceful gathering to support all victims of the
unmonitored violent actions of the Border Patrol and other agencies will be held at The Border
Patrol Station in Why, Az, and Tucson on Golf Links Road this Saturday, May 27th, from
10:00am-Noon.
For more information please visit: https://bsnorrell.blogspot.com/2023/05/us-border-patrol-shoots-tohono-oodham.html

Statement by Mattia Raymond's family:
We have been trying to find the strength to write this statement. This tragedy is so
grievous because it is apparent what had happened. Raymond called for help and, in turn, was
shot down at his doorstep. Raymond's rights were violated by the authorities whom we trust to
protect our Nation. Improper and unprofessional actions of the agencies involved were witnessed
by family members present near the crime scene. Loved ones sat in agony, not knowing of
Raymond's condition until they were told that he had passed hours later. Raymond lay in front of
his home for seven hours before a coroner from Tucson arrived.
In our eyes and hearts, we believe that Raymond was approached with excessive and
deadly force that took his life. He was a father, brother, uncle, friend, and an involved
community member. Raymond always fought for what was right, and he will continue to fight
even after his death. This is not an isolated incident, but it should bring awareness of the
oppression our people live through.
We want to thank so many of you for your condolences and support. A GoFundMe for
defense funds will be available soon. A peaceful gathering to support all victims of the
unmonitored violent actions of the Border Patrol and other agencies will be held at The Border Patrol Station in Why, Az, and Tucson on Golf Links Road this Saturday, May 27th, from 10:00am-Noon.
Contact for support: justiceforraymattia@gmail.com
Xenophobic Title 42 Ends, Biden's Immigration Reform Nowhere to Be Found
Indigenous Action recently supported @abolition.yumacounty (on Instagram) at the "US-Mexico" border. They are a crew of radical femme and queer folks who provide essential supplies to Indigenous people and other asylum seekers who are kept in holding with nothing but what they walked up to thousands of miles with. They also offer confidential pregnancy release support. Please $$$upport and volunteer if you're in the "Yuma" area. Venmo: @ycabolition, Cash App: @YumaCountyAbolition
With Title 42 ending on May 11th, (a xenophobic policy that gave the government power to rapidly expel any migrant, without giving them a chance to make a case for crossing legally, including to seek asylum), Biden has made no attempt at immigration reform as he promised on the campaign trail, "I can only imagine what it's like to see someone in your family deported. To me it's all about family. Beginning, middle and end. That's not going to happen in my administration. The idea you can't even seek asylum on American soil. When did that happen? Trump. It's wrong."
These policies are well within Biden's power to remedy, and yet, HE HASN'T. He's had 2 years to prepare for the ending of Title 42 to introduce new policies that he claimed "offer hope and a safe haven to refugees."
What we're seeing now at the border is heinous. Shelters and detention centers at and near capacity. Hundreds of people turned away every day. Just last month, a fire at a detention center killed 40 people.
In 2022, more than 890 migrants died in border crossings, and that is only of the deaths that have been reported. To paint an even broader picture, since 2021, there have been 13,480 reports of murder, torture, kidnapping, rape and other violent attacks on migrants and asylum seekers blocked or expelled to Mexico under Title 42.
The time is now to stand up against xenophobia. Let us be free to roam and free to rage wherever we please!
The Intercept and Grist begin release of 50,000 TigerSwan spy documents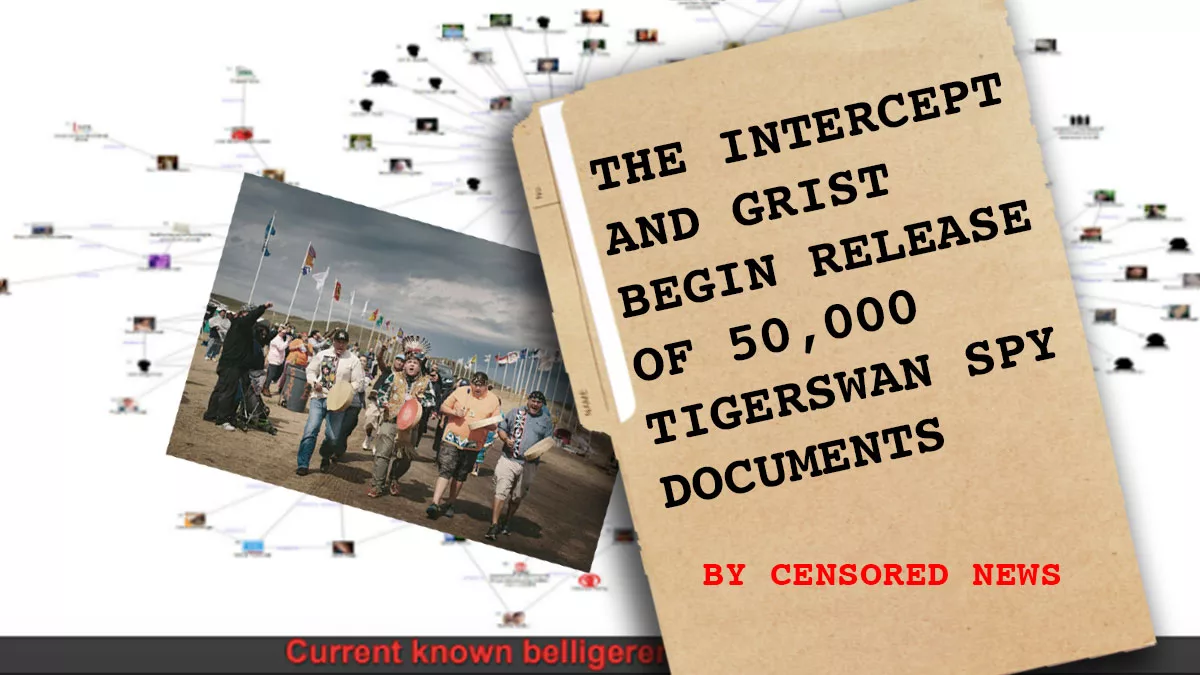 Article by Brenda Norrell, Censored News
Reprinted with permission.
April 14, 2023
Facebook: https://www.facebook.com/profile.php?id=100075796248532
The Intercept and Grist began releasing new TigerSwan spy documents in new coverage of the mercenaries hired by the Dakota Access Pipeline. They now have 50,000 TigerSwan spy documents, and another 9,000 are held up in the court battle for now. The documents reveal TigerSwan spying on Water Protectors at Standing Rock in North Dakota, Bold Iowa, and at other locations.
Reporters Alleen Brown and Naveena Sadasivam expose the new spy documents in their article, After Spying on Standing Rock, TigerSwan Shopped Anti-Protest 'Countinsurgency' to Other Oil Companies.
The article follows an expensive court battle by The Intercept seeking the release of the documents. The North Dakota Supreme Court ordered the release after TigerSwan was found operating without a license in North Dakota.
"The released documents provide startling new details about how TigerSwan used social media monitoring, aerial surveillance, radio eavesdropping, undercover personnel, and subscription-based records databases to build watchlists and dossiers on Indigenous activists and environmental organizations," The Intercept writes. Read the article at The Intercept: https://theintercept.com/2023/04/13/standing-rock-tigerswan-protests/
Paiute journalist, drone activist and filmmaker Myron Dewey was among those that TigerSwan spied on and stalked at Standing Rock 2016-2017, as revealed in the new documents that were ordered released by the court.
On Tuesday, the driver that killed Myron Dewey on an isolated road near his family's home in Yomba, Nevada, entered a surprise plea bargain deal that was cut with a new prosecutor assigned to the case in Nye County, Nevada. John Walsh pleaded guilty to the lesser charge of vehicular manslaughter.
This TigerSwan spy document, showing TigerSwan stalking Myron Dewey and Prolific the Rapper at Standing Rock on Dec. 17, 2016, is from the new documents at The Intercept. Document link: https://www.documentcloud.org/documents/23773105-tigerswan-document-daily-intelligence-update-20161217
Below: From the TigerSwan spy files just released: The power of the global movement, with its heart in Standing Rock.
Below: The first flood of documents show how rattled DAPL was over the involvement of celebrities, the Standing Rock Chairman at the United Nations, Bernie Sanders, the Palestinian flag flying, and big orgs. The doc is from a pitch that TigerSwan made for more work, hustling another pipeline to spy on resistance.
Above: TigerSwan spy file at Bold Iowa. The mercenaries hired by the Dakota Access Pipeline called Bold Iowa Water Protectors "belligerents." Document link:
TigerSwan spied on, and stalked the media, including Paiute journalist Myron Dewey, Amy Goodman at Democracy Now, and myself, publisher of Censored News, as revealed in the newly released documents by The Intercept and Grist. TigerSwan used its surveillance on the media in its pitches for more spy work to other oil and pipeline companies.
TigerSwan turned its surveillance at Standing Rock into a potential money maker, using it for powerpoints in its pitches to other oil and pipeline companies for spy work.
T
TigerSwan even stalked the United Nations Commission on Human Rights, in its high-stakes spying for dollars.
TigerSwan's Opposition Model, shown below, was used as a potential maker in PowerPoints to other oil and pipeline companies.
The Intercept described the battle for these documents.
"A discovery request filed as part of the case forced thousands of new internal TigerSwan documents into the public record. Energy Transfer's lawyers fought for nearly two years to keep the documents secret, until North Dakota's Supreme Court ruled in 2022 that the material falls under the state's open records statute," The Intercept said.
"Because an arrangement between North Dakota and Energy Transfer allows the fossil fuel company to weigh in on which documents should be redacted, the state has yet to release over 9,000 disputed pages containing material that Energy Transfer is, for now at least, fighting to keep out of the public eye."
TigerSwan spy documents on Water Protectors
Note: The documents show that TigerSwan spied on Censored News, as shown in today's article at The Intercept.
Get updates via email, sign up here:
Indigenous Action Podcast