NEWS RELEASE: Navajo & Hopi Families Relief Fund Builds Movement in Response to Covid-19 Pandemic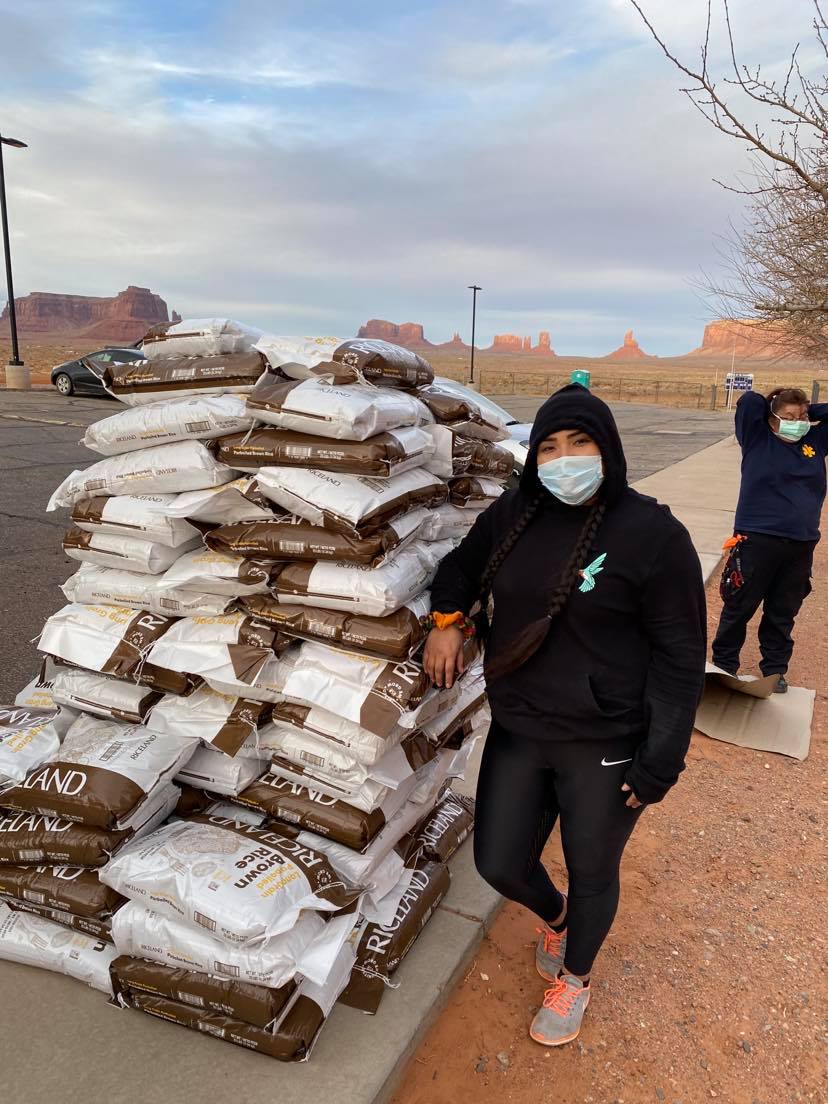 FOR IMMEDIATE RELEASE
April 8, 2020
Cassandra Begay
Email: navahopicovid.smedia@gmail.com
www.navajohopisolidarity.org
Navajo & Hopi Families Relief Fund Builds Movement in Response to Covid-19 Pandemic
Note to editors: High resolution photos and video available
TSIIZIZII, DINÉTAH (LEUPP, NAVAJO NATION/ARIZONA) — In response to the escalating health crisis facing Diné (Navajo) and Hopi communities in Northern Arizona, Southern Utah, and New Mexico, the Navajo & Hopi Families COVID-19 Relief Fund has mobilized volunteer emergency food and water distribution throughout the region.
"It is so amazing to see our communities come together and respond proactively to the threat of coronavirus and COVID-19 on the Navajo and Hopi reservations." said Ethel Branch, former Navajo Nation Attorney General and founder of the Relief Fund. "I thought this would make just a small impact, but the great love and care that the public has for our communities, and their sense of justice to correct the inequities that exist in Indigenous communities has morphed this effort into a movement."
On March 15, 2020, Ethel organized a GoFundMe campaign to provide relief for Diné and Hopi families impacted by the COVID-19 virus. Within 22 days, the campaign has raised more than $400,000. 

"In just a few weeks we have managed to build a massive collaborative effort bringing together Diné and Hopi professionals, grassroots organizers and concerned community members to build the social net our communities have always deserved but have been denied because of treaty violations and on-going systemic injustices that make our communities extremely vulnerable to this pandemic" said Janene Yazzie, team lead in New Mexico for the Navajo-Hopi COVID-19 Relief Fund, "We have the expertise to build the solutions most meaningful for our people."
The GoFundMe campaign's mission is to "help the elderly (especially those raising their grandchildren), the immunocompromised and mobility impaired, single parents, and struggling families by helping them buy groceries, water, health supplies, and necessary items so they (and their vulnerable communities) can be protected from exposure to the virus by engaging volunteers to make these purchases and deliver them to a safe transfer location for those in need. We are also helping to stop the spread of COVID-19 on these reservations by engaging volunteers to sew masks for medical workers and first responders on Navajo and Hopi."

Since the campaign launched, the Relief Fund has received more than 4,500 requests for support and mobilized numerous volunteers to provide direct relief to over 850 families in over 21 communities, including Chilchinbeto, Hard Rock, Forest Lake, Kayenta, the Village of Bacavi, the Village of Oraibi, Oljato, Monument Valley, Tuba City, the Village of Upper Moencopi, the Village of Lower Moencopi, Dilcon, and Fort Defiance.
"Volunteers with the Navajo Hopi Covid 19 Relief effort are doing a great job responding to the crisis with resources raised from everyday people," states Lillian Hill, Hopi Indigenous Food Advocate and Community Organizer, "Our Native American communities face unique and substantial disparities that put our communities at extra risk. I'm humbled to assist as a volunteer in this effort as a way to offer mutual aid to my community."
COVID-19 CRISIS IN THE SOUTHWEST
Confirmed COVID-19 cases on the Navajo Nation are already growing at an exponential rate, nearly doubling by the day. As of April 7th there are currently 425 cases of COVID-19 and 17 confirmed deaths on the Navajo Nation, which has an on-reservation population of more than 180,000. During a town hall streamed on Facebook Navajo Nation president Johnathan Nez stated, "We feel that the United States government once again has ignored or even left out the first residents, the first people, the first citizens of this country: Indigenous people."  The Navajo Nation has projected that cases will peak by mid-May.
The Navajo Nation has been very proactive in responding to COVID-19.  On March 11th, two days before President Trump, the Navajo Nation declared a state of Emergency as a proactive measure. On March 17th, the first case of COVID-19 was confirmed on the reservation. On the 18th the Nation closed itself to visitors. On March 20, the Nation issued a shelter-in-place order for everyone living on the reservation and imposed a curfew 10 days later. On March 23rd, the Hopi Tribe halted all tourism through its lands and reported its first known case on March 26th.
A CRITICAL NEED
Due to a host of systemic issues, tribal communities such as Navajo and Hopi are critically at risk during the COVID-19 pandemic. The CDC warns that older adults and those with underlying health conditions, such as diabetes and heart disease, are more likely to be severely impacted by COVID-19. These tribal communities have high numbers of elderly, diabetic, asthmatic, and cancer-afflicted individuals, putting them at a substantially elevated risk of requiring hospitalization for COVID-19. The Navajo Nation has 12 Indian Health Service facilities with a total of 170 hospital beds, 13 ICU beds, 52 isolation rooms, and 28 ventilators. Given the circumstances, the few medical facilities and resources on the Nation are likely to be severely overwhelmed in a short amount of time. As such, it is essential for the on-reservation community to stay at home to slow the spread of the virus.
Orders to "shelter in place" and remain at home, however, are exacerbating systematic social issues and placing additional strain on already under-resourced communities. The Navajo Nation and Hopi Reservation are extreme food deserts with only 16 grocery stores and small food markets that serve nearly 200,000 people.
A third of the people living on the Navajo Nation do not have electricity in their homes. Another third of the Nation's residents do not have running water in their homes.  Three of the twelve Hopi Villages largely do not have running water or electricity.  Economic opportunities on these reservations are scarce.  Thirty-eight percent of Navajo community members live in poverty and the Navajo Nation has approximately 50 percent unemployment.  Hopi has about 60 percent unemployment.
A MESSAGE OF HOPE
"I know these are difficult times. But let's remember we are never alone," said Cassandra Begay, Communications Lead with the Navajo & Hopi Families COVID-19 Relief Fund, "Let's remember the important relationships we have that are always with us: the relationship below our feet. The relationship with our heart. The relationship between our breath and our Mother Earth's breath. And finally remember, this is an opportunity to be grateful for many things."
Vanessa Tullie, the team's Buyer and Volunteer Coordinator, noted that "As this virus continues to spread across our Navajo and Hopi communities, compassion and care from volunteers will help relieve some of the disparities we are facing.  We are strong, resilient, and powerful and so long as we work together and stay safe, we will make it through this pandemic."
Please visit our website to donate and for additional resources including volunteer & support request forms: www.navajohopisolidarity.org.
Diné and Hopi residents can also call toll-free to request support: 1-833-956-1554.
###
Ox Sam Camp Update: Land Defenders Arrested, Camp Raided After Blocking Excavator
From www.oxsam.org (follow for more updates).

Read the new press release from 6/8/23 here: https://www.indigenousaction.org/ox-sam-camp-raid-update-one-arrested-as-prayer-tipis-are-bulldozed-and-ceremonial-items-confiscated/
6/7/23
First arrests are underway and camp is being raided after land defenders halted an excavator this morning at Thacker Pass.
OROVADA, NV — This morning, a group of Native American water protectors and allies used their bodies to non-violently block construction of the controversial Thacker Pass lithium mine in Nevada, turning back bulldozers and heavy equipment.
The dramatic scene unfolded this morning as workers attempting to dig trenches near Sentinel Rock were turned back by land defenders who ran and put their bodies between heavy equipment and the land.
Now they are being arrested and camp is being raided.
Northern Paiute and Western Shoshone people consider Thacker Pass to be sacred. So when they learned that the area was slated to become the biggest open-pit lithium mine in North America, they filed lawsuits, organized rallies, spoke at regulatory hearings, and organized in the community. But despite all efforts over the last three years, construction of the mine began in March.
That's what led Native American elders, friends and family, water protectors, and their allies to establish what they call a "prayer camp and ceremonial fire" at Thacker Pass on May 11th, when they setup a tipi at dawn blocking construction of a water pipeline for the mine. A second tipi was erected several days later two miles east, where Lithium Nevada's construction is defacing Sentinel Rock, one of their most important sacred sites.
Sentinel Rock is integral to many Nevada Tribes' worldview and ceremony. The area was the site of two massacres of Paiute and Shoshone people. The first was an inter-tribal conflict that gave the area it's Paiute name: Peehee Mu'huh, or rotten moon. The second was a surprise attack by the US Cavalry on September 12th, 1865, during which the US Army slaughtered dozens. One of the only survivors of the attack was a man named Ox Sam. It is some of Ox Sam's descendants, the Grandmas, that formed Ox Sam Newe Momokonee Nokotun (Indigenous Women's Camp) to protect this sacred land for the unborn, to honor and protect the remains of their ancestors, and to conduct ceremonies. Water protectors have been on-site in prayer for nearly a month.
On Monday, Lithium Nevada Corporation also attempted to breach the space occupied by the water protectors. As workers maneuvered trenching equipment into a valley between the two tipis, water protectors approached the attempted work site and peacefully forced workers and their excavator to back up and leave the area. According to one anonymous land defender, Lithium Nevada's action was "an attempted show of force to fully do away with our tipi and prayer camp around Sentinel Rock."
Ranchers, recreationists, and members of the public have been allowed to pass without incident and water protectors maintain friendly relationships with locals. Opposition to the mine is widespread in the area, and despite repeated warnings from the local Sheriff, there have been no arrests. Four people, including Dorece Sam Antonio of the Fort McDermitt Paiute-Shoshone Tribe (an Ox sam descendant) and Max Wilbert of Protect Thacker Pass, have been targeted by court orders barring them from the area. They await a court hearing in Humboldt County Justice Court.
"Lithium Nevada is fencing around the sacred site Sentinel Rock to disrupt our access and yesterday was an escalation to justify removal of our peaceful prayer camps," said one anonymous water protector at Ox Sam Camp. "Lithium Nevada intends to desecrate and bulldoze the remains of the ancestors here. We are calling out to all water protectors, land defenders, attorneys, human rights experts, and representatives of Tribal Nations to come and stand with us."
"I'm being threatened with arrest for protecting the graves of my ancestors," says Dorece Sam Antonio. "My great-great Grandfather Ox Sam was one of the survivors of the 1865 Thacker Pass massacre that took place here. His family was killed right here as they ran away from the U.S. Army. They were never buried. They're still here. And now these bulldozers are tearing up this place."
Another spiritual leader on the front lines has been Dean Barlese, a spiritual leader from the Pyramid Lake Paiute Tribe. Despite being confined to a wheelchair, Barlese led prayers at the site on April 25th (shutting down construction for a day) and returned on May 11th.
"I'm asking people to come to Peehee Mu'huh," Barlese said. "We need more prayerful people. I'm here because I have connections to these places. My great-great-great grandfathers fought and shed blood in these lands. We're defending the sacred. Water is sacred. Without water, there is no life. And one day, you'll find out you can't eat money."
The 1865 Thacker Pass massacre is well documented in historical sources, books, newspapers, and oral histories. Despite the evidence but unsurprisingly, the Federal Government has not protected Thacker Pass or even slowed construction of the mine to allow for consultation to take place with Tribes. In late February, the Federal Government recognized tribal arguments that Thacker Pass is a "Traditional Cultural District" eligible for the National Register of Historic Places. But that didn't stop construction from commencing.
"This is not a protest, it's a prayer," said Barlese. "But they're still scared of me. They're scared of all of us elders, because they know we're right and they're wrong."
O'odham Executed by Border Patrol: Statement by Raymond Mattia Family
Raymond Mattia of the Tohono O'odham Nation was executed by US border patrol agents on May 18th at his home. He was reportedly shot 38 times.

A peaceful gathering to support all victims of the
unmonitored violent actions of the Border Patrol and other agencies will be held at The Border
Patrol Station in Why, Az, and Tucson on Golf Links Road this Saturday, May 27th, from
10:00am-Noon.
For more information please visit: https://bsnorrell.blogspot.com/2023/05/us-border-patrol-shoots-tohono-oodham.html

Statement by Mattia Raymond's family:
We have been trying to find the strength to write this statement. This tragedy is so
grievous because it is apparent what had happened. Raymond called for help and, in turn, was
shot down at his doorstep. Raymond's rights were violated by the authorities whom we trust to
protect our Nation. Improper and unprofessional actions of the agencies involved were witnessed
by family members present near the crime scene. Loved ones sat in agony, not knowing of
Raymond's condition until they were told that he had passed hours later. Raymond lay in front of
his home for seven hours before a coroner from Tucson arrived.
In our eyes and hearts, we believe that Raymond was approached with excessive and
deadly force that took his life. He was a father, brother, uncle, friend, and an involved
community member. Raymond always fought for what was right, and he will continue to fight
even after his death. This is not an isolated incident, but it should bring awareness of the
oppression our people live through.
We want to thank so many of you for your condolences and support. A GoFundMe for
defense funds will be available soon. A peaceful gathering to support all victims of the
unmonitored violent actions of the Border Patrol and other agencies will be held at The Border Patrol Station in Why, Az, and Tucson on Golf Links Road this Saturday, May 27th, from 10:00am-Noon.
Contact for support: justiceforraymattia@gmail.com
ALERT: Imminent Uranium Mining Threat at Grand Canyon – Haul No!
Underground blasting & above ground work has begun at Pinyon Plain/Canyon Mine, just miles from the Grand Canyon.
Workers are readying to start mining uranium at the mine. According to the Forest Service, workers are blasting daily though no ore is being moved yet. Once Energy Fuels starts hauling out radioactive ore, they plan to haul 30 tons per day through Northern Arizona to the company's processing mill 300 miles away.
The Grand Canyon, sacred site Red Butte, precious water, and communities along the haul route are in danger!
As all legal options have failed, we need you to join us to stand up and stop this nuclear catastrophe from permanently poisoning our communities!
Join our telegram channel to connect for actions and support: https://t.me/haulno
For more info & to donate for legal defense: www.haulno.com
Pinyon Plain/Canyon Mine Haul Route Facts:
* Total distance of 300 miles.
* 12 trucks with capacity to haul up to 30 tons of highly radioactive ore per day.
* Truck loads to be covered with thin tarps, the only shielding from uranium and only protection from environmental contamination.
* Proposed route will go through high population areas such as Valle, Williams, and Flagstaff; as well as through rural Navajo reservation communities including Cameron, Tuba City, and Kayenta; near the Hopi reservation, and finally arrive at Energy Fuel's White Mesa Mill only three miles from the Ute Mountain Ute tribal community of White Mesa, Utah.
#haulno #stoppinyonplainmine
#nonukes
#dontnukethegrandcanyon
Get updates via email, sign up here:
Indigenous Action Podcast