Ep. 9: Against Colonial Logics: Rethinking Resistance to Resource Extraction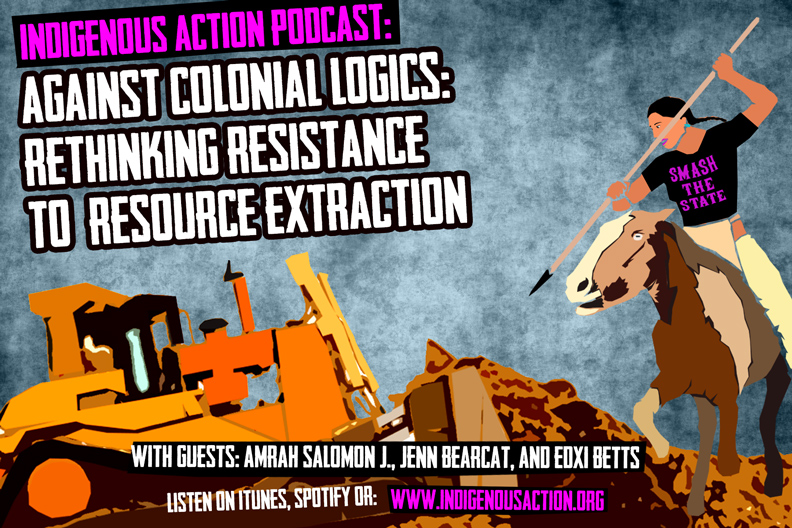 Many Indigenous frontline resistance struggles are wrought with strategies and tactics that reinforce colonial logics. From resource extraction resistances, "honoring" treaties, green capitalism, and Indigenous non-profit capitalists, how do we identify, challenge, and go beyond these issues so we can more effectively fight for liberation?
In this show we hear from Bearcat reporting from the frontlines of the Treaty People Gathering and powerful perspectives from Amrah and edxi about their frontline experiences and analysis. As always, claws out!
Guests:
edxi betts is an Afro Blackfeet Indigenous trans feminine Pinay multi media insurrectionary artist & organizer. Her work entails political education while providing material support to oppressed & colonized communities. Creating art/media for the sake of propagating resistance culture, counter narrative and collective liberatory projects that spark discourse, sources of healing, critical thought, dialogue, and direct action. More info & support: www.linktr.ee/bettsurevolt
Amrah Salomón J. is a writer, artist, activist, and educator of Mexican, O'odham and Tohono O'odham, and European ancestry.
@oodhamantiborder
@defendoodhamjewed
Cashapp: $DefendOodhamJewed
Paypal.me/DefendOodhamJewed
Venmo: @DefendOodhamJewed
Jenn Bearcat (she/her): Newe-Numa (Tosa Wihi) from Doka Badee, so-called Northern Nevada currently residing in Albuquerque, NM. She's a 3rd generation land defender with a healthy respect for a diversity of tactics and a healthy distrust of the state. She contributes to a network of organizers and frontline defenders confronting issues surrounding colonization.
Host:
Klee – Instagram: @kleebenally
About the podcast:
Welcome to Indigenous Action where we dig deep into critical issues impacting our communities throughout Occupied America/Turtle Island. This is an autonomous anti-colonial broadcast with unapologetic and claws-out analysis towards total liberation. So take your seat by this fire and may the bridges we burn together, light our way.
Subscribe, like, share on iTunes, Spotify, and Google Play. Check us out on the channelzeronetwork.com.
Email us at IAInfo@protonmail.com.
Support Needed to Get Indigenous Action to Bash Back!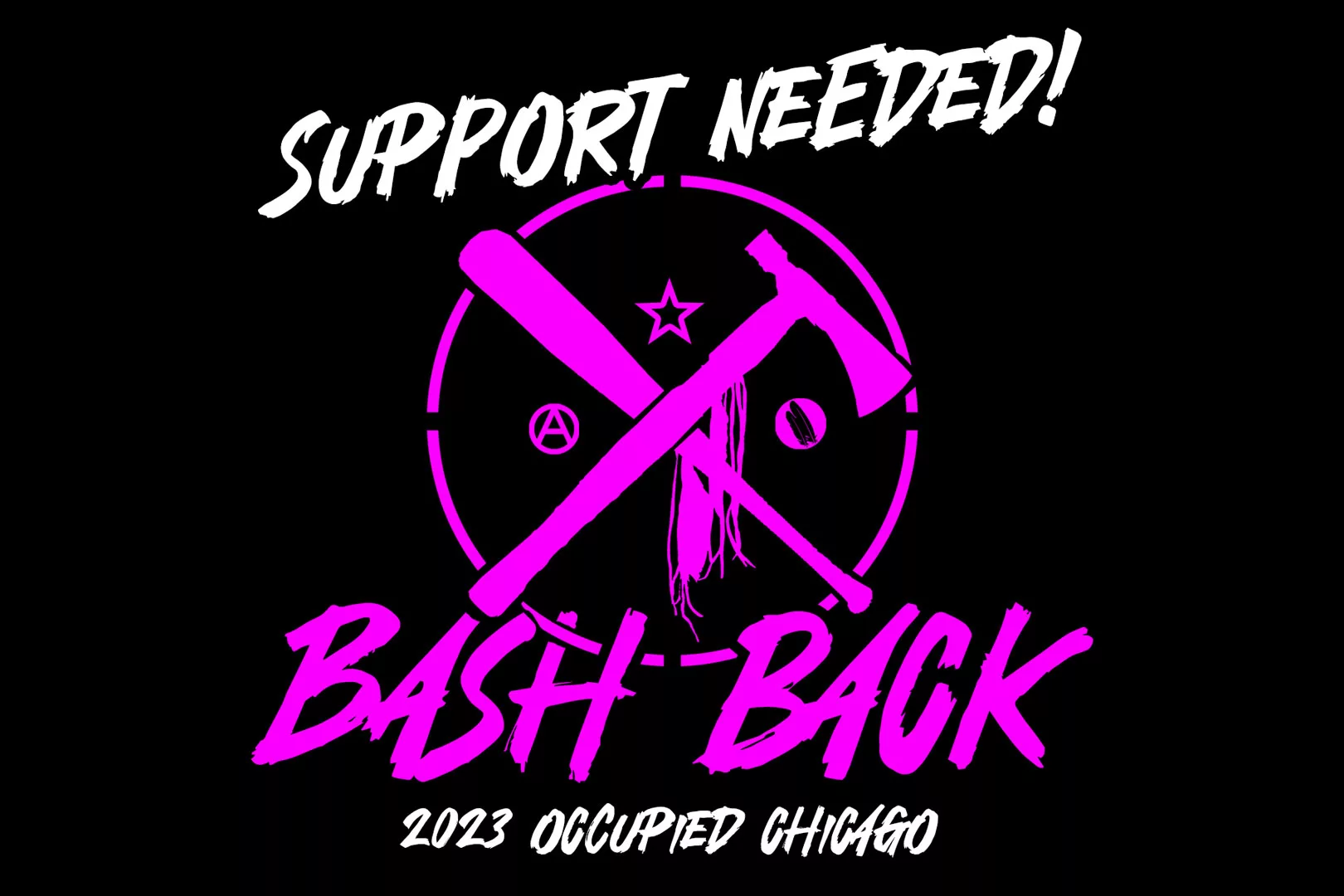 Support a queer contingent of @IndigenousAction attend and provide workshops at this year's Bash Back! Convergence in occupied Chicago.
Funds are needed for travel, food and printing resources and 'zines.
Venmo, Cashapp, Paypal: IndigenousActionBB

It is so important to bring queer, anti-colonial analysis to this space to connect, share, tear down and attack! We can't wait to get there and we need your help!


Press Release: Announcing Burn the Fort, a Diné Designed Board Game of Indigenous Resistance
For Immediate Release
July 26, 2023
Contact:
Klee Benally
indigenousaction@gmail.com
www.burnthefort.com
Announcing Burn the Fort, a Diné Designed Board Game of Indigenous Resistance
Crowdfunding campaign is live on Gamefound
Occupied Kinłani (Flagstaff, AZ) — A new independent board game featuring Indigenous resistance is now crowdfunding to cover manufacturing costs. Burn the Fort is a semi-cooperative game designed by Diné artist, musician, filmmaker, organizer, and author Klee Benally.
In Burn the Fort, colonizers have built a military fortress and are invading your lands. 2-4 players each take the role of a different historic warrior fighting to stop the invasion. Players must prevent wagons from bringing supplies to the fort and burn it to the ground before the train, which acts as a game timer, reaches the Golden Spike. Players can choose how much they wish to work together while taking turns playing cards, trading, battling wagons, and gathering necessary tokens to win the game. With each wagon that reaches the fort the train moves forward, and if it reaches the Golden Spike everyone loses.
Components and cards are steeped in history with facts, trivia, and bios of historic Indigenous warriors, the game also uses traditional Diné Stick dice.

"I wanted to design a game that felt familiar to those who grew up playing board games, but one that was also familiar to those who grew up playing traditional cultural games," says Klee Benally, the artist and designer of the game, "Some of the game mechanics may feel contradictory and I wanted to embrace that dynamic. It's my first game so I'm sure I've made mistakes, but from the artwork to the gameplay, every aspect of the design is very intentional."
"Games can be powerful storytelling and teaching tools" says Benally. "Indigenous Peoples have played games rooted in ceremony since time immemorial. I've always loved table top games, but I never found one that I personally connected to. Indigenous Peoples and resistance are more often portrayed as threats to the heroic settler colonizers or when we're the occasional protagonist, we are either victims or grossly romanticized" Benally explains.
Benally continues, "Nearly every game available on the shelf today is rooted in colonialism and resource exploitation, I wanted to offer an alternative and challenge those narratives. This game focuses on the time period of the so-called 'Indian wars' to explore the history and offer an engaging and fun way of deepening our understandings of those times. History is an ongoing conflict of narratives, the history written by colonizers is obviously going to be very different than the narratives and accounts of those who have resisted colonization. For some people this will be just another table top game, for others, and this is my intention, it can be one small way to engage and build cultures of resistance and liberation".
The game has been in development for six years but Benally took a break during the pandemic to focus on organizing with Kinłani Mutual Aid. 

Benally says, "After the beginning of pandemic, as people were forced to stay at home due to the severity of the virus, there was also a renewed interest in board games. As I was making deliveries and coordinating supplies, I really was motivated to focus on the game as an alternative for people instead of just watching TV. Additionally, I have to express gratitude for this project to Ariel Celeste and Jacob, without their critical input this game would not be what it is. I am also forever grateful to my supporters on Patreon and all the play testers who made this game possible."
Burn the Fort is now on Gamefound, a premiere crowdfunding site for board games, where 70% of its goal was raised in just three days. If the campaign reaches its "stretch goal," Benally will use additional funds to distribute free copies to Indigenous community groups and schools. Eventually Benally intends to create a complementary lesson plan exploring the theme of the game that can be taught in schools.
Burn the Fort is now available as a crowdfunding reward for a pledge of $40. The crowdfunding campaign ends on August 22nd, 2023. After the crowdfunding campaign is complete it will be available sometime in the fall online and in select stores at a retail price of $45. You can view and support the campaign here: https://gamefound.com/projects/indigenousaction/burn-the-fort
Burn the Fort is for 2 – 4 players, ages 14 and older and takes approximately 60-90 minutes to play. It includes 5 game board pieces, 6 player cards, 1 Fort point tracker, 69 Draw cards, 40 Colonizer cards, 6 Victory cards, 5 US General tokens, 4 Reference cards, 48 Fire tokens, 40 Wagon tokens, 12 Arrowhead tokens, 4 Alliance tokens, 1 Colonizer token, 1 Wooden train token, 1 Arrowhead token bag, 3 Wooden Stick dice, 2 Colonizer dice, and 1 twenty-two page game guide.
For more information visit: www.burnthefort.com.

About the publisher
Indigenous Action (IA/originally Indigenous Action Media) was founded on August 25th, 2001 to provide strategic communications and direct action support for Indigenous sacred lands defense. We are a radical autonomous crew of anti-colonial & anti-capitalist Indigenous media makers, designers, artists, writers & agitators that work together on a project by project basis for liberation for Mother Earth and all her beings. www.indigenousaction.org
###
A quick & dirty review of the movie Oppenheimer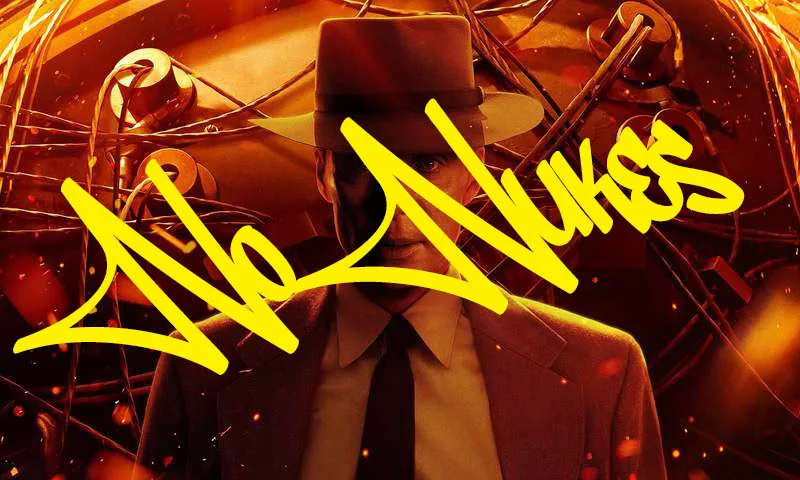 We watched this movie after arguing with social media pro-nuke apologists who accused us of being ill-informed as not having viewed Christopher Nolan's biopic, so excuse the mess… (and if you haven't already, read our initial post here for the context).

Oppenheimer is a glorification of the "complicated genius" and ambitions of white men making terrible decisions that imperil the world.
Many have remarked that the film is not a glorification, yet Christopher Nolan himself says, "Like it or not, J Robert Oppenheimer is the most important person who ever lived."
Some of you may have even had a burst of laughter during the scene where Truman asked Oppenheimer what he thought the fate of Los Alamos should be and "Oppie" retorted, "Give the land back to the Indians." But alas, the poisoned scarred landscape today is host to a 10-day "Oppenheimer Festival." To underscore the disconnect of legacies, a small commemoration near the Churchrock spill site was also held on the anniversary of the Trinity detonation, a few hundred miles away. Yes, what glorification?

The movie is basically a Western à la John Wayne. It very well could have been called, "The Trial of the Sheriff of Los Alamos."
Oppenheimer rides his horse with a black hat on and pulls a poster down from a fence post. He then strides into a debate on the "Impact of the gadget on civilization." To respond to the question of how scientists can justify using the Atom Bomb on human beings, Oppenheimer speaks, "We're theorists yes, we imagine a future and our imaginings horrify us. They won't fear it until they understand it and they won't understand it until they've used it. When the world learns the terrible secret of Los Alamos our work here will ensure a peace mankind has never seen. A peace based on international cooperation."
Nolan establishes the only narrative that matters is his attempt at historical redemption, he paints Oppenheimer as a victim. While perhaps not as depoliticized as Nolan alluded to in interviews (as the politics of American loyalty and the Red Scare drive the drama), the consequences of nuclear weapons and energy is barely considered (arguably barely at all considering the issue). This is a political omission of the most insidious sort and the film is even worse for it.
The movie cares more about constructing and clearing Oppenheimer as a victim of McCarthyism than the impacts of the atomic bomb and its deadly legacy of nuclear colonialism. As it's stated, there's a "Price to be paid for genius." Everything else is dramatic notation. Nolan gives Oppenheimer the public hearing he feels like he was denied to ultimately prove he was an American patriot. In the end, the question "Would the world forgive you if you let them crucify you?" matters above all other concerns. The movie poses the argument as "science versus militarism" while the world and Indigenous Peoples continue to suffer the permanent consequences of nuclear weapons and energy in silence. A deadly silence more deafening than Nolan's cinematic portrayal of the Trinity test. But hey, there's even a minute of cheering after the test.
Nolan has us listening to the radio while two cities are destroyed and hundreds of thousands of lives are taken. Nolan keeps the camera on his lead actor's face while the horrors of his bomb are shown on slides. Oppenheimer simply looks away. What more about this film do we need to know?
15,000 abandoned uranium mines poisoning our bodies, lands, and water. 1,000 bombs detonated on Western Shoshone lands… the list goes on (we only stop here because we've stated much more in our original post). All omitted and sentenced to suffer in catastrophic silence. Films like Oppenheimer are only possible because people keep looking away from the deadly reality of nuclear weapons and energy.
Get updates via email, sign up here:
Indigenous Action Podcast