Ep. 9: Against Colonial Logics: Rethinking Resistance to Resource Extraction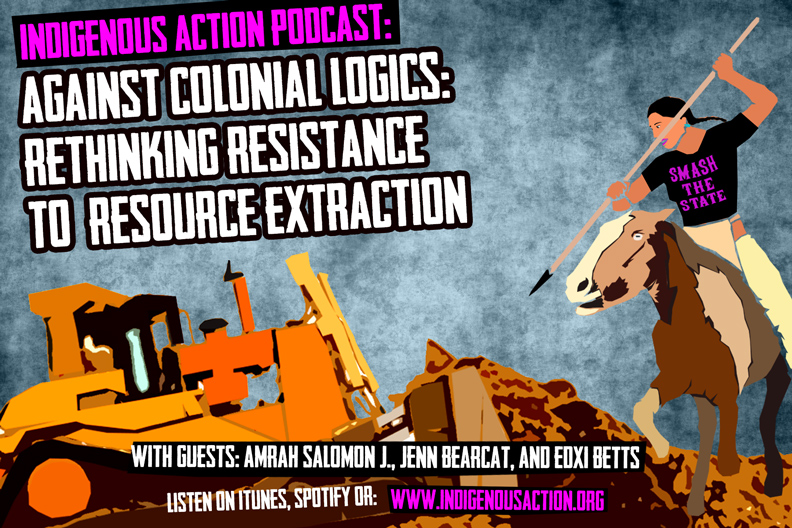 Many Indigenous frontline resistance struggles are wrought with strategies and tactics that reinforce colonial logics. From resource extraction resistances, "honoring" treaties, green capitalism, and Indigenous non-profit capitalists, how do we identify, challenge, and go beyond these issues so we can more effectively fight for liberation?
In this show we hear from Bearcat reporting from the frontlines of the Treaty People Gathering and powerful perspectives from Amrah and edxi about their frontline experiences and analysis. As always, claws out!
Guests:
edxi betts is an Afro Blackfeet Indigenous trans feminine Pinay multi media insurrectionary artist & organizer. Her work entails political education while providing material support to oppressed & colonized communities. Creating art/media for the sake of propagating resistance culture, counter narrative and collective liberatory projects that spark discourse, sources of healing, critical thought, dialogue, and direct action. More info & support: www.linktr.ee/bettsurevolt
Amrah Salomón J. is a writer, artist, activist, and educator of Mexican, O'odham and Tohono O'odham, and European ancestry.
@oodhamantiborder
@defendoodhamjewed
Cashapp: $DefendOodhamJewed
Paypal.me/DefendOodhamJewed
Venmo: @DefendOodhamJewed
Jenn Bearcat (she/her): Newe-Numa (Tosa Wihi) from Doka Badee, so-called Northern Nevada currently residing in Albuquerque, NM. She's a 3rd generation land defender with a healthy respect for a diversity of tactics and a healthy distrust of the state. She contributes to a network of organizers and frontline defenders confronting issues surrounding colonization.
Host:
Klee – Instagram: @kleebenally
About the podcast:
Welcome to Indigenous Action where we dig deep into critical issues impacting our communities throughout Occupied America/Turtle Island. This is an autonomous anti-colonial broadcast with unapologetic and claws-out analysis towards total liberation. So take your seat by this fire and may the bridges we burn together, light our way.
Subscribe, like, share on iTunes, Spotify, and Google Play. Check us out on the channelzeronetwork.com.
Email us at IAInfo@protonmail.com.
Indigenous Action Posters – Spring 2023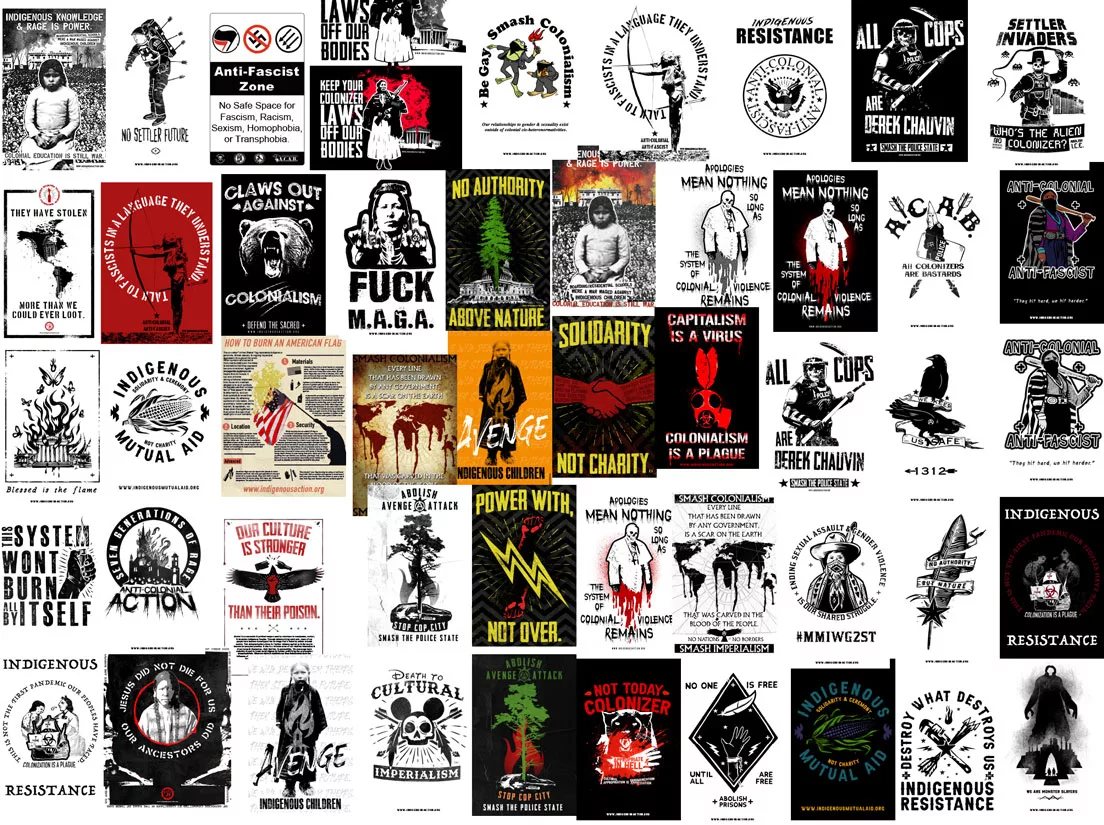 Zip file: 200MB

Here are 51 high resolution PDF posters (some duplicates as color and B&W versions) for you to print and destroy! We will be uploading another set of some of our older posters here too. You can always do a search for posters or PDFs on our site as well.

Feel free to use for any and all anti-capitalist anti-colonial agitational propaganda (patches, prints, shirts, buttons, etc. for radical benefits or personal use). Credit is nice but not always necessary. Support Indigenous resistance art & artists.

Link to our tried and true wheatpaste recipe:
O'odham Executed by Border Patrol: Statement by Raymond Mattia Family
Raymond Mattia of the Tohono O'odham Nation was executed by US border patrol agents on May 18th at his home. He was reportedly shot 38 times.

A peaceful gathering to support all victims of the
unmonitored violent actions of the Border Patrol and other agencies will be held at The Border
Patrol Station in Why, Az, and Tucson on Golf Links Road this Saturday, May 27th, from
10:00am-Noon.
For more information please visit: https://bsnorrell.blogspot.com/2023/05/us-border-patrol-shoots-tohono-oodham.html

Statement by Mattia Raymond's family:
We have been trying to find the strength to write this statement. This tragedy is so
grievous because it is apparent what had happened. Raymond called for help and, in turn, was
shot down at his doorstep. Raymond's rights were violated by the authorities whom we trust to
protect our Nation. Improper and unprofessional actions of the agencies involved were witnessed
by family members present near the crime scene. Loved ones sat in agony, not knowing of
Raymond's condition until they were told that he had passed hours later. Raymond lay in front of
his home for seven hours before a coroner from Tucson arrived.
In our eyes and hearts, we believe that Raymond was approached with excessive and
deadly force that took his life. He was a father, brother, uncle, friend, and an involved
community member. Raymond always fought for what was right, and he will continue to fight
even after his death. This is not an isolated incident, but it should bring awareness of the
oppression our people live through.
We want to thank so many of you for your condolences and support. A GoFundMe for
defense funds will be available soon. A peaceful gathering to support all victims of the
unmonitored violent actions of the Border Patrol and other agencies will be held at The Border Patrol Station in Why, Az, and Tucson on Golf Links Road this Saturday, May 27th, from 10:00am-Noon.
Contact for support: justiceforraymattia@gmail.com
Xenophobic Title 42 Ends, Biden's Immigration Reform Nowhere to Be Found
Indigenous Action recently supported @abolition.yumacounty (on Instagram) at the "US-Mexico" border. They are a crew of radical femme and queer folks who provide essential supplies to Indigenous people and other asylum seekers who are kept in holding with nothing but what they walked up to thousands of miles with. They also offer confidential pregnancy release support. Please $$$upport and volunteer if you're in the "Yuma" area. Venmo: @ycabolition, Cash App: @YumaCountyAbolition
With Title 42 ending on May 11th, (a xenophobic policy that gave the government power to rapidly expel any migrant, without giving them a chance to make a case for crossing legally, including to seek asylum), Biden has made no attempt at immigration reform as he promised on the campaign trail, "I can only imagine what it's like to see someone in your family deported. To me it's all about family. Beginning, middle and end. That's not going to happen in my administration. The idea you can't even seek asylum on American soil. When did that happen? Trump. It's wrong."
These policies are well within Biden's power to remedy, and yet, HE HASN'T. He's had 2 years to prepare for the ending of Title 42 to introduce new policies that he claimed "offer hope and a safe haven to refugees."
What we're seeing now at the border is heinous. Shelters and detention centers at and near capacity. Hundreds of people turned away every day. Just last month, a fire at a detention center killed 40 people.
In 2022, more than 890 migrants died in border crossings, and that is only of the deaths that have been reported. To paint an even broader picture, since 2021, there have been 13,480 reports of murder, torture, kidnapping, rape and other violent attacks on migrants and asylum seekers blocked or expelled to Mexico under Title 42.
The time is now to stand up against xenophobia. Let us be free to roam and free to rage wherever we please!
Get updates via email, sign up here:
Indigenous Action Podcast