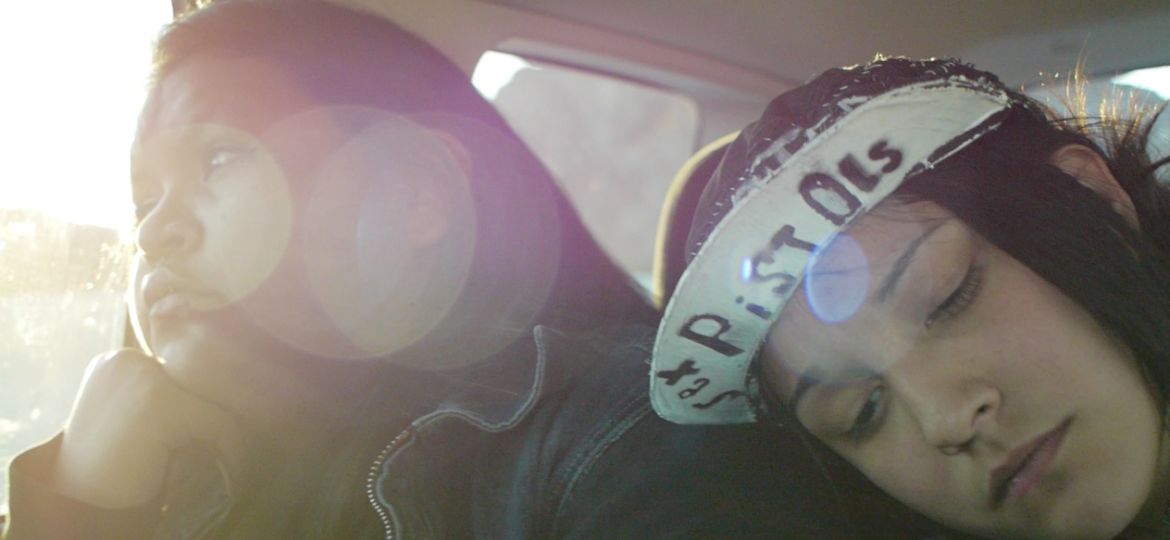 Powerlines: A Diné Relocation Refugee Coming of Age Story
FLAGSTAFF, AZ — Independent feature film Power Lines will premiere Saturday, May 21 in Flagstaff, AZ at the Orpheum Theatre located at 15 W Aspen Ave, Flagstaff, Arizona. Written and directed by Klee Benally, Power Lines is a coming of age story about a young Diné (Navajo) poet who runs away and finds home.
The premiere screening starts at 7:30pm and will be followed by a Q&A session with cast and crew members as well as a panel discussion on current impacts of coal mining and forced relocation. Poetry and music will also be shared by Sage Bond and slam champion Rowie Shebala.
Tickets for the event are $11 and can be purchased at the door or online at: www.orpheumflagstaff.com. A portion of the proceeds from the screenings will go directly to Black Mesa families impacted by recent livestock confiscations.
Halee (Nezbahe Ragdoll) is a 16 year old Diné relocation refugee who uses poetry to escape from her painful past and present. When Halee's abusive father (Tony Skrelunas) crosses a line, her best friend Selma (Kayla Dailey) helps her runaway. Their journey to Halee's homeland takes a turn when she discovers her father has been hiding a secret that has the power to change Halee's life forever.
Power Lines is written, directed, edited, and scored by Klee Benally and filmed with the talents of Outta Your Backpack Media (OYBM) mentors Shelby Ray, Steven Toya esq., Hillary Abe, and Keemara Bahe. OYBM is a Flagstaff based non-profit that offers free filmmaking workshops to Indigenous youth. The film features local Flagstaff actors Nezbahe Ragdoll, Kayla Daily, Tony Skrelunas, Belinda Ayze, Sam Minkler and poetry from by Rowie Shebala and Layla June Johnston.
Power Lines was filmed partially in Las Vegas and throughout Northern Arizona on a limited budget that was completely crowd-funded.
"The social impacts of forced relocation at Black Mesa on the Diné Nation have not been addressed in a feature dramatic narrative before." states filmmaker Klee Benally, "I wanted to share a fictional story that focused on social and cultural impacts that are often ignored."
Benally has produced documentaries including the award winning feature, "The Snowbowl Effect" which addressed ski area desecration of the San Francisco Peaks, which are held sacred by more than 13 Indigenous Nations. Power Lines is his first feature narrative.
"Working in narrative fiction is liberating but also an incredible challenge." states Benally, "Our production team worked hard to to apply a mix of media justice with the rawness of punk rock and a strong independent Do It Yourself ethic. This story and filmmaking process is at once a collective and political journey, and I hope that comes across in an entertaining, challenging, and activating way."
More info & trailer: www.powerlinesmovie.com
*****
Production Company: Indigenous Action Media, Outta Your Backpack Media
Cast: Nezbahe Ragdoll, Kayla Daily, Tony Skrelunas, Belinda Ayze, Sam Minkler
Director-Screenwriter, Editor, Music: Klee Benally
Executive Producers: Princess Benally, Crystal Zevon
Cinematography: Shelby Ray, Hillary Abe, Steven Toya, esq., Klee Benally, Taylor Hall
Sound recordist: Steven Toya, esq.
Production Assistant, Set Design, Catering: Roland Begay
No rating, 75 minutes (Parents please be advised that there is explicit language)
*****