Press Release: Independent Film 'Power Lines' Premieres May 21 in Flagstaff, AZ
Powerlines: A Diné Relocation Refugee Coming of Age Story
FLAGSTAFF, AZ — Independent feature film Power Lines will premiere Saturday, May 21 in Flagstaff, AZ at the Orpheum Theatre located at 15 W Aspen Ave, Flagstaff, Arizona. Written and directed by Klee Benally, Power Lines is a coming of age story about a young Diné (Navajo) poet who runs away and finds home.
The premiere screening starts at 7:30pm and will be followed by a Q&A session with cast and crew members as well as a panel discussion on current impacts of coal mining and forced relocation. Poetry and music will also be shared by Sage Bond and slam champion Rowie Shebala.
Tickets for the event are $11 and can be purchased at the door or online at: www.orpheumflagstaff.com. A portion of the proceeds from the screenings will go directly to Black Mesa families impacted by recent livestock confiscations.
Halee (Nezbahe Ragdoll) is a 16 year old Diné relocation refugee who uses poetry to escape from her painful past and present. When Halee's abusive father (Tony Skrelunas) crosses a line, her best friend Selma (Kayla Dailey) helps her runaway. Their journey to Halee's homeland takes a turn when she discovers her father has been hiding a secret that has the power to change Halee's life forever.
Power Lines is written, directed, edited, and scored by Klee Benally and filmed with the talents of Outta Your Backpack Media (OYBM) mentors Shelby Ray, Steven Toya esq., Hillary Abe, and Keemara Bahe. OYBM is a Flagstaff based non-profit that offers free filmmaking workshops to Indigenous youth. The film features local Flagstaff actors Nezbahe Ragdoll, Kayla Daily, Tony Skrelunas, Belinda Ayze, Sam Minkler and poetry from by Rowie Shebala and Layla June Johnston.
Power Lines was filmed partially in Las Vegas and throughout Northern Arizona on a limited budget that was completely crowd-funded.
"The social impacts of forced relocation at Black Mesa on the Diné Nation have not been addressed in a feature dramatic narrative before." states filmmaker Klee Benally, "I wanted to share a fictional story that focused on social and cultural impacts that are often ignored."
Benally has produced documentaries including the award winning feature, "The Snowbowl Effect" which addressed ski area desecration of the San Francisco Peaks, which are held sacred by more than 13 Indigenous Nations. Power Lines is his first feature narrative.
"Working in narrative fiction is liberating but also an incredible challenge." states Benally, "Our production team worked hard to to apply a mix of media justice with the rawness of punk rock and a strong independent Do It Yourself ethic. This story and filmmaking process is at once a collective and political journey, and I hope that comes across in an entertaining, challenging, and activating way."
More info & trailer: www.powerlinesmovie.com
*****
Production Company: Indigenous Action Media, Outta Your Backpack Media
Cast: Nezbahe Ragdoll, Kayla Daily, Tony Skrelunas, Belinda Ayze, Sam Minkler
Director-Screenwriter, Editor, Music: Klee Benally
Executive Producers: Princess Benally, Crystal Zevon
Cinematography: Shelby Ray, Hillary Abe, Steven Toya, esq., Klee Benally, Taylor Hall
Sound recordist: Steven Toya, esq.
Production Assistant, Set Design, Catering: Roland Begay
No rating, 75 minutes (Parents please be advised that there is explicit language)
*****
Press Release: Announcing Burn the Fort, a Diné Designed Board Game of Indigenous Resistance
For Immediate Release
July 26, 2023
Contact:
Klee Benally
indigenousaction@gmail.com
www.burnthefort.com
Announcing Burn the Fort, a Diné Designed Board Game of Indigenous Resistance
Crowdfunding campaign is live on Gamefound
Occupied Kinłani (Flagstaff, AZ) — A new independent board game featuring Indigenous resistance is now crowdfunding to cover manufacturing costs. Burn the Fort is a semi-cooperative game designed by Diné artist, musician, filmmaker, organizer, and author Klee Benally.
In Burn the Fort, colonizers have built a military fortress and are invading your lands. 2-4 players each take the role of a different historic warrior fighting to stop the invasion. Players must prevent wagons from bringing supplies to the fort and burn it to the ground before the train, which acts as a game timer, reaches the Golden Spike. Players can choose how much they wish to work together while taking turns playing cards, trading, battling wagons, and gathering necessary tokens to win the game. With each wagon that reaches the fort the train moves forward, and if it reaches the Golden Spike everyone loses.
Components and cards are steeped in history with facts, trivia, and bios of historic Indigenous warriors, the game also uses traditional Diné Stick dice.

"I wanted to design a game that felt familiar to those who grew up playing board games, but one that was also familiar to those who grew up playing traditional cultural games," says Klee Benally, the artist and designer of the game, "Some of the game mechanics may feel contradictory and I wanted to embrace that dynamic. It's my first game so I'm sure I've made mistakes, but from the artwork to the gameplay, every aspect of the design is very intentional."
"Games can be powerful storytelling and teaching tools" says Benally. "Indigenous Peoples have played games rooted in ceremony since time immemorial. I've always loved table top games, but I never found one that I personally connected to. Indigenous Peoples and resistance are more often portrayed as threats to the heroic settler colonizers or when we're the occasional protagonist, we are either victims or grossly romanticized" Benally explains.
Benally continues, "Nearly every game available on the shelf today is rooted in colonialism and resource exploitation, I wanted to offer an alternative and challenge those narratives. This game focuses on the time period of the so-called 'Indian wars' to explore the history and offer an engaging and fun way of deepening our understandings of those times. History is an ongoing conflict of narratives, the history written by colonizers is obviously going to be very different than the narratives and accounts of those who have resisted colonization. For some people this will be just another table top game, for others, and this is my intention, it can be one small way to engage and build cultures of resistance and liberation".
The game has been in development for six years but Benally took a break during the pandemic to focus on organizing with Kinłani Mutual Aid. 

Benally says, "After the beginning of pandemic, as people were forced to stay at home due to the severity of the virus, there was also a renewed interest in board games. As I was making deliveries and coordinating supplies, I really was motivated to focus on the game as an alternative for people instead of just watching TV. Additionally, I have to express gratitude for this project to Ariel Celeste and Jacob, without their critical input this game would not be what it is. I am also forever grateful to my supporters on Patreon and all the play testers who made this game possible."
Burn the Fort is now on Gamefound, a premiere crowdfunding site for board games, where 70% of its goal was raised in just three days. If the campaign reaches its "stretch goal," Benally will use additional funds to distribute free copies to Indigenous community groups and schools. Eventually Benally intends to create a complementary lesson plan exploring the theme of the game that can be taught in schools.
Burn the Fort is now available as a crowdfunding reward for a pledge of $40. The crowdfunding campaign ends on August 22nd, 2023. After the crowdfunding campaign is complete it will be available sometime in the fall online and in select stores at a retail price of $45. You can view and support the campaign here: https://gamefound.com/projects/indigenousaction/burn-the-fort
Burn the Fort is for 2 – 4 players, ages 14 and older and takes approximately 60-90 minutes to play. It includes 5 game board pieces, 6 player cards, 1 Fort point tracker, 69 Draw cards, 40 Colonizer cards, 6 Victory cards, 5 US General tokens, 4 Reference cards, 48 Fire tokens, 40 Wagon tokens, 12 Arrowhead tokens, 4 Alliance tokens, 1 Colonizer token, 1 Wooden train token, 1 Arrowhead token bag, 3 Wooden Stick dice, 2 Colonizer dice, and 1 twenty-two page game guide.
For more information visit: www.burnthefort.com.

About the publisher
Indigenous Action (IA/originally Indigenous Action Media) was founded on August 25th, 2001 to provide strategic communications and direct action support for Indigenous sacred lands defense. We are a radical autonomous crew of anti-colonial & anti-capitalist Indigenous media makers, designers, artists, writers & agitators that work together on a project by project basis for liberation for Mother Earth and all her beings. www.indigenousaction.org
###
Ox Sam Camp Raid Update: One Arrested as Prayer Tipis Are Bulldozed and Ceremonial Items Confiscated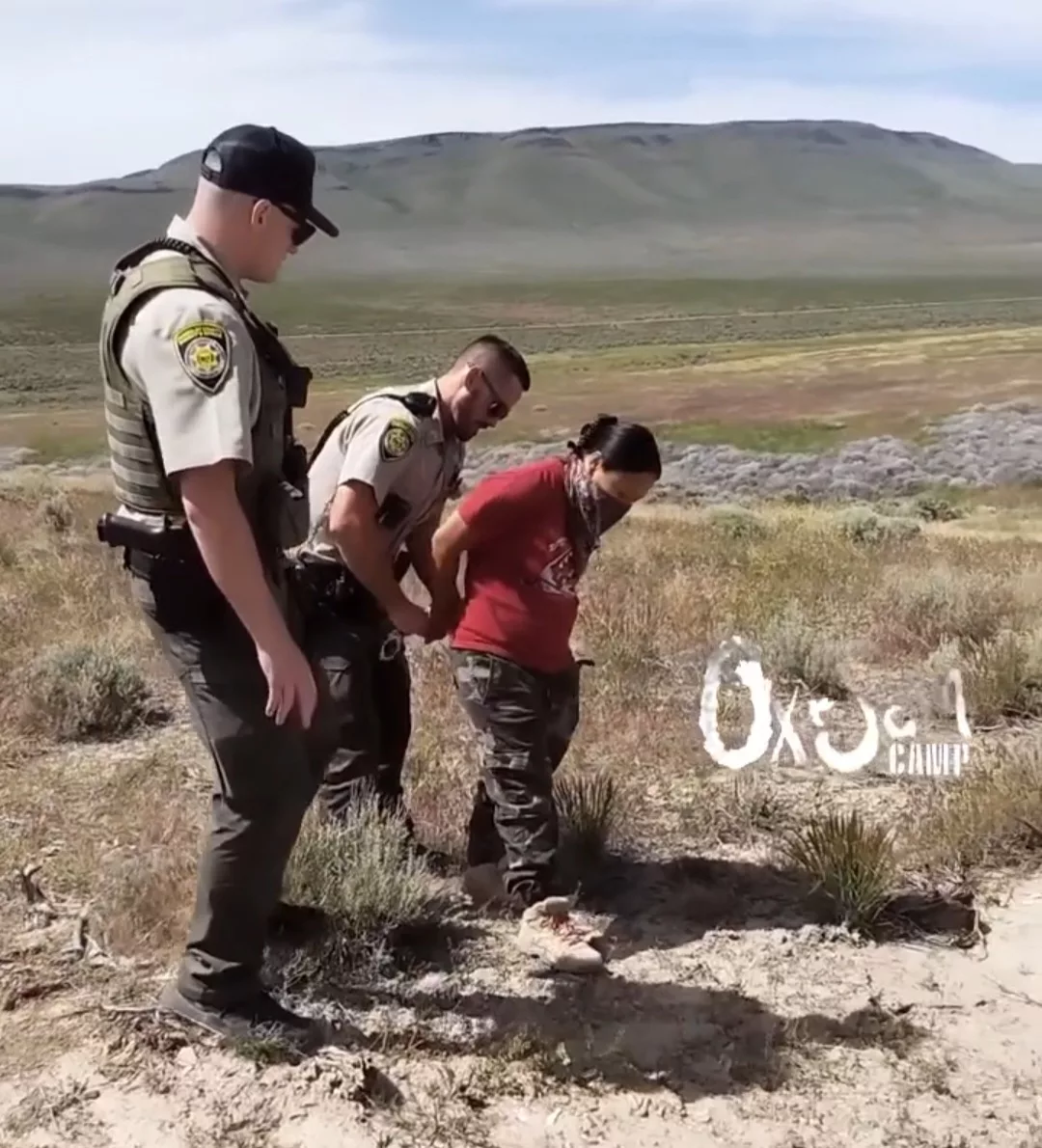 Thursday, June 8th, 2023

Contact: Ox Sam Camp
Email: oxsamcamp@proton.me
OxSam.org
THACKER PASS, NV — On Wednesday morning, the Humboldt County Sheriff's department on behalf of Lithium Nevada Corporation, raided the Ox Sam Newe Momokonee Nokutun (Ox Sam Indigenous Women's Camp), destroying the two ceremonial tipi lodges, mishandling and confiscating ceremonial instruments and objects, and extinguishing the sacred fire that has been lit since May 11th when the Paiute/Shoshone Grandma-led prayer action began.
One arrest took place on Wednesday at the direction of Lithium Nevada security. A young Diné female water protector was handcuffed with no warning and loaded into a windowless, pitch-black box in the back of a pickup truck. "I was really scared for my life," the woman said. "I didn't know where I was or where I was going, and I know that MMIW is a real thing and I didn't want to be the next one." She was transported to Humboldt County Jail, where she was charged with criminal trespass and resisting arrest, then released on bail.
Just hours before the raid, Ox Sam water protectors could be seen for the second time this week bravely standing in the way of large excavation equipment and shutting down construction at the base of Sentinel Rock.
To many Paiute and Shoshone, Sentinel Rock is a "center of the universe," integral to many Nevada Tribes' way of life and ceremony, as well as a site for traditional medicines, tools, and food supply for thousands of years. Thacker Pass is also the site of two massacres of Paiute and Shoshone people­. The remains of the massacred ancestors have remained unidentified and unburied since 1865, and are now being bulldozed and crushed by Lithium Nevada for a mineral known as "the new white gold."
Since May 11th, despite numerous requests by Lithium Nevada workers, the Humboldt County Sheriff Department has been reticent and even unwilling to arrest members of the prayer camp, even after issuing three warnings for blocking Pole Creek Road access to Lithium Nevada workers and sub-contractors, while allowing the public to pass through.
"We absolutely respect your guys' right to peacefully protest," explained Humboldt County Sheriff Sean Wilkin on May 12th. "We have zero issues with [the tipi] whatsoever… We respect your right to be out here."
On March 19th the Sheriff arrived again, serving individual fourteen-day Temporary Protection Orders against several individuals at camp. The protection orders were granted by the Humboldt County Court on behalf of Lithium Nevada based on sworn statements loaded with misrepresentations, false claims, and, according to those targeted, outright false accusations by their employees. Still, Ox Sam Camp continued for another week. The tipis, the sacred fire, and the prayers occurred for a total of twenty-seven days of ceremony and resistance.
The scene at Thacker Pass this week looked like Standing Rock, Line 3, or Oak Flat, as Lithium Nevada's workers and heavy equipment tried to bulldoze and trench their way through the ceremonial grounds surrounding the tipi at Sentinel Rock, and water protectors put their bodies in the way of the destruction, forcing work stoppage on two occasions.
Observers stated that Lithium Nevada's head of security was directing the Sheriff's deputies where to go and what to do during the raid.
Lithium Nevada's ownership and control of Thacker Pass only exists because of the flawed permitting and questionable administrative approvals issued by the Bureau of Land Management (BLM). BLM officials have refused to acknowledge that Peehee Mu'huh is a sacred site to regional Tribal Nations, and have continued to downplay and question the significance of the double massacre through two years of court battles.
Three tribes — the Reno-Sparks Indian Colony, Summit Lake Paiute Tribe, and Burns Paiute Tribe — remain locked in litigation with the Federal Government for permitting the mine. The tribes filed their latest response to the BLM's Motion to Dismiss on Monday. BLM is part of the Department of the Interior which is led by Deb Haaland (Laguna Pueblo).
On Wednesday, at least five Sheriff's vehicles, several Lithium Nevada worker vehicles, and two security trucks arrived at the original tipi site that contained the ceremonial fire, immediately adjacent to Pole Creek Road. One camper was arrested without warning, and others were issued with trespass warnings and allowed to leave the area. Once the main camp was secured, law enforcement then moved up to the tipi site at Sentinel Rock, a mile away.
There is a proper way to take down a tipi and ceremonial camp, and then there is the way Humboldt County Sheriffs proceeded on behalf of Lithium Nevada Corporation. Tipis were knocked down, tipi poles were snapped, and ceremonial objects and instruments were rummaged through, mishandled, and impounded. Empty tents were approached and secured in classic SWAT-raid fashion. One car was towed.
As is often the case when lost profits lead to government assaults on peaceful water protectors, Lithium Nevada Corporation and the Humboldt County Sheriffs have begun to claim that the raid was done for the safety of the camp members and for public health.
Josephine Dick (Fort McDermitt Paiute-Shoshone), who is a descendent of Ox Sam and one of the matriarchs of Ox Sam Newe Momokonee Nokutun, made the following statement in response to the raid:
"As Vice Chair of the Native American Indian Church of the State of Nevada, and as a Paiute-Shoshone Tribal Nation elder and member, I am requesting the immediate access to and release of my ceremonial instruments and objects, including my Eagle Feathers and staff which have held the prayers of my ancestors and the Ox Sam camp since the beginning. There was also a ceremonial hand drum and medicines such as cedar and tobacco, which are protected by the American Indian Religious Freedom Act.
In addition, my understanding is that Humboldt County Sherriffs along with Lithium Nevada security desecrated two ceremonial tipi lodges, which include canvasses, poles, and ropes. The Ox Sam Newe Momokonee Nokutun has been conducting prayers and ceremony in these tipis which are also protected by the American Indian Religious Freedom Act. When our ceremonial belongings are brought together around the sacred fire, this is our church. Our Native American church is a sacred ceremony. I am demanding the immediate access to our prayer site at Peehee Mu'huh and the return of our confiscated ceremonial objects.
The desecration that Humboldt County Sherriffs and Lithium Nevada conducted by knocking the tipis down and rummaging through sacred objects is equivalent to taking a bible, breaking The Cross, knocking down a cathedral, disrespecting the sacrament, and denying deacons and pastors access to their places of worship, in direct violation of my American Indian Religious Freedom rights. This violation of access to our ceremonial church and the ground on which it sits is a violation of Executive Order 13007.
The location of the tipi lodge that was pushed over and destroyed is at the base of Sentinel Rock, a place our Paiute-Shoshone have been praying since time immemorial. After two years of our people explaining that Peehee Mu'huh is sacred, BLM Winnemucca finally acknowledged that Thacker Pass is a Traditional Cultural District, but they are still allowing it to be destroyed."
Josephine and others plan to make a statement on live stream outside the Humboldt County Sheriff's Office in Winnemucca on the afternoon of Friday, June 9th around 1pm.
Another spiritual leader on the front lines has been Dean Barlese from the Pyramid Lake Paiute Tribe. Despite being confined to a wheelchair, Barlese led prayers at the site on April 25th which led to Lithium Nevada shutting down construction for a day, and returned on May 11th to pray over the new sacred fire as Ox Sam camp was established.
"This is not a protest, it's a prayer," said Barlese. "But they're still scared of me. They're scared of all of us elders, because they know we're right and they're wrong."
###
Background
Thacker Pass is located in northern Nevada near the Oregon border, where Lithium Nevada Corporation is in the first phase of building a $2 billion open-pit lithium mine which would be the largest of its kind in North America. The lithium is mainly destined for General Motors Corporation's electric car batteries, which the corporation laughably claims is "green." Mine opponents call this greenwashing and have stated that "it's not green to blow up a mountain."
The U.S. Supreme Court has granted Lithium Nevada corporation and all other business corporations a whole variety of constitutional "rights" that were never meant for business entities. Without these special so-called corporate "rights," the mine owners would never have been allowed to construct this mine.
Three Native American tribes filed a new lawsuit against the Federal Government over Lithium Nevada Corporation's planned Thacker Pass lithium mine on February 16, 2023, the latest legal move in the two-and-a-half-year struggle over mining, greenwashing, and sacred land in northern Nevada.
The Tribes notified the 9th Circuit Court of Appeals on May 19th that they mean to appeal their Motion seeking a Preliminary Injunction which was rejected by a lower court in early March. Four environmental groups which lost their case in January have also appealed to the 9th Circuit Court of Appeals, and are expected to be heard in June.
Ox Sam Camp Update: Land Defenders Arrested, Camp Raided After Blocking Excavator
From www.oxsam.org (follow for more updates).

Read the new press release from 6/8/23 here: https://www.indigenousaction.org/ox-sam-camp-raid-update-one-arrested-as-prayer-tipis-are-bulldozed-and-ceremonial-items-confiscated/
6/7/23
First arrests are underway and camp is being raided after land defenders halted an excavator this morning at Thacker Pass.
OROVADA, NV — This morning, a group of Native American water protectors and allies used their bodies to non-violently block construction of the controversial Thacker Pass lithium mine in Nevada, turning back bulldozers and heavy equipment.
The dramatic scene unfolded this morning as workers attempting to dig trenches near Sentinel Rock were turned back by land defenders who ran and put their bodies between heavy equipment and the land.
Now they are being arrested and camp is being raided.
Northern Paiute and Western Shoshone people consider Thacker Pass to be sacred. So when they learned that the area was slated to become the biggest open-pit lithium mine in North America, they filed lawsuits, organized rallies, spoke at regulatory hearings, and organized in the community. But despite all efforts over the last three years, construction of the mine began in March.
That's what led Native American elders, friends and family, water protectors, and their allies to establish what they call a "prayer camp and ceremonial fire" at Thacker Pass on May 11th, when they setup a tipi at dawn blocking construction of a water pipeline for the mine. A second tipi was erected several days later two miles east, where Lithium Nevada's construction is defacing Sentinel Rock, one of their most important sacred sites.
Sentinel Rock is integral to many Nevada Tribes' worldview and ceremony. The area was the site of two massacres of Paiute and Shoshone people. The first was an inter-tribal conflict that gave the area it's Paiute name: Peehee Mu'huh, or rotten moon. The second was a surprise attack by the US Cavalry on September 12th, 1865, during which the US Army slaughtered dozens. One of the only survivors of the attack was a man named Ox Sam. It is some of Ox Sam's descendants, the Grandmas, that formed Ox Sam Newe Momokonee Nokotun (Indigenous Women's Camp) to protect this sacred land for the unborn, to honor and protect the remains of their ancestors, and to conduct ceremonies. Water protectors have been on-site in prayer for nearly a month.
On Monday, Lithium Nevada Corporation also attempted to breach the space occupied by the water protectors. As workers maneuvered trenching equipment into a valley between the two tipis, water protectors approached the attempted work site and peacefully forced workers and their excavator to back up and leave the area. According to one anonymous land defender, Lithium Nevada's action was "an attempted show of force to fully do away with our tipi and prayer camp around Sentinel Rock."
Ranchers, recreationists, and members of the public have been allowed to pass without incident and water protectors maintain friendly relationships with locals. Opposition to the mine is widespread in the area, and despite repeated warnings from the local Sheriff, there have been no arrests. Four people, including Dorece Sam Antonio of the Fort McDermitt Paiute-Shoshone Tribe (an Ox sam descendant) and Max Wilbert of Protect Thacker Pass, have been targeted by court orders barring them from the area. They await a court hearing in Humboldt County Justice Court.
"Lithium Nevada is fencing around the sacred site Sentinel Rock to disrupt our access and yesterday was an escalation to justify removal of our peaceful prayer camps," said one anonymous water protector at Ox Sam Camp. "Lithium Nevada intends to desecrate and bulldoze the remains of the ancestors here. We are calling out to all water protectors, land defenders, attorneys, human rights experts, and representatives of Tribal Nations to come and stand with us."
"I'm being threatened with arrest for protecting the graves of my ancestors," says Dorece Sam Antonio. "My great-great Grandfather Ox Sam was one of the survivors of the 1865 Thacker Pass massacre that took place here. His family was killed right here as they ran away from the U.S. Army. They were never buried. They're still here. And now these bulldozers are tearing up this place."
Another spiritual leader on the front lines has been Dean Barlese, a spiritual leader from the Pyramid Lake Paiute Tribe. Despite being confined to a wheelchair, Barlese led prayers at the site on April 25th (shutting down construction for a day) and returned on May 11th.
"I'm asking people to come to Peehee Mu'huh," Barlese said. "We need more prayerful people. I'm here because I have connections to these places. My great-great-great grandfathers fought and shed blood in these lands. We're defending the sacred. Water is sacred. Without water, there is no life. And one day, you'll find out you can't eat money."
The 1865 Thacker Pass massacre is well documented in historical sources, books, newspapers, and oral histories. Despite the evidence but unsurprisingly, the Federal Government has not protected Thacker Pass or even slowed construction of the mine to allow for consultation to take place with Tribes. In late February, the Federal Government recognized tribal arguments that Thacker Pass is a "Traditional Cultural District" eligible for the National Register of Historic Places. But that didn't stop construction from commencing.
"This is not a protest, it's a prayer," said Barlese. "But they're still scared of me. They're scared of all of us elders, because they know we're right and they're wrong."
Get updates via email, sign up here:
Indigenous Action Podcast