San Francisco Peaks Teach-in: Healthy Communities are a Human Right!
Healthy Communities are a Human Right!
Teach-in for Protection of the San Francisco Peaks
Panels, workshops, and small group sessions addressing:
Sacred Sites, Environmental Justice, Legal Cases, Water Issues, Legislative Action, Civil Disobedience, & more.
Join community & student activists to learn about the environmental & social justice struggle to protect the sacred San Francisco Peaks and how to get involved.
Free & open to the public. All ages welcome, childcare provided, wheelchair accessible.
Lunch will be provided.
Full program available soon at: www.ProtectThePeaks.org/teach-in
RSVP: protectpeaks@gmail.com
When: Saturday, Aug. 18th – 12pm – 6pm
LOCATION: Native American Cultural Center at NAU
www.ProtectthePeaks.org
O'odham Executed by Border Patrol: Statement by Raymond Mattia Family
Raymond Mattia of the Tohono O'odham Nation was executed by US border patrol agents on May 18th at his home. He was reportedly shot 38 times.

A peaceful gathering to support all victims of the
unmonitored violent actions of the Border Patrol and other agencies will be held at The Border
Patrol Station in Why, Az, and Tucson on Golf Links Road this Saturday, May 27th, from
10:00am-Noon.
For more information please visit: https://bsnorrell.blogspot.com/2023/05/us-border-patrol-shoots-tohono-oodham.html

Statement by Mattia Raymond's family:
We have been trying to find the strength to write this statement. This tragedy is so
grievous because it is apparent what had happened. Raymond called for help and, in turn, was
shot down at his doorstep. Raymond's rights were violated by the authorities whom we trust to
protect our Nation. Improper and unprofessional actions of the agencies involved were witnessed
by family members present near the crime scene. Loved ones sat in agony, not knowing of
Raymond's condition until they were told that he had passed hours later. Raymond lay in front of
his home for seven hours before a coroner from Tucson arrived.
In our eyes and hearts, we believe that Raymond was approached with excessive and
deadly force that took his life. He was a father, brother, uncle, friend, and an involved
community member. Raymond always fought for what was right, and he will continue to fight
even after his death. This is not an isolated incident, but it should bring awareness of the
oppression our people live through.
We want to thank so many of you for your condolences and support. A GoFundMe for
defense funds will be available soon. A peaceful gathering to support all victims of the
unmonitored violent actions of the Border Patrol and other agencies will be held at The Border Patrol Station in Why, Az, and Tucson on Golf Links Road this Saturday, May 27th, from 10:00am-Noon.
Contact for support: justiceforraymattia@gmail.com
ALERT: Imminent Uranium Mining Threat at Grand Canyon – Haul No!
Underground blasting & above ground work has begun at Pinyon Plain/Canyon Mine, just miles from the Grand Canyon.
Workers are readying to start mining uranium at the mine. According to the Forest Service, workers are blasting daily though no ore is being moved yet. Once Energy Fuels starts hauling out radioactive ore, they plan to haul 30 tons per day through Northern Arizona to the company's processing mill 300 miles away.
The Grand Canyon, sacred site Red Butte, precious water, and communities along the haul route are in danger!
As all legal options have failed, we need you to join us to stand up and stop this nuclear catastrophe from permanently poisoning our communities!
Join our telegram channel to connect for actions and support: https://t.me/haulno
For more info & to donate for legal defense: www.haulno.com
Pinyon Plain/Canyon Mine Haul Route Facts:
* Total distance of 300 miles.
* 12 trucks with capacity to haul up to 30 tons of highly radioactive ore per day.
* Truck loads to be covered with thin tarps, the only shielding from uranium and only protection from environmental contamination.
* Proposed route will go through high population areas such as Valle, Williams, and Flagstaff; as well as through rural Navajo reservation communities including Cameron, Tuba City, and Kayenta; near the Hopi reservation, and finally arrive at Energy Fuel's White Mesa Mill only three miles from the Ute Mountain Ute tribal community of White Mesa, Utah.
#haulno #stoppinyonplainmine
#nonukes
#dontnukethegrandcanyon
Indigenous Peoples' Day of Rage 2022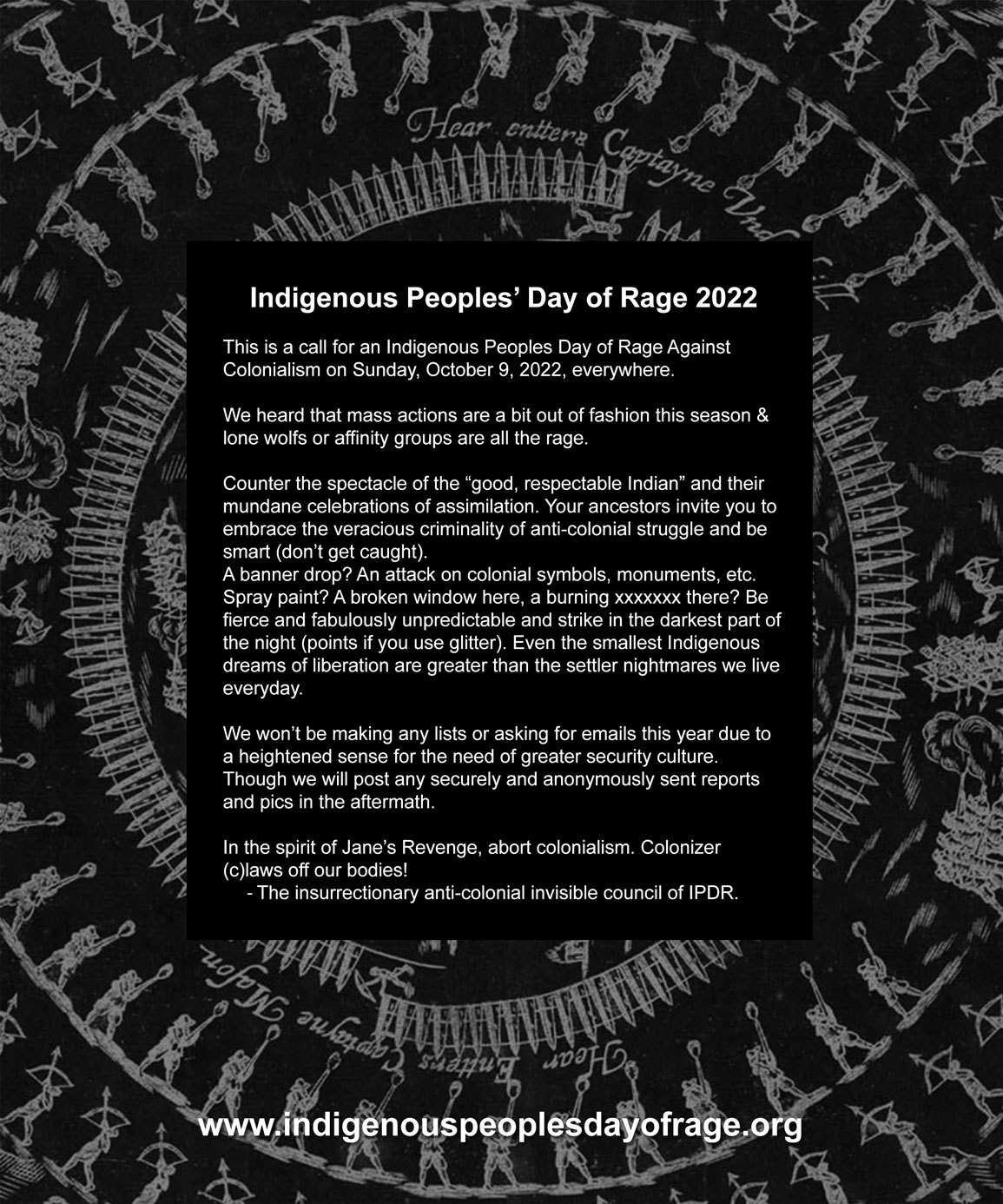 This is a call for an Indigenous Peoples Day of Rage Against Colonialism on Sunday, October 9, 2022, everywhere.
We heard that mass actions are a bit out of fashion this season & lone wolfs or affinity groups are all the rage.
Counter the spectacle of the "good, respectable Indian" and their mundane celebrations of assimilation. Your ancestors invite you to embrace the veracious criminality of anti-colonial struggle and be smart (don't get caught).
A banner drop? An attack on colonial symbols, monuments, etc. Spray paint? A broken window here, a burning xxxxxxx there? Be fierce and fabulously unpredictable and strike in the darkest part of the night (points if you use glitter). Even the smallest Indigenous dreams of liberation are greater than the settler nightmares we live everyday.
We won't be making any lists or asking for emails this year due to a heightened sense for the need of greater security culture. Though we will post any securely and anonymously sent reports and pics in the aftermath.
In the spirit of Jane's Revenge, abort colonialism. Colonizer (c)laws off our bodies!
– The insurrectionary anti-colonial invisible council of IPDR.
https://indigenouspeoplesdayofrage.org/
Get updates via email, sign up here:
Indigenous Action Podcast