2018 Criminal Charges Against Flagstaff Indigenous Peoples' Day Demonstrators Dismissed
Flagstaff, AZ — Criminal charges have been dismissed for three of the eleven demonstrators targeted for their involvement in a 2018 Indigenous Peoples' Day protest in Flagstaff, Arizona.
Ale Becerra, Klee Benally, and Sumayyah Dawud, also known as the "Indigenous Peoples' Day 3" (IPD3), opted to fight the charges rejecting any guilty plea or diversion agreement.
Klee Benally, a longtime Indigenous rights advocate in Flagstaff states, "I want to thank everyone who supported all of us who faced these absurd charges for their solidarity. Your calls to the City and continued dedication to fight for justice for the land and people had an impact. Flagstaff politicians declared 'Indigenous Peoples' Day' then tried to lock us up when we stood for justice. They dedicated vast resources to investigate and prosecute us yet we continued to stand our ground and we prevailed. Today we are vindicated in our actions but we do not celebrate victory. That Flagstaff police and police throughout occupied Turtle Island continue to target and kill Black and Brown people with impunity gives us no cause for celebration. That the injustices perpetrated by the City of Flagstaff: the blatant profiteering off of the killing of Indigenous cultures, the extreme racial profiling and violence, and criminalization of unsheltered relatives continues during this pandemic is nothing to celebrate. We celebrate the uprisings of Black Lives Matter and the anti-colonial actions that go beyond empty reforms and meaningless gestures from politicians. We celebrate and continue to build momentum for justice for the land and all people."
Sumayyah Dawud, a human rights activist living in Phoenix, AZ (Akimel O'Otham territory) states, "I am pleased with the fact that the City of Flagstaff did the right thing by dropping these charges. However, they never should have been filed in the first place nor should we have had to go through nearly two years of prosecution. This is not a victory. I am appalled at the fact that the day Flagstaff declared 'Indigenous Peoples' Day' that Flagstaff Police aggressively followed and targeted Indigenous people marching on their own land, using extreme surveillance, and engaging in selective prosecution for speaking out against the many forms of anti-Indigenous oppression and violence the City refuses to stop participating in let alone even acknowledge. The City needs to take actual action and not just engage in meaningless rhetoric. The targeting of Indigenous and other protesters must never happen again."
Ale Becerra states, "There has never been a question in my mind that this case was an act of selective enforcement, the unit of the Flagstaff Police Department which chose to come after people is itself called that. It is comical that the argument did not stand in court, but it is comical as well for anyone to think the city court would go against their own. They are one in the same and designed to strip money and freedom from working class people of Flagstaff. The charges came at a time when the City of Flagstaff was under pressure because of its collaboration with ICE and ICE having an agreement with the jail. I gave a speech at that protest, which is likely why I was targeted. In that speech I was clear about my stance of solidarity as an immigrant mother with the Indigenous people of the land to which my family came when they were displaced by the violent effects of capitalism. The state, and all of its actors, are the threat to our communities.  At every level in
which we have no autonomy and white supremacists institutions have power over our bodies, they will weaponize their instruments when they want to, however they want to. Be it the Flagstaff Police Department criminalizing people and making them afraid to even walk in their neighborhood, ICE targeting those who organize against their violent raids, the FBI sitting in city buildings watching Mutual Aid efforts play out, prosecutors, judges, city council members, jails etc. They have an entire system designed to cause harm to those that don't abide by their agenda. We are seeing movements that call for an end to their violence play out all over the country.  Some may say, "This isn't real in Flagstaff." Fuck that. The issues that affect our families and relatives are real, these are people's lives. This moment calls for nothing less than active solidarity among those of us who work, live, and love and have always resided in this community."
Flagstaff attorney Lee Phillips, who represented the three defendants stated, "I am proud to have been able to help defend the First Amendment rights of the peaceful protesters who participated in the Indigenous Peoples' Day march and I am grateful that these last three cases have finally been dismissed"
On October 8, 2018 more than 40 people rallied and marched through Downtown Flagstaff to denounce the City of Flagstaff's "hypocritical" declaration of Indigenous Peoples' Day. The rally was held as a call for justice for Missing and Murdered Indigenous Women, Girls, Trans, and Two-Spirit Relatives, highlight the criminalization of migrants that leads to mass deportations and detentions, accountability of the City of Flagstaff for their role in desecrating the San Francisco Peaks, ending criminalization of unsheltered community members, and to address the disproportionate level of racial profiling and arrests Indigenous people face. According to yearly police reports, Flagstaff police arrest on average approximately 6,000 people annually. About half of those arrests are Indigenous People yet they only comprise about 11% of the overall population.
The targeted political attack on demonstrators was a result of extensive online surveillance and use of an undercover operative by the Flagstaff Police Department's (FPD) "Selective Enforcement Unit" and the "Gang and Immigration Intelligence Team Enforcement Mission" (GIITEM) before and after the event.
Nearly a dozen FPD officers used body cameras to monitor and document the demonstration and then launched a weeks-long investigation that used social media including Facebook tags and posts as well as the event's guest list, and an unidentified informant all to file misdemeanor criminal charges of "Obstructing a Public Thoroughfare." A total of eleven people were initially charged on November 11, 2018. Seven of those charged agreed to a plea deal with the option of 40 hours of community service or paying a $150 fine.
The investigation was led by Lance Roberts and Dustin Khuns of the FPD's "Selective Enforcement Unit" and "Criminal Intelligence Analyst" Susan Chacon from the Arizona Department of Public Safety GIITEM task force.
Flagstaff attorney Lee Phillips, who represented the three defendants, filed a Selective Enforcement/Vindictive Prosecution and Defenses to a Criminal Prosecution motion on behalf of the IPD3.  The motion asserted, "The three remaining accused individuals allege they, and the other who were later charged, were singled out by the police and City Officials for prosecution based on their known participation in many similar public events aimed at drawing attention to a variety of social justice issues."
Another motion was also filed to dispute how the City Attorney office's decision to prosecute did not disclose a series of emails between the FPD, Flagstaff City Council and Flagstaff City Manager's office all of which were obtained by a reporter from The Progressive who wrote an article about the ongoing surveillance of protestors. A law enforcement agent stated in one of the emails, "No get out of jail free cards for them. They caused some problems and need to deal with the consequences!"
The motions were denied by Flagstaff City judge Amy Criddle.
The cases were set to go to trial on July 30th, 2020. More than one and a half years after the charges were originally filed.
On July 9th, 2020 a motion to dismiss the cases was filed by the Flagstaff City Attorney's Office and the order was signed on July 20, 2020.
The defense was prepared to call on 23 witnesses for trial, which included current and former Flagstaff City Council members as well as others who are mentioned in reports the State was relying on for prosecution.
Organizers of the initial Indigenous Peoples' Day rally called for these immediate actions:
continued boycott of Arizona Snowbowl and for the City of Flagstaff to cancel their contract with the ski resort,
end to racial profiling & ICE collaboration and further work to abolish police in our communities by establishing community support networks and transformative/restorative justice options,
repeal the anti-camping ordinance and all anti-homeless policies,
donations of sleeping bags and winter clothing for unsheltered relatives at Táala Hooghan Infoshop (1704 N 2nd St)
You can read more about the October 8, 2018 action here:
 www.indigenousaction.org/land-defenders-take-streets-rejecting-empty-declaration-of-indigenous-peoples-day-in-flagstaff/

and here: www.indigenousaction.org/ipd3-update-judge-postpones-trial-again-for-flagstaff-indigenous-peoples-day-demonstrators/
###
Indigenous Peoples' Day of Rage 2022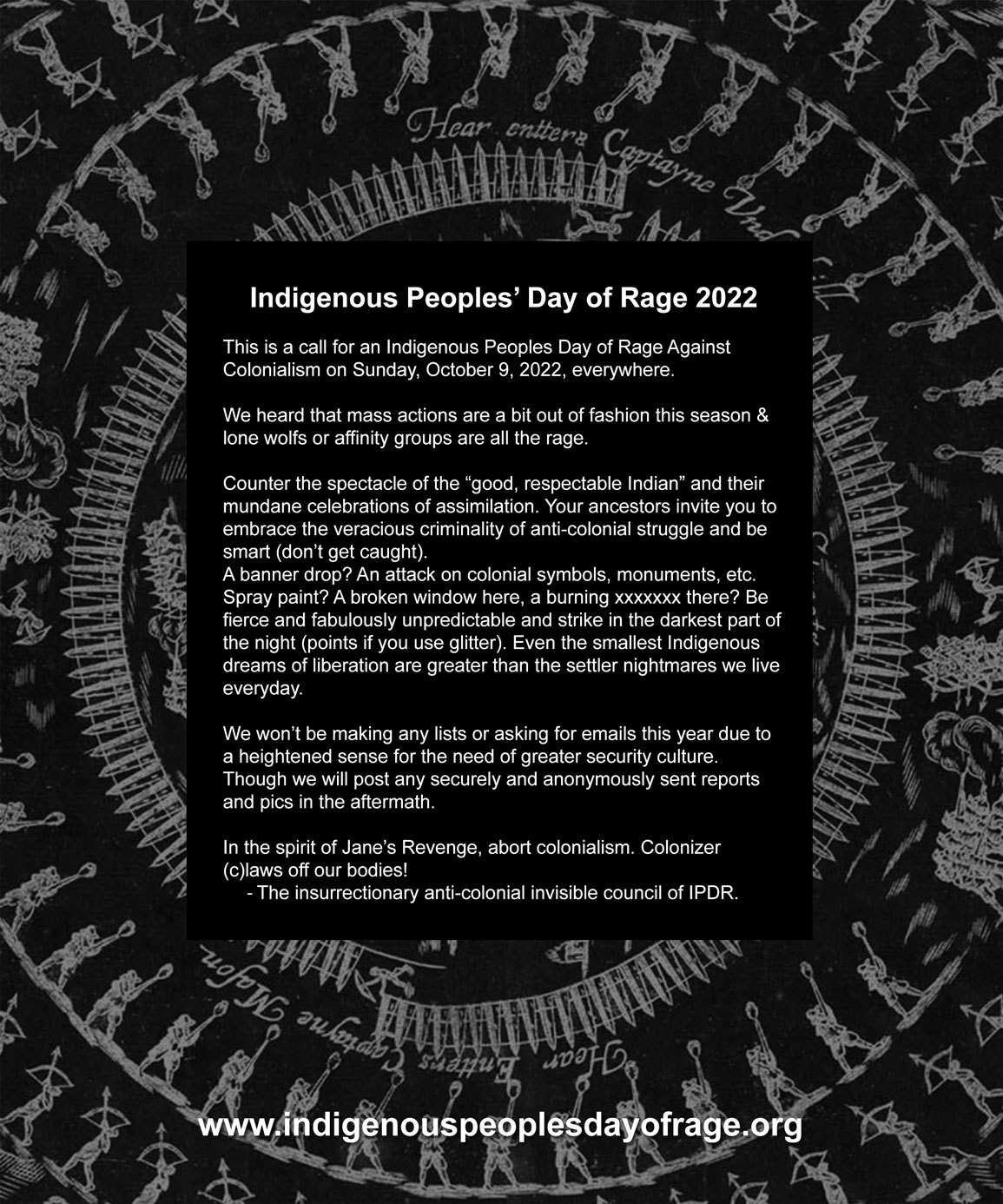 This is a call for an Indigenous Peoples Day of Rage Against Colonialism on Sunday, October 9, 2022, everywhere.
We heard that mass actions are a bit out of fashion this season & lone wolfs or affinity groups are all the rage.
Counter the spectacle of the "good, respectable Indian" and their mundane celebrations of assimilation. Your ancestors invite you to embrace the veracious criminality of anti-colonial struggle and be smart (don't get caught).
A banner drop? An attack on colonial symbols, monuments, etc. Spray paint? A broken window here, a burning xxxxxxx there? Be fierce and fabulously unpredictable and strike in the darkest part of the night (points if you use glitter). Even the smallest Indigenous dreams of liberation are greater than the settler nightmares we live everyday.
We won't be making any lists or asking for emails this year due to a heightened sense for the need of greater security culture. Though we will post any securely and anonymously sent reports and pics in the aftermath.
In the spirit of Jane's Revenge, abort colonialism. Colonizer (c)laws off our bodies!
– The insurrectionary anti-colonial invisible council of IPDR.
https://indigenouspeoplesdayofrage.org/
Indigenous Peoples Day of Rage 2021: Action Report
Indigenous Peoples Day of Rage 2021: Action Report
From www.Indigenouspeoplesdayofrage.org
(More pics and info to be added as reports come in)
This slideshow requires JavaScript.
From up north in so-called Edmonton, AB down to "Tampa, Florida" and spanning Turtle Island from Sacramento, CA to Washington D.C. – resisters everywhere threw down on Sunday, Oct. 10th, 2021 (plus few days before and after) for Indigenous Peoples Day of Rage (Against Colonialism) – Round Two.
We saw banner drops, militant marches, paint attacks on settler institutions, and a lot of discomfort on colonizers faces before the day even began. Apparently, the politicians including mayors of cities hit hard by last year's IPDoR actions penciled in overtime for their thinning blue lines while members of the clergy peeked out of windows with trepidation as they sat in round-the-clock vigils anticipating their comeuppance. It was indeed a good day to be Indigenous – not so great of a day to be a colonial relic, as evidenced by Washington DC's statue of the infamous genocidal maniac Andrew Jackson in Lafayette Park which had "EXPECT US" spray painted on its base in reference to the classic slogan of Indigenous resistance, "Respect us or expect us."
As monuments to colonizers around the globe have been vandalized, smashed, and/or ceremoniously thrown into rivers over the past couple years – it was great to see Andrew Jackson inducted into the club! Along with the Columbus statue in Tampa, FL and Abraham Lincoln's statue in so-called Bennington, Vermont (not pictured).
The rubble that is the 3rd Precinct, burned to the ground in last years George Floyd protests, was decorated with an "Avenge Indigenous Children" banner to acknowledge the thousands of lives lost in boarding schools and residential schools across the continent during late 1800's through mid-1900's.
The Southwest saw militant marches demanding No More Stolen Sisters on behalf of the MMIWG2ST campaign and a rally calling out the mascotization of Native images used by a long-time racist ass business in Durango, CO. In occupied Kinłani ("Flagstaff, Arizona"), a rally and march led to the shutting down of major intersections for a radical round dance that ensnarled traffic. A colonial statue was vandalized and smoke devices were set off throughout the downtown for some anti-colonial mayhem.
Meanwhile, over on the West Coast, freeway overpasses hosted banner drops from occupied California and up through KKKanada. Folx in occupied San Rafael demanded that the city drop the charges of Protectors/Defenders (check out https://ip5solidarity.org/)  while roadways in Sacramento declared "Columbus Was Lost," "Indigenous Sovereignty NOW!" and, "No Justice on Stolen Land!" Our relatives to the north, in Amiskwaciwaskahikan ("Edmonton, Alberta") reminded drivers that there is "No Pride in Genocide."
Speaking of stolen land, this year seemed to hold one very resounding cry. Whether it was splashed across barriers in public spaces of so-called Las Vegas, Nevada, or etched brazenly on a wall under the gaze of the ever-present eyeball surveilling "Asheville, North Carolina's" city hall, done in the colorful handstyle in a more urban setting as submitted by anonymous, or dressed up with the good ol' circle A in flat black out on Diné Bikeyah ("The Navajo Nation") – the writing on the wall is clear: LAND BACK.
Signage at colonial institutions were not spared. In Portland, OR, Lewis & Clark College had "CHANGE NAME" not so subtly suggested. And the recently opened Tesla dealership and service station in Nambe Pueblo, NM didn't escape the rage at the betrayal of the Pueblo's decision to climb in bed with Elon Musk and become green capitalists.
Understandably, there were many other actions that went down that couldn't or wouldn't be documented, such as sabotaged rail lines in the so-called Pacific NorthWest, excavators threatening sacred lands in the "Midwest" that were rendered useless, the Catholic Church in "Denver, Colorado" that allegedly had their truths displayed for the world to see with bright red paint on their walls, and the relatives up in "Portland, Oregon" who struck like ghosts in the night, leaving only the footage of clean up crews sweeping up glass and colonial tears the following day in their wake. Some of the strongest statements are made quietly, as some of our actions have become a silent warcry–an ever present threat–making colonizers clutch their pearls and pocketbooks, in recognition of an Indigenous resistance that is alive, untamed claws-out, rabid and growing. It cannot be neatly confined to one designated calendar day, our anti-colonial agitation is year-round and we celebrate that  ANY WAY we damn well please.
This year the justifications for our rage felt more acute, particularly in the so-called US with the colonial authority proclaiming "Indigenous Peoples' Day." We've seen the farce of this politics of recognition for what it is and this is why we rage; to undermine their co-optation and white/redwashing. We emphasized that arrests weren't the point this year especially considering how performative Non-Violent Direct Actions have fed so many of our people into the hands of the police state. We don't want our people and accomplices locked up ever, especially during a pandemic. We're not out to beg politicians, negotiate treaties, and we will not make concessions – we fight for total liberation. To radicalize, inspire, empower and attack – this is what anti-colonial struggle looks like and we are everywhere.
With Love & Rage –
May the bridges we burn together light our way.
Indigenous Peoples Day of Rage Round Two – Kinłani Report Back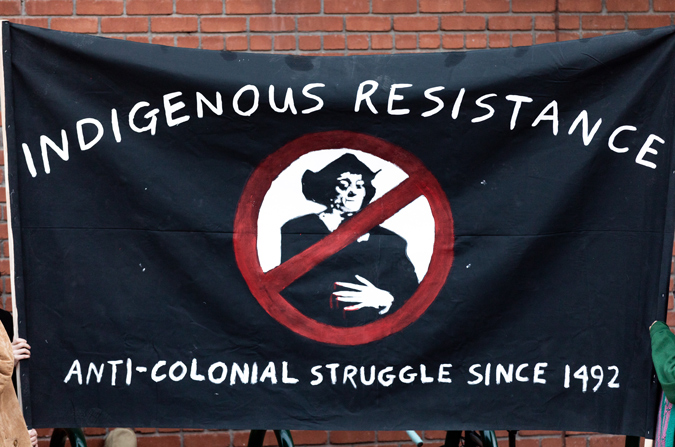 Indigenous Peoples Day of Rage Round Two – Kinłani Report Back
As the sun set on Sunday, Oct. 11 a crowd of Indigenous folx and accomplices gathered outside Flagstaff City Hall and pitched three tents for unsheltered relatives. The cops came to intimidate but no-one from what we could see was listening to whatever it was they were attempting to convey.
A contingent of a liberal Indigenous group called "Indigenous Circle of Flagstaff" attempted to communicate what the police could not. Something about "change coming from policy," about not wanting something "bad" to happen to the demonstrators. There was some sort of debate but we weren't close enough to hear what was happening and decided to ignore the clear attempt at movement policing. After all, the night was emerging and we weren't there to debate hang-around-the-fort Natives.
A jail support number was shared with the message that "We're not here because we want any more of our people locked up in the system. Our plan is not to get arrested and if they try, to make sure we don't let that happen." Some words were said on a megaphone but we've learned to tune that frequency out after years of marching, somehow the megaphone ends up in the same hands and our ears are tired of the cheer-leading.
A bright orange banner led the way with the words "Avenge Indigenous Children" referencing the brutal legacy of boarding school violence that has resurfaced with powerful calls for accountability throughout the so-called US and KKKanada. The crowd started a quick march on the sidewalk. Cops on bikes tried to heard us but we were swift. We pushed passed them and quickly with a chant of "Whose streets? Our streets. Whose land? Native land" took the intersection of Route 66 and San Francisco St., which is the busiest intersection in the downtown area. Cop cars rushed around. Traffic downtown was fully stopped. The drummer started a round dance song, and at first it seemed some of us weren't sure do dance or stand there with banners. But we took our time. The beat was steady and echoed off the walls of this colonial settlement that our great grandparents are older than. Banners reading, "Colonialism is a Plague," "Indigenous Resistance," "Land Back," and many others were carried in the dance that was held for about 20 minutes or so. At some point the crowd gathered around an obnoxious and controversial statue of a white railroad worker (which obscures the reality of forced Chinese labor and the advancement of waves of colonial invaders via the rail system).
The statue was enhanced with red paint. Some in the crowd used banners to provide tactical cover then moved on. Cops followed and tried to get ahead of the crowd. A series of massive smoke devices were set off by someone. The streets of downtown "Flagstaff" looked overrun by angry ancestors emerging from the smoke chanting "Fuck Columbus, fuck the police!" It felt like the nightmares of colonizers coming to haunt the futures they have stolen. By pumping millions of gallons of recycled shit water on the sacred San Francisco Peaks. By attacking Indigenous unsheltered relatives and leaving them to freeze in the winter months. By arresting what amounts to half the Indigenous population every year. By doing absolutely nothing when Indigenous womxn have gone missing or were murdered, Vanessa Lee. Ariel Bryant. Nicole Joe. We screamed their names and asserted our rage. We weren't there to debate, plead, or negotiate as the pacified Natives who tried to make rooms in their chains for us. We were there to celebrate our dignified rage (as the Zapatistas have so beautifully named this anger that is a powerful component of the centuries of resistance against colonialism). Another busy intersection was taken and a round dance ensued. Some colonizers yelled something and we're quickly told to "Fuck off." There was a moment when the marching stopped in a central part of downtown, a relative who had been there every fierce step of the way spoke, (pieces of her words from memory here): "Ariel Bryant was my best friend. She went missing and the cops told me not to look for her. She was found dead and nothing has been done. I'm here for all missing and murdered Indigenous women, girls, trans, and two-spirit relatives." Another relative who said they were from Tsé Bit' a'í spoke about a Diné elder named Ella Mae Begay who has been missing for months now. "No one is taking this seriously except her family and some community members." They said stepping out into the streets to rage for missing relatives was a powerful experience. Last year there were more numbers out (less people due to protest burnout? Fuck activists anyways). But this year the spirit and fire was just as fierce. We had friends not come out 'cause they got cases. We had other friends who just are done with protesting and focus on direct underground actions. (Which we were inspired to see the colorful redecorating occurring in other spaces throughout the town).
Overall the politicians, cops, settlers, and sellouts were all afraid of how fragile the facade of their colonial structures really are. The officially recognized and formal Indigenous Peoples' Day proclamations and "celebrations" lets them off the hook for accountability and the reckoning that is long overdue. Sometimes its the alchemy of catharsis that keeps us going through the despair of colonially induced trauma and the spiritual and physical brutality we (and the land which also hold trauma) face everyday. What we felt was healing. What we felt was anti-colonial struggle. When monuments (and the systems of violence that uphold them) fall, our people can only come up. Let's tear them all fucking down. Fuck movement police and "Indian scouts." Fuck Biden's proclamation of Indigenous Peoples' Day.
– An anonymous hashké Diné
Get updates via email, sign up here:
Indigenous Action Podcast