Forest Service Threatens Legal Implications and Assault of Sacred Fire at Sacred/Holy Peaks Ceremony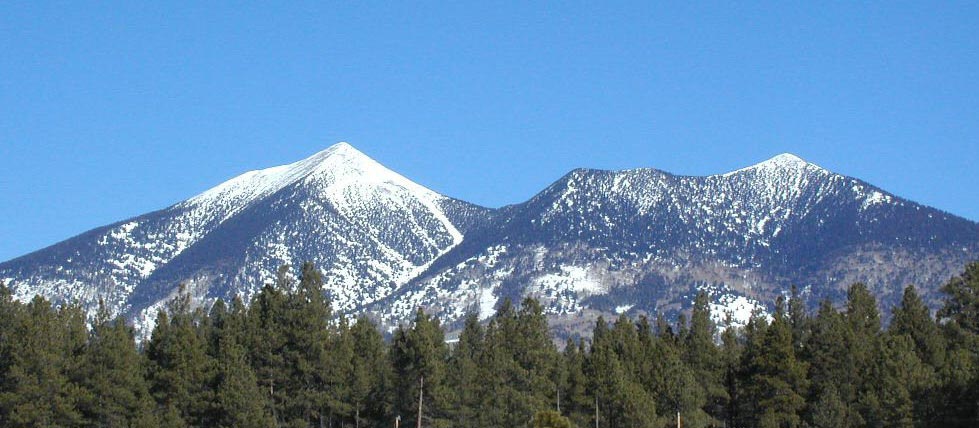 FOR IMMEDIATE RELEASE
Friday, July 6, 2012
CONTACT:
Brett Ramey
Phone: (928) 310-8059
Email: brett@liverealnow.org
Forest Service Threatens Legal Implications and Assault of Sacred Fire at Sacred/Holy Peaks Ceremony
*Indigenous Elders and Medicine Peoples Council Statement attached.
FLAGSTAFF, AZ — U.S. Forest Service officials have threatened Indigenous spiritual leaders, medicine people, and elders with legal implications if they keep alive the sacred fire at a ceremony on the sacred/holy San Francisco Peaks.
Although a voluntary closure order for the Traditional Cultural Gathering was previously granted by Coconino Forest Supervisor M. Earl Stewart, Stewart apparently changed his position and issued the threat as the four day ceremony was initiated on July 4th, 2012.
When confronted by Forest Service officials, members of the Indigenous Elders and Medicine Peoples Council, the group hosting the Traditional Cultural Gathering, invited Forest Service officials to sit with elders to resolve the Forest Service's concerns with the ceremonial  fire. Coconino Forest Supervisor Stewart stated in a letter dated July 5, 2012, "non-compliance will result in citations for having a fire during restrictions and/or camping in a closure area without a special use permit."
Indigenous Elders and Medicine Peoples Council had worked to inform the Coconino National Forest of this ceremony since December 2011 and again met with Coconino Tribal Relations on February 27 and June 21 of 2012 to answer questions and to make sure the Forest Service was fully aware of the Council's activities.
On May 17, 2012, the Forest Service was notified that a sacred fire was central to the Traditional Cultural Gathering.
The Indigenous Elders and Medicine Peoples Council is calling for support to address this serious disruption and violation of the Traditional Cultural Gathering. Please call and email the following Forest Service officials and urge them not to assault and desecrate the sacred fire:
M. Earl Stewart Coconino Forest Supervisor
Phone: (928) 527-3600
Email: estewart@fs.fed.us
Corbin Newman Regional Forester
U.S. Forest Service, Southwest Region
333 Broadway SE Albuquerque, NM
87102
Email:¨cnewman02@fs.fed.us
Janie Hipp Senior Adviser for Tribal Affairs USDA
Email: janie.hipp@osec.usda.gov
Contact President Obama and urge him to fulfill his 2008 campaign promise to support "legal protections for sacred places and cultural traditions, including Native ancestors burial grounds and churches."
President Obama:
Comments: 202-456-1111
Online Comments: http://www.whitehouse.gov/contact/submit-questions-and-comments
###
Indigenous Elders and Medicine Peoples
Formal Statement
July 6, 2012
"The Creator gave the Aboriginal Indigenous Nations of the People Laws to follow and responsibilities to care for all Creation.  These instructions have been passed down from generation to generation from the beginning of Creation.  It is the Law that no one can overpower the Creator's Law, you are a part of Creation, thus if you break the Law, you are destroying yourself.
We speak on behalf of all Creation: the four legged/those that swim/those that crawl/those that fly/those that burrow in the Earth/the plant and tree Nations.  This one life system includes the elements of fire, water, earth and air, the living environment of "Mother Earth".
The Sanctity of the Creator's Law has been broken.  The balance of life has been disrupted.  You come into life as a sacred being.  If you abuse the sacredness of your life then you affect all Creation.  The future of all life is now in jeopardy.
We have now reached the crossroads.  As Aboriginal Indigenous People we ask you to work with us to save the future of all Creation."
The Holy/Sacred Ceremonial Fire unites us as Aboriginal Indigenous Nations of the People on our threatened Holy/Sacred Mountain (San Francisco Peaks) on July 4-7th 2012.
The holy/sacred ceremonial fire renews our connection to all Creation, it carries our prayers and represents all life. When it pertains to our ceremony or ceremonial fire it is imperative for the Forest Service to acknowledge that the Indigenous Peoples are the sole authority on our culture and way of life and any decisions that do not attain our free, prior and informed consent are not consistent with the United Nations Declaration on the Rights of Indigenous Peoples.
A great urgency is in our midst with the wind, water and fire showing it's power because of the imbalance from over management. As these fires burn, throughout the west and around the world, they are forever disrupting and destroying not only homes of the two-legged, but also many lives and homes of the animal, plant and tree Nations.
After much time spent on educating the Forest Service on the importance of our role as the Original Caretakers of this Land. We feel great sadness for the Forest Service as they have given the Indigenous Elders and Medicine Peoples Council no choice. The choice to violate our own cultural protocols or face legal implications is not consistent with creating a working relationship with Indigenous Peoples. The holy/sacred fire will continue. We refuse to participate in this atrocity; it is up to the Forest Service to determine whether they will disrupt these prayers. We will have no part in this act! Our prayers are to protect the sanctity of the threatened sacred/holy mountain including forgiving those that continue to desecrate life. We are spiritual people and we maintain peace through our ceremonies.
We are united under the Creator's Law. We are from various Indigenous Nations and are spiritually related. We have been placed on our lands as Aboriginal Indigenous Nations of the People with sacred instructions and responsibilities placed within us by the Creator to follow the Laws of the Creator. Federal agencies use terms like federally recognized and federally unrecognized. We see this as your way of dividing the Indigenous Peoples.  We are united under the Creator's Law, as United Indigenous Nations, to protect and extend Life for all future generations.
REPRESENTATIVES OF THE COUNCIL
Chief, Arvol Looking Horse
19th Generation Keeper of the Sacred White Buffalo Calf Pipe
Spiritual Leader
Lakota, Dakota and Nakota Nations

Bobby C. Billie
Clan Leader and Spiritual Leader
Council of the Original Miccosukee
Simanolee Nation Aboriginal People
Ox Sam Camp Update: Land Defenders Arrested, Camp Raided After Blocking Excavator
From www.oxsam.org (follow for more updates).

Read the new press release from 6/8/23 here: https://www.indigenousaction.org/ox-sam-camp-raid-update-one-arrested-as-prayer-tipis-are-bulldozed-and-ceremonial-items-confiscated/
6/7/23
First arrests are underway and camp is being raided after land defenders halted an excavator this morning at Thacker Pass.
OROVADA, NV — This morning, a group of Native American water protectors and allies used their bodies to non-violently block construction of the controversial Thacker Pass lithium mine in Nevada, turning back bulldozers and heavy equipment.
The dramatic scene unfolded this morning as workers attempting to dig trenches near Sentinel Rock were turned back by land defenders who ran and put their bodies between heavy equipment and the land.
Now they are being arrested and camp is being raided.
Northern Paiute and Western Shoshone people consider Thacker Pass to be sacred. So when they learned that the area was slated to become the biggest open-pit lithium mine in North America, they filed lawsuits, organized rallies, spoke at regulatory hearings, and organized in the community. But despite all efforts over the last three years, construction of the mine began in March.
That's what led Native American elders, friends and family, water protectors, and their allies to establish what they call a "prayer camp and ceremonial fire" at Thacker Pass on May 11th, when they setup a tipi at dawn blocking construction of a water pipeline for the mine. A second tipi was erected several days later two miles east, where Lithium Nevada's construction is defacing Sentinel Rock, one of their most important sacred sites.
Sentinel Rock is integral to many Nevada Tribes' worldview and ceremony. The area was the site of two massacres of Paiute and Shoshone people. The first was an inter-tribal conflict that gave the area it's Paiute name: Peehee Mu'huh, or rotten moon. The second was a surprise attack by the US Cavalry on September 12th, 1865, during which the US Army slaughtered dozens. One of the only survivors of the attack was a man named Ox Sam. It is some of Ox Sam's descendants, the Grandmas, that formed Ox Sam Newe Momokonee Nokotun (Indigenous Women's Camp) to protect this sacred land for the unborn, to honor and protect the remains of their ancestors, and to conduct ceremonies. Water protectors have been on-site in prayer for nearly a month.
On Monday, Lithium Nevada Corporation also attempted to breach the space occupied by the water protectors. As workers maneuvered trenching equipment into a valley between the two tipis, water protectors approached the attempted work site and peacefully forced workers and their excavator to back up and leave the area. According to one anonymous land defender, Lithium Nevada's action was "an attempted show of force to fully do away with our tipi and prayer camp around Sentinel Rock."
Ranchers, recreationists, and members of the public have been allowed to pass without incident and water protectors maintain friendly relationships with locals. Opposition to the mine is widespread in the area, and despite repeated warnings from the local Sheriff, there have been no arrests. Four people, including Dorece Sam Antonio of the Fort McDermitt Paiute-Shoshone Tribe (an Ox sam descendant) and Max Wilbert of Protect Thacker Pass, have been targeted by court orders barring them from the area. They await a court hearing in Humboldt County Justice Court.
"Lithium Nevada is fencing around the sacred site Sentinel Rock to disrupt our access and yesterday was an escalation to justify removal of our peaceful prayer camps," said one anonymous water protector at Ox Sam Camp. "Lithium Nevada intends to desecrate and bulldoze the remains of the ancestors here. We are calling out to all water protectors, land defenders, attorneys, human rights experts, and representatives of Tribal Nations to come and stand with us."
"I'm being threatened with arrest for protecting the graves of my ancestors," says Dorece Sam Antonio. "My great-great Grandfather Ox Sam was one of the survivors of the 1865 Thacker Pass massacre that took place here. His family was killed right here as they ran away from the U.S. Army. They were never buried. They're still here. And now these bulldozers are tearing up this place."
Another spiritual leader on the front lines has been Dean Barlese, a spiritual leader from the Pyramid Lake Paiute Tribe. Despite being confined to a wheelchair, Barlese led prayers at the site on April 25th (shutting down construction for a day) and returned on May 11th.
"I'm asking people to come to Peehee Mu'huh," Barlese said. "We need more prayerful people. I'm here because I have connections to these places. My great-great-great grandfathers fought and shed blood in these lands. We're defending the sacred. Water is sacred. Without water, there is no life. And one day, you'll find out you can't eat money."
The 1865 Thacker Pass massacre is well documented in historical sources, books, newspapers, and oral histories. Despite the evidence but unsurprisingly, the Federal Government has not protected Thacker Pass or even slowed construction of the mine to allow for consultation to take place with Tribes. In late February, the Federal Government recognized tribal arguments that Thacker Pass is a "Traditional Cultural District" eligible for the National Register of Historic Places. But that didn't stop construction from commencing.
"This is not a protest, it's a prayer," said Barlese. "But they're still scared of me. They're scared of all of us elders, because they know we're right and they're wrong."
O'odham Executed by Border Patrol: Statement by Raymond Mattia Family
Raymond Mattia of the Tohono O'odham Nation was executed by US border patrol agents on May 18th at his home. He was reportedly shot 38 times.

A peaceful gathering to support all victims of the
unmonitored violent actions of the Border Patrol and other agencies will be held at The Border
Patrol Station in Why, Az, and Tucson on Golf Links Road this Saturday, May 27th, from
10:00am-Noon.
For more information please visit: https://bsnorrell.blogspot.com/2023/05/us-border-patrol-shoots-tohono-oodham.html

Statement by Mattia Raymond's family:
We have been trying to find the strength to write this statement. This tragedy is so
grievous because it is apparent what had happened. Raymond called for help and, in turn, was
shot down at his doorstep. Raymond's rights were violated by the authorities whom we trust to
protect our Nation. Improper and unprofessional actions of the agencies involved were witnessed
by family members present near the crime scene. Loved ones sat in agony, not knowing of
Raymond's condition until they were told that he had passed hours later. Raymond lay in front of
his home for seven hours before a coroner from Tucson arrived.
In our eyes and hearts, we believe that Raymond was approached with excessive and
deadly force that took his life. He was a father, brother, uncle, friend, and an involved
community member. Raymond always fought for what was right, and he will continue to fight
even after his death. This is not an isolated incident, but it should bring awareness of the
oppression our people live through.
We want to thank so many of you for your condolences and support. A GoFundMe for
defense funds will be available soon. A peaceful gathering to support all victims of the
unmonitored violent actions of the Border Patrol and other agencies will be held at The Border Patrol Station in Why, Az, and Tucson on Golf Links Road this Saturday, May 27th, from 10:00am-Noon.
Contact for support: justiceforraymattia@gmail.com
People Take the Streets in Occupied Flagstaff to "Honor & Avenge" #MMIWG2ST
Brief report back filed by anonymous.


Occupied Kinłani, May 5, 2023 — Tonight a fierce crew held a vigil and rally then took to the streets of occupied Flagstaff on the national day of awareness for missing and murdered Indigenous women, girls, two-spirit, and trans relatives. Family members and friends of Arielisa Bryant & Nicole Joe spoke about the injustices they had faced at the hands of law enforcement. Others shared their stories with five families speaking out about their missing or murdered relatives. Speakers connected the desecration of sacred sites as violence against the land being violence against our bodies. After a moment of silence (which was turned into a moment of rage), the group headed through the crowded streets. Intersections were held. A round dance was done. Chants echoed, "No More Stolen Sisters!" "No Justice No Peace, Fuck the Police!" and "Who keeps us safe? We keep us safe!" while relatives of MMIWG2ST spoke. At one point the group stopped near where Vanessa Lee was found (2018) and created a memorial. After the action, the massive red dress banner that was carried through the streets was dropped.
This action came as U.S. Secretary of the Interior Secretary Deb Haaland prepares to hold a "Not Invisible Act Commission" hearing in Flagstaff on May 9th at a so far unannounced location with little community outreach. The commission is filled with cops, judges, and politicians who seek to further colonial policing and laws over Indigenous lands. Haaland is also complicit in allowing the Willow Project to proceed which furthers resource colonial violence that is directly linked to #MMIWG2ST.
A 2017 study from the Urban Indian Health Institute found that so-called Arizona has the third-highest number of #MMIWG2ST in the country.
That study reported a total of 506 known cases in 71 urban cities across the country and 54 cases were identified in Arizona.
In memory:
Ariel Bryant, found deceased 2019 outside of Kinłani.
Vanessa Lee, found deceased 2018 in the Rio De Flag downtown Kinłani.
Nicole Joe, deceased on christmas day 2017, her ex was ultimately found guilty of second degree murder.
Loreal Tsingine, shot in 2016 five times by Winslow police officer Austin Shipley.
And all those missing and murdered relatives!
As you rest in power, we will rage!
Get updates via email, sign up here:
Indigenous Action Podcast