Ep. 10: From the Ashes: Boarding/Residential Schools, Historical Trauma & Radical Reconnection
With thousands of remains of Indigenous children recently uncovered in mass graves at residential schools in "Canada," collective Indigenous rage has been sparked to address the brutal legacy of colonial schools. In this show we share our personal experiences, and discuss how we cannot address the brutal horrors of assimilation through forced education without facing how its colonial legacy continues to fulfill its vicious objectives.
Content warning: Boarding/residential schools, sexual violence.

Guests:
Remy is a multidisciplinary Indigenous activist and artist of many different media from the Black Mesa region on the Navajo Reservation in Arizona. By utilizing art, activism and technology, his creations are rooted in his heritage and culture addressing social, environmental and political issues. www.linktr.ee/f1rstse7en, @f1rstse7en

Hosts:
Bonn – Instagram:@bonnabella.xvx
Klee – Instagram: @kleebenally
Anthony
Music: "Native Holocaust" by Savage Family
www.reverbnation.com/hgssavagefamily
Info links & resources:
www.ip5solidarity.org
www.indigenousaction.org/colonial-education-is-still-war-indigenous-knowledge-rage-is-power/
www.boardingschoolhealing.org
warriorpublications.wordpress.com/?s=residential+schools
"Education for Extinction: American Indians and the Boarding School Experience, 1875-1928" Adams, David Wallace.
"Kill the Indian, Save the Child: Cultural Genocide and the Boarding School," Barker, Debra. Cheaper Than Bullets: American Indian Boarding Schools and Assimilation Policy, 1890-1930
From Arizona to Alcatraz: Hopi prisoners on Alcatraz
Indigenous Peoples and Boarding Schools: A Comparative Study
Documentary: A Century of Genocide in the Americas: A Residential School Experience
About the podcast:
Welcome to Indigenous Action where we dig deep into critical issues impacting our communities throughout Occupied America. This is an autonomous anti-colonial broadcast with unapologetic and claws-out analysis towards total liberation. So take your seat by this fire and may the bridges we burn together, light our way.
Subscribe, like, share on iTunes, Spotify, and Google Play.
Check us out on the channelzeronetwork.com.
Email us at IAInfo@protonmail.com.
16th Annual No Thanks, No Giving!
Indigenous Action presents:
16th Annual No Thanks, No Giving!
Food share, anti-colonial resistance & solidarity discussion circle, & online fundraiser!

DONATE: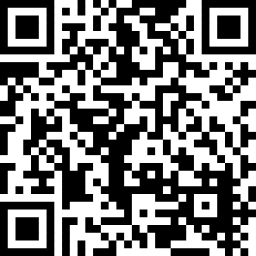 1:30p – 4pm
We will prepare and serve mutton stew and other foods for all who join us. Please bring any dish to contribute if you wish, we also plan on actively distributing (possibly mobile) any extra foods.
Local volunteers needed! Contact: indigenousaction@gmail.com
At 2:30p we will have a talking & action circle focused on anti-colonial resistance & solidarity. Representatives of Kinłani Mutual Aid, Haul No!, volunteers with Protect the Peaks, and autonomous organizers supporting unsheltered relatives will present & discuss upcoming actions & organizing. We will also discuss building Indigenous solidarity with local efforts to Free Palestine. Come ready to share, support and get involved! Everyone welcome!
This event is free, please bring donations for unsheltered relative support (tents, sleeping bags, tarps, jackets, etc).

This is also our yearly fundraiser for Táala Hooghan infoshop and Indigenous Action activities!
Please donate online via PayPal: https://www.paypal.com/paypalme/indigenousaction
Support Indigenous autonomous organizing and agitation!
*We will not host a livestream this year.

When: Thursday, Nov. 23, 2023
1:30pm – 4:00pm MST.
Where: Táala Hooghan Infoshop1704 N 2nd St, Kinłani (Occupied Flagstaff), AZ
MASKS REQUIRED This event will be held both indoors and outdoors (dress warm!) with limited indoor space. We will maintain social distancing & mask protocols for immunocompromised relatives.
For 16 years we have hosted No Thanks, No Giving! as an anti-colonial event to bring together radical Indigenous voices, share traditional foods, and benefit unsheltered relatives at Táala Hooghan Infoshop in Kinlani (Flagstaff, AZ). More info: www.indigenousaction.org
#nothanksnogiving #MutualAid #indigenousmutualaid #solidaritynotcharity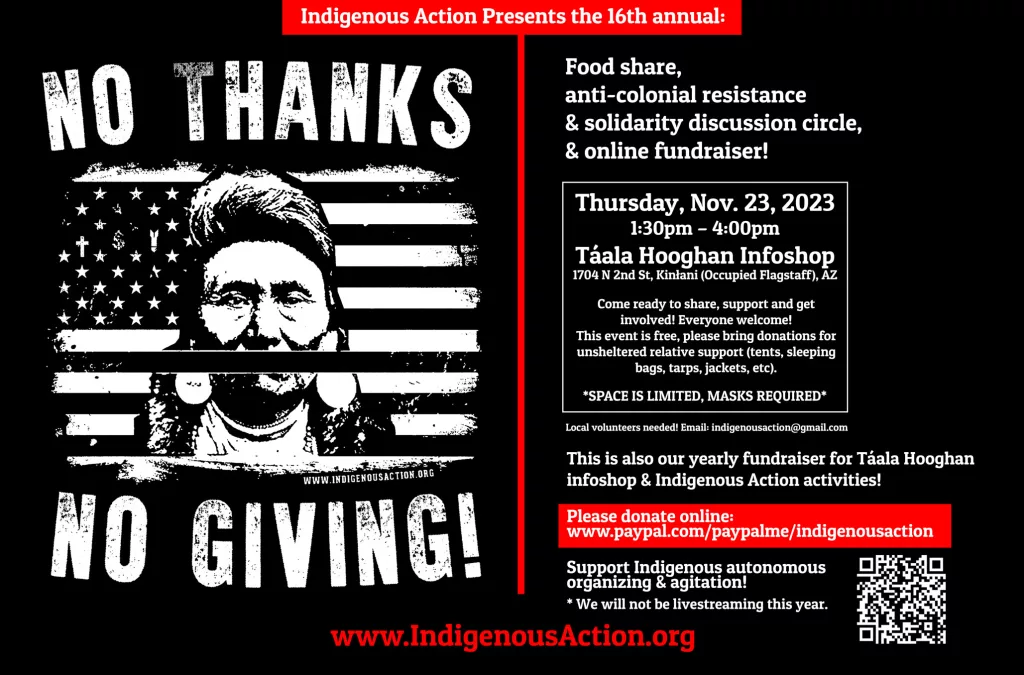 New Book: No Spiritual Surrender, Klee Benally
New Book: No Spiritual Surrender: Indigenous Anarchy in Defense of the Sacred is a searing anti-colonial analysis rooted in frontline experience.
NOW AVAILABLE ONLINE & SELECT BOOKSTORES: No Spiritual Surrender: Indigenous Anarchy in Defense of the Sacred


No Spiritual Surrender: Indigenous Anarchy in Defense of the Sacred is a searing anti-colonial analysis rooted in frontline experience. Klee Benally (Diné) unrelentingly agitates against colonial politics towards Indigenous autonomy and total liberation of Nahasdzáán (Mother Earth).
Available now from Detritus Books detritusbooks.com
406 pages | $20 Nonfiction | Paperback Available in select bookshops.
About the author: Klee Benally is a Diné (Navajo) anarchist and undisciplined agitational propagandist. Originally from Black Mesa. Klee currently resides in occupied Flagstaff, Arizona. kleebenally.com, indigenousaction.org
www.detritusbooks.com
Wholesale inquiries: detritusbooks.com
Now booking speaking tour dates: indigenousaction@gmail.com
Anti-Colonial Solidarity with Palestine Posters: While we mourn, we also fight.
Anti-Colonial Solidarity with Palestine Posters: While we mourn, we also fight.
Support @fauda_palestine (on IG) and check the resource list here: https://docs.google.com/document/d/1D6HDDbHiz6je0txmEL8pALcQtI0vpPUlQdNQJ7exMqo/edit

High resolution printable PDFs:

While we mourn, we also fight. Our hearts are the frontlines against occupation & genocide. 
Anti-Colonial Solidarity is mourning genocide & resisting occupation while fighting for liberation.
Anti-Colonial Solidarity means we won't stop until all are free.
Colonization is war. Indigenous resistance is everywhere.  
freepalestine #freeturtleisland
Get updates via email, sign up here:
Indigenous Action Podcast